Introduction
For the third year in a row, Asus has been unwavering in its quest to deliver "The ultimate smartphone gaming experience". A task that it takes so extremely seriously that the ROG Phone line has become the ultimate embodiment of a halo product for the professional mobile gaming niche as a whole. By any measure, each consecutive ROG Phone model simply pushes the envelope so hard that it goes beyond just being a great gaming phone – it sets the bar for the entire industry.
Not unlike its predecessors, the ROG 3 is meant to go above and beyond the practical and sensible for an average consumer. It is the latest installment in a line of professional tools, meant to delight and even surprise the pickiest and astute among a growing, yet still small niche of gaming-oriented prosumers.
Asus ROG Phone 3
Body: 171mm x 78mm x9.85mm, 240g; Glass front (Gorilla Glass 6), glass back (Gorilla Glass 3), metal frame; Colors: Black.
Display: 6.59″ AMOLED, 1080x2340px resolution, 19.5:9 aspect ratio, 391ppi; HDR10+, 144Hz refresh rate, 270Hz touch sampling rate. TÜV Low Blue Light hardware.
Chipset: Qualcomm SM8250 Snapdragon 865+ (7 nm+): Octa-core (1×3.09 GHz Kryo 585 & 3×2.42 GHz Kryo 585 & 4×1.8 GHz Kryo 585); Adreno 650.
Memory: 128GB 12GB RAM, 256GB 12GB RAM, 512GB 12GB RAM, 512GB 16GB RAM; UFS 3.1 storage LPDDR5 RAM.
OS/Software: Android 10, ROG UI.
Rear camera: Wide (main): 64 MP, f/1.8, (wide), 1/1.7″, 0.8µm, PDAF; Ultra-wide angle: 13 MP, f/2.4, 11mm (ultrawide); Macro: 5 MP, f/2.0; LED flash, HDR, panorama.
Front camera: 24 MP, f/2.0, 27mm.
Video capture: Rear camera: 8K@30, 4K@30/60fps, 1080p@30/60/240fps, 720p@480fps; gyro-EIS; Front camera: 1080p@30fps.
Battery: 6000mAh; Fast charging 30W, Direct Charge (Asus HYPERCHARGE), Power Delivery 3.0 + PPS, Quick Charge 4.0.
Connectivity: 5G (Sub-6), optional Dual SIM support (5G + 4G or 4G + 4G dual standby), Dual-Band Wi-Fi a/b/g/n/ac/ax 2×2 MIMO, Wi-Fi 6, Bluetooth 5.1, GPS (GNSS, Glonass, Galileo, BeiDou, QZSS, NavIC), NFC; Side-port: 48 pin, based on Type-C
Misc: Fingerprint (under display, optical), accelerometer, gyro, proximity, e-compass, Hall sensor, ambient light sensor, Ultrasonic sensors for AirTrigger 3 and grip press; RGB logo on back; RGB illuminator LED next to flash; Dual 7-magnet front-facing speakers, dual NXP TFA9874 amplifiers; Hi-Res audio output.
Exuberant and distinctly different from your average Android flagship, the ROG Phone 3 is a genuinely different beast. It's a product where every aspect has been engineered with the sole purpose of catering to a select crowd without caring for the latest fads in the smartphone industry. Accompanied by an unparalleled, sprawling accessory ecosystem meant to cover every possible use case, and the extremely particular needs and whims of the modern mobile gamer, the ROG 3 challenges the design and feature directions taken by other phone manufacturers.
The ROG Phone 3 is probably the closest thing the smartphone industry currently has to a super car – and we don't mean that in the gaming sense. Just like a real super car, it comes with high upfront and associated costs and requires a certain level of involvement and technological proficiency and implies a multitude of limitations when used as a regular, every-day driver. We will be taking all of that into account, as best we can in this review and so should you, if you are planning on picking up a ROG Phone 3.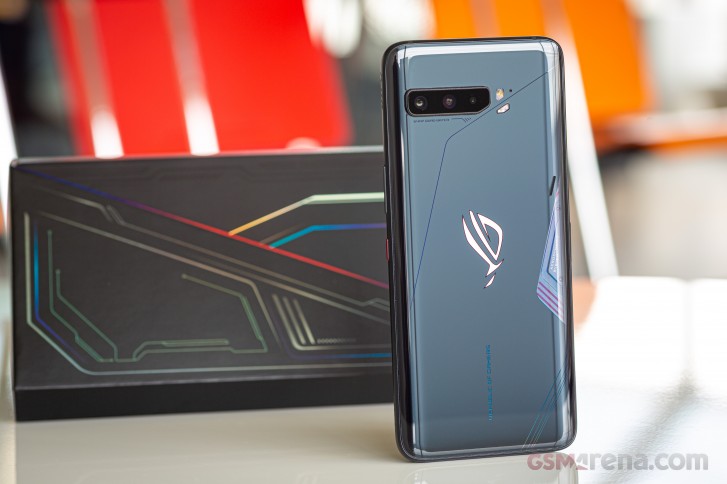 Continuing the super car analogy a bit further, it is equally important to note that just because you don't personally need one for your work commute or for the trip to the mall, that doesn't mean it has no place in the world. Same goes for the ROG Phone 3. In fact, Asus' continued ROG Phone efforts are not only admirable labor of love, but also a justified investment from a uniquely positioned company, leveraging years of pre-existing PC gaming expertise and pedigree.
Mobile gaming is unsurprisingly getting bigger by the day. Granted, most of its populafrity can be attributes to the casual gaming crowd. But this general growth has also translated pretty well into developing a group of devoted, and even professional mobile gamers.
These users have a different set of needs and requirements for their preferred mobile device. Asus has been dead focused on delivering on those in the best possible way and this has put the ROG Phone in the unique market position it occupies now. It's an admirable achievement and one that requires huge involvement and constant hard work. A task that is clearly getting harder and harder with each ROG Phone generation, since the ROG 3 is clearly more of an incremental and meticulous generational improvement, instead of the major leap forward the ROG Phone II represented.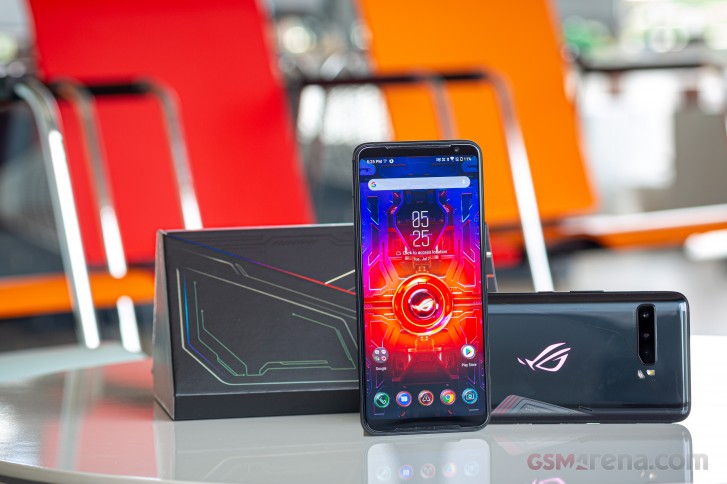 A faster 144Hz and overall better OLED display, Qualcomm's new speed-binned Snapdragon 865+ chipset, improved audio, cooling, cameras and a myriad of other tweaks are thoughtfully stuffed inside the ever so slightly re-designed body of the ROG 3, allowing backward compatibility with the ROG II accessories. Asus has clearly been in the process of fine tuning on the ROG formula and has done so by tackling head-on much harder challenges this time around.
Luckily, this particular kind of struggle fits perfectly into the company's core business philosophy of building hardware and software specifically for gamers and not simply as an afterthought, with a great level of dedication and attention to detail.
Unboxing ROG Phone 3
Mobile gaming presents a surprising number of specific challenges to work out on the road to a perfect experience. These range from very particular hardware ones to ergonomic concerns and everything in-between. Before we get to all of those, though, there is yet another aspect of modern gaming culture that Asus has also fully embodied – aesthetics.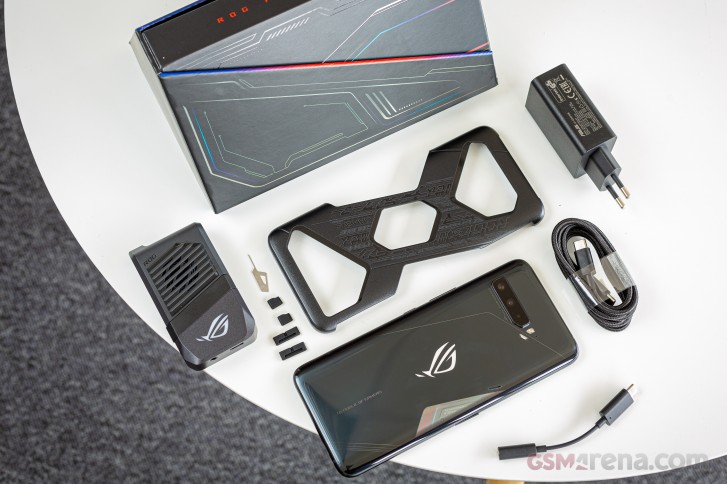 There is no single criteria as to what a "gaming aesthetic" is or should be, but it is definitely part of the culture. People want to flaunt their favorite past time and entertainment. Style points are surprisingly important. And the ROG 3 starts scoring these instantly even before it is unpacked.
Just like its predecessors, the ROG 3 ships in a bold and avant-garde geometrical cylinder box. Aggressive gaming lines and accents all over the place. The particular geometric pattern on the side of the box actually pulls double-duty as a magic AR symbol for unlocking the Armoury Crate app.
There is also the distinct way of opening the box – this time a huge chunk of it slides out of the other. Getting to the rest of the contents inside beyond that is still as challenging as it was with the previous ROG Phone generations. The phone is wedged in a deep pocket where it's well protected for sure, but almost impossible to get out.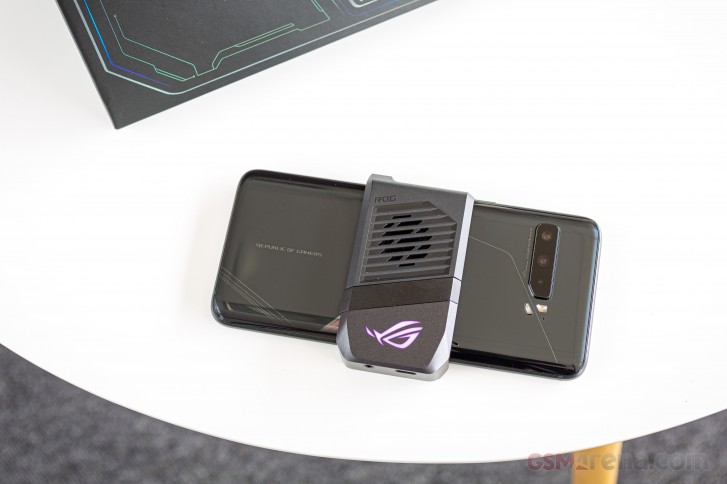 A rich accessory package is housed in the other part of the box. The AeroActive Cooler 3 is clearly visible and sits inside a neat groove. The rest of the goodies are housed a level deeper.
Also in the box – a compact, 30W Asus-branded, Type-C wall charger. It is a PD unit, equipped with the more-advanced PPS tech for finer power adjustments. To go with it – a nice, braided Type-C to Type-C cable that's not overly thick. Then again, it probably doesn't need to be since Asus still has its Direct Charging tech, now branded ASUS HYPERCHARGE. We can't be certain exactly how it works, but it has some of the charging circuitry in the charger instead of the phone, which leads to less heat buildup inside the handset and also, apparently, can work at full power with just a good-quality 3A Type-C cable instead of requiring a 5A one. This might partially explain the slightly thinner profile of the bundled cable. QC4.0 is also a supported standard by the ROG Phone 3, if you find yourself without the bundled charger.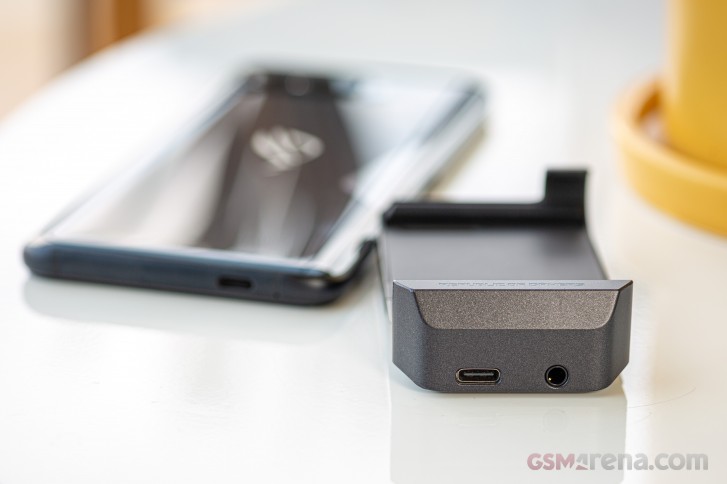 You get another cable with the ROG Phone 3, which is nice and also unfortunate at the same time. It is a Type-C to 3.5mm jack. The unfortunate bit is that the ROG Phone 3 has dropped the 3.5 mm audio jack. As per Asus, the maintain the same external size with the increased internal space requirements from things like 5G simply left no space for the jack. Make of that what you will. At least you get a dongle and, as a nifty bonus, the AeroActive Cooler 3 has a 3.5mm jack on its bottom side, as well.
Asus also includes a case inside its retail box. It is not a "case" in the conventional sense since the Aero case leaves a big chunk of the phone's body exposed. It is more of a bumper to protect the corners. Its gamer-y design is not purely for looks. It is also meant to allow for better cooling or rather not get in its way. The case itself is fully compatible with the bundled AeroActive Cooler 3 and also leaves the RGB ROG logo visible.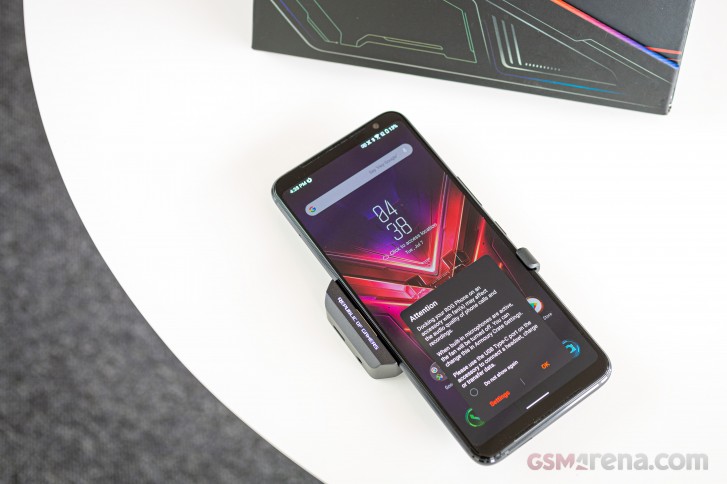 Last, but not least, Asus tops the extensive ROG Phone 3 retail package by throwing in a couple of spare rubber dust covers for the Side-port, in case you lose the one already on the phone. Even a variant with two separate smaller dust covers is included. And, hidden away in a smaller box, you also get a bunch of Asus and ROG stickers to decorate some of your other things. As we said, gaming can be a fashion statement, and Asus know how to play this game well.
Design
While the ROG Phone II brought about some major visual and ergonomic changes from the original ROG Phone design, the new ROG 3 is a lot closer, physically, to its predecessor. It was very much a deliberate decision on Asus' part to try and keep the footprint of the new phone as close as possible to the old one so that users can reap the benefits of compatibility with a big chunk of the existing expansive (and expensive!) accessory ecosystem.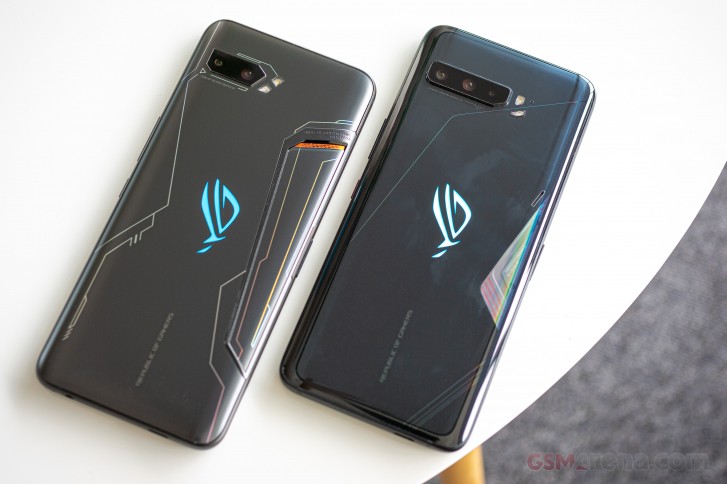 Left: ROG Phone II, Right: ROG Phone 3
On top of that, through iterating on the design and a constant feedback loop with its fans and customers, Asus feels like it has really zoned-in on a good overall formula for proportions, ergonomics, general placement of controls and spacings. All crucially important aspects when crafting a device meant to be as comfortable as possible for prolonged gaming sessions and convenient in terms of handling.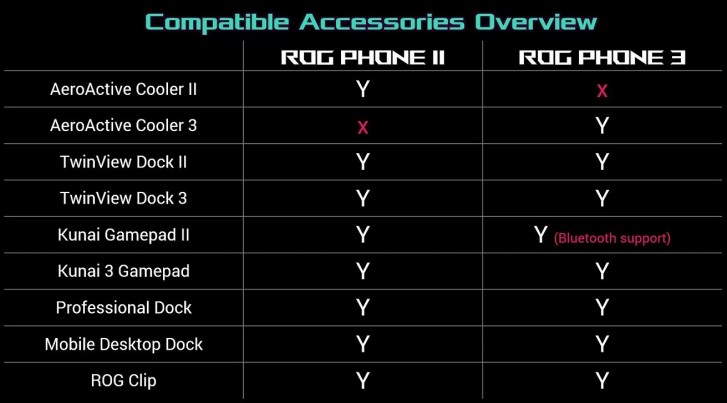 The two phones aren't exactly identical in terms of dimensions, though. Measuring 171 x 78 x 9.58 mm, the ROG 3 is exactly as tall as its predecessor, 0.4mm wider and 0.4mm thicker. Surprisingly enough, it still tips the scale at exactly the same 240 grams. That means it's still on the heavy side, even in a market of constantly-growing devices.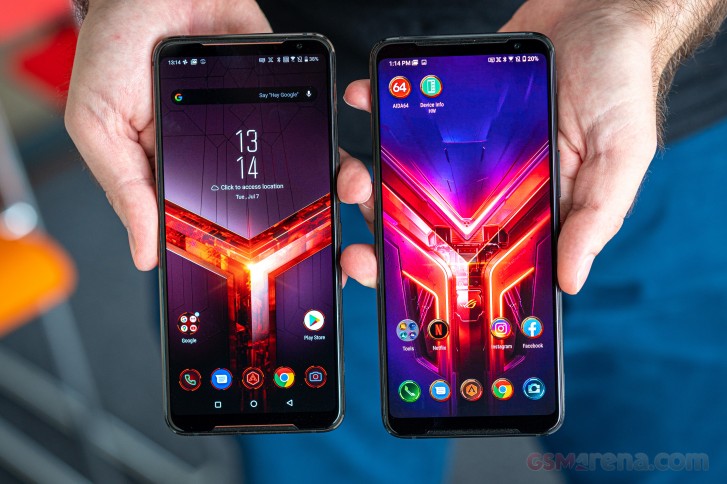 Left: ROG Phone II, Right: ROG Phone 3
This kind of weight definitely takes some getting used to. Though, thanks to a combination of excellent weight distribution and a great ergonomic body shape, the ROG Phone 3 actually feels really comfortable in the hand.
One thing worth noting when talking about cross-generational weight and dimensions is that the ROG Phone 3 was faced with the task of fitting in certain things like a 5G setup, including antennas and an external 5G modem and bigger, upgraded speakers, among other things, inside the same footprint of the ROG Phone II. An admirable achievement, especially without cutting-down the capacity of the 6,000 mAh battery, but one that required some unfortunate sacrifices, like the 3.5 mm audio jack.
The 60GHz Wi-Gig chip and antennas from last year's model are gone too. But, that tech was plagued with practicality concerns to begin with and probably won't be missed too much.
Our main point, being, that Asus has its priorities straight and didn't simply go for the easy route of shaving battery capacity. This ties-in well with a strong company belief in big battery packs.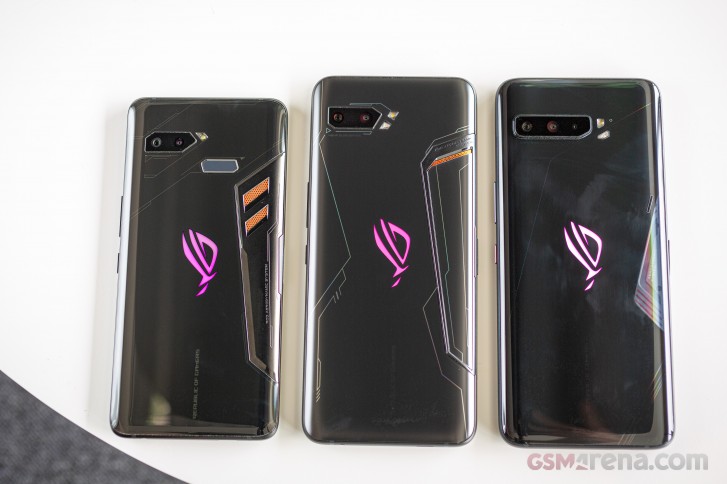 Left to right: ROG Phone, ROG Phone II, ROG Phone 3
Asus has been toning-down the "gamer" aesthetic on the ROG Phone line incrementally. The ROG Phone 3 still has the recognizable "aerodynamic look" of the family, complete with etched lines and diamond-cut bevel. Many of the accents and little details are now removed, though, like the orange in the front speakers and the grill on the back. The new look is, in a sense, slicker, more mature and could easily blend-in better with a more formal crowd. Especially if you leave the RGB logo off when you enter a boardroom meeting.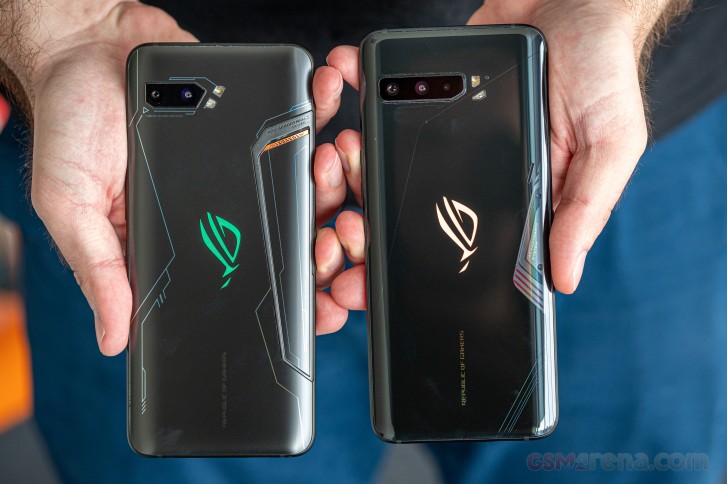 Left: ROG Phone II, Right: ROG Phone 3
However, we can't help but feel that some of the gamer aesthetic is missing. The transparent, geometric window on the back, offering a look into the re-designed, beefy internal heatsink is still a looker. Unique enough to, at least, be a conversation starter. But, other than that, Asus might have gone a bit too far in de-gaming the design. Of course, that's just subjective, but we still like the look of the ROG II just a bit better.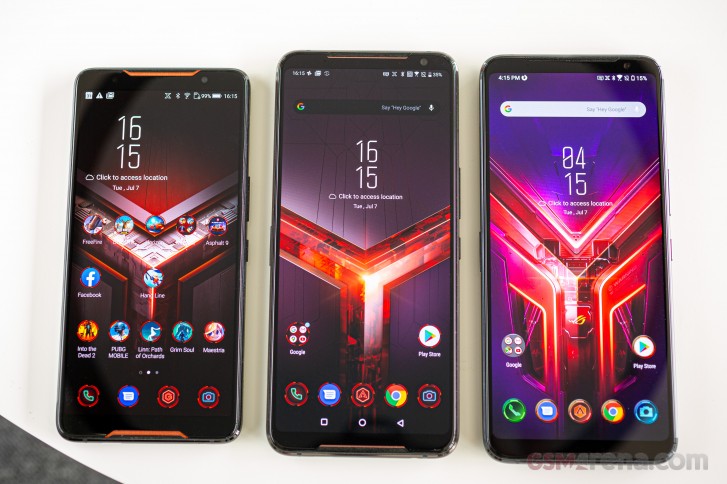 Left to right: ROG Phone, ROG Phone II, ROG Phone 3
Same goes for the finish on the glass back of the ROG Phone 3. On the ROG Phone II, we got an almost seamless blend between what was slightly silky to the touch Gorilla Glass pane and a huge chunk of exposed metal on the side, masterfully matched in color and finish. The transparent window on the ROG 3 and the tiny, almost unnoticeable air duct hole look cool but understated in comparison. And the Gorilla Glass 3 sheet on the back lacks that subtle silky feel, making it a lot more similar to your average Gorilla Glass smartphone back.
Beyond these subjectively personal observations, we can't fault the bill of materials and craftsmanship on an objective level. The ROG 3 is built like a rock. The aluminum middle frame has absolutely no flex to it. On the front – Gorilla Glass 6 offers peace of mind. The only real omission is the ingress protection.
Internal design
Asus has extremely clear priorities when it comes to the ROG Phone line – these devices are designed in a way to maximize performance, usability and general versatility as gaming rigs first, with any other consideration coming in later on the list. On the subject of heat and its management, there has always been one single mantra – heat is bad for performance ,and it must be removed as far away, as quickly and efficiently as possible from the internals so that they can perform their best. That's how the AeroActive Cooler solution was originally born – out of necessity since there is only so much you can do with a closed thermal system with no active cooling.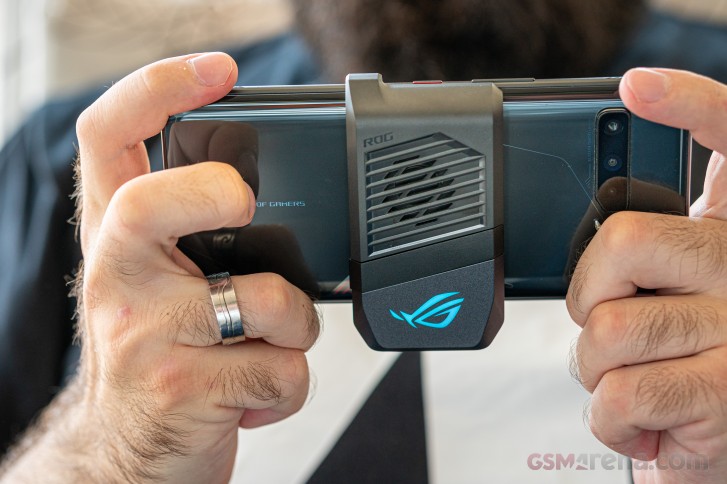 Truth be told, though, having a cooler on the outside of a phone, with layers upon layers of material between it and the actual chips, is never going to be an optimal solution. It is a whole lot better than having no fan, but the reality Asus is not afraid to honestly admit is that the fan is there for hand comfort, as much as it is for cooling the internals.
The ROG Phone 3 features yet another massively improved and re-designed internal cooling solution. It is passive but it's taksed with the heavy lifting when it comes to taking heat away from the processor.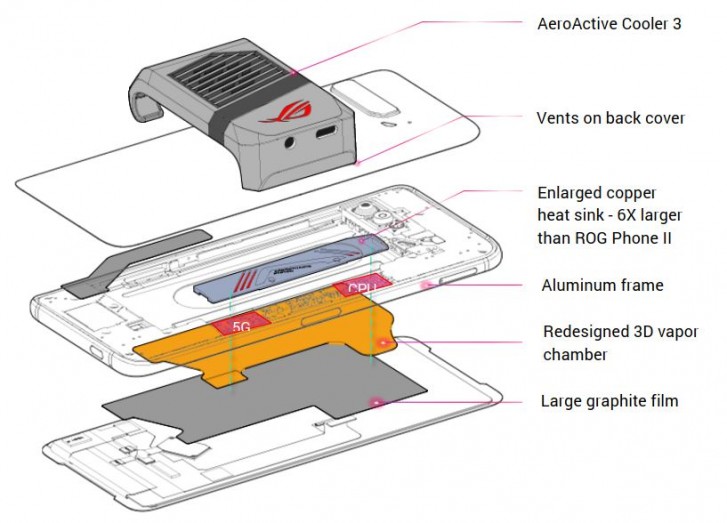 Dissecting this cooling solution, starting from the display and working out way inward, we first have a massive graphite film layer. Due to its large surface area, the panel on a modern smartphone actually plays a vital role in heat dissipation. The graphite layer is there to make sure it is being used in an optimal and uniform manner so as to get rid of as much heat as possible, while also avoiding uncomfortable and potentially harmful to the OLED hot spots.
The graphite layer then makes contact with the Snapdragon 865 chipset and the 5G modem – the two main heat sources in the system, via a re-designed, beefy 3D vapor chamber.
On the other side of the same silicon board, Asus has fitted a heatsink six times larger than that on the ROG Phone II. It's actually the thing that is showing through the transparent window on the back of the phone and the bit that gets to benefit from the airflow provided by the AeroActive Cooler 3.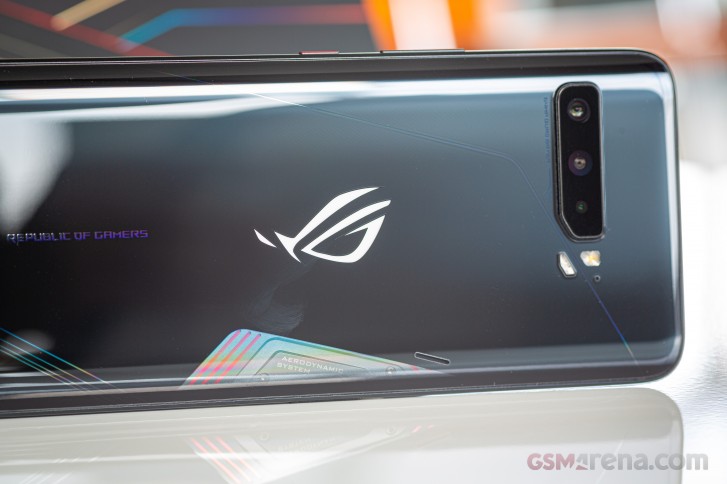 Clearly, the ROG Phone 3 relies largely on convection for the heat transfer. Hence, it is no accident and that the device gets hot under load and especially with prolonged use. This is yet another case of Asus setting its priorities in a consistent manner.
There is nothing stopping them for dialing-back CPU and GPU frequencies via thermal-throttling to keep the surface of the phone cooler. If that is something you prefer in certain situations, you can actually underclock the CPU and GPU yourself on a per-app basis and keep the phone cool. In a proper gaming rig, however, performance is the first priority, which means running the components as hard as possible and removing heat from them, even if that means dumping it on the user. That's what X Mode and its three performance presets are for and especially the Hardcore overclocking options.
Controls
There is a lot to cover here, so we'll get straight to the point. Like everything else thus far, the wider top and bottom chins on the front of the ROG Phone 3 are a deliberate and a functional choice. For one, it allows space for the pair of big front-firing speakers. These are upgraded from the ROG Phone II with a 7-magnet design, up from 5. Each has a dedicated Smart NXP amplifier. This all takes up a lot of space. Space well-used, we might add. The level of audio fidelity and advanced effects Asus was able to pull-off with these speakers is nothing short of industry-leading. More on that in the speaker section of the review.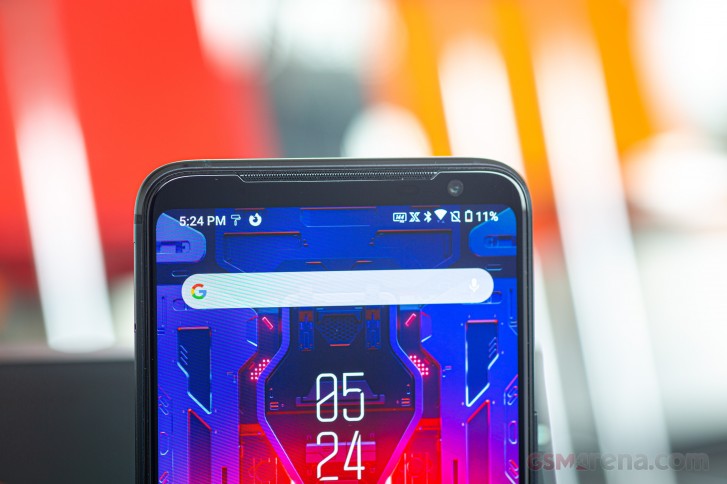 Other reasons backing-up the choice of wider bezels include leaving room for both your fingers to rest on the surface of the phone – preventing accidental touches during use and especially gaming and also freeing-up some extra space on the inside of the phone, since the display controller does not have to use a complicated wrap-around board design. Asus says that an edge-to-edge panel would have likely necessitated a smaller battery too.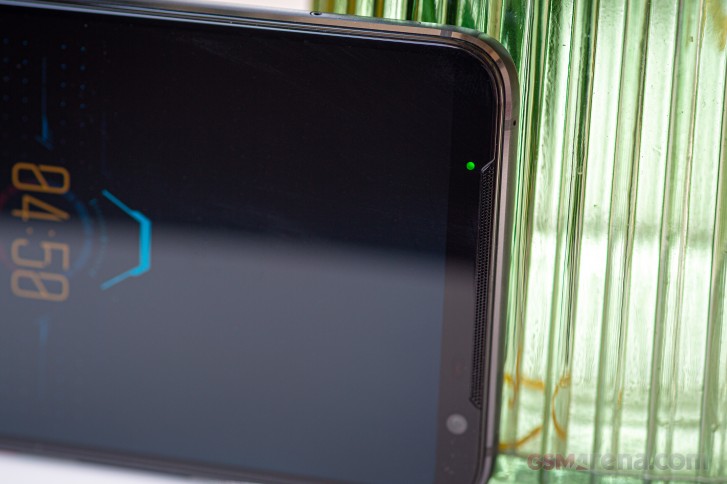 Space on top of the display also means no selfie camera cut-out, notch, punch hole, or anything else disturbing the gorgeous 6.6-inch AMOLED panel. The selfie camera position itself was considered further to not be easily covered by a thumb for gaming and streaming. Also, there was enough space left for an RGB notification LED. It's a rare sight on a modern flagship and something Asus went the extra mile for, since they could have easily claimed it is superfluous due to AOD on the OLED display or their RGB logo on the back, which can also pull notification duty.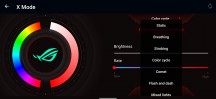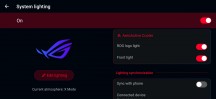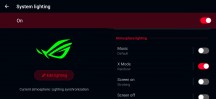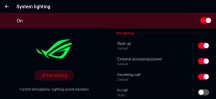 System lighting options
Speaking of the RGB ROG logo, it carries over all of the customization options from the ROG Phone 3. There are plenty of strobing, breathing, and color-shifting effects to choose from and tweak. You can also sync-up the pattern with other ROG Phones.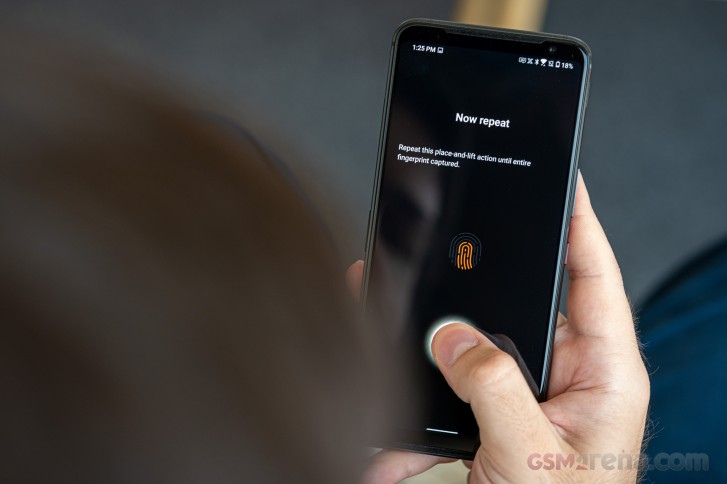 The ROG 3 naturally employs and in-display fingerprint reader solution. It is a straight-forward optical module and one that works really well. It is both snappy and reliable. If it's not your cup of tea, you can also use face recognition as a biometric alternative.
Rounding-off the list of controls on the front of the ROG Phone 3, we have one of a total of four microphones, near the top left corner of the device. The other three are positioned on the bottom bezel, on the right-hand side one, underneath the power button and on the back, next to the camera array. Asus calls this system a "Quad-Mic Noise-Cancelling Array", which deceptively only suggests a single use for it. In fact, beyond noise-canceling, it also makes sure that however you hold the ROG Phone 3 or whatever accessories you have on it, there will always be at least one microphone not covered-up and functional, which the phone will automatically detect and select for you. There are uses for the four mics in video capture in the camera, as well, for spatial audio.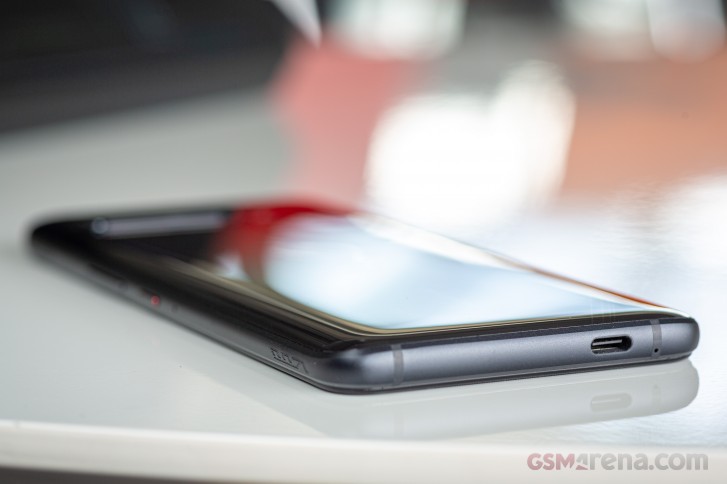 The power button is deliberately positioned relatively low on the frame of the ROG Phone 3. That's meant to minimize accidental presses during gaming, especially in portrait orientation, which is the use-case the ROG Phone 3 has been most optimized for. It's easy to get used to the position of these controls. The buttons themselves are excellent – clicky with a lot of travel and nice tactile feedback. Scooching these together in the middle of the frame was also necessary to make room for the Air Trigger 3 controls.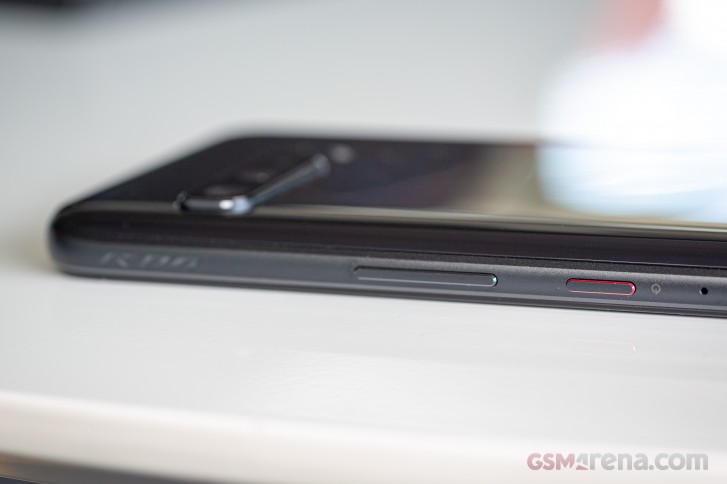 The ROG Phone 3 is expected to spend most of its active hours in a horizontal orientation. Just like its predecessors, certain aspects of its design, like the power and volume key placement, we just mentioned, are optimized for better ergonomics in this state. That's why the main Type-C port on the bottom is shifted left, or rather down, from landscape orientation perspective. That way, a cable potentially plugged into it won't be quite as bothersome.
However, that's really what the second Side-port on the ROG Phone 3 is for. A staple on the ROG Phone line ever since the original, the 48-pin, customized interface, effectively consists of two Type-C ports – one deliberately constructed to be narrower than a standard plug, since it uses a non-canonical pic designation. That way, users are only left with the singular temptation of trying to plug the ROG Phone 3 into itself via a single set of ports. By the way, we can save you the trouble, it does not result in "infinite energy," but rather a gentle reminder from the Asus software that they knew you were going to do that and that it is pointless.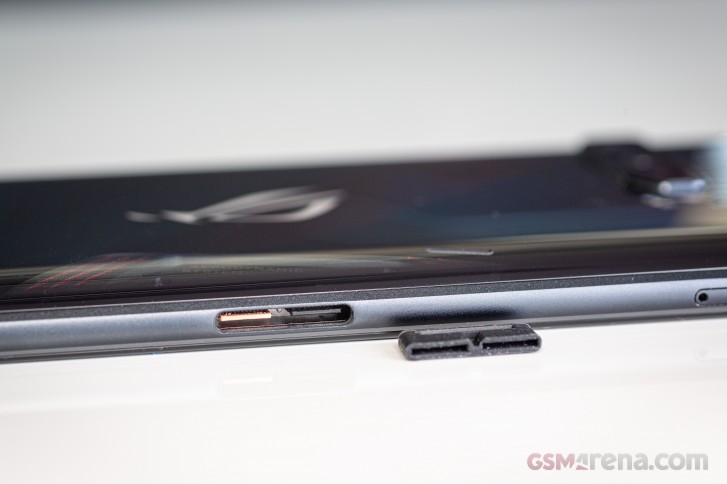 Anyway, this is the Type-C port you should be using to charge or simply power the ROG Phone 3 while you are gaming. It is simply more convenient. And, in case you were wondering, we did not just repeat ourselves in the previous sentence. The ROG Phone 3 supports pass-through power mode, just like a laptop. In this mode it won't be constantly topping-off your battery to 100% while you are gaming, potentially shortening its lifespan, but will rather skip it entirely and just power the internals of the phone directly off the socket. And that's hardly the only steps Asus are taking to protect the wellbeing of your battery.
The side-port is also technically more advanced than the one on the bottom of the phone. Behind it, there is a USB 3.1 Gen.2 USB controller, as well as Display Port 1.4, which is good at outputting video up to 4K resolution. In comparison, the bottom port is just USB 2.0. Both, are capable of the full range of charging with the factory Asus 30W charger and support its HYPERCHARGE direct charging, as well as PD3.0 and QC3.0. However, only the Side-port officially supports QC4.0, which might be a consideration in some weird use case or in conjunction with some accessory.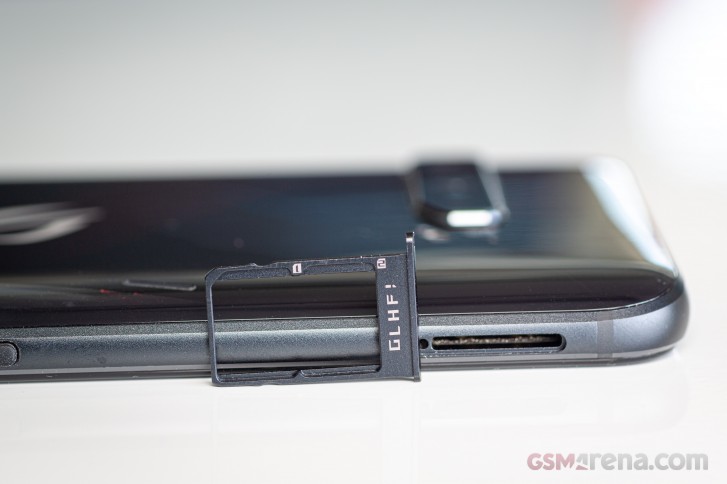 Most of the Asus accessories that plug into the Side-port are then nice enough to also offer a pass-through Type-C port, as well as a 3.5mm audio jack, so you don't have to think about that too much. Still, if you somehow find yourself in a setup that leaves you without a 3.5 jack from the Side-port, the main Type-C can always handle the included Type-C to 3.5 dongle. That's just the unfortunate reality of not having an on-board 3.5 jack.
Finally, there is the AirTrigger additional control system – another staple of the ROG Phone line since the very first device. It has seen incremental improvements since and is now on its third version – AirTrigger 3.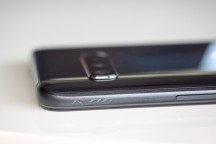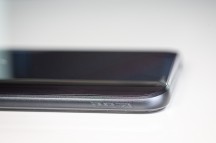 AirTrigger 3
If you are not in the know, this involves a pair of advanced ultrasonic sensors in the right-hand frame of the phone, used to register touch in a variety of ways. In AirTrigger 3, the system has also gained motion-sensing abilities for the entire phone itself. That means that it now provides a total of five inputs that can be freely mapped on on-screen controls in-game.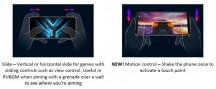 Types of inputs from AirTrigger 3
On top of tap and slide, which were available on the ROG Phone II, the ROG Phone 3 can also recognize swipes left and right on each area. Long-pressing can now be mapped as a separate action, as well. That's an impressive level of fine detection involved to differentiate these gestures. More impressive still is the fact that with correct sensitivity adjustment on the sensors, you can even rest your fingers on the sensors without them registering at all. And then you'd have to apply some pressure for them to register – just like a real button.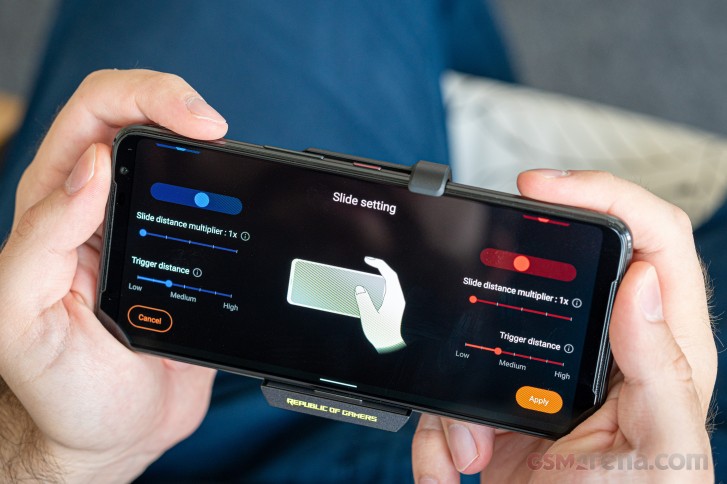 Speaking of which, haptic feedback on AirTrigger 3 is really advanced and feels localized as you slide your finger up and down a trigger area. And important addition, since AirTrigger 3 can actually partition each of the two triggers into two distinct sub-triggers. This works surprisingly well.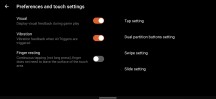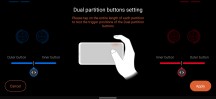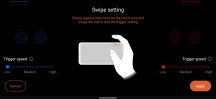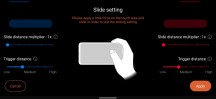 AirTrigger 3 settings
Between all of these different gestures, you can map an incredible number of on-screen controls to more convenient and surprisingly tactile ones for a tangible in-game benefit. Even as a total noob at Call of Duty, by just mapping my aim and trigger, I managed to get three times the kills of every other player in my first match. It's an incredible competitive advantage and one you can make use of without even resorting to any of the even more-powerful Asus additional accessories for the ROG Phone 3.
On top of it all, you can even map a shake of the phone itself to a certain action. It all works surprisingly well and is fluid and intuitive to use. You can set it all up through the Game Genie interface, while in game. Better still, if you find some of the options overwhelming, you can grab pre-made mapping profiles for most popular games from an online repository automatically. Frankly, it's all so well-made it almost feels like cheating.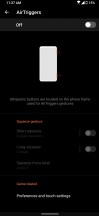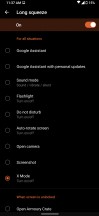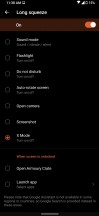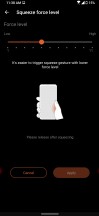 Squeeze gestures
Beyond in-game use, the AirTrigger sensors also provide squeeze detection during the general use of the ROG Phone 3. This aspect of the system is fairly versatile, as well. The phone can differentiate between a short and long press. They can also be assigned differewnt actions depending on whether the phone is locked or unlocked. The list of actions for locked squeezing is understandably shorter and does not include just freely launching any app you want. From an unlocked phone, there are very few limitations to worry about. You can also choose to only have the gesture active when the screen is unlocked, if you are worried about accidental activation. A surprisingly precise force level slider offers another layer of accidental trigger protection. Playing around with this menu is also a great way to appreciate just how precise the Asus ultrasonic sensors are on a hardware level.
Connectivity
Just a few quick notes on connectivity on the ROG Phone 3 for the sake of thoroughness. In terms of network, the ROG Phone 3 has Dual-SIM support, including 5G on either slot, though not concurrently. Expectedly, there is only 5G Sub-6 support and no mmWave.
Beyond that, the official Asus specs also describe two different network connectivity versions of the ROG Phone 3, with slightly different speeds and network aggregation support, as well as bands. One of the se versions supports 5G on bands N1, N2, N3, N5, N28, N41, N66, N71, N77, N78 and N79). A slightly downgraded version of the ROG Phone 3, titles ROG Phone 3 Strix, which uses the regular Snapdragon 865 chipset and different memory configurations also has different 5G band support – N41, N77, N78 and N79. You should look into this carefully, with your retailer of choice.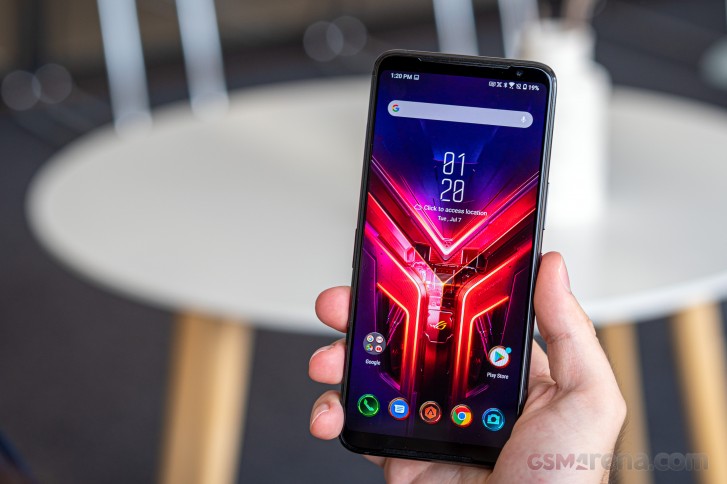 Beyond that, all ROG Phone 3 variants support Dual-Band Wi-Fi a/b/g/n/ac/ax and Wi-Fi 6. Also, Wi-Fi direct. One of the less-discussed improvements that the new Snapdragon 865+ chipset brings to the table is to Qualcomm's new FastConnect 6900 chips and with that – support for Wi-Fi 6E, which works in the 6GHz range and can deliver speeds of up to 3.2 Gbps and latency under 3ms.
The ROG Phone 4 has a total of four Wi-Fi antennas and a system called HyperFusion, which allows the software to switch between these automatically, as well as a cellular data connection, for the lowest possible latency and best speed.
Wi-Gig (60GHz) is a notable omission from the ROG Phone II.
The GPS module can handle GPS L1 and L5, Glonass L1, Galileo E1 and E5a, BeiDou (B1/B2a), QZSS L1 and L5 and NavIC L5. Though some market limitations might apply.
The on-board Bluetooth 5.1 support is versatile and includes all major high-quality audio transmission standards – aptX HD, aptX adaptive, LDAC and AAC. Plus, added optimization, courtesy of DIRAC, specifically for Asus' own-brand headsets. That optimization is available for both wireless and wired connection, as described in this table.

In general, audio output Through the Type-C port on the ROG Phone 3 is Hi-Res Audio (HRA) certified and can handle audio files at 24-bit/96kHz or 24-bit/192kHz. You do need to pair it with a Hi-Res audio output device though.
A glorious 144Hz AMOLED display
Just like its predecessors, the ROG Phone 3 is equipped with a gorgeous display, at the bleeding-edge of the current mobile scene. Specifically, in all the aspects that appeal to a gamer crowd. The 6.59-inch panel hasn't changed in diagonal from last year, nor has it adopted any trendy new curved edges or folding design. A flat surface with ample bezels is simply the optimal setup for maximum control and in-game comfort.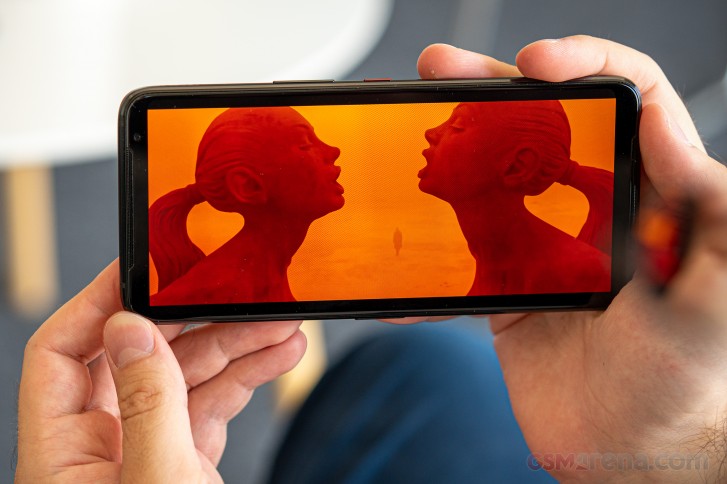 The main call to fame this year has to be the 144Hz refresh rate. Granted, the increase from 120Hz in the ROG Phone II is incremental, but is still notable in a pro-gamer context. Plus, it does not come in isolation, but rather alongside improvements in touch sampling rate, which is up to a blistering 270Hz on the ROG Phone 3. Asus has also worked hard to optimize the entire Android input and output chain and now boasts touch latency figures as low as 25ms and 18ms for swipe latency. As per the company's own believes – currently an industry-wide world record. Of course, certain finer points about differences in testing methodology between manufacturers might be important to this claim. Regardless, the important bit is that the ROG Phone 3 is responsive on a different level than most every other smartphone out there.
Display test
100% brightness
Black,cd/m2
White,cd/m2
Contrast ratio
Samsung Galaxy S20 Ultra 5G (Max Auto)
0
894
∞
OnePlus 8 Pro (Max Auto)
0
888
∞
Oppo Find X2 Pro (Max Auto)
0
871
∞
Xiaomi Mi 10 Pro (Max Auto)
0
858
∞
Apple iPhone 11 Pro Max
0
820
∞
Huawei P40 Pro+ (Max Auto)
0
760
∞
Asus ROG Phone 3 (60Hz Max Auto)
0
727
∞
Asus ROG Phone 3 (Max Auto)
0
719
∞
nubia Red Magic 5G (Max Auto)
0
685
∞
Asus ROG Phone II (Max Auto)
0
626
∞
LG V60 ThinQ 5G (Max Auto)
0
622
∞
Motorola Edge+ (Max Auto)
0
607
∞
Sony Xperia 1 II (Max Auto)
0
538
∞
OnePlus 8 Pro
0
538
∞
Oppo Find X2 Pro
0
536
∞
LG V60 ThinQ 5G
0
511
∞
Xiaomi Mi 10 Pro
0
510
∞
nubia Red Magic 5G
0
483
∞
Asus ROG Phone II
0
479
∞
Asus ROG Phone 3 (60Hz)
0
475
∞
Asus ROG Phone 3
0
464
∞
Huawei P40 Pro+
0
455
∞
Realme X3 SuperZoom
0.332
437
1316:1
Motorola Edge+
0
422
∞
Samsung Galaxy S20 Ultra 5G
0
398
∞
Sony Xperia 1 II
0
333
∞
Before we get into the nitty-gritty of how Asus handles high refresh rate, let's go through other performance aspects on the ROG Phone 3's display since it is a true powerhouse all around. The ROG Phone 3 can go up to 464 nits at 100% on its brightness slider and it will push beyond that to 719nits in max auto mode. The latter figure might not be as high as what current-gen Samsung flagships can offer, but is still squarely within modern flagship territory and plenty to deliver a great outdoor experience, even in direct sunlight. An important thing to note here is that these figures were achieved at the maximum 144Hz refresh rate of the panel.
Due to the way OLED technology works, it has certain intrinsic limitations and noticeably different behavior ad different refresh rates. Setting the ROG Phone 3 to 60Hz results in an increase in its manual max brightness to 475 nits and a max auto of 727. Not necessarily perceivable with a naked eye, but still a crucial behavior to take into account for our battery tests, which are conducted at a fixed 200 nits. As you can imagine, even with a few nits less in maximum brightness, at 144Hz the display is considerably more power-hungry than at 60Hz. A known fact that Asus is doing its best to mitigate with a smart auto refresh rate strategy, discussed in the next section.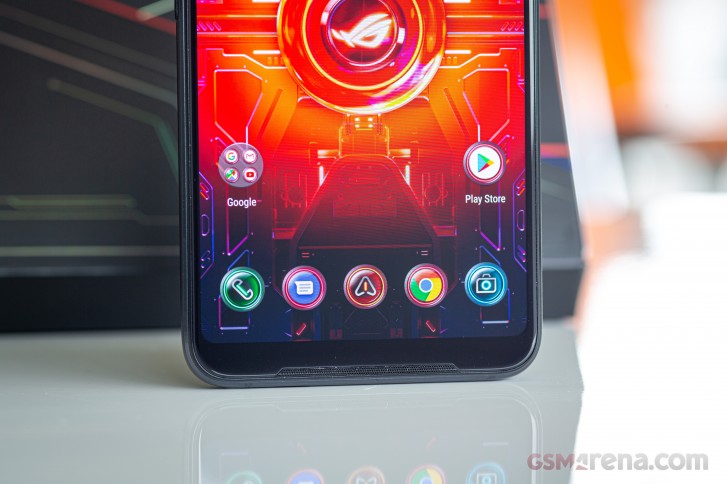 The ROG Phone 3 uses a true 10-bit display, capable of 1.07 billion colors. It is certified for HDR10+ and, as you can imagine, also covers Widevine L1 so that it can make use of all the high-definition, high dynamic range content on platforms like Netflix and Amazon Prime Video.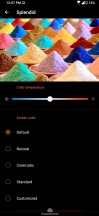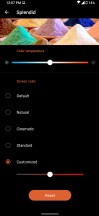 Splendid color profiles
The ROG Phone 3 has a total of four distinct color profiles under a "Splendid" menu in Display settings. Also, a fifth Customized option, as well as a color temperature slider to tweak each one of the profiles. There is no advanced white point adjustment, but after testing the phone's color reproduction extensively, we don't think one is necessary at all. It would have just overcomplicated things for the user.
Just like with brightness and contrast, we ran all of our color tests at both the maximum 144Hz and the minimum 60Hz to once again find differences. We are happy to report that these were small to insignificant in real-world terms and that Asus seems to be optimizing for 144Hz, rather than 60Hz, which would have probably been the easier approach.
Not all of the included four display profiles are intended to be color-accurate or target a specific color space. The aptly-named out-of-the-box "Default" delivers a familiar "punchy" OLED aesthetic. It is still fairly balanced, in that sense, only leaving the cyan and yellow channels slightly more boosted to achieve the effect. In this mode, the ROG Phone 3 scores an average deltaE of 5.6 and a maximum of 10.5. In comparison, "Natural" mode boosts a few other color channels as well, resulting in a more balanced overall look. In terms of numbers, this results in an average deltaE of 6.4 and a maximum of 10.3. "Cinematic" strives for a more color-accurate output, although still features a few slight deviations from the perfect optimal, introduced to make a more subjectively pleasing look. When measured against the DCI-P3 color space, "Cinematic" mode manages a solid average deltaE of 2.8 and a maximum of 4.9.
Finally, there is "Standard" mode. This is meant to showcase how tight the ROG Phone 3 panel can keep to BT.709 color space. With an average deltaE of just 1.6 and a maximum of 2.8, it is well within the limits of "color accurate".
High refresh rate challenges and solutions
High refresh rate on Android is still a challenge on multiple levels. Beyond the hardware bit of the puzzle, which we are actually starting to crack faster and with improved consistency with each generation, there are software problems to overcome and the huge issue of increased battery drain, associated with higher refresh rates. The latter is a well-known and documented reality, which has necessitated clever solutions on the manufacturer's part. This will likely continue to be the norm, at least until Google decides to tackle high refresh rate handling in a centralized manned within the Android core. In the meantime, exploring how every manufacturer handles its high refresh rate implementation is important.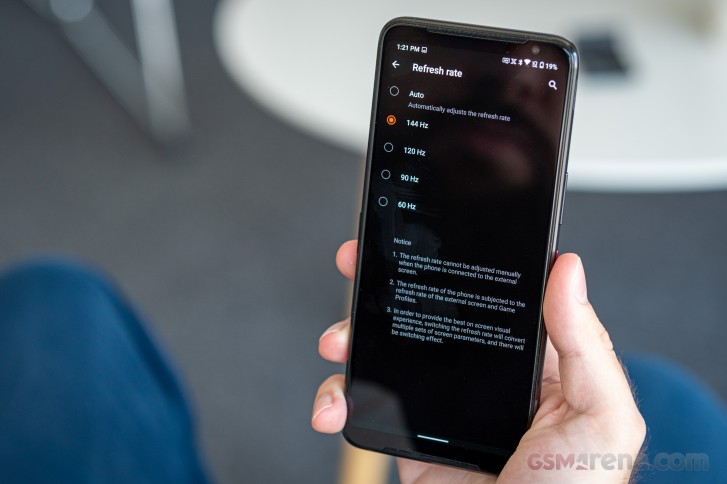 Asus has put a lot of effort into making its 144Hz panel work as fluently as possible, without tanking battery life, but also, without disappointing its gaming audience with a too conservative approach. The refresh rate settings menu on the ROG Phone 3 includes four specific settings – 60Hz, 90Hz, 120Hz and 144Hz, as well as an intriguing Auto option.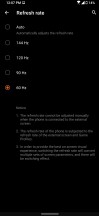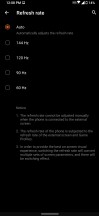 Refresh rate settings
Just like with other aspects of the ROG Phone 3, like thermal management, the main driving logic here is to deliver the best possible gaming experience as a main priority, leaving any other consideration, like battery endurance, with lower priority. Hence, it makes sense that all four particular refresh rate settings in the menu act like quite strict frame rate targets, which the phone enforces almost universally across all apps.
The UI, in particular, gets fixed to the refresh rate you select, and so do most apps, regardless of whether they can even produce the required number of frames. Lots of mobile game engines, for instance, can't go beyond 60fps by design. Some can't even push beyond 30fps. However, there is no software issue in forcing any app or game to run at any refresh rate.
Even so, however, Asus still reserves its right to automatically force some common sense measures behind the scenes, even with strict refresh rate settings in place. Most-notably, playing a video in the default Video player always drops the refresh rate down to 60Hz to same battery. However, the same does not happen if you play the same video in Google Photos, or if you play a YouTube video. What Asus is doing is app-level recognition for this automatic switching logic and the justification behind leaving a higher refresh rate on in YouTube or Photos is that it does make for a smoother scrolling experience within the app, before you actually get to a full-screen video player. However, we have seen other manufacturers, like OnePlus go that extra step and actually detect any full-screen player and then switch to 60Hz. That might be a potential area for future improvement in the Asus logic. Though, we still get the reasoning behind the "the user wants 144Hz, so we give them 144Hz" logic.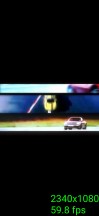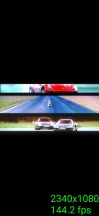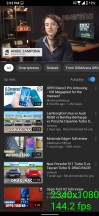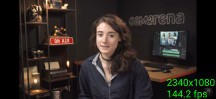 Default video player (60Hz) • Google Photos video player (144Hz) • YouTube (144Hz)
Auto is probably the most intriguing setting of them all. It is also the default option. While in it, the ROG Phone 3 tries its best to strike a good balance between smooth and responsive operation and battery endurance. In Auto, the phone has a definite affinity towards 90Hz, with most apps and games defaulting to that. However, there is a layer of extra smarts working behind the scenes, as well. While in auto mode, the ROG Phone 3 will "probe" for the lack of a better word, any given game's ability to run at increasingly higher refresh rates with consecutive launches of the app. If it discovers, say, that a particular game is designed to push 144Hz, it will eventually set an automatic per-app 144Hz setting for the game in question. Same logic applies for games that can do 120fps of just 60 fps.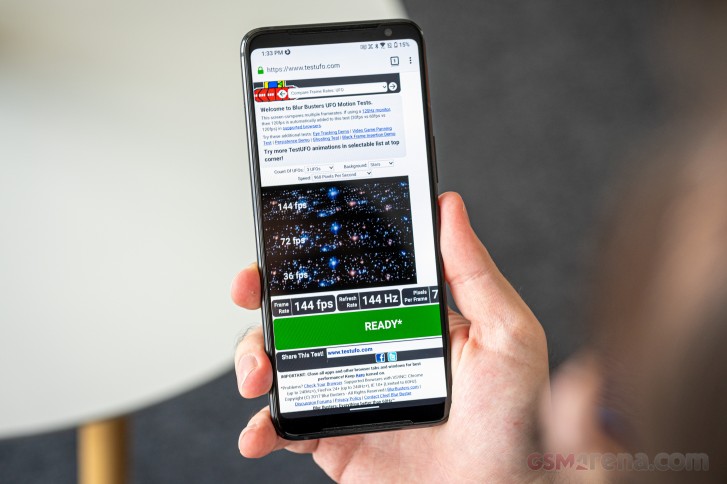 Currently, this system is only enabled for apps that are categorized as games in the Google Play Store. There is nothing really preventing Asus from enabling the same logic for regular apps as well. However, their justification for not doing so makes a lot of sense. Most apps made with standard UI components will actually be more than happy to run at 144Hz and if the intelligent Auto mode were enabled on them, they would end up with exactly that behavior. However, that might not necessarily be the desirable setup. A lot of apps can't benefit from the extra refresh and frame rate, but will still cost a lot in battery endurance.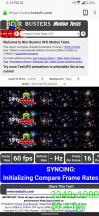 Firefox capped at 60Hz by default
On the flip side, in Auto mode, certain apps, like the Firefox browser, which, unlike Chrome does support high refresh rate up to 144Hz in its Webview in the current mainstream version gets locked to 60Hz. Chrome gets a slightly better auto treatment at 90Hz. Asus says that it is working on an intelligent way to address this issue and potentially even enable the automatic auto refresh rate adjustment, in some capacity, for all apps in a future update.
In the meantime, Armoury Crate has you covered with extensive per-app options for pretty much every performance and behavioral aspect of the phone, including app-specific refresh rate level. Any plain app can be manually added to the Armoury Crate list and benefit from these granular controls. These even work if the app last from the general app launcher, instead of Armoury Crate itself.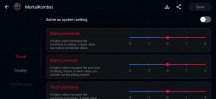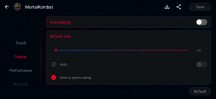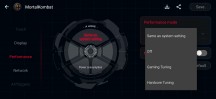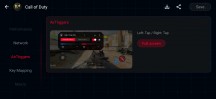 Armoury Crate per-app Scenario Profile
What about truly adaptive refresh rate then? That is sure to come up in the comments, and it was out instinct to ask Asus about it too. True adaptive refresh rate, in the say we think of it with G-Sync and FreeSync in the PC realm is still not really available in Android. Makes sense, considering that Google's mobile OS can't quite sort out its handling of high refresh rate panels on a much less-adaptive OS level and is leaving that up to manufacturers.
Hardware-wise, the GPU power might actually already be there. However, from a software standpoint on both an OS level, and OEM level and a game engine and developer level, this sort of thing is still some way off. Currently, Asus is doing its best to help with enabling and properly supporting frame rates beyond 60 in games and things like controllers. The whole sphere is still shrouded in uncertainty and most importantdire need of better organization.
Armoury Crate actually features separate curated sections for apps that are verified to support certain features, like high refresh rate or controller input properly. So, things are hopefully moving in the right direction.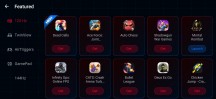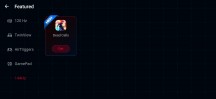 Curated lists of high refresh rate games in Armoury Crate
Beyond that, there are even more serious questions to still tackle, related to the very basics of high refresh rate technology. Like properly educating the consumer on what it is, what and when it can offer, and what are its drawbacks. Baby steps.
Battery life
Working our way to the battery department of the ROG Phone 3, we find yet another great example of Asus putting forward deliberate effort, thoughtful decisions, and laser-focused priorities. The huge 6,000 mAh battery from the ROG Phone II has successfully made it over into this generation, and the ROG design team was more than happy to motivate this decision, alongside the fairly take 30W charging speed and additional focus on slower and well-paced charging on multiple levels.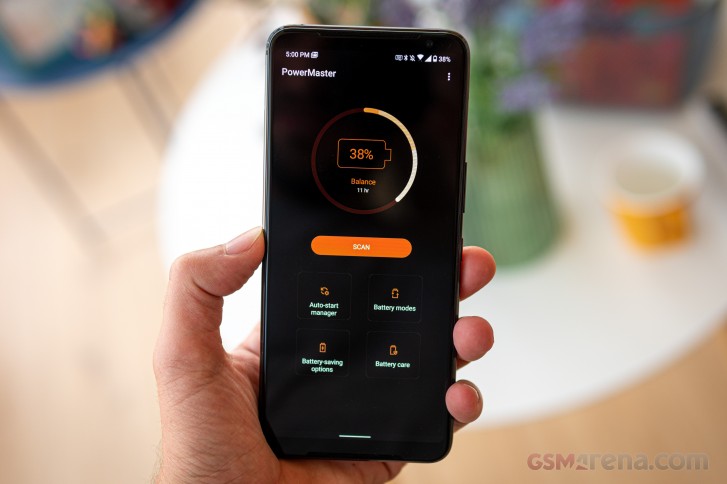 First, a core philosophy – Asus firmly believes that faster charging can't fully replace all the benefits of having a bigger battery. It can definitely mitigate the shortcomings of having a smaller one and is a valid approach to tacking the timeless endurance issue.
But, like most industry trends, Asus was not content with simply following along. On one hand, having more juice simply means more time away from the socket. And the ROG Phone 3 doesn't have to only deal with casual web browsing and social network use while on battery, like most other phones usually end up doing. It has to deliver the best possible gaming performance for the longest possible period. The 6,000 mAh battery capacity combined with ROG Kernel Optimization, which Asus claims can save about 180mh of juice while gaming, result in up to 9 hours of PUBG and 9.5 hours of Asphalt 9 game time on a single charge (display at 200 nits and 60Hz).
And for those that do end up rarely gaming on the go, a bigger battery means that they can easily do multiple days of casual use on a single charge. In our tests, the ROG Phone 3 clocked in an impressive 120 hours of total endurance, while working at its maximum 144Hz refresh rate.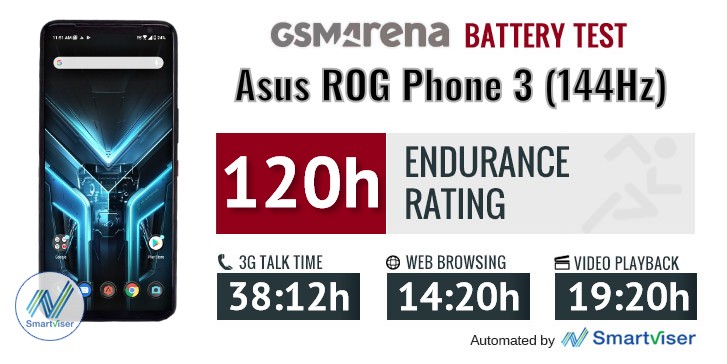 Mind you, we had to go through some hoops to ensure that our web test and especially the offline video playback test were actually conducted with a 144Hz refresh rate. While a higher refresh rate is definitely beneficial for web browsing, since it delivers buttery-smooth scrolling, not all current mainstream browsers handle anything past 60fps the same. Chrome can, theoretically go as high as 144Hz, but most current public builds require a bit of tinkering with internal settings to get there. Firefox, by contrast, is pretty-much ready out-of-the-box, but we did have to manually add it into Armoury Crate and set 144Hz on the ROG Phone 3, since, by default, it ran at 60Hz. Point here, being, that properly making use of high refresh rate still requires user awareness and involvement on a per-app basis.
As for the offline video playback bit of the testing at 144Hz, we had to go squarely against the better judgement of the phone and force 144Hz on our test player. This was done purely to stick to our established methodology. In practice, forcing anything beyond 60Hz on a full-screen video player is useless and simply wasting battery.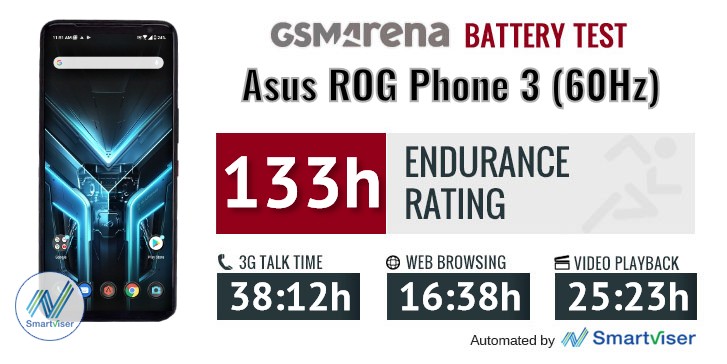 Lowering the refresh manually to 60Hz illustrates the unnecessary power waste during video playback. There is also a small endurance boost to be had in web browsing. All things considered, it looks like slowly, but surely, the battery cost associated with running a high refresh rate panel is getting smaller and smaller with advancements in tech. A trend we can definitely get behind.
As things currently stand, we see no reason not to use 144Hz on the ROG Phone 3 anywhere where that would be applicable. You might have to spend some time cherry-picking and setting-up specific refresh rates for some of your apps, but once that is fine-tuned, you should get both an amazingly-smooth visual experience and an impressive endurance rate somewhere between the 120- and 133-hour figures, we measured in our testing.
Our battery tests were automated thanks to SmartViser, using its viSer App. The endurance rating above denotes how long a single battery charge will last you if you use the Asus ROG Phone 3 for an hour each of telephony, web browsing, and video playback daily. We've established this usage pattern so that our battery results are comparable across devices in the most common day-to-day tasks. The battery testing procedure is described in detail in case you're interested in the nitty-gritty. You can check out our complete battery test table, where you can see how all of the smartphones we've tested will compare under your own typical use.
If you don't spend too long away from a power source on a daily basis, you can, alternatively, still make use of the big battery capacity by choosing to charge more frequently, but not to 100%, which has a proven positive effect on the overall longevity of a Li-Ion battery. Asus spared no effort in the battery care department. In fact, the company claims that their PowerMaster suite includes "the most versatile set of battery customization options found in any phone". While we can't confirm that title with absolute confidence, we can express our admiration with just how far Asus has gone in the quest to maintain the ROG Phone 3 battery in good health.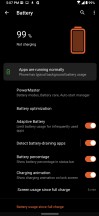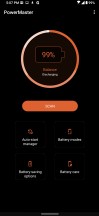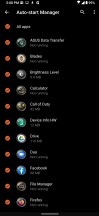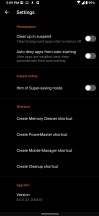 PowerMaster options
First off, there is the Custom charging limit, we already mentioned. Li-ion cells hate spending prolonged periods of time at maximum charge, as well as below a certain nominal voltage level. That is what is most likely to damage their capacity in the long run. According to Asus' figures, a battery charged for 500 full cycles to 100% loses around 15% of its original capacity, while charging the same number of cycles to 80% capacity results in 7% battery loss. That's not insignificant on a phone that has the potential to see a lot more abuse, all around, than you average daily driver smartphone, due to its mobile gaming-console DNA.
Even with a more gaming-heavy schedule, the ROG Phone 3 is still likely to have a good six- or eight-hour ballpark of downtime while its owner rests every night. Overnight charging in the traditional sense is bad, since it keeps the battery at maximum charge for longer periods than necessary. Addressing precisely that issue, the ROG Phone 3 has "Scheduled charging". You can either set a given period coinciding with your sleep schedule manually, leave the phone plugged-in during that time and have it to manage its charging so that it only tops-off the final few percentages of "trickle charge" just before you wake up. Or, in what is a new update, you can also use one of the new "Sleep well" options, such as End time by alarm, Do not Disturb, Airplane mode and turning off the charging LED indicator. It's an extra layer of charging smarts.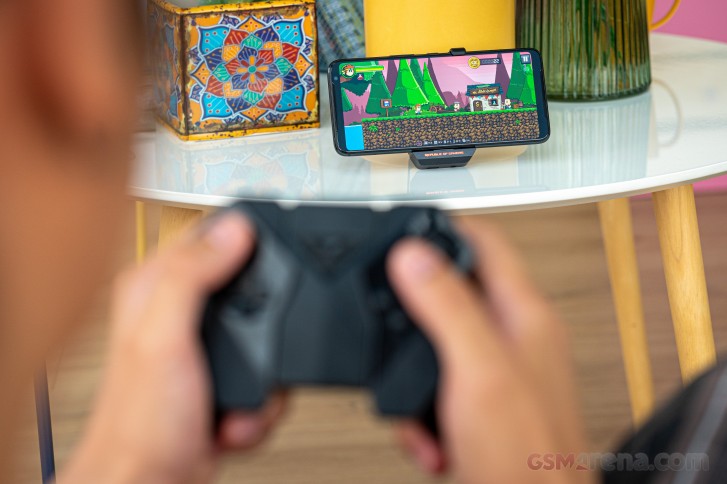 Speaking of charging, there are a few other bits worth pointing out. Like the fact that the ROG Phone 3 supports passthrough power. This is great for prolonged gaming sessions since you are not constantly charging your battery up to 100% and pinning it there to its detriment. You are also not generating any excess heat in the power conversion process. The wall adapter is just delivering the amount of power the ROG Phone 3 currently needs for its internals, with the battery at rest and still ready to spring into action as a UPS, of sorts, if something happens to mains power. It's a distinctly PC approach to power management, which makes a lot of sense, especially on a gaming phone.
Speaking of heat and battery health and longevity, Asus also offers a "Slow charging" mode in its battery menu. It caps charging at 10W and lowers the charging temperature by 34%. This is ideal to use both while charging overnight and when you do want to get some juice in your pack, but don't want to stop gaming.
Asus has a few things to say about its charging choices too. If you opt for full charging speed, the ROG Phone 3 can take up to 30W. Preferably using the provided Asus charger, since the included HYPERCHARGE standard uses a form of direct charging that has a lot of the circuitry and power conversion in the charger itself, instead of the phone, resulting in a lot less heat and from there, better performance and less wear and tear. Asus also claims that its technology does not need a fancy 5A Type-C to Type-C cable to work at full capacity. A good-quality 3A cable will do. Quick Charge 4 and PD are also options, in case you don't have the default charger at hand. You should probably hold on to it, though, as it is surprisingly versatile.
30W do not sound particularly impressive in a market continuously fixating on charging speeds and quickly pushing the 100W mark. Asus understands this all too well, as evidenced by the ample justification of its alternative charging approach and philosophy, laid-out here. However, for the charging-enthusiasts among you, there is yet another positive of a larger battery worth discussing. It has to do with the way current Li-ion battery packs have to be charged.
Regardless of technique, at around 70% of any battery's capacity, you have to switch over to constant voltage charging, which is significantly slower. In that sense, the large 6,000 mAh battery on the ROG Phone 3 can maintain its full 30W charging for longer and reaches 4500mAh in 46 minutes, or 15 minutes faster than a regular 4500mAh battery with its own 30W charger would. Speculative math, for sure, but the illustrated point is still valid – you get a higher total amount of juice quicker.
In our own charging tests, the ROG Phone 3 got from 0% to 24% in 15 minutes, then managed a 50% charge in a total of 35 minutes. It had accumulated 83% at the hour mark, and a full charge took around an hour and 50 minutes.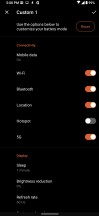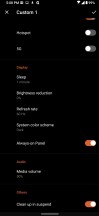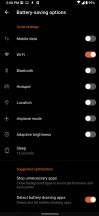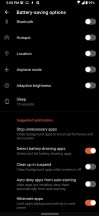 Custom battery savings profiles
Rounding off the battery section, we can't fail to mention that beyond a trio of battery-savings profiles, the ROG Phone 3 also has two slots for custom battery modes. You can set a combination of six different connectivity options, five display ones, audio volume, and an elective background app cleaner for each of the two. There is also a more standard "Hibernate apps" feature to manually or automatically, by suggestion, deal with rarely-used apps and save up to 67% of standby power, as measured by Asus.
Speaker test
Asus' work in mobile audio has been nothing short of industry-leading. We're quite confident in stating this since the ROG Phone II remains one of the benchmark devices in our relatively new loudspeaker test. And on a more subjective level, very few smartphones can even come close to the level of audio fidelity its speakers produce. The iPhone 11 lineup is one and the Xiaomi Mi 10 Pro 5G is another one that comes to mind. Now, so does the ROG Phone 3.
That is to say that the ROG Phone 3 is truly amazing in terms of speakers and does its fair share to push the envelope, but it a slightly different way than the ROG II, with a few noteworthy, but very much justified compromises along the way.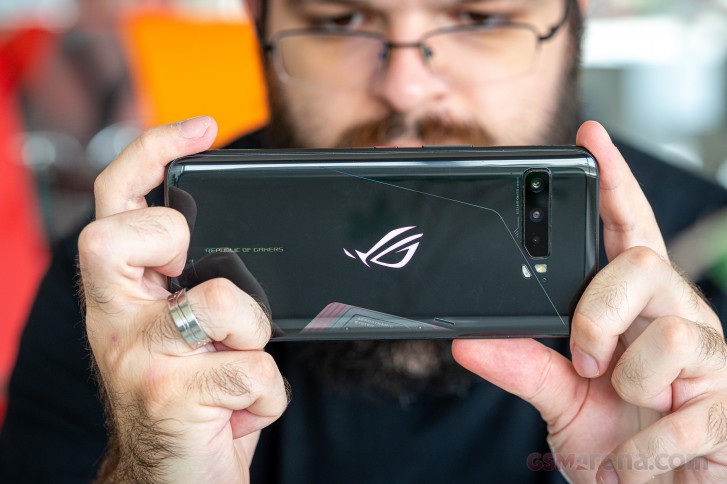 The ROG Phone 3 has a pair of huge front-facing stereo speakers, each powered by its own NXP TFA9874 amplifier. Each of the speakers now has a 7-magnet design, up from 5 in las year's phone. This is the hardware basis for what is an extremely well-balanced and potent stereo setup. Though, interestingly enough, it should be noted that the two speakers are not exactly symmetrical in size and raw output. Hardly an important fact, since the things Asus are doing with said speakers go way beyond their basic hardware characteristics.
Use the Playback controls to listen to the phone sample recordings (best use headphones). We measure the average loudness of the speakers in LUFS. A lower absolute value means a louder sound. A look at the frequency response chart will tell you how far off the ideal "0db" flat line is the reproduction of the bass, treble, and mid frequencies. You can add more phones to compare how they differ. The scores and ratings are not comparable with our older loudspeaker test. Learn more about how we test here.
This is precisely the kind of high-end battles we originally designed our new, detailed speakerphone test for. Addressing the elephant in the room, yes, the ROG Phone 3 is slightly quieter, or rather less "chart-breakingly" loud than its predecessor. And that's without factoring-in the outdoor mode the previous generation had, which seems to be absent this time around. It appears to have departed along with the much more-significant absence of DTS:X Ultra.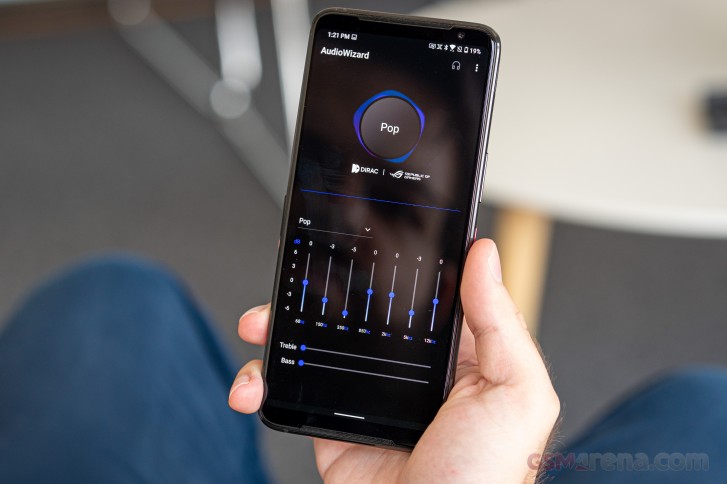 Taking its place, however, is a new tight partnership between Asus and Swedish audio-experts Dirac. The fruit of said partnership is a new audio platform, for the ROG Phone 3, called GameFX. Cutting straight to the point once again, the DTS:X Ultra shoes are unquestionably big and hard to fill, but we feel like this newfound partnership has more than managed to outdo previous efforts. Especially in the areas most-important to the ROG crowd – gaming.
Simplifying a lengthy and riveting discussion on the topic of audio with Asus representatives, Dirac's tech has enabled Asus to go in-depth with the audio tuning for the ROG Phone 3 and especially in a gaming-specific direction to a degree that was not easily achievable with what DTS:X Ultra previously offered. So, you can think of GameFX as a lot less of a "turnkey" solution, but one that opened-up numerous new possibilities.
There's genuinely a lot to go through in GameFX, but we'll try to stick to the most significant bits. First, we'll start with Bass enhancement technology, since that's the one that really managed to impress. By definition, true bass relies on large speaker volume and moving a big quantity of air. These things are outside the reach of a mobile speaker system, even one as beefy as the ROG Phone 3's. The proposed solution here relies on psychoacoustics. It's a fairly complex process of adding specific over-tones to the output of the speaker that extend the perceived bass tone by two octaves. In simpler terms, your brain is tricked into perceiving a 33% wider frequency range than what the physical speakers can output (16,000 – 234 Hz, enhanced to 16,000 – 58Hz), with only a small drop-off in volume as a tradeoff.

The key thing to note here is that the increase is just in perceived bass. That means that the tech works better in certain situations than others and is more convincing to some people than others. It is something hard to put into words, but when it works, you can swear that that kind of low-frequency, deep bass sound cannot, possibly be coming from a smartphone speaker. Probably because it's kind of a great illusion. When it doesn't quite hit its mark, the effect never actually sounds bad or off-putting, but it can fall into "uncanny valley" territory. In much the same way a very, very convincing piece of CGI can mess with your brain. As we said, it's weird and it needs to be experienced in person. We believe there is definitely something to it and that it merits further work.
Bass enhancement technology can be experienced on a system-wide level. The same goes for Impulse response correction, which tries its best to clean-up impulse frequency response and limit sound tapering-off effects, so they don't interfere with other sounds. Same goes for Frequency response correction, which tries to balance and smooth-out frequency responses across the board.

Crosstalk cancellation is a bit more self-explanatory, but still has some subtleties to it. The main concept is to combat the fact that the two speakers in the ROG Phone 3 are physically close to one another and prone to stereo crosstalk. The implemented solution has each of the speakers play the intended signal of the opposite one, with the right delay and phase to cancel-out crosstalk.
Most of these technological layers, however, really all come into play and perform the best in the automatic game-specific audio tuning ROG and Dirac have developed. It is specifically tweaked to offer a gaming advantage. In that sense, it does things like amplifying specific sounds and frequencies, like those of footsteps, instead of just aiming for a generally better audio experience for music or multimedia.
This is yet another case of Asus priorities showing through. GameFX manages to offer the best audio it can for in-game use. While the end results are still industry-leading and on a level of their own for general multimedia use, as well, in some of these scenarios, we found the older ROG Phone II to be a bit more subjectively pleasing to the ear. Even so, it still comes down to us nitpicking and trying to weigh two overwhelmingly excellent marks against one another. We get what Asus was striving towards with the ROG Phone 3 and we think it hit the nail right on the head.
Audio output quality
We've recently discontinued our audio output quality test.
The reason for that is that most phones that arrived for testing were already excellent in this regard and whatever difference there was, it was marginal and probably indistinguishable to anything but our lab equipment.
Snapdragon 865+ synthetic benchmarks
The ROG Phone 3 is powered by the just recently announced Snapdragon 865+ chipset. Frankly, the ambassadorial role of the ROG Phone 3 for the speed-binned and overclocked chip is a perfect fit.
Ever since the original ROG Phone, Asus has exhibited a clear desire to go above and beyond the stock potential of Snapdragon silicon. Back in those days, Qualcomm didn't actually have a proper speed-binning process of its own, which meant that Asus had to do a lot of the heavy lifting in cherry-picking and overclocking chips. Now, we've actually come to a point where Qualcomm has embraced the process wholeheartedly and through a combination of traditional "silicon lottery"-style testing and vital improvements in production processes, tolerances and yields is able to release an entire Plus skew of its top-end-chip for any interested OEM to use.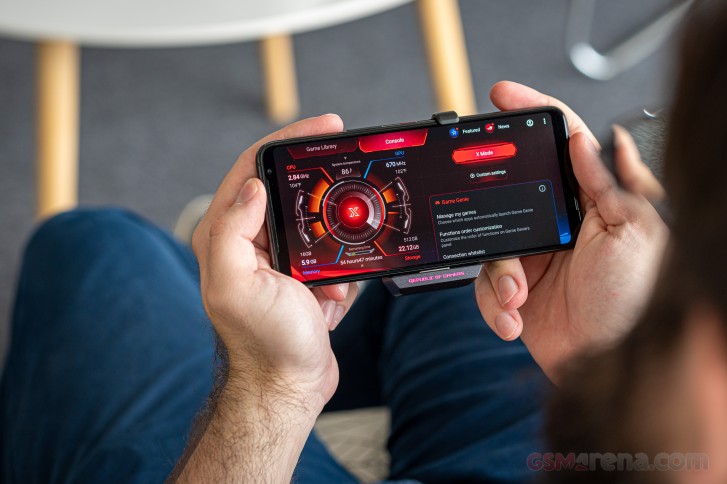 In the particular case of the Snapdragon 865+, we are looking at a 10% bump in maximum clock speed on the chip's Prime CPU core. It is still the same Kryo 585, as found in the vanilla Snapdragon 865, but it can now reach 3.1 GHz, instead of last year's 2.96 GHz. An incremental increase, for sure, and not one easily felt in real-world use. Still, if nothing else, breaking through the 3.0 GHz mark bears a symbolic significance in itself.
The other CPU cores in the Snapdragon 865+, including the other three lower-clocked, but still "big" Kryo 585 ones, working at 2.42 GHz and the four "little" Kryo 585 units, clocked at 1.8 GHz are essentially unchanged from the regular Snapdragon 865.
However, beyond CPU improvements, there is also a slight bump applied to the clock on the Adreno 650 GPU. It is now working at 645MHz, instead of the original 587MHz.
Probably more importantly, however, is the fact that the Qualcomm Snapdragon 865+ chipset is implemented in a rather unique, "unlocked" manner within the ROG Phone 3. Asus allows its users actual low-level access to speed controls. You can't push past the upper-speed limits and overclock, say the CPU past the 3.1GHz mark, but you can granularly, on a per-app basis, dial-back performance, and with that, lower heat, delay throttling and extend battery life. Those are much more important on a mobile chip and are the cornerstone of the Asus X Mode performance tuning platform.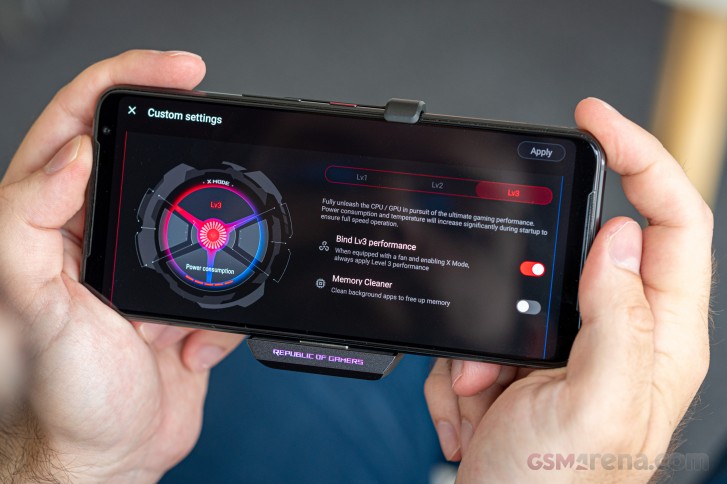 Asus left nothing to chance in the RAW number-crunching department. Beyond the Snapdragon 865+ chip, the ROG Phone 3 uses extremely fast UFS 3.1 storage. Asus couldn't actually find 1TB chips of the UFS 3.1 type, which is why the top skew of the ROG Phone 3 is capped at 512GB. That's precisely the one we have for testing. It also has a whopping 16GB of LPDDR5 RAM, which it offers 50% better data throughput rate than LPDDR4X, while also using 20% less power in the process.
For further clarity, we are aware that there is also a "Strix" edition of the ROG Phone 3, with slightly downgraded specs, including a regular Snapdragon 865, instead of the 865+. We are not currently testing that particular variant, but you can expect it to score similar to other Snapdragon 865-equipped flagships in benchmarks.
GeekBench 5.1 (multi-core)
Higher is better
Apple iPhone 11 Pro Max




3503

nubia Red Magic 5G




3387

Asus ROG Phone 3 (X Mode L3 + FAN)




3386

Asus ROG Phone 3 (X Mode L1)




3381

OnePlus 8 Pro (120Hz, 1440p)




3374

Asus ROG Phone 3 (144Hz)




3357

Asus ROG Phone 3 (X Mode L2 + FAN)




3352

Xiaomi Mi 10 Pro 5G




3331

Sony Xperia 1 II




3318

Motorola Edge+




3295

LG V60 ThinQ 5G (new run)




3289

Oppo Find X2 Pro (120Hz, 1440p)




3269

Huawei P40 Pro+




3203

Galaxy S20 Ultra 5G (60Hz, 1440p)




2728

Galaxy S20 Ultra 5G (120Hz, 1080p)




2697

Realme X3 SuperZoom




2579
We're kicking things off with GeekBench and its pure CPU synthetic loads. We find the ROG Phone 3 spread-out along the top of the chart, which is going to be a reoccurring theme here. First, a few things to note about our testing methodology. To be as thorough as possible, we divided testing into four groups, with multiple runs in each and averaged results. The ROG Phone was tested without any X Mode on, followed by X Mode on Level 1, then Level 2 and 3, both with the AeroActive Cooler 3 on, to give the best possible thermal conditions.
As you will see in most of the benchmark runs, running X Mode just has a slight effect on raw max performance numbers. That's expected, since X Mode is not expected to pull-off miracles. It can't overclock what is already a speed-binned and overclocked Snapdragon 865+ chipset, out of the factory. The main benefits of X Mode tuning lie in rising thermal tolerances and fine-tuning performance parameters to sustain the highest possible performance for the longest time. It's essentially a tool to better combat and postpone the inevitability of thermal-throttling.
GeekBench 5.1 (single-core)
Higher is better
Apple iPhone 11 Pro Max




1332

Asus ROG Phone 3 (X Mode L3 + FAN)




989

Asus ROG Phone 3 (X Mode L1)




981

Asus ROG Phone 3 (X Mode L2 + FAN)




981

Asus ROG Phone 3 (144Hz)




975

nubia Red Magic 5G




929

Galaxy S20 Ultra 5G (60Hz, 1440p)




910

LG V60 ThinQ 5G (new run)




910

Motorola Edge+




910

Xiaomi Mi 10 Pro 5G




905

Galaxy S20 Ultra 5G (120Hz, 1080p)




904

OnePlus 8 Pro (120Hz, 1440p)




902

Oppo Find X2 Pro (120Hz, 1440p)




900

Sony Xperia 1 II




897

Huawei P40 Pro+




781

Realme X3 SuperZoom




756
Single-core performance on the ROG Phone 3 only further illustrates the true purpose of X Mode. It is not going to matter much in short bursts of peak performance, with cool-offs in between, which is how we run benchmarks. All four results in this mode are very close to one another, with just a marginal difference. The fact that the ROG Phone 3 is near the top of the chart mostly comes down to the 10% clock-speed bump in the Prime CPU core of the Snapdragon 865+. A difference much less-visible in the previous multi-core run.
AnTuTu is, by design, a much more-compound benchmark. One that takes into account the performance of various hardware components. This is where other bits of the ROG Phone 3 puzzle can also shine, like the fast UFS 3.1 storage or the kernel-level performance tweaks.
AnTuTu 8
Higher is better
Asus ROG Phone 3 (X Mode L3 + FAN)




621932

Asus ROG Phone 3 (X Mode L1)




621646

Asus ROG Phone 3 (X Mode L2 + FAN)




614827

Asus ROG Phone 3 (144Hz)




601858

Xiaomi Mi 10 Pro 5G




595246

Oppo Find X2 Pro (120Hz, 1440p)




593717

Motorola Edge+




574155

OnePlus 8 Pro (120Hz, 1440p)




573276

nubia Red Magic 5G




557056

Apple iPhone 11 Pro Max




536883

Sony Xperia 1 II




534701

Huawei P40 Pro+




529687

Galaxy S20 Ultra 5G (60Hz, 1440p)




528631

LG V60 ThinQ 5G (new run)




527612

Galaxy S20 Ultra 5G (120Hz, 1080p)




514485

Asus ROG Phone II (X Mode Ultimate + FAN)




492907

Realme X3 SuperZoom




477905
AnTuTu offers a slightly clearer differentiation between the different X Mode performance levels. Though, even here, we can see that the variances are merely marginal and don't even scale exactly as expected, with an L1 X Mode score higher than the L2 X Mode one.
GFX 3.0 Manhattan (1080p offscreen)
Higher is better
Apple iPhone 11 Pro Max




179

Asus ROG Phone 3 (X Mode L2 + FAN)




133

Asus ROG Phone 3 (X Mode L3 + FAN)




133

Asus ROG Phone 3 (X Mode L1)




132

Motorola Edge+




128

Galaxy S20 Ultra 5G (60Hz, 1440p)




125

Oppo Find X2 Pro (120Hz, 1440p)




124

Galaxy S20 Ultra 5G (120Hz, 1080p)




124

Asus ROG Phone 3 (144Hz)




123

nubia Red Magic 5G




123

Xiaomi Mi 10 Pro 5G




123

OnePlus 8 Pro (120Hz, 1440p)




123

Sony Xperia 1 II




120

Huawei P40 Pro+




118

Realme X3 SuperZoom




93

Razer Phone 2 (cooled)




83
GFX 3.0 Manhattan (onscreen)
Higher is better
Asus ROG Phone 3 (X Mode L1)




117

Asus ROG Phone 3 (X Mode L2 + FAN)




117

Asus ROG Phone 3 (X Mode L3 + FAN)




116

Asus ROG Phone 3 (144Hz)




111

Galaxy S20 Ultra 5G (120Hz, 1080p)




101

Motorola Edge+




89

Xiaomi Mi 10 Pro 5G




88

Realme X3 SuperZoom




82

Huawei P40 Pro+




67

nubia Red Magic 5G




60

Apple iPhone 11 Pro Max




60

Sony Xperia 1 II




60

Oppo Find X2 Pro (120Hz, 1440p)




58

OnePlus 8 Pro (120Hz, 1440p)




58

Galaxy S20 Ultra 5G (60Hz, 1440p)




57

Razer Phone 2 (cooled)




56
Graphics benchmarks come with their own set of challenges and subtle nuances on the ROG Phone 3. It hardly comes as a surprise that the Adreno 650, in its slightly boosted variant inside the Snapdragon 865+ pretty much creams all of the existing competition in the Android space. The only way to properly gauge that is by looking at offscreen rendering, since those are not burdened by the native resolution or refresh rate caps of the actual panels of the phones.
GFX 3.1 Manhattan (1080p offscreen)
Higher is better
Apple iPhone 11 Pro Max




120

Asus ROG Phone 3 (X Mode L1)




93

Asus ROG Phone 3 (X Mode L2 + FAN)




93

Asus ROG Phone 3 (X Mode L3 + FAN)




93

Asus ROG Phone 3 (144Hz)




92

Motorola Edge+




89

Oppo Find X2 Pro (120Hz, 1440p)




87

nubia Red Magic 5G




86

LG V60 ThinQ 5G (new run)




86

Xiaomi Mi 10 Pro 5G




86

OnePlus 8 Pro (120Hz, 1440p)




86

Galaxy S20 Ultra 5G (120Hz, 1080p)




85

Galaxy S20 Ultra 5G (60Hz, 1440p)




85

Sony Xperia 1 II




84

Huawei P40 Pro+




76

Realme X3 SuperZoom




65

Razer Phone 2 (cooled)




60
GFX 3.1 Manhattan (onscreen)
Higher is better
Motorola Edge+




83

Asus ROG Phone 3 (144Hz)




82

Asus ROG Phone 3 (X Mode L1)




82

Asus ROG Phone 3 (X Mode L2 + FAN)




82

Asus ROG Phone 3 (X Mode L3 + FAN)




82

Xiaomi Mi 10 Pro 5G




75

Galaxy S20 Ultra 5G (120Hz, 1080p)




74

Apple iPhone 11 Pro Max




60

nubia Red Magic 5G




59

Sony Xperia 1 II




59

LG V60 ThinQ 5G (new run)




59

Realme X3 SuperZoom




56

Huawei P40 Pro+




52

Oppo Find X2 Pro (120Hz, 1440p)




43

OnePlus 8 Pro (120Hz, 1440p)




43

Galaxy S20 Ultra 5G (60Hz, 1440p)




42

Razer Phone 2 (cooled)




37
A few interesting observations worth making here the fact that, once again, X Mode, spanning across all of its three levels and with the added benefit of the AeroActive Cooler 3, in some runs, hardly make a difference to maximum fps output. Once again, sustained performance over time is the name of the game Asus is playing, not just aiming for a few points more on a scorecard.
Some other things worth pointing out – Apple's quad-core GPU solution in the A13 bionic chip still has more oomph than what is currently capable in the Android scene. Even more so when the Metal API gets leveraged properly. It's a real shame that the iPhone 11 Pro Max is equipped with a 60Hz display, since it has the potential to push past the 60fps mark.
GFX 3.1 Car scene (1080p offscreen)
Higher is better
Apple iPhone 11 Pro Max




67

Asus ROG Phone 3 (144Hz)




56

Asus ROG Phone 3 (X Mode L1)




56

Asus ROG Phone 3 (X Mode L2 + FAN)




56

Asus ROG Phone 3 (X Mode L3 + FAN)




56

Motorola Edge+




52

nubia Red Magic 5G




51

Oppo Find X2 Pro (120Hz, 1440p)




51

Galaxy S20 Ultra 5G (120Hz, 1080p)




51

Galaxy S20 Ultra 5G (60Hz, 1440p)




51

Sony Xperia 1 II




51

LG V60 ThinQ 5G (new run)




51

OnePlus 8 Pro (120Hz, 1440p)




51

Xiaomi Mi 10 Pro 5G




50

Huawei P40 Pro+




44

Realme X3 SuperZoom




41

Razer Phone 2 (cooled)




35
GFX 3.1 Car scene (onscreen)
Higher is better
Apple iPhone 11 Pro Max




57

Asus ROG Phone 3 (144Hz)




48

Asus ROG Phone 3 (X Mode L1)




48

Asus ROG Phone 3 (X Mode L2 + FAN)




48

Asus ROG Phone 3 (X Mode L3 + FAN)




48

Motorola Edge+




48

LG V60 ThinQ 5G (new run)




44

Galaxy S20 Ultra 5G (120Hz, 1080p)




43

Xiaomi Mi 10 Pro 5G




42

nubia Red Magic 5G




41

Sony Xperia 1 II




39

Realme X3 SuperZoom




35

Huawei P40 Pro+




31

Oppo Find X2 Pro (120Hz, 1440p)




25

Galaxy S20 Ultra 5G (60Hz, 1440p)




25

OnePlus 8 Pro (120Hz, 1440p)




24

Razer Phone 2 (cooled)




22
Speaking of which, having high refresh rate capabilities is just part of the challenge of actually enjoying fames in high refresh rate. We can clearly see other devices, like the nubia Red Magic 5G falling-short in on-screen GFX tests. That phone, in particular, offered no way of actually running the GFXBench app in more than 60Hz mode.
Aztek OpenGL ES 3.1 High (onscreen)
Higher is better
Asus ROG Phone 3 (X Mode L3 + FAN)




34

Asus ROG Phone 3 (X Mode L2 + FAN)




33

Motorola Edge+




33

Asus ROG Phone 3 (144Hz)




32

Asus ROG Phone 3 (X Mode L1)




32

Galaxy S20 Ultra 5G (120Hz, 1080p)




32

Xiaomi Mi 10 Pro 5G




29

Sony Xperia 1 II




27

Realme X3 SuperZoom




24

Huawei P40 Pro+




23

Galaxy S20 Ultra 5G (60Hz, 1440p)




19

Oppo Find X2 Pro (120Hz, 1440p)




18

OnePlus 8 Pro (120Hz, 1440p)




17

Razer Phone 2 (cooled)




15
The ROG Phone 3 is generally much more accommodating and flexible when it comes to enabling high refresh rates on demand, regardless of what game or app you are using. Still, it has certain idiosyncrasies of its own that might require further work. For one, it outright refused to run the GFXBench and AnTuTu apps in anything other than its maximum 144Hz refresh rate mode. It did still let us choose between the X Mode levels and other options freely, but display refresh rate was locked.
There is definitely some sort of benchmark-detection at play, as well, since every time we launched one of these benchmark suites without enabling X Mode, the phone would immediately prompt us to do so.
We get that Asus is trying to show the ROG Phone 3 is the best light it can, but we still feel like benchmarks should be treated a bit more equally with other apps and games and at least allow us to forcefully drop the refresh rate down, if we wanted to. That just seems like in the spirit of the ROG Phone line.
Aztek Vulkan High (onscreen)
Higher is better
Motorola Edge+




32

Asus ROG Phone 3 (X Mode L3 + FAN)




29

Xiaomi Mi 10 Pro 5G




29

Asus ROG Phone 3 (X Mode L1)




28

Asus ROG Phone 3 (X Mode L2 + FAN)




28

Asus ROG Phone 3 (144Hz)




27

Galaxy S20 Ultra 5G (120Hz, 1080p)




26

Realme X3 SuperZoom




22

Sony Xperia 1 II




20

Oppo Find X2 Pro (120Hz, 1440p)




17

OnePlus 8 Pro (120Hz, 1440p)




17

Huawei P40 Pro+




16

Galaxy S20 Ultra 5G (60Hz, 1440p)




14

Razer Phone 2 (cooled)




13
Another issue we had with the ROG Phone 3 during testing, worth mentioning is that it failed to complete certain GPU runs due to an alleged bug in 3D Mark's Vulkan test. From what we gather, it will require some fixes on 3D Mark's side before this is remedied.
That being said, our ROG Phone 3 unit is still running beta software at the time of testing and Asus is regularly seeding updates to it. This issue should be cleared-up. Plus, we had absolutely no trouble running any actual games.
3DMark SSE OpenGL ES 3.1 1440p
Higher is better
Asus ROG Phone 3 (X Mode L2 + FAN)




7948

Asus ROG Phone 3 (X Mode L3 + FAN)




7944

Asus ROG Phone 3 (X Mode L1)




7909

Asus ROG Phone 3 (144Hz)




7645

Asus ROG Phone 3 (60Hz)




7593

Motorola Edge+




7409

nubia Red Magic 5G




7250

Oppo Find X2 Pro (120Hz, 1440p)




7159

Sony Xperia 1 II




7138

OnePlus 8 Pro (120Hz, 1440p)




7127

Galaxy S20 Ultra 5G (120Hz, 1080p)




6713

Galaxy S20 Ultra 5G (60Hz, 1440p)




6593

Realme X3 SuperZoom




6120

Huawei P40 Pro+




6065
We are closing-off the synthetic portion of testing with a 3D mark run, which falls perfectly in line with the rest of the GPU performance metrics we have seen thus far. Side note, we feel like the Motorola Edge+ should be commended for its amazing graphical performance across the board. This, once again, comes to show that the new Snapdragon 865+, in itself, is not an amazing leap ahead of its vanilla Snapdragon 865 sibling. The way any of the two chipsets is being utilized and cooled over time is actually much, much more important towards a good gaming experience.
Thermal management and throttling
Even in a device like the ROG Phone 3, with its massive cooling and incorporating an active fan, thermal-throttling is an inevitability. Given enough time and a solid load, the internals will eventually have to dial their performance back to keep things in check. Luckily, smartphone engineers have been dealing with this reality for a long time now and have become really good at curbing ARM heat dissipation, typically inside closed-off passively cooled systems. Things like thermal-thresholds, CPU governors and schedulers have become an intrinsic part of the Android OS.
Asus has leveraged all of this on the ROG Phone 3, plus its advanced hardware cooling solution to effectively postpone the inevitable thermal-throttling for notable periods at a time. Performance drops not only come later, on average, but are also, typically, well-controlled, consisting of gradual decreases in clock speeds to avoid jitters while gaming.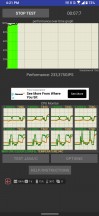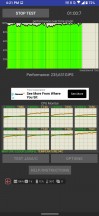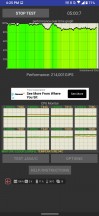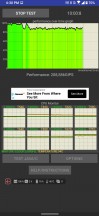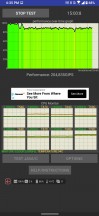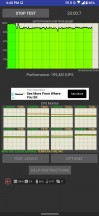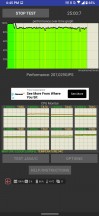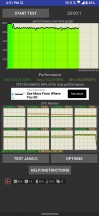 X Mode Off
At least that's the behavior we observed in our first throttling test, conducted with X Mode off and no cooling fan on the ROG Phone 3. The app we are using ramps-up the CPU and keeps it pegged while measuring its clock speeds, temperature and arbitrary performance, using its own metric for internal comparisons. ARM Cortex cores are actually, by far, the bigger heat-generator inside a chipset, with GPU cores only contributing very, very mildly to the bottom line. Hence, while not perfect, this methodology is still solid and repeatable.
We can clearly see that in its default state of operation, the ROG Phone 3 doesn't go out of its way to strain itself too hard. The Snapdragon 865+ keeps its Prime core at the max 3.09 GHz for just around 2 minutes, after which the max speed cap gets lowered to a much more comfortable 2.45 GHz. When we say comfortable, that goes for internal temps, as well as surface temperature on the phone itself. There is no point is scorching the user's hands while they are simply browsing social media. The extra performance would simply be wasted as heat and battery life.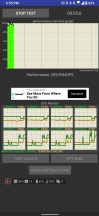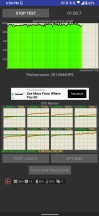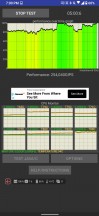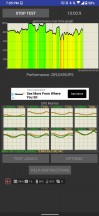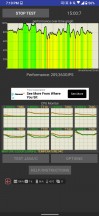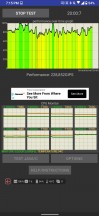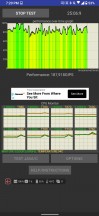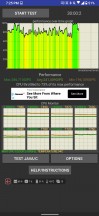 X Mode L1, no fan
For our second run, we enabled X Mode on L1, without clipping on the fan. The performance and thermal behavior we see are clearly quite different. The ROG Phone 3 tries to push itself as hard as possible from the get-go. Not only doesn't it dial back after the 2-minute mark, but performance starts to actually climb and remains at a sustained max level for at least five minutes. Perhaps, the justification here is that the ROG Phone 3 is not in its optimal conditions for max performance, it does not have its fan, plus, the user is clearly not trying to squeeze the absolute max out of it since X Mode is just at L1. It makes sense then to try to at least deliver short bursts of performance for as long as it can.
Unfortunately, if we don't ease-up the constant CPU load on the ROG Phone 3 in this mode, its otherwise smart approach of delivering bursts of performance starts to fall apart after around the 7-minute mark. Thermal-throttling hits hard, leading to over 20 minutes of struggling at lower clocks. Well, to be fair, it's not too bad of a struggle in terms of actual raw output or the amount of throttling.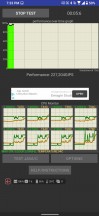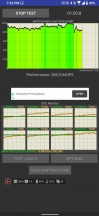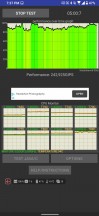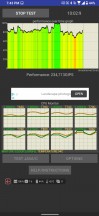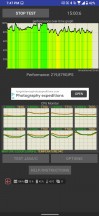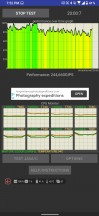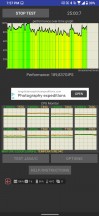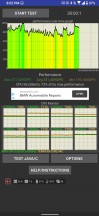 X Mode L2, no fan
The next 30-minute run was conducted with X Mode and Level 2, again, without the fan attached. As expected, we got similar behavior, but the ROG Phone 3 tries to push itself even harder during the peak performance burst. Consequently, it also throttles harder afterward. With our particular, sustained max CPU load, as unrealistic as it may be, we, counter-intuitively, ended up with lower absolute average performance than on X Mode L1. Clearly, if we are to sustain such numbers, we need to draft the AeroActive Cooler 3.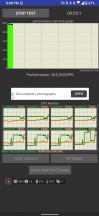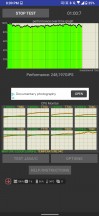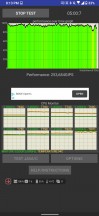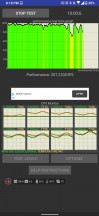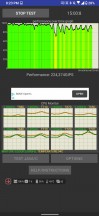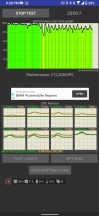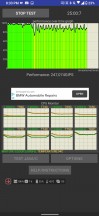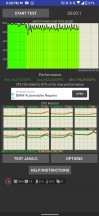 X Mode L2, fan
Looking at the graph, as well as the results summary at the end, the fan is clearly helping in sustained stability. The ROG Phone 3 managed to sustain its initial burst of performance for a few minutes longer and they didn't experience nearly as aggressive drops during the rest of the test. You do get fluctuations more often, which is not ideal for a smooth actual gaming experience. Though, even in its low points, we are still looking at plenty of performance to throw around. Plus, a sustained, constant, unwavering load like this one is totally unrealistic for any actual game. You will definitely be getting a much smoother performance curve in real-world terms. The reported average and maximum performance, as well as performance throttling percentage, are all better in the end.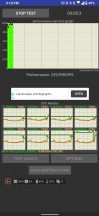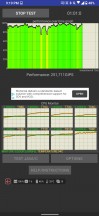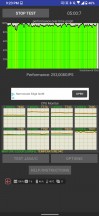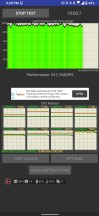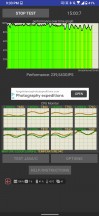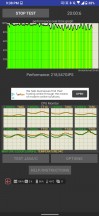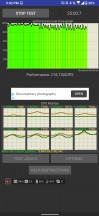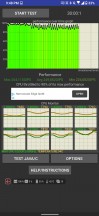 X Mode L3, fan
Finally, we have a full-throttle test. X Mode at its max Level 3, with the AeroActive Cooler 3 blowing at full-blast as well. Clearly the ROG Phone 3 is pushing itself to the limit. You can feel that by the surface temperature of the phone itself. The handset gets uncomfortably hot, in this mode, by design, even with the fan blowing air on them. The mandatory fan, might we add. Still, the results speak for themselves – we get the best performance figures of the bunch, plus the smallest thermal-throttling losses. This kind of impressive variance and behavior can only be achieved with the extra care and attention and the added engineering effort, as put inside the ROG Phone 3.
High refresh rate support in games
High refresh rate gaming on Android is still the Wild West. On the one hand, support from game developers is far from ideal and on the other – different phone manufacturers still handle high refresh rate vastly differently. We are well aware that Asus has a curated list available within the Armoury Crate app, but that is far from complete. Also, potentially deceitful, since we went through quite a few similar lists with varying success per-title.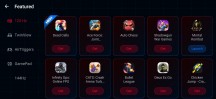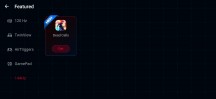 High refresh rate featured list
Since that is the case, we decided to spend a little time ourselves and go through some popular games, as well as titles we found on "high refresh rate" supported lists. Just to see what sticks, with the help of the built-in handy FPS meter. Arena of Valor is a title that comes up frequently in high refresh rate lists. It does feature an aptly-named option in the settings menu, which, by the way, only becomes available after you play two whole tutorial matches. Anyway, it toggles between 30fps and 60fps. So, that's a NO on high framerate for that title.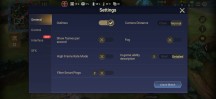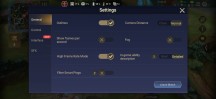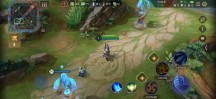 Arena of Valor only does 60fps
Call of Duty Mobile features an even more-promising selector in its settings screen, labeled Frame Rate. It has a whopping five options – low, medium, high, very high, and max. Much to our dismay, though, max only topped-off at 60fps. To the game's and the ROG Phone 3's credit, it was a solid and fluent 60fps.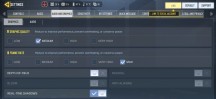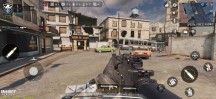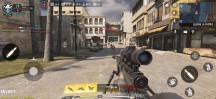 Call of Duty also caps at 60fps
Free Fire had the exact same behavior. Only its setting was called "high fps", with two options – Normal and High. One being 30fps, while the other 60fps. Both noticeably less smooth and stable than what Call of Duty had offered. But the main point is that we are still nowhere in our quest to push past the 60fps mark.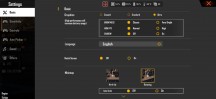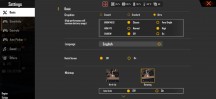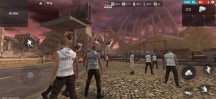 Free Fire again, only 60fps
We are fairly certain we saw Shadowgun Legends on at least one high refresh rate support list. Yet, just like the titles we already mentioned, it can only toggle between 30 and 60 fps. Its menu does feature a third – "Auto" option, which we had hopes for. Unfortunately, it just managed 60fps.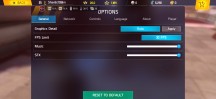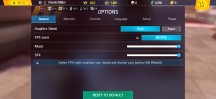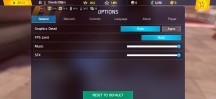 Shadowgun Legends – 60 fps
On with the quest for high refresh rate then and Fortnite. A title that even has its own convenient in-game fps counter. Anyway, the settings menu for Fortnite has two rather depressing FPS options – 30fps and 20fps… Before you hit-up the comment section, we did follow the popular online guides, trying little tricks like locking and unlocking the phone during game bootup to "unlock" 60fps mode with no success.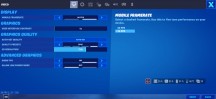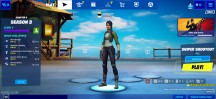 Fortnite officially tops out at 30fps
PUBG was an interesting trip of its own. Just like Arena of Valor, it has a whopping five settings levels for frame rate. Extreme just goes to 60fps. Ultra is 40, high is 30, medium is 25 and low is 20fps. Again, just like Fortnite, we know there are certain hacks and workarounds to push past 60fps and we even tried a few with no luck.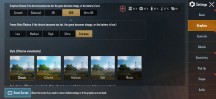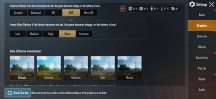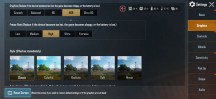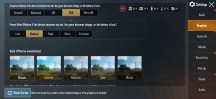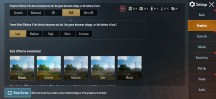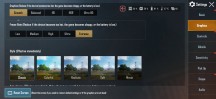 PUBG goes to 60fps officially
Interestingly, however, Game For Piece, which is the version of PUBG for China, crafted to comply with local content regulations, does push beyond 60fps. It's probably not a viable option for none-Chinese speakers, but the point we are trying to make here is that the limitation is not a game-engine one, but artificially imposed for some reason.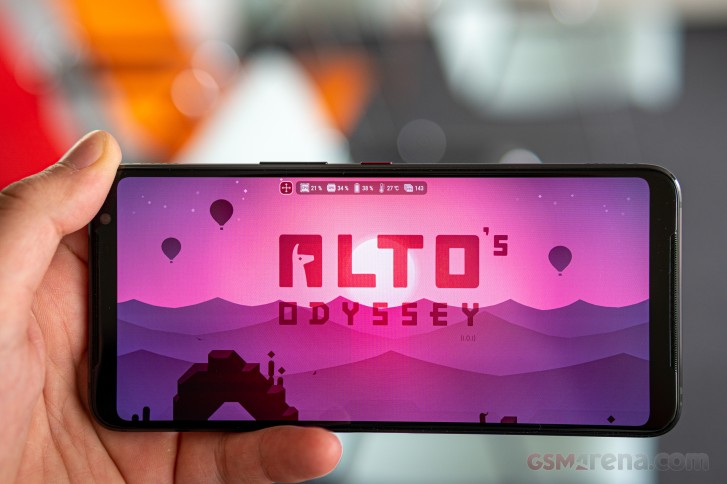 That's unfortunate and we can't understand why that might be the case. We actually ran into an even weirder issue once we started testing titles we know, for a fact, from previous experience, can go past 60fps, like Alto's Odyssey. As you can verify in our review of the Razer Phone 2, back in 2018, this particular game runs at a smooth 120fps, easy. Grabbing the current version from the Google Play Store though, we only got 60fps.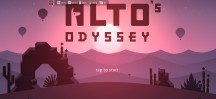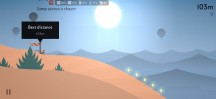 Current version of Alto's Odyssey does 60fps
The game has no options pertaining to graphics. We tried every possible combination of settings on the ROG Phone 3 with zero luck. Then we took some other high refresh rate devices, close at hand, like the OnePlus 8 Pro and the Samsung Galaxy S20+ – not one of these managed anything past 60fps. In an act of total desperation, we dug up the Razer Phone 2, which, luckily, still had a version of Alto's Odyssey installed and that one did 120fps! After a lot of digging, turns out that the developers simply yanked support for high refresh rate at some point, for whatever unknown reason. Sideloading v1.01 of the app onto the ROG Phone 3 game us an amazing 144fps experience.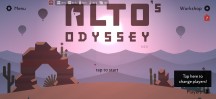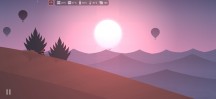 Alto's Odyssey v1.01 has an uncapped frame rate
That's what we mean when we say that high refresh rate gaming is still in a state of unmitigated chaos once you actually try to make use of it in the real world. It all sounds great on paper and during flamboyant on-stage presentations, but until some major strides are made to organize the scene, we don't see the situation improving any time soon. We applaud Asus for its efforts to push things forward, but even curated lists for 120Hz and 144Hz games, as well as that with TwinView supported games contain titles that in practice failed to deliver on the corresponding promises. Perhaps it's time for Google to step in and do some proper feature tagging and filtering in the Play Store. Just a thought.
Anyway, we did have a few success stories worth mentioning. A good rule of thumb when hunting from proper high refresh rate games is to go for titles with simpler graphics first – like 1945 Air Force. It works magnificently at 144fps. The extra smoothness is really beneficial to the particular style of gameplay that requires you to flick your plane around quickly, while tracking lots of moving objects on screen.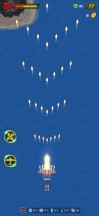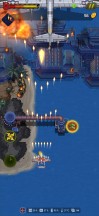 1945 Air Force easily doing 144 fps
Mortal Kombat was also more than happy to deliver 144fps. It also does a surprisingly good job of maintaining it on the ROG Phone 3. Even during the dynamic cut scene-style sequences.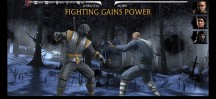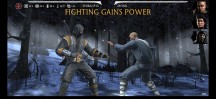 Mortal Kombat doing 144fps
Death Trigger 2 is a fairly older title at this point, but it has arguably aged rather well, due to its high-fidelity cartoon-style graphics. It happily does 144fps on the ROG Phone 3, as well, rarely dropping more than a couple of frames.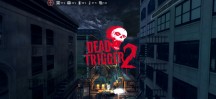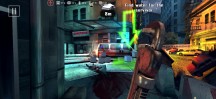 Death Trigger 2 also does 144fps
All and all, with the right attitude, enough free time and trial and error, high refresh rate is a reality on Android in 2020. But getting things to work can be frustrating.
ROG UI
ROG UI has always been very "out there", even as far as faming-styled launchers go. The brand has a certain aesthetic already established and its buyers seem to appreciate and expect it. Straight out of the box, the UI screams "gamer". Aggressive lines, every conceivable shade of red, lots of mechanical, geometric and alien visuals. Many of them complete with massive-looking motion animations, glowing effects, flames, reactors. You get the gist.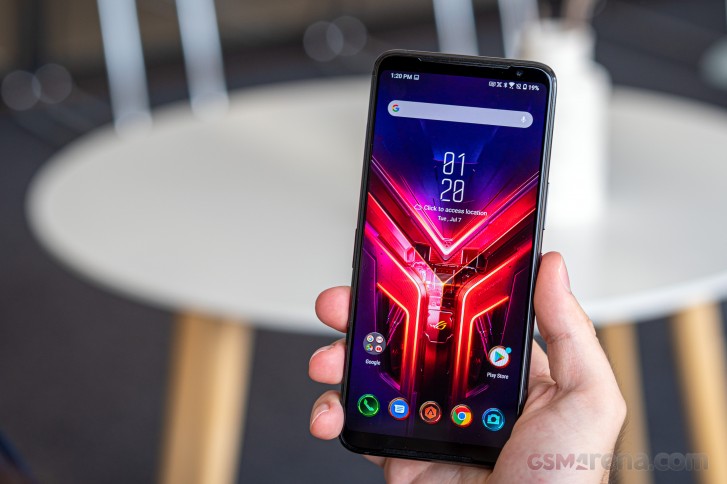 Not that much has actually changed visually since the ROG Phone II. The ROG Phone 3 still has plenty of upgrades, behind the scenes and is rocking Google's current Android 10 release, so it's not a case of Asus just being lazy and rehashing old software. On the contrary, it's another example of clear priorities and deliberate actions. In case it wasn't obvious already, the ROG Phone 3 and the ROG UI are chuck-full of all sorts of advanced options, toggles and menus. One swipe down for the quick toggles and you might just feel like you are operating a nuclear reactor. The amount of options you are expected to want to "quick access" is a bit staggering.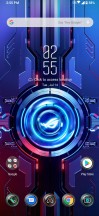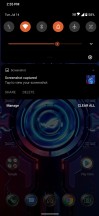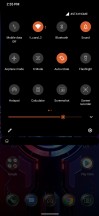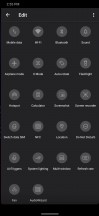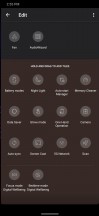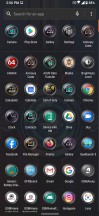 ROG UI
The first thing you absolutely need to do is press the X Mode toggle. That kick-starts an impressive sequence that would fit right in a Transformers movie. An animation on the default wallpapers gets initiated, symbols start shifting, glowing borders start shining around icons. If set up accordingly, the RGB logo on the back fires up, as well as any compatible Aura Sync logo on attached ROG accessories. All par for the course.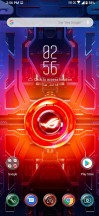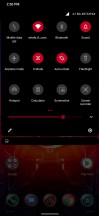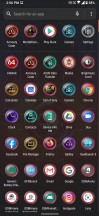 ROG UI with X Mode On
Just in case this all gets a bit too much for you or simply isn't your cup of tea, Asus still includes a very clean, almost AOSP-like theme as an option. Getting the ROG Phone 3 and going the vanilla rote actually sounds a lot more justifiable now that Asus has toned-down the actual, physical gamer aesthetic so drastically.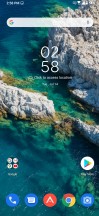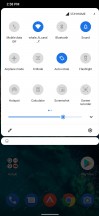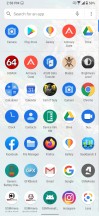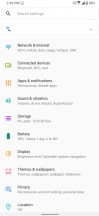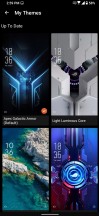 Classic ZenUI
What you get is basically an AOSP experience. It's frankly a bit eerie. Almost feels like what a kid would alt and tab to if you catch them playing instead of studying on the computer. It's almost too clean, is what we're getting at.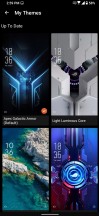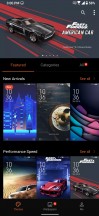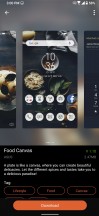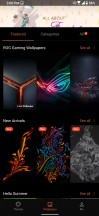 Theme store
In fact, the phone even complained when we initially enabled the basic ZenUI theme, adamantly warning us that we would be missing out on animated wallpapers that respond to X Mode. Joking aside, the theme engine in ROG UI is actually very potent and includes a vibrant online repository with plenty of full theme and wallpaper options to explore. Both with and without a gamer spin to their look.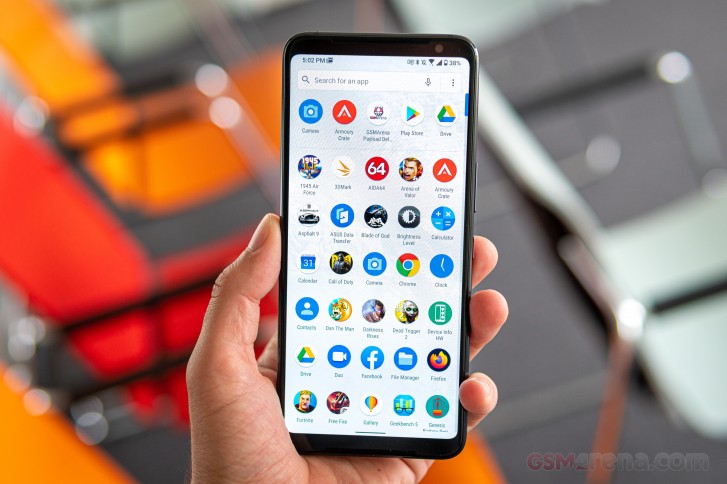 Speaking of options, the ROG Phone 3 has quite a few. To be fair, though, none that we would actually consider bloat. Every advanced feature included makes sense and is typically slotted and well-organized within a sub-menu or an app. Options are abundant, but not chaotic.
The battery menu, for instance, has a few interesting gems hidden away. First off is the PowerMaster which offers a centralized place for managing app consumption, scanning for issues, as well as toggling battery savings options and managing autostart. Since the ROG Phone II is tuned for gaming above all else, it kind of makes sense that most apps are barred from autostarting by default. This is the menu you should hit up if you have issues with something like a messenger service not running fine in the background.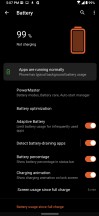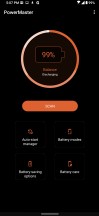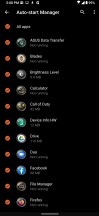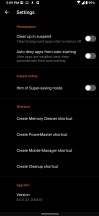 Battery options
We already discussed just how far Asus has come in terms of battery savings, controlled charging and longevity options. The Battery modes menu is where you can set-up your custom power-savings profiles. You can set a combination of six different connectivity options, five display ones, audio volume and an elective background app cleaner for each of the two.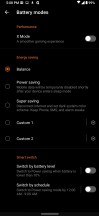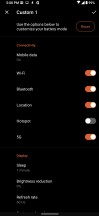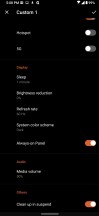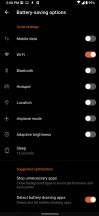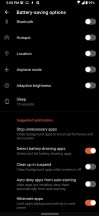 Battery modes
Asus has seriously managed to improve upon its solid Battery care feature foundation from last year. Now, it's easily on par with what Qnovo offers. Slow charging, max charging limits and scheduled charging, now complete with intelligent auto scheduling make for a powerful set of tools. The platform even tracks you past charging cycles and warns you of sub-optimal behavior. Such care for battery longevity is a rare sight on the current smartphone scene and nothing short of a commendable effort.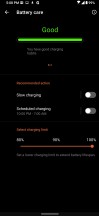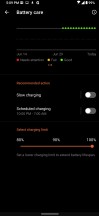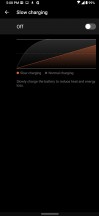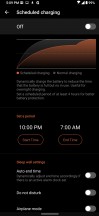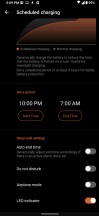 Battery care
Even though the ROG Phone 3 has plenty of subtleties in its display behavior, the corresponding settings menu remains clean and well-organized. Even without fully grasping what each option does, most users will likely find their way around it just fine.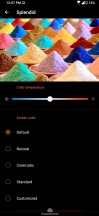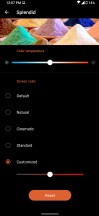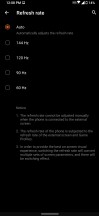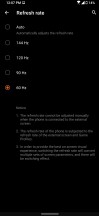 Display settings
In case you missed our deep-dive into how the ROG Phone 3 handles int high refresh rate capabilities and the color reproduction options it offers, you can jump back to the display section for the detailed info.
The Advanced settings menu houses pretty much all the other system-wide additional goodies ROG and Asus added on top of the Android Pie core.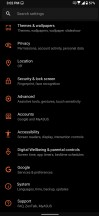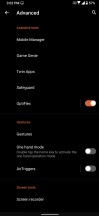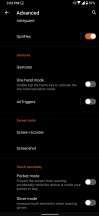 Advanced settings menu
Mobile Manager is actually a sister tab to PowerMaster. It handles all the rest of the phone maintenance aside from the battery. Things like memory and storage cleanup, permission and security as well as data caps and usage.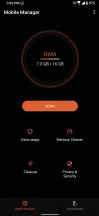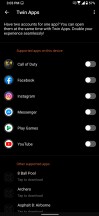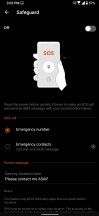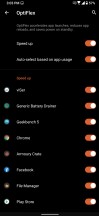 Mobile Manager • Twin Apps • Safeguard • OptiFlex
Thin Apps is fairly self-explanatory. It does require support from the app itself to work though. For convenience, there is a nifty list of apps you can download in alphabetical order. Neat! Safeguard offers SOS emergency contact options. And OptiFlex is a proprietary app launch optimizer that works in the usual way – caching certain resources, often times in RAM, so that they can remain easily accessible.
Gestures are aplenty on the ROG Phone 3. Quite in-depth, as well, including options for writing out virtual letters on the display and, actions based on double-taps and motion.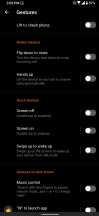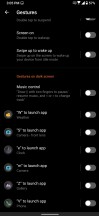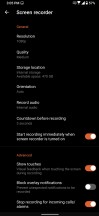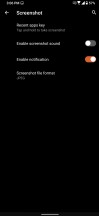 Gestures • Gestures • Screen recorder • Screenshot
There are in-depth controls dealing with both Screen recording and Screen capture in the advanced menu as well. Things like resolution, orientation, whether or not to record sound and touch inputs are all configurable. A small touch, but one that shows Asus is really taking their streamer and content-creator audience into consideration.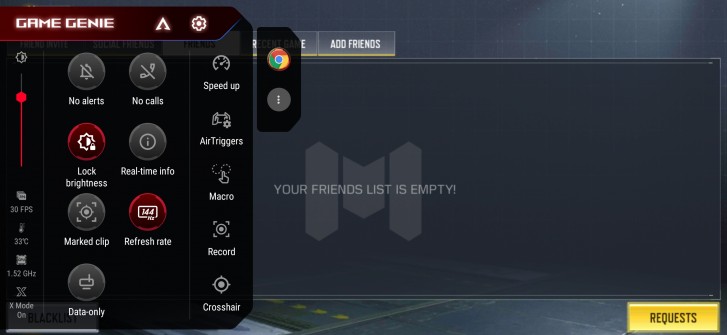 System-wide optimizations and tools are good and all, but Asus made sure to invest the bulk of its software effort into software laser-focused on improving the gaming experience in particular. Most of it was present on the ROG Phone II and is inherited from it, but also incrementally improved. We'll start Game Genie first, before going in depth with Armoury Crate, since the two are technically separate entities. Even though they are very tightly-knit.
Game genie is essentially an in-game overlay that gets automatically enabled for games and is supported got any other app, as per your desired settings. A swipe from the left side of the screen brings it up and its main goal is to offer convenient access to gaming-relevant features.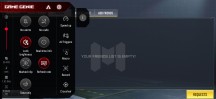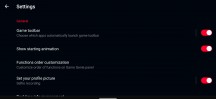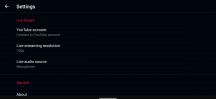 Game Genie settings
Most of the options are easily self-explanatory, like the toggles to disable calls and notifications, lock the brightness or cycle between the current display refresh rate. In order to work properly, or at all, certain bits of Game Genie do need some extra setup. Most notably, the live streaming functions. Once set up you can use a single key to go live on YouTube and Twitch. Pretty great.
There are a few less-obvious or alternatively, more-involved features here as well. Floating window is a nifty one. Once you set up your preferred apps in the settings menu, they appear as little icons on the right side of the Game Genie interface. Beyond that, the feature is pretty straight-forward.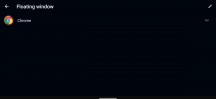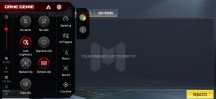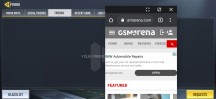 Floating apps
The ability to get a real-time performance overlay is a nifty, albeit not entirely new ROG trick. CPU and GPU load, temperature, battery level and fps count are all available in the Game toolbar, which can be freely dragged and positioned over the game. There is even an experimental feature that tries its best to estimate how much game time you have based on your current load with the battery charge remaining in the phone.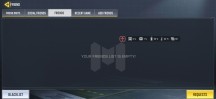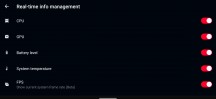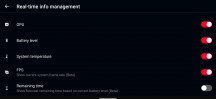 Game toolbar
Some of the more-powerful goodies are those arranged vertically on the right end of the Game Genie interface. Speed up simply triggers a background app cleaner task. Nothing too special, but still convenient to have in reach.
The Air Triggers menu holds a lot of potential. This is where you go to set-up basic mapping for on-screen controls to the AirTrigger 3 ultrasonic buttons, as well as the newly-added motion control gesture on the ROG Phone 3. There are more-extensive menus to dig-through for these features within Armoury Crate, but this menu has the benefit of being very simple and intuitive to use.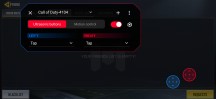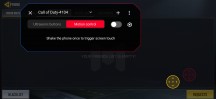 Air Triggers quick setup
Macros are equally easy to record via the Game Genie option. You just play out the actions once and then review and correct as needed. You can have multiple macros for a single game and those can even be mapped to controls, like AirTrigger 3 or other third-party accessories.
If that sounds a bit like cheating to you, wait until you hear about Key Mapping. In our books, it is probably the single greatest gaming-geared software tool Asus has brought to the table with the ROG Phone family. It's an incredibly in-depth interface for mapping on-screen controls to physical ones. Directional pads, buttons, sliders all work and do so really well.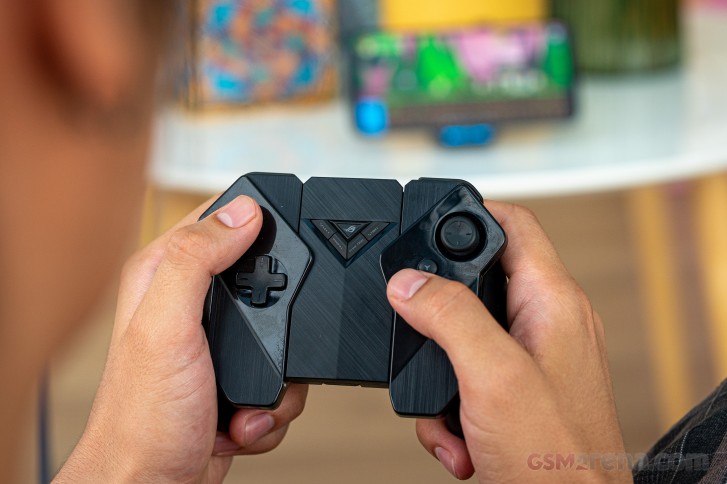 So, the real fun begins when you connect the ROG Phone II to a compatible accessory, like the new ROG Kunai Gamepad. Every button on that controller can then be mapped to an on-screen control, effectively giving you console-grade physical controls inside a game meant to be played on touch screens.
In fact, it gets even better once you connect the ROG Phone II to a mouse and keyboard via the Mobile Desktop Dock or the Asus professional dock. Then you can map all the controls to an actual mouse and keyboard. Imagine using a mouse to aim and look around and aid in a shooter game!
We are aware that other similar mapping solutions do exist on Android (most notably Octopus), but they seem to operate with a lot more restrictions and naturally all sorts of warnings for drawing over other apps and the like. What Asus have crafted for the ROG is clearly done right and on a much lower software level, making it a truly added-value offer for any hardcore mobile gaming enthusiasts. Or are they even mobile once a keyboard and mouse come into play?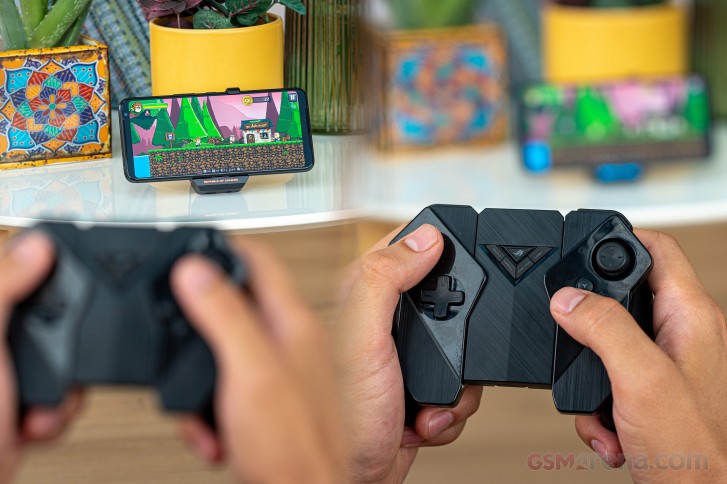 That slightly weird crosshair icon, inside a square denotes Marked clip. It is basically a configurable quick-capture feature, that is meant to instantly save a short gameplay moment, while in action.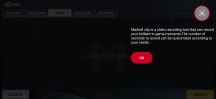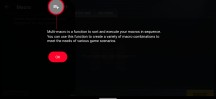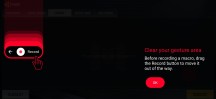 Marked clip • Macro recording and management
Speaking of crosshairs, Game Genie offers a crosshair overlay, as well. These can be customized and freely dragged across the screen. Asus mentions in the description text that they are meant for use in "practice mode" in games, meaning that the general gamer stigma for such a practice being a cheat is well understood. Still, considering you can actually hook-up a mouse and keyboard to the ROG Phone 3 and map touch controls in most shooter games to that input, using Asus key mapping tech, virtual crosshairs are hardly the first thing to consider in a discussion of fairness.
Most of the features within the Game Genie interface and their order can be adjusted in some manner. Same goes for the Game toolbar. This can be done from a few menus, including one inside Armoury Crate. But since the latter is inconveniently locked in a portrait orientation, we suggest using the sub-menu under Advanced settings in the general Settings menu of the ROG Phone 3.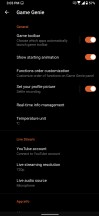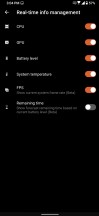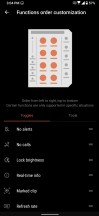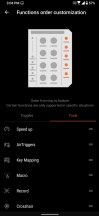 Game Genie settings
ASUS Armoury Crate – Gaming portal
Armoury Crate has become a staple of the ROG Phone experience and we had no doubt that we would find it on the ROG Phone 3 as well. Not changed in any major way, but with plenty of visual tweaks and small, yet often crucial improvements and tweaks in behavior.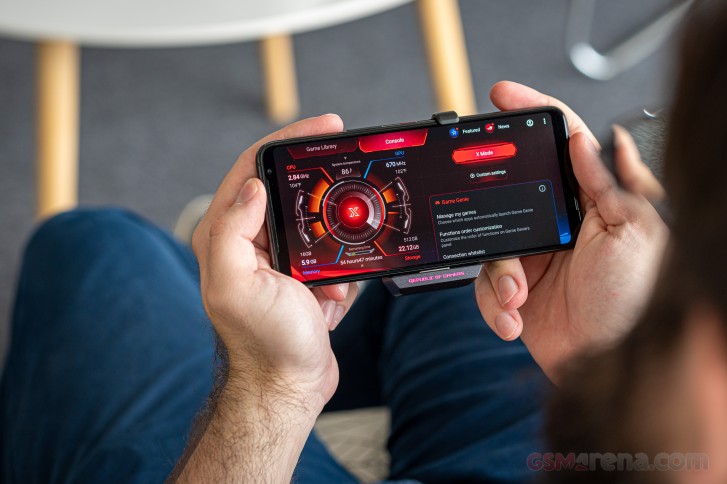 For instance, you are no longer limited to just exiting Armoury Crate via a singular small button in the top-left corner, as was the case on the ROG Phone II, In fact, it is gone now and the back gesture works, but simply issues a warning toast notification one step before you leave the app. That's expected behavior on Android and it shows that Asus is taking feedback.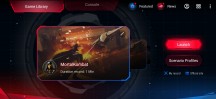 Armoury Crate main UI
Your phone still gets locked in landscape mode one in Armoury Crate, which can make navigating certain longer menus a bit difficult, but also contributes nicely to the ultimate goal of augmenting the entire ROG Phone 3 experience an bringing it as close as possible to a console one.
From the main ASUS Armoury Crate interface, you get a few options. The most obvious one being your game card interface (or benchmark and any app you would like to run with a custom performance profile). Each entry gets its own "crate", as the Asus terminology goes. And each crate has its own Game Profile. Profiles are a set of settings for different aspects of the ROG Phone II that get automatically applied when the game/app is launched. On the ROG Phone II, apps and games only got their individual Scenario Profile applied if launched through Armoury Crate. With the ROG Phone 3 this is no longer a necessary condition. You can launch things from anywhere and they will still get their custom settings, if some have been set-up.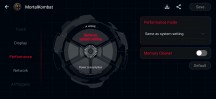 Per-app Scenario Profiles
Quickly going through the various tabs available within Scenario Profiles, you get a lot of control on Performance Here you can choose to have X Mode enabled for the app alone, as opposed the default where it follows the system-wide toggle, as seen in the quick toggle bar above the notification shade.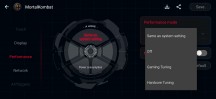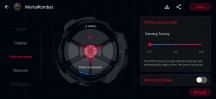 Armoury Crate Performance settings
Manually enabling X Mode from this menu actually allows you choose between thee levels of X Mode. Each consecutive step pushes the hardware a bit further, including clocks and tolerance to heat. There is also a toggle for the optional memory cleaner, at launch.
If you choose Hardcore Tuning from the dropdown menu, Armoury Crate offer-up three nifty, ambiguous sliders, marked CPU, GPU and Temperature control. These allow you to subjectively select how hard you want the software to push limits for the given game.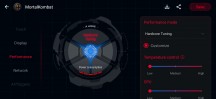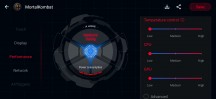 Armoury Crate Hardcore Tuning
Beyond that still, there in an Advanced Hardcore Tuning menu underneath. This is what really separated the ROG Phone line and Asus from the rest. What you get is a very, very lengthy menu of actual system-level values and offsets for various modules and parts of the phone's internals. Values lifted straight from the /sys/ folder, which you normally can't even get to without rooting your device.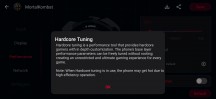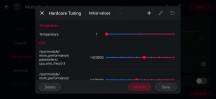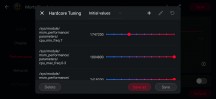 Advanced Hardcore Tuning
Messing with these can, naturally, be detrimental to your experience. You are unlikely to actually damage phone's hardware in the process and there is a button to restore the default values, but you should still only tamper here if you know what you are doing. If that is the case, some amazing things can actually be pulled-off. For instance, if you are familiar with the performance characteristics of a given game you play and just happen to know that it does not rely heavily on the clock rate of the biggest and most powerful core, but rather tends to spread-out its load among smaller cores, you can actually tune-down the primary core on the Snapdragon 865+ and save on battery, produce less heat and get a smoother experience, delaying thermal-throttling for longer.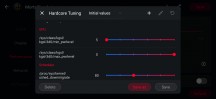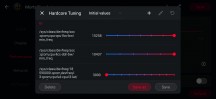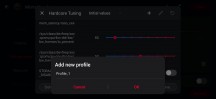 Advanced Hardcore Tuning
Fascinating stuff and unparalleled in the mainstream smartphone realm. There is even multiple profile support on a per-game basis as a cherry on top of the icing.
Moving past raw internal performance, game profiles also let users choose a custom Refresh rate on a per-app basis. There is also the option to turn on addition anti-aliasing if you think the edges of any particular game are just a bit too "jaggy" for your taste.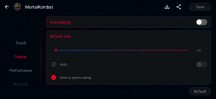 Armoury Crate Display options
Then there is Touch tweaking. You can use this menu to fine-tune the sensitivity of the display, as well as Air Trigger touch and swipe. Again, on a per-app basis. The built-in false touch rejection algorithm can also be fine-tuned.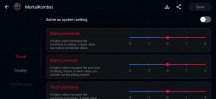 Armoury Crate Touch options
The Network tab has only a couple of toggles, but both potentially vital. One limits all background sync activity while playing a given game, which can be the difference between a smooth experience and a sudden ping-spike. Same goes for automatically switching between Wi-Fi and a network data connection. While in most cases the ROG Phone 3 is smart enough to only do this when it would be beneficial, there are special case. Some particular games might even drop your connection if you just suddenly change your IP address.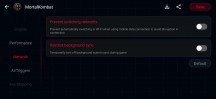 Armoury Crate Network options
Air Triggers, Key Mapping and Macros all get their own separate tabs in the Scenario Profiles interface. These actually show a list of all your various mapping profiles and macros, as set-up for the given game, complete with convenient screenshots for the mapping overlay. These menus are mostly meant to be a convenient central location for managing your collection. Also, Armoury Crate includes a nifty feature to fetch mappings, triggers and macros for popular games from an online repository. You can also neatly package all of your Scenario Profiles settings, or a subset via the share interface and upload them online. That can also include any Advanced Hardcore performance tuning tweaks you might have painstakingly discovered and now want to contribute. The makings of a great community.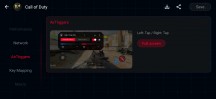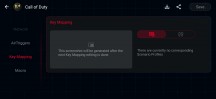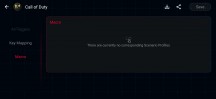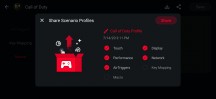 Downloading and sharing settings, mappings and macros
And rounding things off in the profiles we also have a few network and audio options. Honestly, we kind of feel like we've seen too many options already. Yet, we still have to check out the second Console tab from the main ASUS Armoury Crate interface.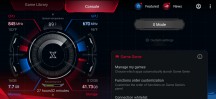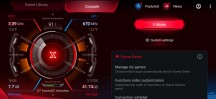 Armoury Crate Console tab
Unlike profiles, the options here apply on a system-wide level. Aside from the cool meters on the left-hands side, this is where you find general settings like a list of games that automatically trigger the Game Genie matter where they are launched from as well as another list that says which apps can have access to data at all while a game is running in the foreground. Also, yet another shortcut to Game Genie settings.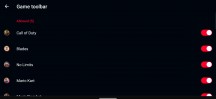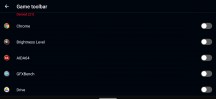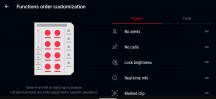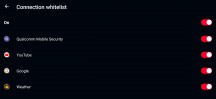 Game toolbar and Game Genie settings
Above these, the big X Mode button is kind of hard to miss. It toggles X Mode on and off in much the same way as the quick toggle on the main UI does. However, there are also options to potentially tinker with even further. Just like you can tweak certain aspects of X Mode behavior, as well as intensity levels on a per-app basis, you can similarly adjust it on a system-wide level via the Custom settings button.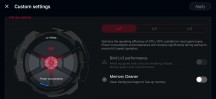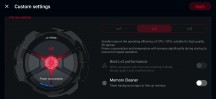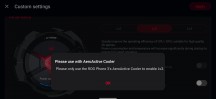 L1, L2 and L3 X Mode settings
There are three basic levels of X Mode. L1 basically does its best to optimize snappiness and responsiveness, generally boosting up during loading or interaction with the game. L2 starts squeezing-out performance from both the CPU and GPU with little regard for increase in power consumption and heat. And L3 is basically "gloves-off" and the best you can automatically get out of the ROG Phone 3, without resorting on per-app Hardcore Advanced performance tuning and the skillset necessary to be better than the auto mode on your own. For most users, this is the mode that will likely represent "full throttle".
By default, strapping-on the AeroActive Cooler 3 fan and then enabling X mode via a toggle will go straight to L3 mode. This can be set otherwise from the toggle in this menu. If you don't want to use L3 mode, you need to have the AeroActive Cooler 3 attached and running, though. L1 and L2 can be used without it.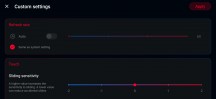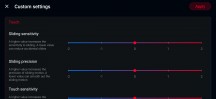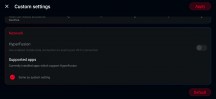 X Mode settings
Further down the list of X Mode options, we also find familiar selectors for screen refresh rate, sensitivity sliders and network controls. Everything you need to make the X Mode toggle trigger exactly what you want.
Going back to the main Console interface, there are a few other options available. There is the Air Trigger setup screen. This is where you can adjust sensitivity, trigger speed and distance, multi button separation and other behavioral aspects. Actual mapping is elsewhere within the Game Genie interface.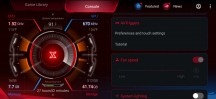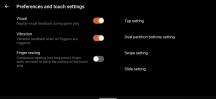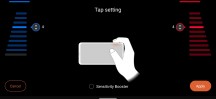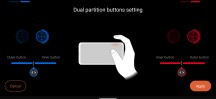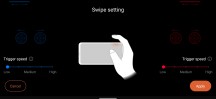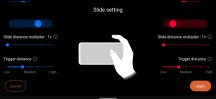 AirTriggers settings
Fan controls for the attachable AeroActive Cooler 3 are also available. You can either leave it on auto and have the system decide when and how much to ramp it up. Or, alternatively, set it to full blast and have maximum cooling for both the phone and your hands. Now, this does come at the cost of noticeably more noise and increased battery consumption.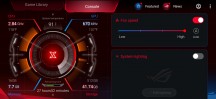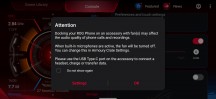 AeroActive Cooler 3 speed controls
And we finally come to System Lighting and RGB controls. Asus has a pretty clean system set up to control the RGB effects on the phone's built-in logo, as well as those on optional accessories. All of it is done through this interface. Of course, there are synchronization groups for other Aura Sync compatible devices. Different color patterns, intensity, speed. The works.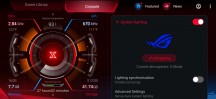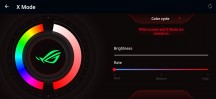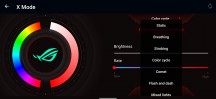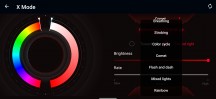 System Lighting settings
You can also choose what gets to trigger the RGB lights and which effect should be triggered, with a fair bit of conditions available to choose from. The RGB logo can easily pull double-duty as a notification LED. Though, the ROG Phone 3 does still have a dedicated one above the display.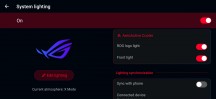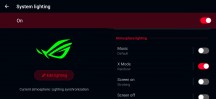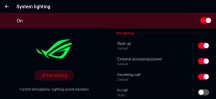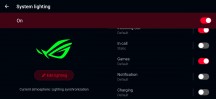 System Lighting settings
Finding verified, properly-supported games to use with the various features of the ROG Phone 3, like the high refresh rate, TwinView dock and the GamePad is no easy task. There is actually a growing number of titles that meet the bill out there and in no small part thanks to ongoing Asus efforts and work with developers. Things like making the TwinView dock API for second screen gaming easily accessible for free in the popular Unity engine.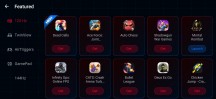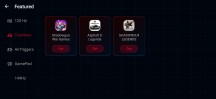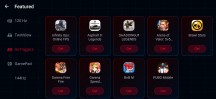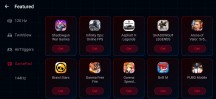 Featured games lists
To keep track of all of this, as best it can, while also offering titles to the user, Armoury Crate has a Featured menu in the top right corner. It has a few categories of games, organized by supported features with direct links to the Google Play store. We hope these lists grow, especially the 144Hz one, which only had one game at the time of writing this review.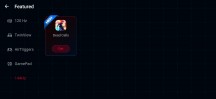 144Hz support list is in need of attention
Finally, there is the News menu, which houses a list of informational clips on the ROG Phone and its features, courtesy of Asus. Not a bad idea, considering the literal sea of options given to the user.
Beyond the extensive ASUS Armoury Crate interface there really aren't all that many proprietary Asus apps pre-loaded on the ROG Phone 3. Just a couple of basics like a Clock, calculator, Gallery and File manager. Not getting in the way while also offering theming support for a consistent look. Nice job, Asus.
Refining the ultimate smartphone accessory ecosystem
Nobody even comes close to the level of engineering depth and extensive nature of the vast ROG Phone accessory ecosystem. This was a fact back when the original ROG Phone arrived at the office, alongside a whole briefcase of accessories and the dedication was further reaffirmed when the same happened with the ROG Phone II. Asus has retained the same admirable level of dedication to accessorizing with the ROG Phone 3. However, like many other aspects of the device, the name of the game is now refinement. The ROG Phone 3 was not accompanied by a hefty accessory suitcase. That's not to say that Asus doesn't have enough new gadgets to fill one up and send our way. We view it more as a symbolic step. One meant to emphasize a newfound focus on continuation and intergenerational compatibility.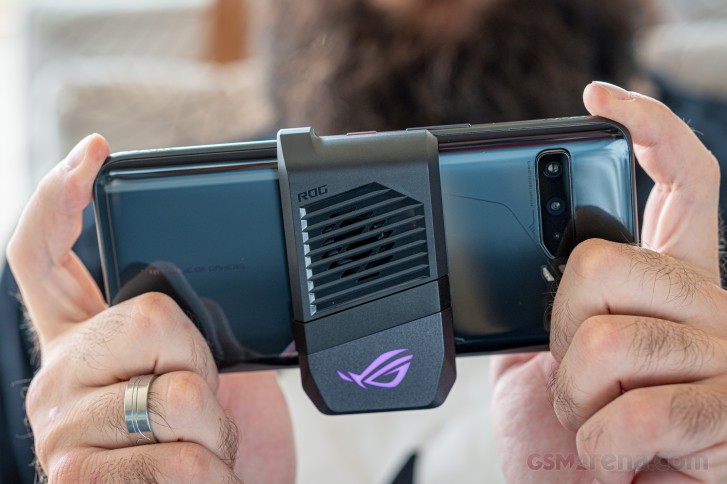 The ROG Phone 3 was intentionally designed to be very similar in terms of size, dimension and control and port layout to its predecessor. This allows it to maintain compatibility with many of the accessories of the ROG Phone II. Asus is still putting-out revised version of some of these, as well as totally new ones, but this push towards compatibility still remains significant in our mind, as a sort of declaration for support towards its current users. Not to mention ecological, sustainability and financial implications.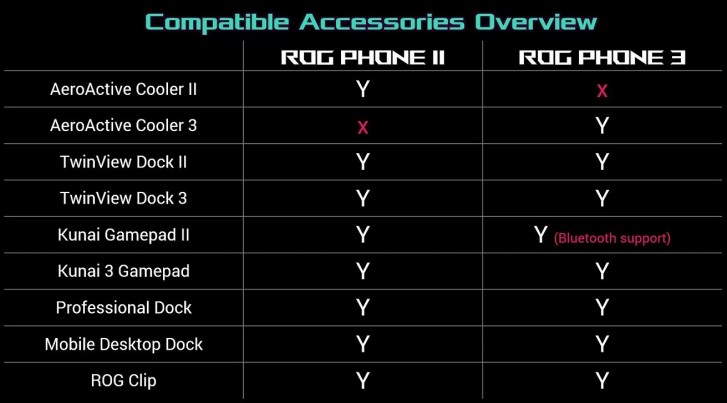 We'll kick-off the accessory tour with the brand-new things arriving with the ROG Phone 3. Then, we will briefly go through the still-supported ROG Phone II accessories. For a deeper dive into those, you can check out our extensive ROG Phone II review.
AeroActive Cooler 3
First off, the AeroActive Cooler 3, which is included in the box, alongside the ROG Phone III. It's the final piece of a big, redesigned cooling puzzle, that allows the device to push itself further and do so for longer periods of time.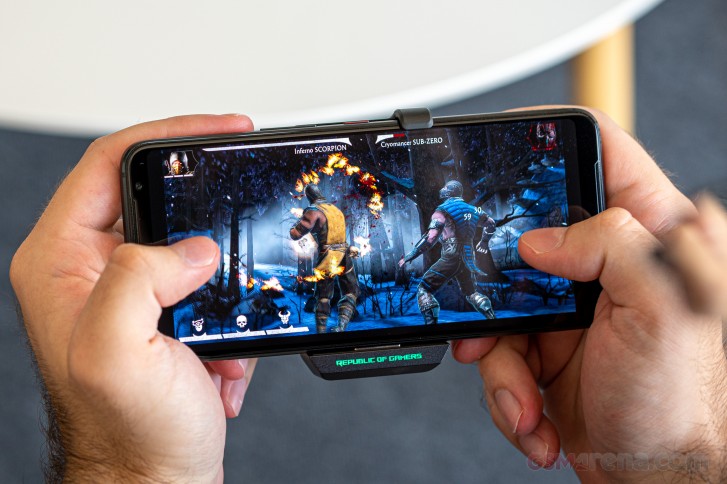 It's exact effects on actual performance figures is tough to quantify and the same goes for its importance towards ultimate mobile performance, in relation to the massive heat-spreaders and vapor chambers, polling heat away from component on the inside of the ROG Phone 3. Having it around is indisputably better than not, though. Asus says that its new redesigned AeroActive Cooler 3 can deliver up to 4-degree lower surface temperature and offers a more focused airflow, directed towards the CPU and GPU areas of the phone.
Frankly, even if the active dan bit was only meant to increase comfort while gaming and it delivered no tangible benefits to performance (which, is not the case), we would still deem it more than justified. The ROG Phone 3 does get very hot under load, by design and the AeroActive Cooler 3 noticeably improved in-hand feel. It also does so with no realistically noticeable noise. Even at full blast, you can only hear it when you have your ear right next to it.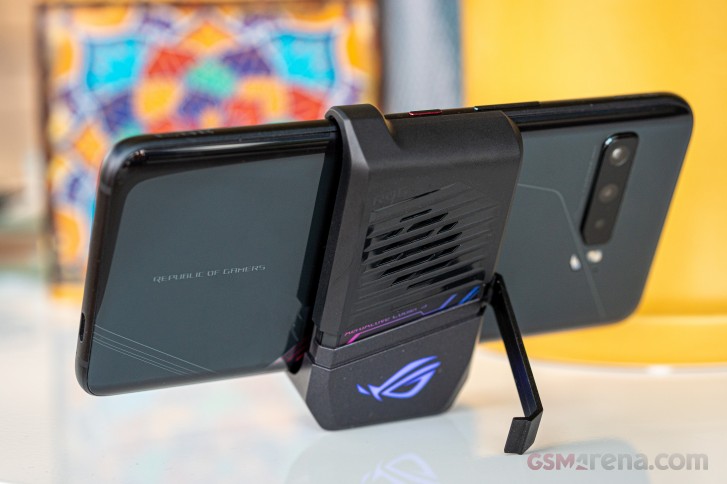 On top of that, the new AeroActive Cooler 3 now has a convenient kickstand, which is a great ergonomic and functional advantage on top of the ones carried over from its predecessors – a 3.5mm jack and a Type-C port, both conveniently routed vertically downward. And, of course, it has full RGB support for both its logo on the back and text on the front. Functional, cool and included in the box, what more could you want.
ROG Kunai 3 Gamepad
The ROG Kunai 3 Gamepad carries over the main concepts from the ROG Kunai Gamepad and improves upon then further with a new, even more-versatile design. Just like before, the most obvious way of using it is with the ROG Kunai 3 bumper. That slips on the ROG Phone 3 pretty securely while also breaking out the phone's bottom Type-C connection into special connection pads for one or both Kunai grips.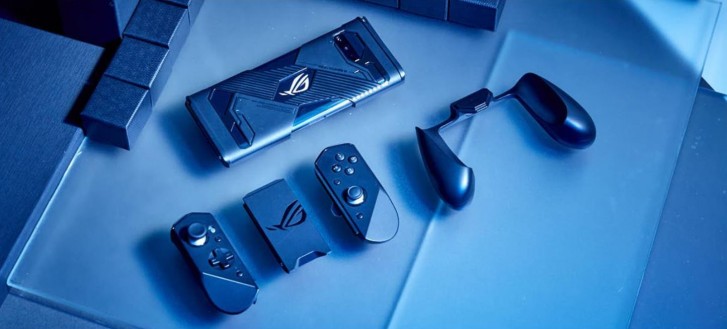 This allows for a low-latency, wired connection to the phone and also eliminated the need to worry about additional batteries and their charging, since power comes from the phone as well. You can opt to just use the left controller, if that just happens to be all the extra input you need. Design is slightly changed from last year, but the inputs are largely identical. The left controller alone has a fluid analogue stick, complete with press-down action, d-pad, two bumpers on the back and even a small button near the bottom of the grip. That's a whole lot of extra inputs that can be freely mapped using the versatile Asus Keymapping software. Its little light strip can even be synced with the lighting on the ROG Phone 3.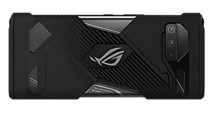 ROG Kunai 3 Bumper
That is the other bit of magic going on behind the scenes. The entire mapping platform is simple and straight-forward and it simply works. Not to mention it is baked right into the OS and even comes pre-loaded with professional key maps for many major game titles. It is honestly kind of magical and the advantages this sort of mapping provides are frankly bordering on cheating, especially if you decide to use on of the Asus docks and a mouse and keyboard. But we digress.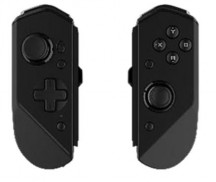 Kunai 3 controllers
The right Kunai controller brings another 8 mappable inputs to the mix, depending on how you count them. No fancy Type-C port on the bottom of light strip on this one, though. Between the pair, you should have absolutely no shortage of mappable keys and analogue sticks. There is even a mouse mode available for even more versatility.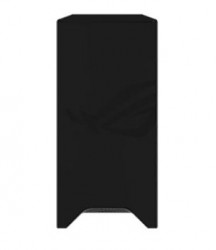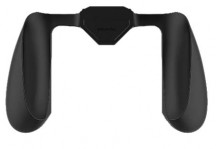 Kunai 3 Charger • Kunai 3 Grip
Just like last year's model, you can use the Kunai 3 wirelessly via Bluetooth, as well. For that to work, there is again a grip cradle accessory. Only this time, it is split-up into two parts. The flat middle Charger section can be used independently for a slicker profile controller. One that Asus markets as great for carrying around. The Grip then slides on top of that assembly for extra comfort.
The Charger has enough juice for around 8 hours of gaming on Bluetooth. It is charged via a Type-C port, which can also be used to get a wired connection between it and the ROG Phone 3 to game that way, with less lag and without worrying for battery life. We can't say for sure that this setup works with other Type-C devices. Asus does confirm that officially you can use the new Kunai 3 Gamepad with the ROG Phone II in Bluetooth mode. The Kunai 3 can also be used together with the TwinView Dock II and 3 and the AeroActive Cooler 3.
TwinView Dock 3
The new TwinView Dock 3 was a relatively quick and easy upgrade for Asus. It is essentially identical to the second generation TwinView Dock, with the one difference being that the secondary display, inside the TwinView Dock 3 is now swapped for a faster 6.6-inch, 144Hz model, to match the one on the ROG Phone 3.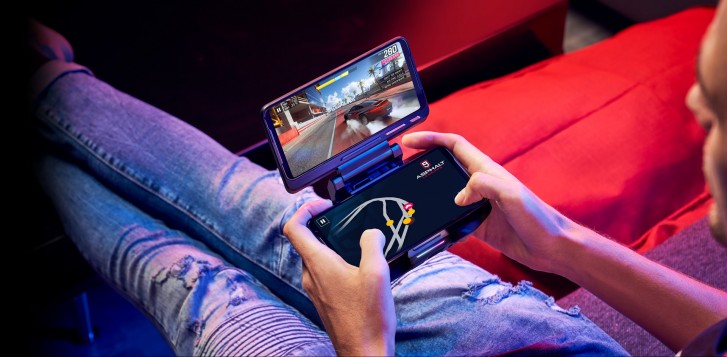 This is a move that makes perfect sense in our mind, since Asus already had a great re-defined design going on the TwinView Dock II, which addressed pretty-much all of the issues of the original accessory. The more open design and good weight distribution make the TwinView Dock 3 surprisingly manageable.
In terms of hardware, you are looking at a 5,000 mAh additional battery inside the unit, which is no joke, especially when put alongside the 6,000 mAh already in the ROG Phone 3. The 30W factory charger for the ROG Phone 3 has enough overhead to actually power and charge the TwinView Dock 3. You can even choose in which order to use the available juice – either use the additional 5,000 mAh battery first and keep your phone fully-charged, or discharge the pair in tandem.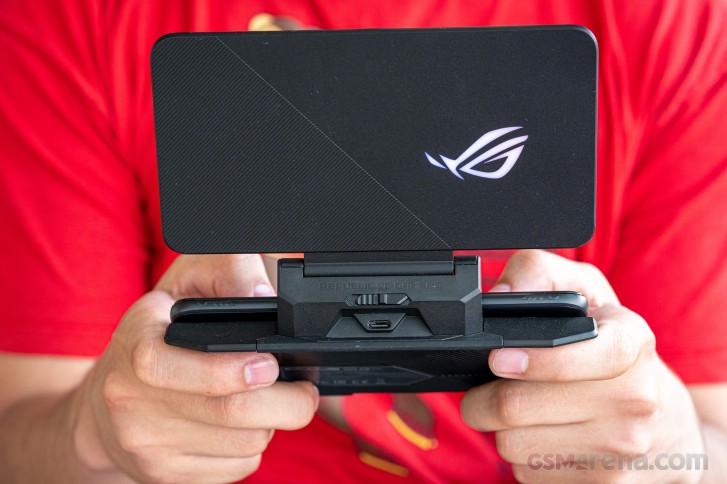 Other hardware on the accessory include a built-in cooling fan and both a 3.5mm audio jack and Type-C port conveniently relocated near the top and bottom. These additional ports make little sense at first, when you consider how open the ROG Phone 3 remains while docked. But suddenly become essential if you decide to also put the Kunai 3 Game on the phone, as well. Granted, it might take you 15 minutes or so to set everything up, but that's about as baller of a portable smartphone gaming setup as we can imagine.
The question of usability for the second display is still, very-much relevant. The way Asus has thing set-up right now, you basically get two independent environments, complete with their own app launcher, that can run two apps at the same time. In most cases, the apps themselves won't even realize they are running in an odd configuration. That limits functionality in some sense, but also delivers the most versatile setup possible, given the current state of Android and its app ecosystem, in relation to second displays for both productivity and gaming.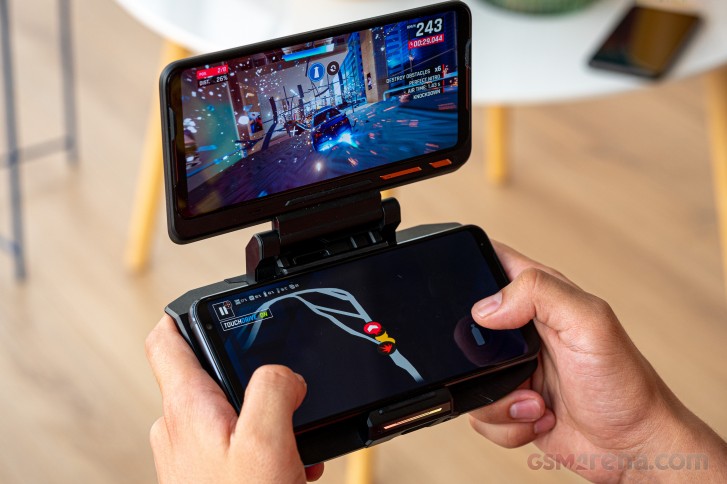 That being said, things are getting better and Asus is working hard on that front. Second-screen gaming might still have a bright future ahead of it, but it will require the right kind of effort. Developers can already make use of the second display on the TwinView Dock via APIs openly available in Unity. There are a growing number of actual experiences that can be had today.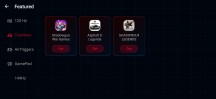 Featured TwinView Dock games
ROG Gaming Clip
The ROG Gaming Clip is a bit simplistic at first glance, but it could hold a great deal of potential. Plus, it shows admirable flexibility on Asus' part and desire to deliver solutions that work in the real-world.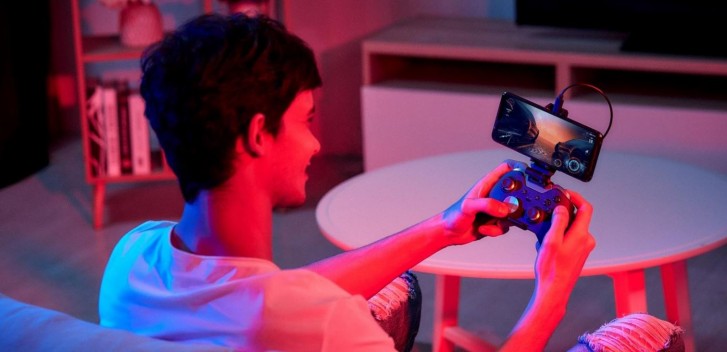 The ROG Gaming Clip is just an adjustable phone mount, that can fit any device between 69mm and 80mm in width. It can then be attached to a number of popular controllers, like the XBOX controller, PlayStation DualShock and the Google Stadia controller. In the box, you also get two short USB cables (micro USB and Type-C) to connect the controller and the phone. The whole thing is foldable and easy to carry around.
Asus is clearly attempting to branch-out, even if just slightly here, since the ROG Gaming Clip can, theoretically, work with many third-party phones, as long as you are certain that you can hook-up one of the mentioned controllers to it in a wired or wireless manner and have it work. There are certain nuances to that task.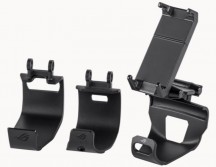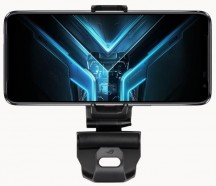 ROG Gaming Clip
However, to get the true potential of the clip, you definitely want to make use of an upcoming ROG Keymapping update, which promises to enable its awesome versatility and powerful key-mapping for the XBOX controller, PlayStation DualShock and Google Stadia controller.
Making a controller and actually doing a good job of it is surprisingly hard. It's no wonder that pretty-much evet console controller, current or old, has a dedicated following of users and fans for one reason or another. Usually, it boils down to ergonomics and a familiar feel. Being able to just carry that over to your ROG Phone, along with seamless key mapping is potentially huge.
Mobile Desktop Dock
Like we said, we won't dig too deep into older devices, like the Mobile Desktop Dock, since it is just getting carried-over from the ROG Phone II. You can head-on over to that review for more details.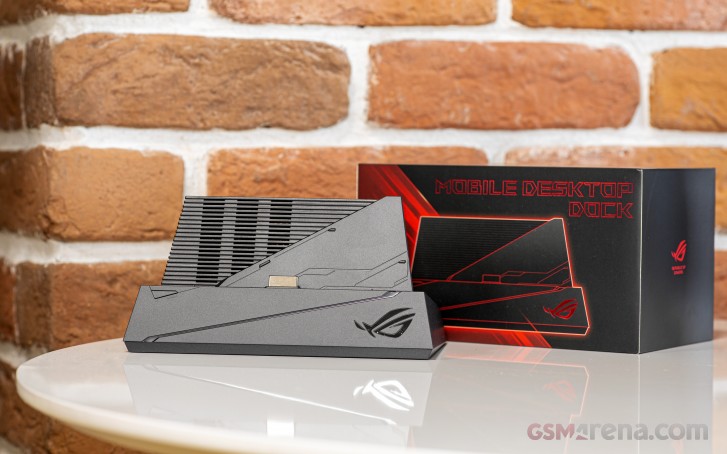 It still remains the most versatile solution of its kind, we have seen to date. As far as straight-up gaming use is concerned, the most obvious way to use the Mobile Desktop Dock is to hook the ROG Phone 3 up to a big monitor, with a proper keyboard and mouse combo and use the amazing Asus keymapping software to almost seamlessly map controls to those superior inputs. You can even get mouse camera and aiming to work with a mouse in most shooters. Including in competitive scenarios. There are a few that manage to protect against such actions, but most are outright oblivious to the fact, since the software solution Asus has developer works at an impressive low-level on the system. Honestly, this works so well that it is outright cheating.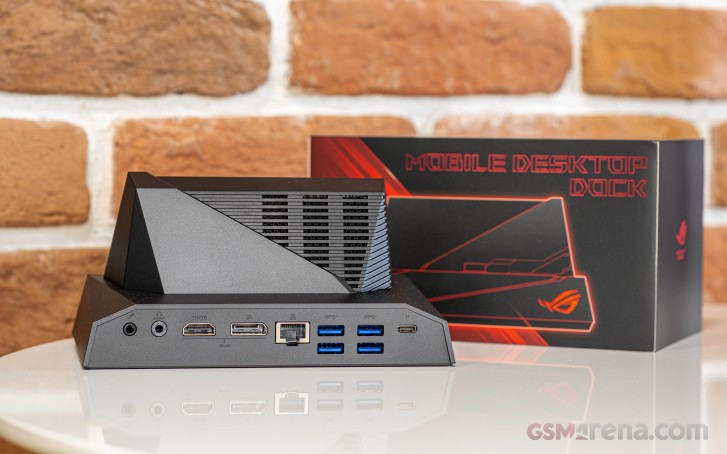 Mobile Desktop Dock is equipped with both an HDMI 2.0 port and a Display Port 1.3, you don't have to limit yourself to FullHD, like some of the competing mobile docking solutions. 4K is easily attainable. There are two modes to choose between – mirroring the main phone display, or extending it. The latter can make proper use of the full resolution of your monitor and even initiates slightly tweaked version of the app launcher on the monitor and a fully functional UI on the phone display. This means you can multitask or simply fire up Game Center on the phone while gaming on the monitor to keep an eye out on performance stats. It's not a full-blown alternative desktop environment, like Samsung's DeX, but is still set-up in a versatile and usable way.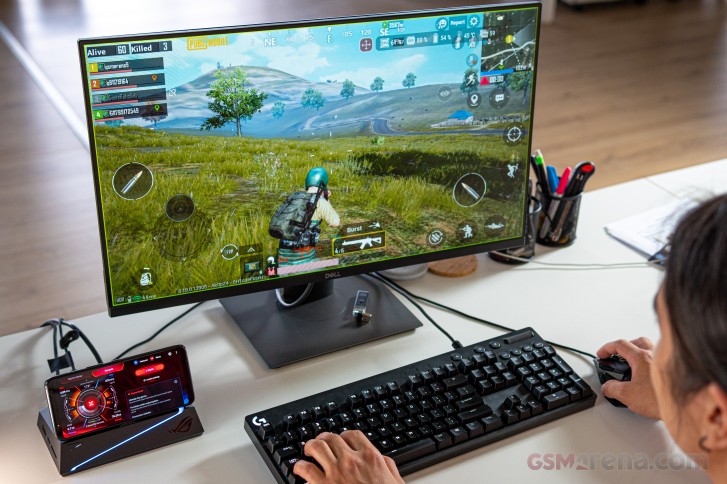 The impressive port selection on the Mobile Desktop Dock offers some clues to one other feature it possesses. It is actually a potent and extensible KVM. Yes, a 4K KVM! Well, one of the devices needs to be the phone, but still, anybody familiar with a KVM will know just how much a good 4K one costs.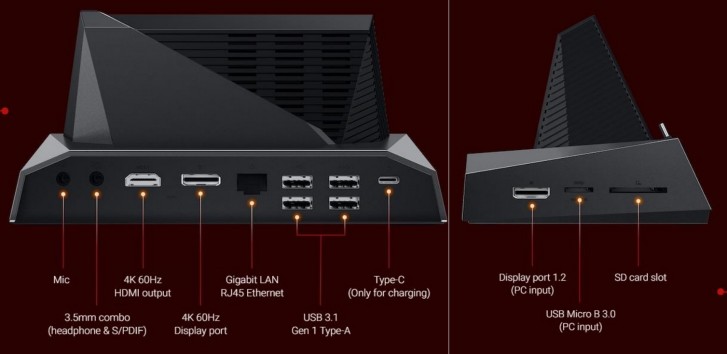 All you need to do to make this work is get a DisplayPort cable running from your PC to the port on the left side of the dock, along with a slightly odd, but functional USB-A to micro USB 3.0 cable for data. Then you can go ahead and unplug all of your peripherals from the PC, plug then in the back of the dock, slap the ROG Phone 3 on the dock and you only have to press a single button on the front of the dock to switch everything over from one device to the other.
ASUS Professional Dock
The Asus Professional Dock has been part of the ROG accessory ecosystem, unchanged, since the original ROG Phone. It is kind of a stripped-down version of the Mobile Desktop Dock. It also plugs into one of the Type-C ports of the ROG Phone II and offers a couple of USB 3.1 Type-A ports, Gigabit Ethernet and an HDMI out, capable of up to 4K resolutions. Crucially, it is still supported by the Asus Key Mapping software, which is not necessarily true for other, third-party Type-C hubs that might offer the same hardware functionality.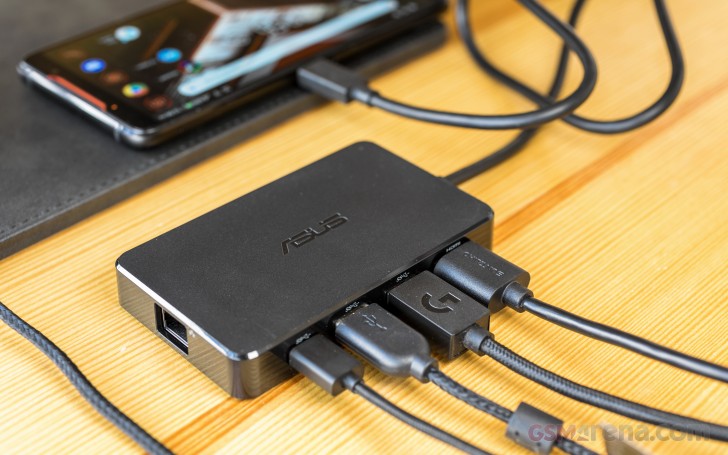 If you don't have a use for the KVM functionality of the Mobile Desktop Dock, then you can have all the rest, including the ability to play mobile games with keyboard and mouse on the cheaper Professional Dock.
ROG Lighting Armor Case 3
The Lighting Armor Case is another older ROG Phone concept, carried over for the ROG Phone 3 to use. The main party trick of the Lighting Armor Case line are built-in LED light guides and a reflector window, which aligns with the second LED near the main camera of the phone. Yes, that odd-looking, smaller LED, beneath the camera flash on the back of the ROG Phone 3 is an illuminator and its sole purpose in to bring such cases to life. Embedded in the case itself, there is also an NFC chip, which automatically triggers a prompt, asking the user if they want to download and enable a there, matching their new Lighting Armor Case.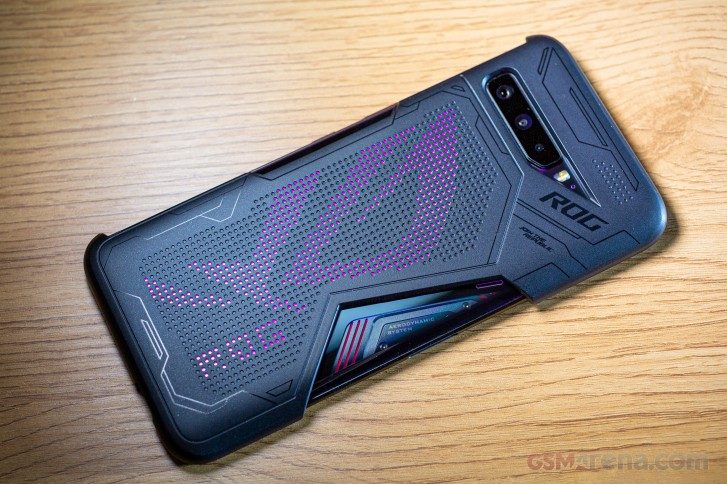 In the past, we have mostly seen ROG-branded cases and some that are styled after a number of popular gaming IPs. Quite an interesting promotional tool with a dash of personalized, "gamer" styling. We can't say how extensive the selection of Lighting Armor Case 3 cases for the ROG Phone 3 will be, but Asus did send over its own, interesting model. It features a toned-down design, modeled after the particular light-pattern on the back of the company's Zephyrus G14 gaming notebook. The latter is an amazing piece of kit which is now, sadly, almost impossible to find. We would have liked to check it out and see how to two go together. But, we digress.
Asus also sent over one of its Neon Aero cases for the ROG Phone 3 in what can only be described as a "acquired-taste", particular kind of transparent orange, with writing on top.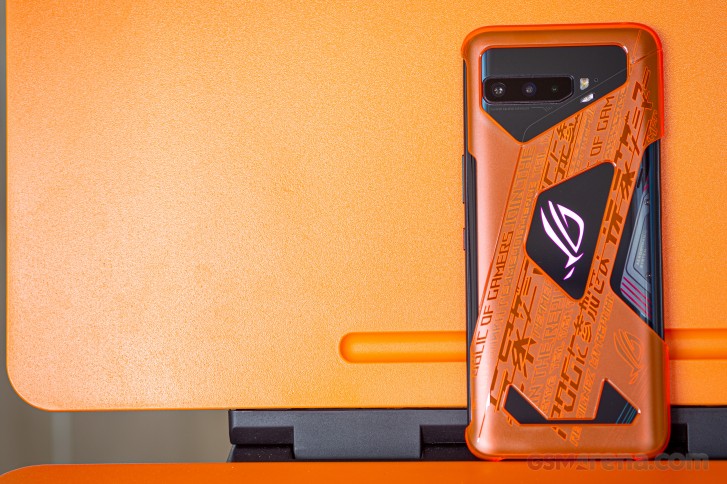 And also, an Antibacterial glass screen protector. The ongoing COVID-19 pandemic is leaving its mark in all sorts of off and unexpected places. The back of the packaging says that the protector has silver ions, which destroys enzymes in bacteria upon contact.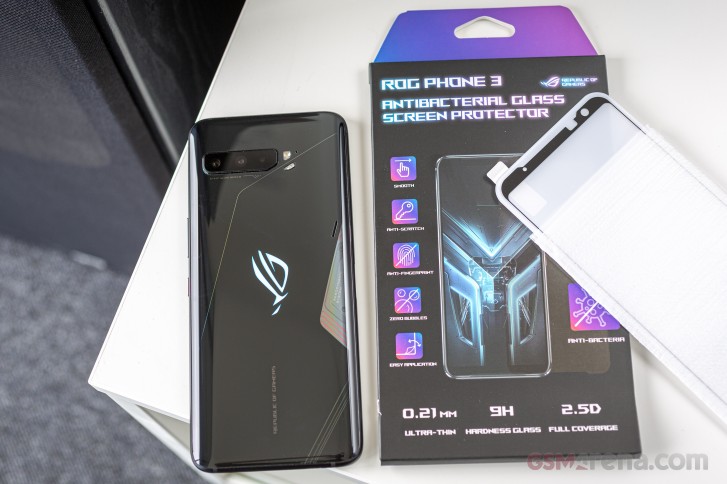 Antibacterial properties aside, this is an official tempered glass protector, with a 9H rating, 2.5D curved edges and 0.21mm thickness. That's one more advantage of having a flat display design – you can easily get great-quality glass protection for it. If you are so inclined, that is.
64MP Quad-Bayer main camera and 13MP ultrawide
An amazing camera experience was never going to be high on the propriety list of a gaming smartphone. Even so, Asus has been consistently delivering perfectly adequate camera setups on the ROG Phone line. The ROG Phone 3 is no exception. Its main camera is, more or less, an incremental update over the one in the ROG Phone II. It uses the popular 64MP, Quad-Bayer Sony IMX686 sensor. It's a 1/1.7″ unit, with 0.8 µm individual pixels and 2×1 OCL PDAF, sitting behind an f/1.8 lens. Nothing too glamorous or spectacular. There is no OIS, Laser AF and just a simple one-LED flash setup. Even so, the Sony IMX686 has proven its salt as a capable shooter.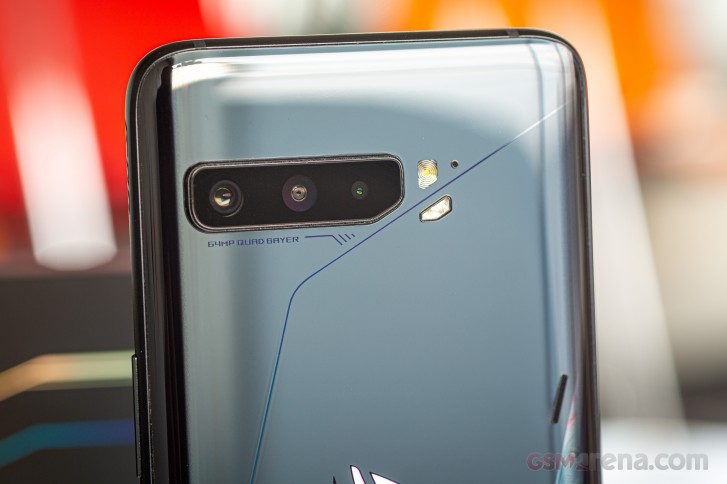 Furthermore, in conjuncture with the Spectra 480 ISP, Asus has managed to squeeze-out an impressive feature set out of the otherwise modest main camera. Especially in the video capture department, where the ROG Phone 3 has impressive EIS stabilization, all the way up to 8K resolution, as well as HDR video capture and even a full-featured Pro video capture mode. More on that in a bit.
Complementing the main 64MP camera, the ROG Phone 3 has a rather unremarkable 13MP ultrawide (OmniVision OV13855). It has a 125-degree field of view and a rather dim f/2.4 lens. Last and probably least – a 5MP, f/2.0 camera. As per our hardware-digging efforts, it actually uses an OmniVision OV8856 sensor, which has a native resolution of 8MP. It acts as a dedicated macro shooter, which is arguably, a bit better than simply having a depth sensor.
Around the front of the ROG Phone 3, we find another Quad-Bayer snapper. This one is a 24MP, OmniVision OV24B1Q, with an individual pixel size of 0.9 µm, behind am f/2.0 lens. No autofocus, or anything too fancy, but still plenty of potential, thanks to the 4-cell Bayer imaging setup.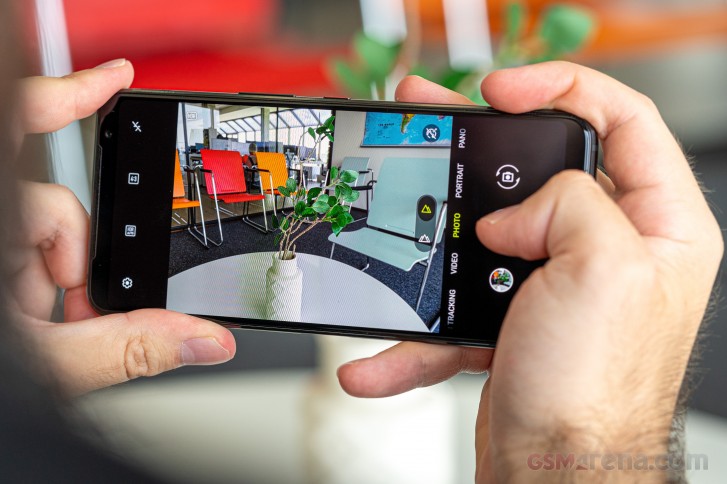 The ROG camera app UI is a fairly custom affair. We would say it is surprisingly feature-rich without being chaotic. It does still have certain idiosyncrasies to it, though, that might need addressing. For instance, we only managed to enter 4K HDR video mode through an on-screen prompt that only shows up when you do into 8K video capture.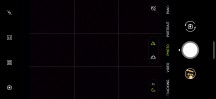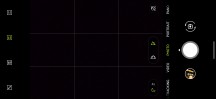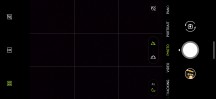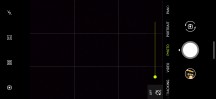 ROG Phone main camera UI
The options on the main camera UI are all self-explanatory. There is just a single beauty slider to the right, with no additional options. If you want more control over that, you have to switch over to the dedicated Portrait mode. Besides a slider for the intensity of the blur effect, it also features in-depth controls to thin cheeks, enhance eyes, brighten skin, soften skin and change its tone.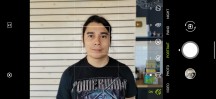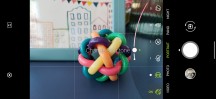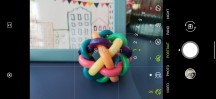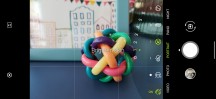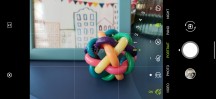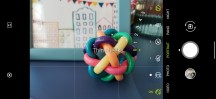 Portrait mode, complete with beauty filters
The same set of options for stills in both the default and Portrait mode are also carried-over to the selfie camera UI.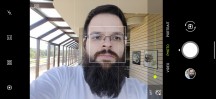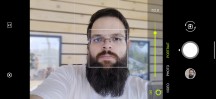 Selfie camera UI
The camera app does a fair bit of automatic scene detection. This is indicated by a small icon in the top left corner, as well as a Night Mode UI, which automatically pops-up in the bottom right corner, when the camera decides it is dark enough. You can toggle the automatic night mode off in the settings, if you want more control. Also, clicking on the Night mode icon itself presents two options for exposure duration. The numbers themselves are dynamic and also dependent on ambient light conditions. One denotes a shorter exposure, while the other – a longer one.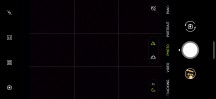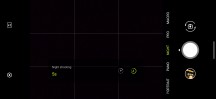 Automatic Night mode detection
If, for instance, the light is almost enough to pull-off a good shot without night mode, but the ROG Phone 3 still automatically decides to turn it one, you usually get an exposure time of around 3 seconds. If you then enter the quick selection menu, the 3 second mode should be set as the "longer exposure" value, with the lower one simply turning Night Mode off. Alternatively, if the conditions are really dark, you might find that the lower exposure time is in the 5 to 8 second range, with the longer option potentially going all the way up to 25 seconds. This dynamically populated selector is definitely a custom Asus control and one that is surprisingly convenient.
On top of that, there is also a dedicated Night mode in the camera app, which always applies at least some minimal value to the shorter exposure option.
Pro mode is surprisingly versatile. You get a level meter in the middle of the frame, as well as a histogram in the bottom left corner. WB adjustment goes from 4500K to 7500K. Exposure compensation can be set between -2 and +2. ISO goes from 25 to 3200. You can do shutter speeds between 1/60 and 32 seconds and the is a manual focus slider.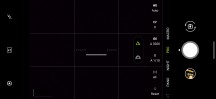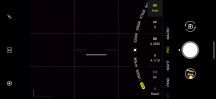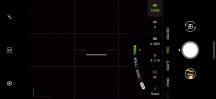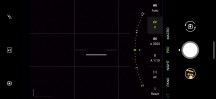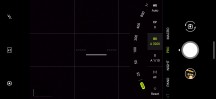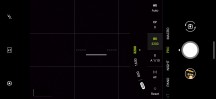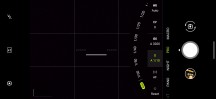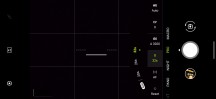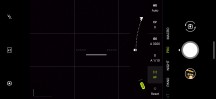 Pro camera mode
There is a Pro video capture mode, as well. It offers the same set of controls on the right-hand side as Pro photo mode, as well as a nifty smooth zoom feature. You can just click on an area in the frame and then have the phone gradually zoom to it. The ROG camera app also allows smooth switching between the main and ultrawide cameras while filming.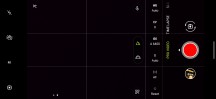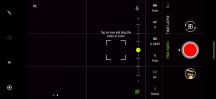 Pro video mode
Video options on the left side of the frame are the same for regular Video recording mode and Pro mode. Interesting among these is the stabilization toggle. It enabled and disables HyperSteady, which goes one step beyond the regular EIS video stabilization, controlled via a central toggle in the Video setting screen. HyperSteady is only limited to FullHD resolution and only works on the ultrawide camera. You can't use it together with the smooth zoom feature either.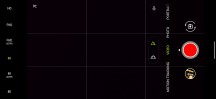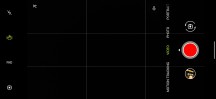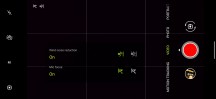 Video capture UI
The ROG phone 3 also has what it calls Audio effects. Once enabled via the settings menu, these are controlled from a small menu shortcut, denoted by a microphone icon, in the top right corner of the UI. You get two features – automatic mic zoom and wind suppression. Once enabled, each gets its own status icon in the top left corner of the UI. Both work surprisingly well. Or rather unsurprisingly so, considering the powerful four-microphone array on the ROG Phone 3.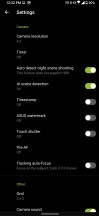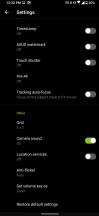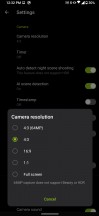 Still photo settings
There are plenty of settings to play around with in the camera app, both for stills and video capture. We have to admit, Pre-AF, in particular, still has us a bit confused as to its exact purpose and effects. The ROG Phone 3 lacks a dedicated camera shutter, let alone a dual-stage one, which could have made the option a bit more logical. Side note, we think Asus should consider including the option to set-up one of the excellent ultrasonic AirTriggers of the ROG Phone 3 as a shutter. Thanks to its pressure precision and haptic feedback, it can likely mimic a two-stage shutter key fairly competently.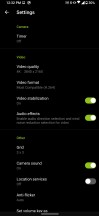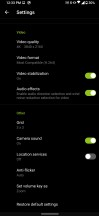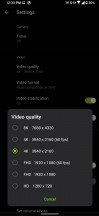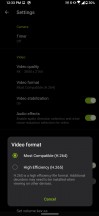 Video capture settings
We appreciate the addition of a h.264 and h.265 (HEVC) codec selection in the video capture settings. Among other options, we already mentioned in some detail.
Still image quality
In good lighting conditions, the 64MP main camera on the ROG Phone 3 produces perfectly decent stills, at a little below 16MP in resolution, after the Quad-Bayer algorithm does its job. Detail is plenty and we like the more-natural looks to the colors.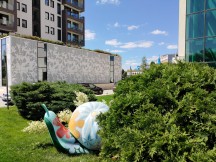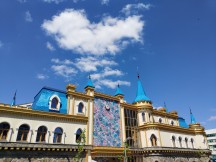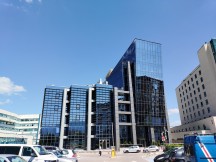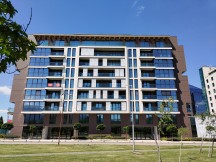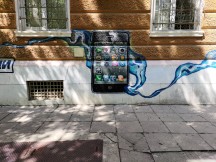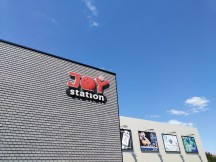 ROG Phone 3 main 16MP camera samples
Admittedly, noise is a bit too much for our taste and the dynamic range is narrow. Typically, we would reach for the HDR algorithm to get that sorted out, as best as possible. With modern computational photography, you can really go beyond what the hardware is natively capable of.
Anyway, the previous set of shots were all captured with HDR forced off, instead of the default mode and deliberately so. Both it its default Auto mode and in manual ON mode, the HDR algorithm on the ROG Phone 3 seems to constantly "oscillate" between what we can only describe as different "intensity" levels of the "enhancements" it is applying. In real-world terms, this typically results in a selection of a few differently over-exposed shots.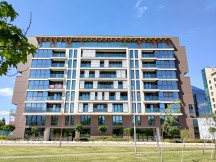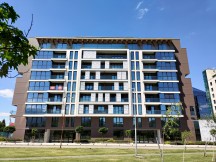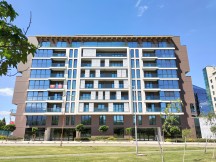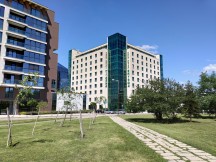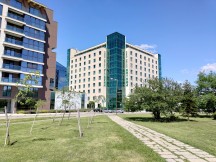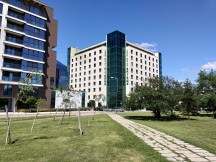 HDR wonkiness
All of these samples were taken consecutively, under the same lighting conditions. Clearly, HDR needs some extra attention. Here are the same shots with HDR forced on and then with HDR Auto.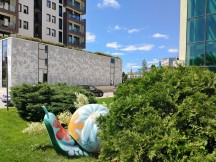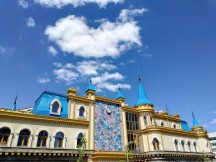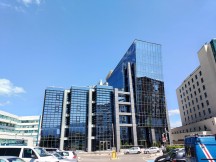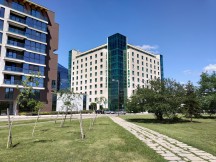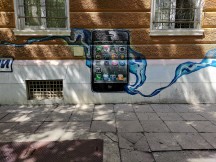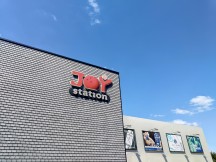 HDR ON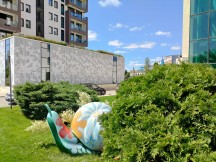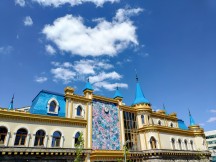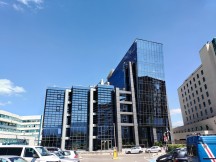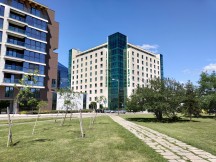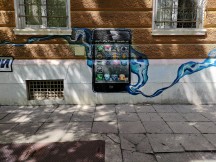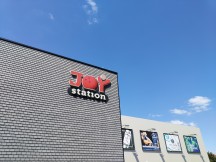 HDR Auto
At least, we found no issues with the detection part of the algorithm. Auto mode sprang into action at just the right times.
You can capture photos at the full 64MP resolution of the Sony IMX686, though that hardly offers benefits in terms of detail and tends to introduce a bit more noise in the frame. This isn't how Quad-Bayer sensors are meant to be used and you can also see chromatic aberrations and some wrong and algorithmically made-up lines and shapes, especially in fine patterns.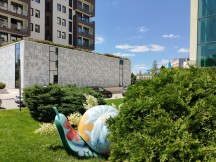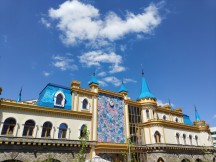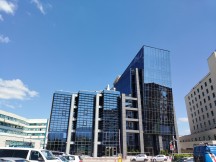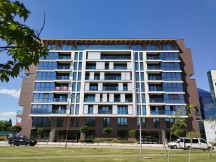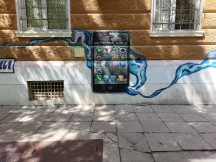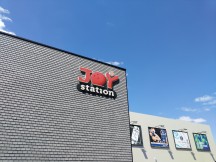 ROG Phone 3 64MP main camera samples
Speaking of algorithmic issues, even in its proper 16MP mode, the main camera on the ROG Phone tends to often represents some straight lines extra-thick in places. It's a weird bug, potentially relater to image sharpening.
Portrait shots come out looking clean with nice subject detection and separation. Background blur also looks neat and convincing.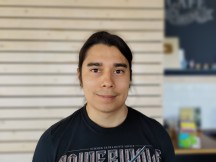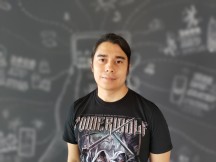 ROG Phone 3 portrait mode samples
Surprisingly, Portrait mode managed to perform nearly as well with non-human subjects.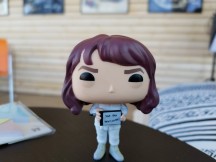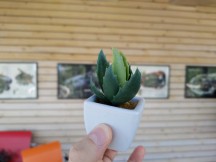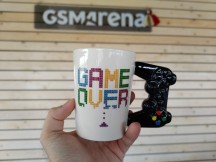 ROG Phone 3 portrait mode samples
Like we already mentioned, most beauty tweaks on the ROG Phone 3 camera are also housed within the Portrait mode. If you are not careful with the sliders, you can end-up with comedic results. When used in moderation, the effects do work well.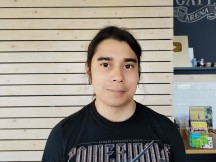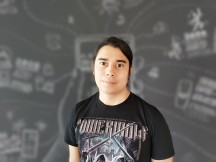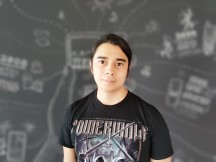 ROG Phone 3 portrait mode and beauty mode samples
Zooming is naturally available on the ROG Phone 3. You can go up to 8x, which is being done through the main 64MP camera. The ROG Phone 3 press materials to mention lossless 2x zoom, by using the Quad-Bayer camera in a "clever" manner and when there is enough light to pull it off. However, there is no easy toggle to do 2x in the camera UI that would suggest the lossless nature of the zoom. You just have to pinch and zoom to the right spot.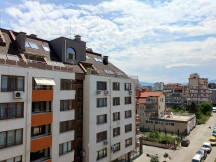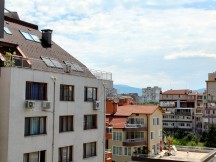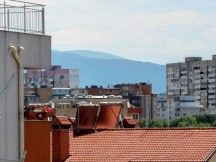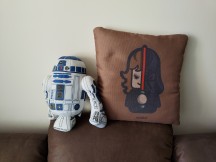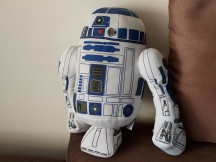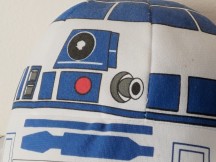 ROG Phone 3 zoom samples: 1x • 2x • 8x • 1x • 2x • 8x
Zoomed shots look decent-enough at 2x, though a bit too soft to be labeled "lossless" in our mind. 8x is clearly heavily-digitally enhanced. Many of the lines are painted-over and restored. Even so, there is still a surprising amount of usable detail.
Not unlike the main camera, the 13MP ultrawide on the ROG Phone 3 is perfectly decent, but very-much unimpressive. It has a general softness to it, that can be off-putting.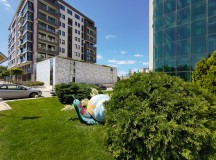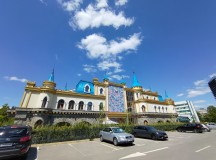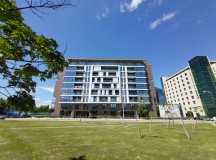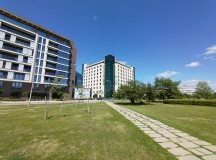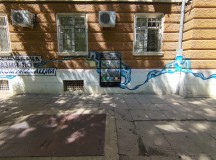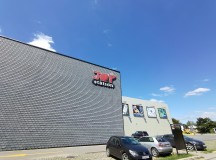 ROG Phone 3 ultrawide camera samples
Still, that's about what we would expect out of the OmniVision OV13855. Perhaps a bit of extra software sharpening can push along further. We are happy to report, though, that unlike the main camera, HDR mode on the ultrawide had no weird inconsistency issues.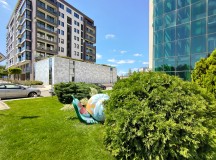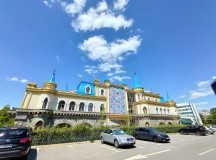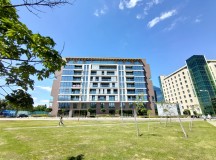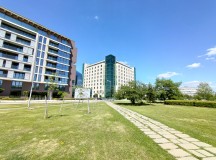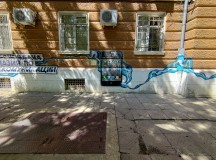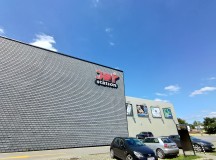 ROG Phone 3 ultrawide HDR On camera samples
HDR Auto mode worked out just fine on the ultrawide, as well, kicking-in as needed. In most cases, the algorithm managed to do its job properly, with recovered details in otherwise crushed shadows being the most obvious benefit.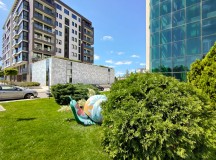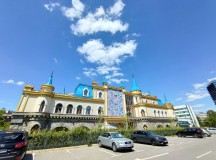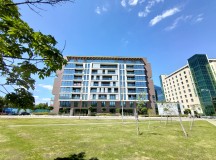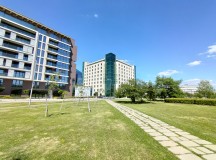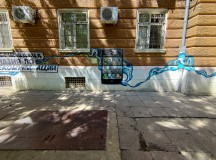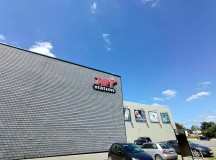 ROG Phone 3 ultrawide HDR Auto camera samples
There is no autofocus on the ultrawide camera, which means it can't pull double-duty for some fancy macro shots. The ROG Phone 3 has a dedicated 5MP macro camera to handle that. It is also fixed-focus and not particularly special in any way.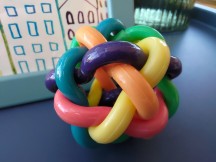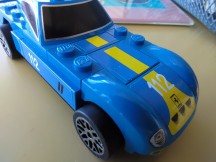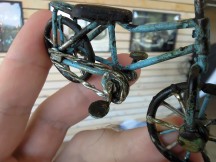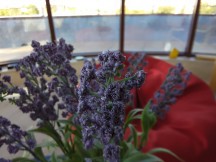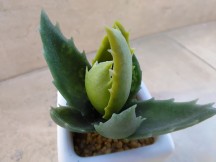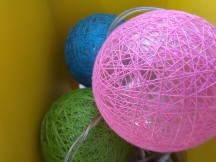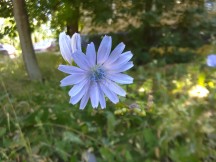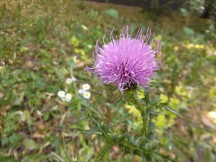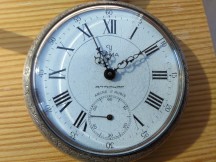 ROG Phone 3 macro camera samples
The resolution isn't much and you do need to be particularly careful about the distance you are from the subject, but with enough patience, you can still get some surprisingly nice shots out of this small camera.
We do appreciate the fact that the camera app starts hinting that you should switch over to macro mode when you try to get too close to your subject in regular photo mode.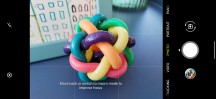 Helpful macro mode hints
Low-light still image quality
Low-light performance on the ROG Phone 3 is a bit of a mixed-bag. As far as the main 64MP camera goes, we were mostly please with how in held-up. There is surprisingly little noise left behind in most shots, detail is about what you would expect from a modern Quad-Bayer sensor, which is to say perfectly adequate and the camera rarely got tripped-up by complex and conflicting light sources.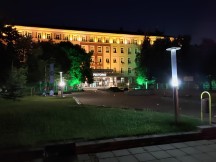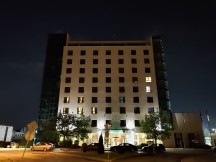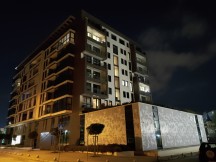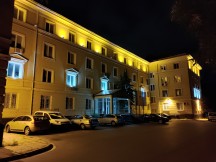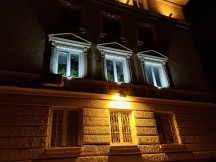 ROG Phone 3 low-light camera samples without Night mode
Asus has a rather interesting take of its own on Night mode implementation. We found that simply leaving the automatic detection on in the settings (which it is, by default), the camera generally does a fine job of determining just when to enable Night mode and with how long of an exposure, without having to ever leave the default photo mode. If the phone detects a particularly dark scene, it doesn't shy away from bumping the exposure time even if you are not in the dedicated Night mode. And if tripod-detection kicks in, it will happily do a 25-second or even 32-second shot completely of its own accord.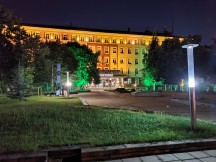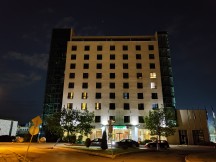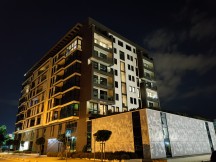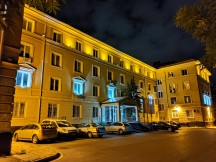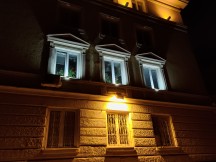 ROG Phone 3 low-light camera samples with Auto Night mode
Depending on the particular scene, Night mode can have effects ranging from almost unnoticeable to surprisingly effective, often managing to bring-back entire section of otherwise dark frame. We noticed that Night mode doesn't really do much for clipped areas, say near very bright light sources.
You can get a bit more hands-on with low-light shots to try and fix that, to some degree. For one, the ROG camera app supports separate exposure and focus lock points. You can long-press on a spot in the viewfinder to lock both at the given location, after which you can drag the AF point to a different location.
Like we said, the dedicated Night mode, will still automatically estimate a shot and long exposure setting for you, but these tend to typically be a bit higher than the once the algorithm will settle on under the default photo mode.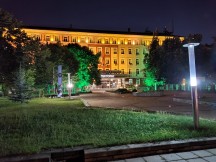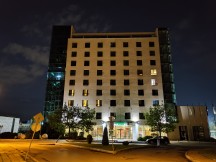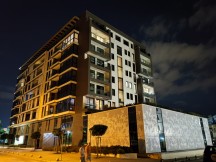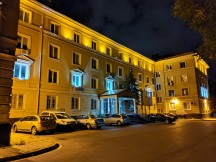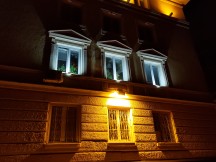 ROG Phone 3 low-light camera samples in Night mode on the maximum suggested exposure time
Beyond that, there is always Pro mode, which hands over control entirely.
Honestly, the main 64MP camera on the ROG Phone 3 can often get away without resorting to Night mode, at all. The ultrawide, however, has the disadvantage of dim f/2.4 lens.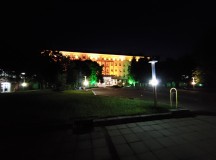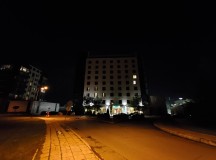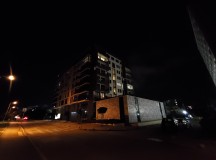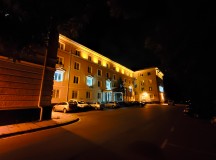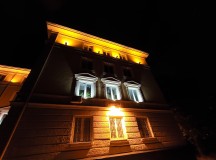 ROG Phone 3 ultrawide low-light samples without Night mode
Night mode for it is often the difference between a throw-away photo and one that is actually usable to some degree.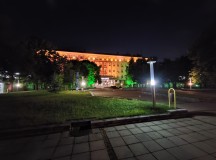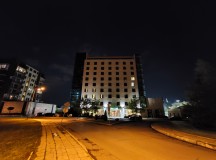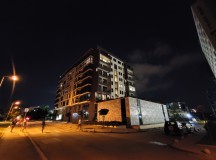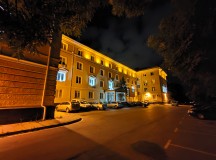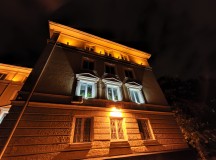 ROG Phone 3 ultrawide low-light camera samples with Auto Night mode
The algorithm knows that all too well and tends to suggest longer exposure periods for the ultrawide, regardless of which mode it is operating in.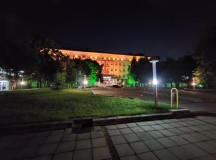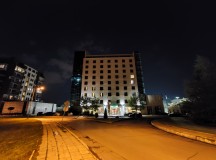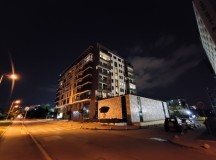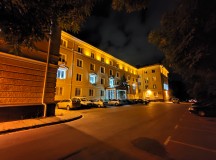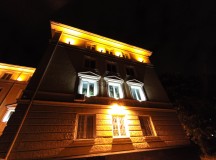 ROG Phone 3 ultrawide low-light camera samples in Night mode on the maximum suggested exposure time
Finally, we added the ROG Phone 3 to our extensive photo compare database, both in its intended 16MP resolution and at 64MP. Feel free to pixel-peep.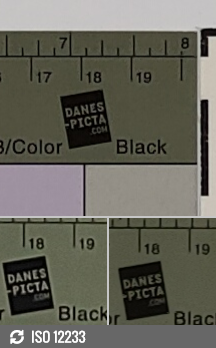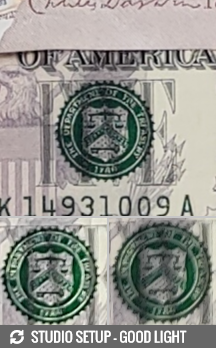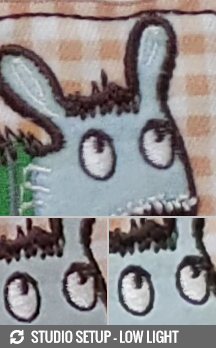 Asus ROG Phone 3 against the ZTE nubia Red Magic 5G and the Xiaomi Poco F2 Pro in our Photo compare tool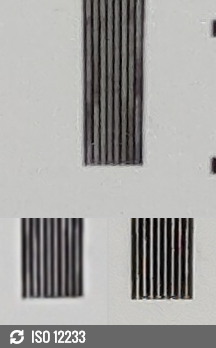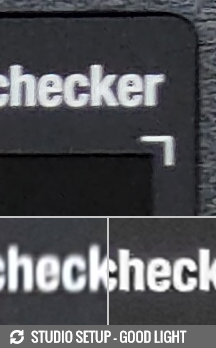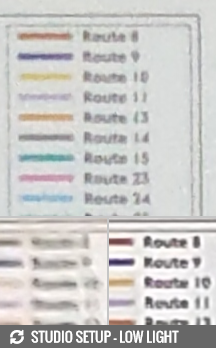 64MP: Asus ROG Phone 3 against the Motorola Edge and the Xiaomi Redmi K30 in our Photo compare tool
Selfie photo quality
We are just as happy to see a nifty Quad-Bayer sensor on the front of the ROG Phone 3. The 24MP, f/2.0 module produces 6MP shots and is not particularly fancy in terms of additional features. It is a fixed-focus unit, but focus distance is well set at just about an arm's length. Focus depth is perfectly sufficient too.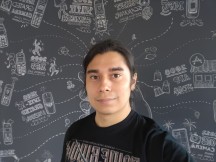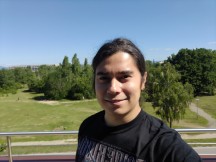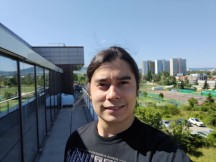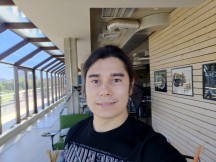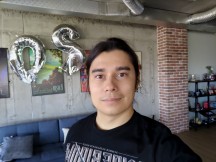 ROG Phone 3 selfie camera samples
Detail is good, so are colors and sharpness. The way the ROG Phone 3 handles bright lights in combination with thick shadows in the same frame is impressive.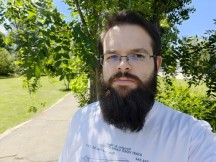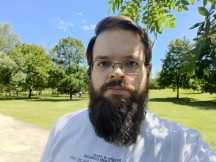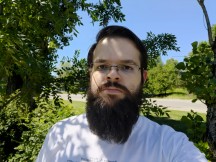 ROG Phone 3 selfie camera samples
You can do Portrait mode shots on the selfie camera, as well. Without any additional camera for depth detection, the subject separation on this one is not nearly as impressive as on the main camera. Even so, results look surprisingly good. Small hairs and glasses still manage to trip the algorithm up, but the blur effect looks impressive overall.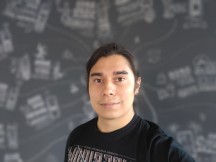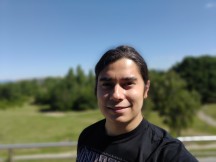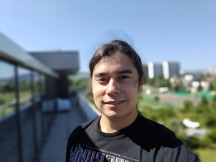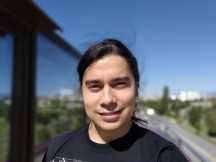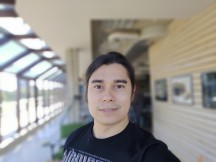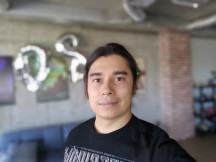 Rog Phone 3 selfie portrait samples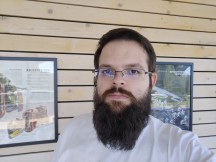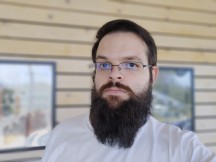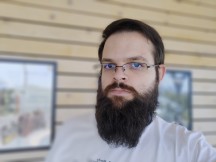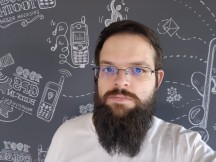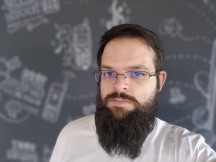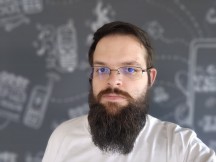 Rog Phone 3 selfie portrait: Off • Medium • Max • Off • Medium • Max
The full beauty mode suite is also carried-over to the selfie camera. Just like on the main camera, it's a very versatile mode filled to the brim with beautifying features. Most of these, however, can go to some extreme "Sims character creator" values, making it rather easy to go overboard with the effect. No real hard though, since there is some comedic value to be had from playing around.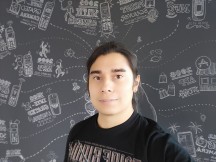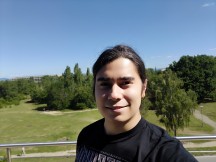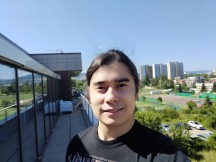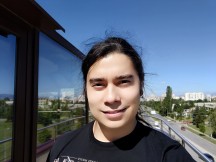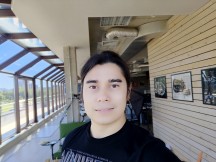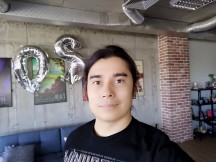 ROG Phone 3 selfie beauty mode samples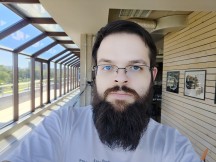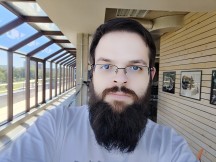 ROG Phone 3 selfie beauty mode: Off • Medium • Max
A dimly-lit room is not particularly challenging for the ROG Phone 3's selfie camera. Quality remains high and noise surprisingly low. Even Portrait mode remains usable.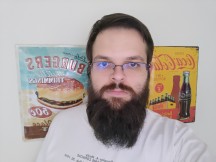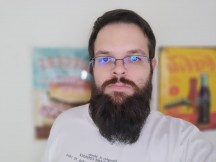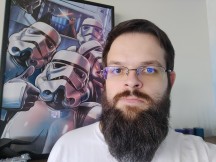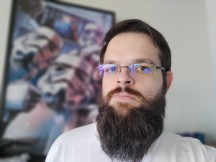 ROG Phone 3 selfie samples
One it gets properly dark, the phone's selfie game starts to suffer. Especially if you torture the limited dynamic range with odd light sources. Even in these conditions, though, photos still remain usable. There is no Night mode for the selfie camera, automatic or manual.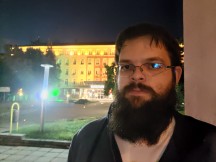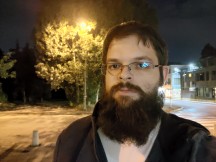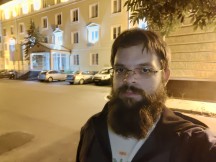 ROG Phone 3 low-light selfie camera samples
We have to say that, overall, we are quite pleased with the selfie experience. Especially considering this is not a camera-centric phone, let alone a selfie-centric one. Though, a certain niche of mobile game-streamers might still appreciate the extra attention this particular camera has received.
Video capture quality
The ROG Phone 3 can go all the way up to 8K resolution, at 30fps on its main 64MP camera. Better still, even at this high resolution, the camera app still lefts you use the advanced audio features – Mic focus and Wind noise reduction. You are free to choose an encoder of your choice, as well – h.264 for the best possible quality or the dynamic h.265 (HEVC) to save some space at a small expense to quality.
Framerate isn't terribly stable at 8K, but there are only occasional drops – few and far between. Bitrate is very respectable at around 104 Mbps. Just like with all other video resolutions and modes, you get a standard AVC stream, plus a stereo 48 kHz AAL audio one.
Detail looks amazing at the full 8K resolution. We also enjoy the color-science – not too oversaturated and not too plain. Dynamic range is a bit limited when compared to other 2020 flagships. However, that's a high bar to clear in the first place.
If your computer or player of choice lacks the horse-power or hardware decoder, necessary to handle 8K, you can drop down to 4K at up to 60fps. Processing remains consistent and so does the impressive level of detail and overall quality. Even at FullHD, clips from the ROG Phone 3 remain competitive. Just the dynamic range issue persists across the board, resulting it some clipped shadows and overexposed bright areas. Here is the full playlist of sample videos we captured from the main camera of the ROG Phone 3.
The ultrawide camera on the ROG Phone 3 does up to 4K@30fps. With a dimmer lens and less-impressive sensor, it suffers from even narrower dynamic range. On the plus side, Asus clearly did the best it could to keep other aspects of the video consistent and competitive, like color rendition. Detail is decent for the sensor at hand. Here is a playlist of clips from the ultrawide camera.
Asus did an impressive job in the video stabilization department. The ROG Phone 3 may lack OIS on all of its cameras, but it still benefits from an excellent 3-axis EIS system. The most impressive part has to be the fact that EIS can be used at the full 8K resolution and with surprisingly good results.
Naturally, since the stabilization is electronic, you will be giving-up a portion of the frame. But, we find the tradeoff perfectly reasonable. EIS arguably works even better on the ultrawide camera. Once again, it can go up to the maximum 4K resolution of the respective module.
Beyond the regular stabilization toggle in the settings menu, the ROG Phone 3 also has advanced stabilization, called HyperSteady. It can be turned on from the hand icon on the main video UI of the camera app. Once on, it limits the capture resolution to 1080p, which is necessary, since it crops quite a large section of the ultrawide sensor to do its job.
Results are impressive. HyperSteady managed to produce a perfectly-pleasant to watch, "floaty" video at a fast sprint speed, with lots of tossing-about. All without destroying the overall quality of the clip too severely.
For the sake of thoroughness, here is the main camera with stabilization at 4K resolution.
The ROG Phone 3 can capture HDR video. The option is a little hard to find. The only way we managed to get to it was by going through 8K video capture first, outside on a sunny day and then waiting for a pop-up to show, suggesting we try the mode. It is limited to 4K, which we can't really complain about.
Actual HDR video clips, however, are a mixed bag in terms of quality and especially consistency. Brighter scenes seem to trip-up the algorithm, often leading to sudden and abrupt flickers between what seem like different exposure settings in parts of the frame. The mode is pretty cool when it works, but it needs a bit of extra polish. We should remind you, that our review unit is still running beta software at the time of writing this text and is constantly receiving OTA packages. So, work is being done all-around.
Perhaps one of said updated will also address one of the other occasional issues we had with video capture on certain occasions, regardless of shooting mode – focus hunting. Or rather, short periods of slow reaction from the focus algorithm, leading to snippets of blurry footage. One the software does snap into action and grabs proper focus, it manages to typically hold on to it very well.
Low-light videos on the ROG Phone 3 are decent, but nothing to phone home about. The dynamic range issues become even more apparent in challenging lighting conditions and you can really see the noise-suppression algorithm working overtime in more uniform areas of the frame.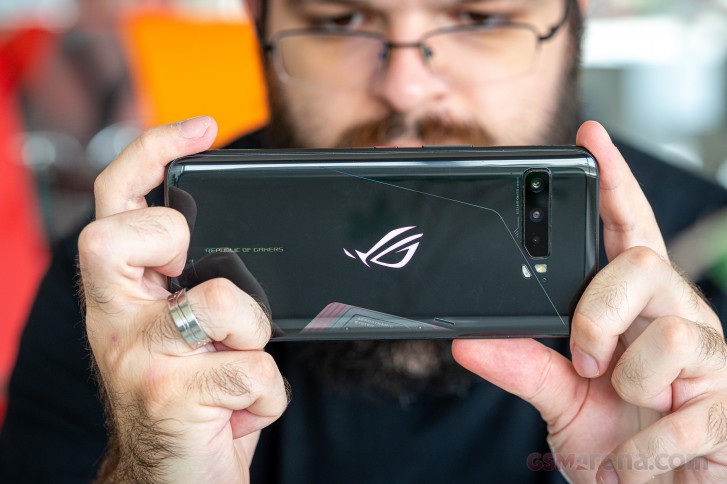 The ultrawide suffers particularly bad in these conditions, mostly due to its dim aperture. Low-light videos from it are too dark and borderline unusable. If you stick to the main camera, though, you can get some decent results. EIS remains just at excellent, regardless of lighting and so do the advanced audio features. You can, once again, go up to a full 8K resolution. We have compiled a playlist of all of the low-light samples we took for your convenience.
Finally, the 24MP selfie camera on the ROG Phone 3 deserves some praise for its video capture qualities, as well. Like we already mentioned, Asus clearly put some extra effort into this snapper, likely to improve streaming experience for its gaming audience.
EIS continues to shine on the selfie side, as well. It seems to crop a bit more of the frame in order to do its job here, necessitating a far-stretched hand position to get a face fully in frame. This is not ideal with a 240-gram phone. On the flip side, we are impressed with the liberal focus depth the fixed-focus selfie snapper provides. Plus, you should probably grab a monopod of some sorts if you are serious about vlogging in the first place, which will spare your arms from getting numb.
Rounding-off the video quality section, we didn't forget to include samples from the main camera of the ROG Phone 3 in both 8K and 4K resolution in our video compare database.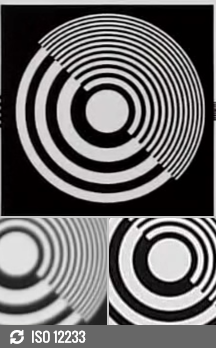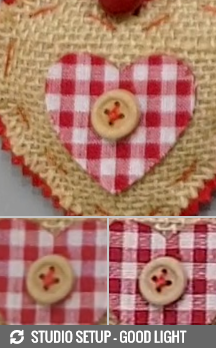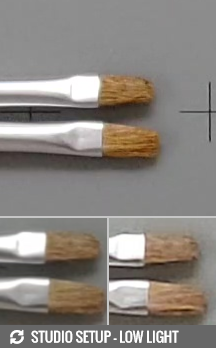 Asus ROG Phone 3 against the ZTE nubia Red Magic 5G and the Oppo Find X2 Pro in our Video compare tool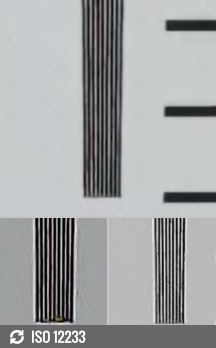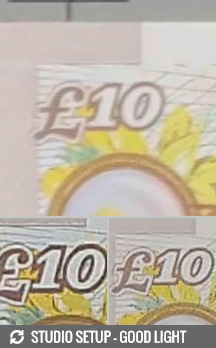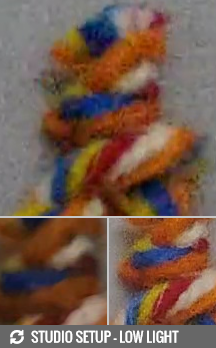 8K: Asus ROG Phone 3 against the Samsung Galaxy S20 ultra and the Motorola Edge+ (6K) in our Video compare tool
Wrap-up
For what is now the third time in a roll, Asus set out and created a benchmark device for mobile gaming. The ROG Phone 3 continues the device family's tradition of not conforming with popular industry norms and trends, basing product decisions on the needs and wants of its target audience above anything else.
Compared to the ROG Phone II, and especially the original ROG Phone, the ROG Phone 3 constitutes more of an incremental upgrade than a major splash in the industry. It is no longer the sole player inside the niche either. Even so, the ROG Phone line is, arguably, one of the main architects of the increasingly-expanding gaming-specific mobile hardware market in its current form. Plus, no competitor still comes even close to the level of engineering and even over-engineering that Asus has put inside its devices.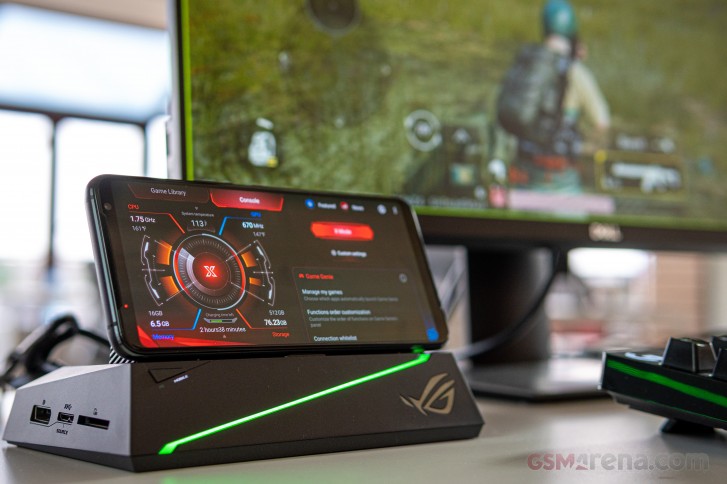 The incremental upgrade mentality seems to stem from a good position of confidence from the design team that they have zoned-in well into a formula that works, listened to customer feedback, and are now polishing what is currently the ultimate gaming experience on Android. This new approach of fewer leaps and more well-measured smaller items has also enabled major inter-generational compatibility with its existing accessories this time around.
Asus has successfully managed to stick to its guts and believes and the ROG Phone line is now successfully transcending from an incredibly niche and odd halo product into a shining leader in its own expanding little segment of the mobile realm.
Alternatives
Like we said, back when Asus was still taking big gambles with the original ROG Phone, there was no proper gamer-specific Android hardware segment in the market to speak of. Since then, the scene has been expanding gradually, as has the popularity of professional mobile gaming scene.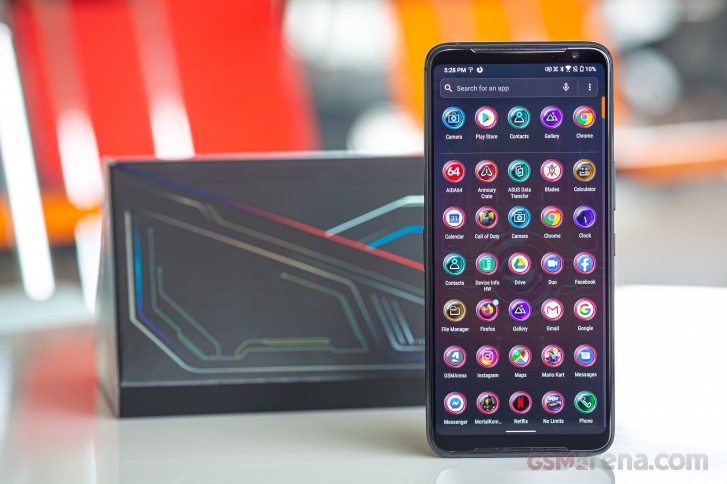 While we continue to maintain that no competitor has managed to even come close to the sophistication of the numerous ROG Phone features and design solutions, without even discussing its unparalleled accessory ecosystem, nubia's efforts with the Red Magic line seem to come the closest.
At the time of writing this review, the Red Magic 5G is still the latest available model, wit the Red Magic 5S right around the corner. From what we've heard about the latter, it will feature an upgrade to the Snapdragon 865+ and some cooling improvements as its headlining features. If we assume the rest of the Red Magic feature set remains identical, prospective pro gamers will have to give up the excellent Asus AirTrigger 3 ultrasonic, mappable inputs and the vast ROG accessory ecosystem. And these are just the most prominent omissions from the Red Magic 5G, from the top of our head.
On the plus side of the Red Magic equation, nubia has been working hard of its Game Space platform. Last we saw it, its options weren't nearly in-depth as those offered by Asus Armoury Crate. Especially in regards to the unparalleled access to actual hardware performance settings and modifiers that Asus is providing. Still, it is getting there. And, of course, going for the Red Magic 5G or the upcoming 5S, you get a built-in active cooling fan. A truly unique feature that is objectively more convenient that the ROG external fan solution. Though, not necessarily directly comparable in terms of results.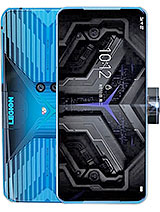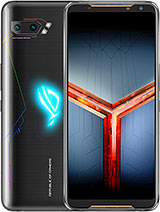 ZTE nubia Red Magic 5G • Lenovo Legion • Asus ROG Phone II ZS660KL
Speaking of upcoming gaming phones, we know that Lenovo is on the cusp of launching its new Legion Duel smartphone, as the first of what will likely be its dedicated gaming phone line. Lenovo held its announcement event just a few hours before ROG 3's in an attempt to overshadow Asus. Specs of the Lenovo Duel are a close match to the ROG 3, and Lenovo has embraced a horizontal-first approach to developing the phone to such an extent that even its motorized selfie camera is positioned on the side of the phone. Lenovo has yet to prove itself in the gaming smartphone space but it certainly has the expertise to rival Asus if it plays its cards right. We'll definitely keep an eye on their efforts in the space.
We also can't fail to mention the Xiaomi Black Shark 3 Pro, as the latest and greatest from the company's gaming-specific series. We can't exactly recommend it over the ROG Phone 3, nor the nubia Red Magic 5G, for that matter, since it is even slimmer of additional features, has a lower 90Hz refresh rate and seem to be both more expensive and harder to find than the nubia. For these reasons, we won't be butting it on the list.
We really wish Razer hadn't given up on its gaming phone efforts. With actual variable refresh rate IGZO panels, despite more than a few technical issues, their hardware propositions were still very intriguing. Perhaps, they just didn't get the timing right and unfortunately came in a bit too early.
Honestly, looking through the relatively small selection of gaming-specific smartphones, the ROG Phone II still stands out as a great, if not the best alternative to its successor. It basically offers all of the same core features, only missing a few of the incremental feature upgrades. And with Asus' newfound inter-generational accessory compatibility a thing, you can expect to likely get ongoing support for most additional gadgets you pick up for the slightly older phone, as well. Honestly, the jump from 120Hz to 144Hz, as well as from a Snapdragon 855+ to the 865+ is not that major.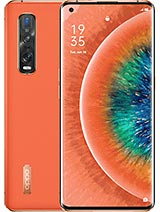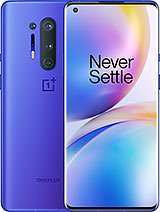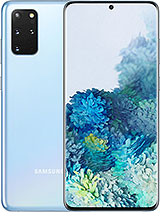 Oppo Find X2 Pro • OnePlus 8 Pro • Samsung Galaxy S20+
Finally, topping-off the list of viable alternatives for the ROG Phone 3, we did manage to pick out a few contenders from the general, non-gaming smartphone population. Since we are still picking-out hardware with the best possible gaming experience in mind, certain criteria remain, like having a flagship chipset and a high-refresh-rate OLED panel, preferably one certified for high-fidelity HDR content. The Oppo Find X2 Pro, OnePlus 8 Pro, and Samsung S20 family all fit the bill. Going for one of these, you can get certain bonuses, like ingress protection and truly flagship camera setup, as well. To varying degrees, of course.
The verdict
The final verdict for ROG Phone devices has always been the same in our view. Much like a super car is hardly the most comfortable, convenient or value-centric vehicle you can get, the ROG Phone 3 is hardly the best all-round smartphone, nor the best value proposition out there. What it is, though, is the absolute best at its target niche – gaming.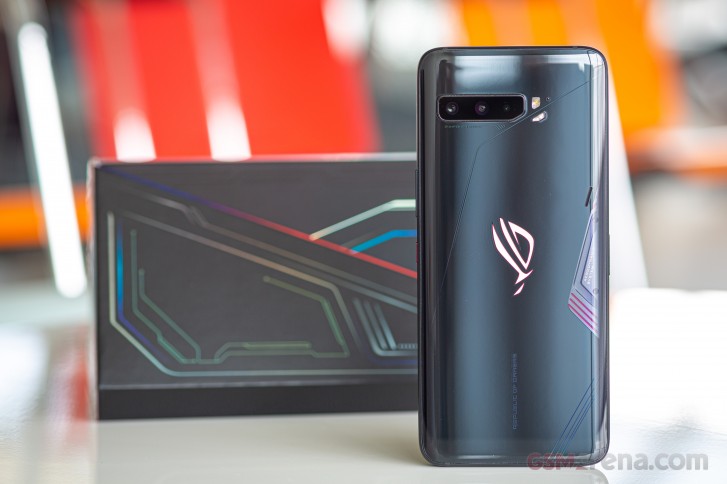 If you are after the best possible Android gaming experience in 2020, there is nowhere else to turn right now. It really is as simple as that. The ROG Phone 3 is the shortest and most accurate answer to "What is the best gaming Android phone in the world right now?". Once you start putting some nuance in that question, though, its answer instantly changes. If you want the best 2020 flagship, one with the best possible camera, display, chipset, battery, and user-experience combo, then the ROG Phone 3 is not it. And that's kind of the point. There are plenty of big-name players constantly pouring all they can into that particular ongoing battle for "the best phone ever". The ROG Phone 3 takes no part in it since it already has a proud podium of itw own in the gaming nice.
Pros
Slightly toned-down, but still ROG-inspired gamer's design with great build quality.
Backwards compatibility with many of the ROG Phone II accessories.
AirTigger 3 ultrasonic touch sensors are very precise and versatile.
Rich retail package, including 30W charger and AeroActive 3 cooler.
Superb AMOLED screen with HDR10+ (true 10-bit), 144Hz refresh rate.
Great battery life, even at full 144Hz. Rich battery health prolonging options.
Industry-leading speaker performance, complete with gaming-specific sound tweaks.
Fastest-available Snapdragon 865+ chipset, rich performance tweaks. Blazing-fast LPDDR5 RAM and UFS 3.1 storage.
Clean underlying Android ROM, with an unparalleled number of well-organized game tweaking, control-mapping and performance option.
Unrivaled accessory ecosystem.
Solid daylight photos, as well as low-light images.
Very good video quality, impressive EIS
Cons
No water or dust resistance
No microSD, no 3.5mm jack
The beta software we tested still has a few kinks
Rather basic camera setup, compared to typical 2020 flagships. HDR needs some extra work