"Either you die as a flagship killer or you live long enough to become one". This is a meme that's been doing rounds on Reddit and we can say it really resonates with us and more importantly, with the new OnePlus 8 lineup. Both phones from the company are the most expensive ones so far and while we have our suspicion about the 5G thing being the culprit, there are other factors to consider here.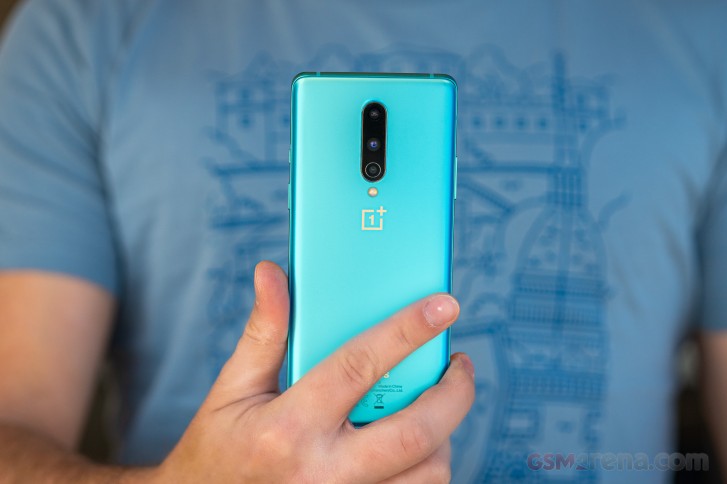 For instance, the OnePlus 8 Pro is no longer compromising on features bringing fast wireless charging and IP68 water and dust protection and as a result, the company feels confident enough to release a phone that asks what the current Galaxy S20+ costs. But the vanilla OnePlus 8 is still aimed at those wanting that fluid OxygenOS experience without having to spend as much. That doesn't mean the standard 8 is cheap. It is considerably pricier than its predecessor, the OnePlus 7T, and it's even more expensive than the 7 and 7T Pro from last year. So what gives?
OnePlus 8 specs
Body: 160.2x72.9x8 mm, 180g; 3D curved Gorilla Glass front and back, metal frame.
Screen: 6.55" Fluid AMOLED, 1080 x 2400px resolution, 20:9 aspect ratio, 402ppi; 90Hz refresh rate; HDR10+ support.
Chipset: Qualcomm Snapdragon 865 (7nm+): Octa-core (1x2.84 GHz Kryo 585 & 3x2.42 GHz Kryo 585 & 4x1.8 GHz Kryo 585); Adreno 650 GPU.
Memory: 8GB/12GB RAM, 128GB/256GB built-in UFS 3.0 storage.
OS/Software: Android 10, OxygenOS 10.
Rear camera: Main: 48MP, 1/2.0" sensor, 0.8µm pixel size, 25mm equiv., f/1.8 aperture, PDAF, OIS. Ultra wide-angle: 16MP, f/2.2, 13mm equiv. fixed focus; Macro: 2MP, f/2.4.
Front camera: 16MP, f/2.0, 26mm (wide), 1/3.2", 1.0µm, Dual Pixel PDAF.
Video recording: Rear camera: 4K 2160p@30/60fps, Full HD 1080p@30/60/240fps, 720p@480fps. Front camera: Full HD 1080p@30.
Battery: 4,300 mAh, 30W Warp Charge 30T support (comes with the charger).
Misc: NFC; optical under-display fingerprint reader; USB-C 3.1; stereo loudspeakers; IP68 water and dust-proof only for T-Mobile and Verizon units;
Aside from the 5G, there must be something else that must be driving the price of the handset up. But we are struggling to put our finger on it because it appears there's a downgrade in the camera department with the telephoto lens getting swapped for a 2MP macro camera while the rest is pretty much the same. Sure, the battery has been upgraded but the does this really justify the €100 price hike?
Or maybe, we are being a bit too critical because the 7T posed such a big upgrade compared to its predecessor unlike the 8. As with all phones, the 8 doesn't aim to persuade current OnePlus 7T owners to upgrade but targets those with the older phones.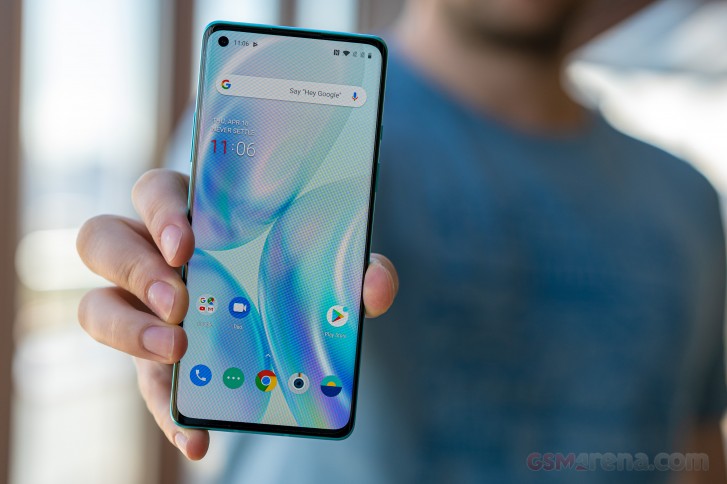 Still, there are a couple of things we will be keeping an eye for. We really want to see if the display is any better than last year's, whether the battery increase will be enough to compensate for the power-sipping Snapdragon X55 modem and more importantly, does cropping from the main 48MP sensor better than using a proper 2x telephoto unit.
Unboxing the OnePlus 8
The phone came in really cool red box containing the usual stuff like user manuals, USB-C to USB-A cable for charging and data transfer, the power brick capable of Warp Charge 30T (30W) and a transparent silicone case with OnePlus' branding on top. The phone also comes with a pre-applied, plastic screen protector.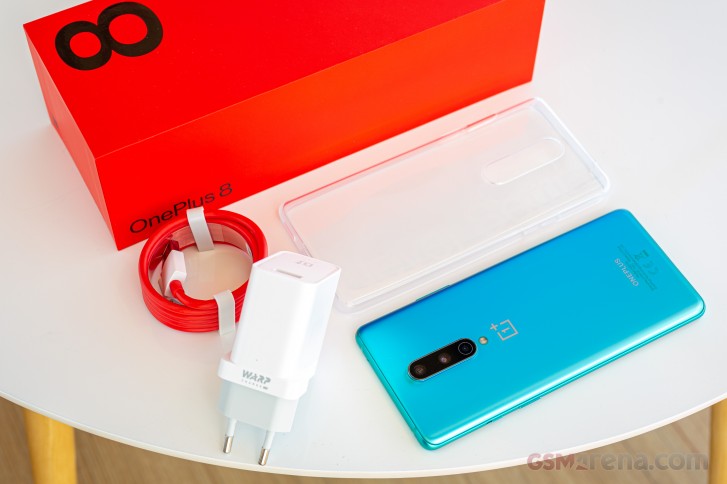 We, however, got a special reviewer's box carrying two more protective cases from OnePlus. One of them is the Nylon Bumper case and what appears to be a revised version of the good old Sandstone Bumper case but in a color that matches the OnePlus 8's Glacial Green color. It feels and looks really nice.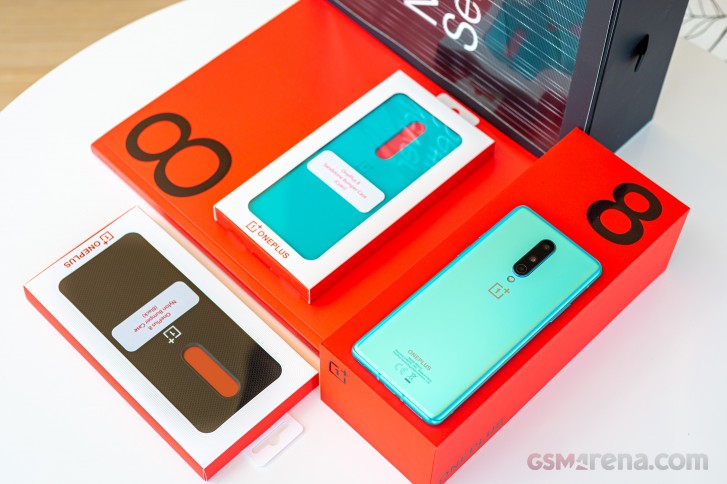 Design
OnePlus devices may have been lacking things in the past but they've never made compromises with the build quality and it shows. The OnePlus 8 is an excellently built device using glass for its front and back and aluminum for its side frame. Although, there's no word on which version of Gorilla Glass OnePlus is used for the front and back.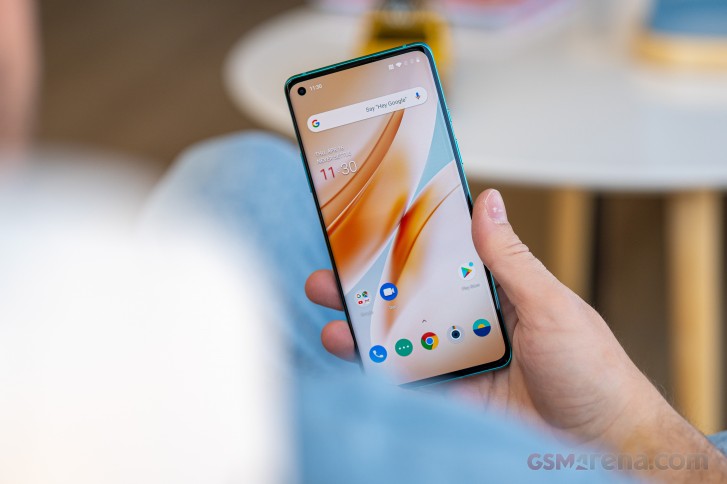 One big change in the OnePlus lineup is the addition of the long-awaited IP68 certification against water and dust. Something that fans have been asking for years. The standard OnePlus 8, however, is said to be IP68-certified only for units sold by T-Mobile and Verizon in the US. Our suspicion is that there's no hardware discrepancy between the global units and those sold by the US carriers, it's just that they may have paid for the certification and wanted the exclusivity. We will probably know for sure soon enough when the two variants get a proper teardown.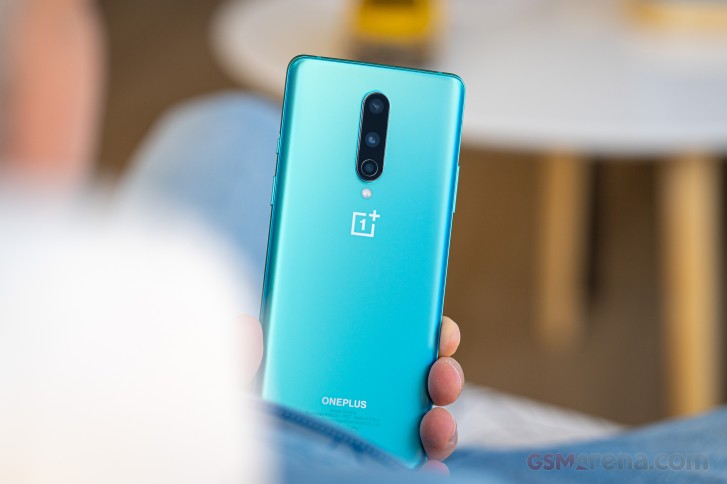 We do have to note that teardowns and tests of previous OnePlus devices proved them to be just as water resistant as their rivals but lacked the proper certification. This year OnePlus, have paid for that certification but only for its Pro variant, which raises the question once again, why the big price hike on the vanilla OP 8?
Anyway, in terms of design, the handset hasn't changed all that much compared to the 7 Pro and 7T Pro but it's a big alteration compared to the vanilla 7T. The back camera stack is no longer inside a rounded module but in a vertical one, the front adopts a curved display design and ditches the notch for a punch-hole front-facing camera solution.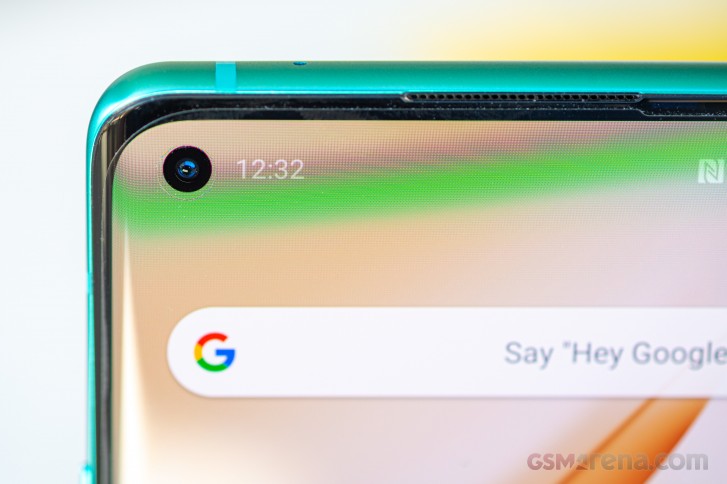 If you ever held a OnePlus 7 Pro or 7T Pro, you will struggle to find any significant differences. The OnePlus 8 just feels familiar. Even the curvature of the front display looks identical to the one on the 7T Pro. Even in terms of screen size, they are pretty close - 6.55" on the 8 and 6.67" on the 7T Pro.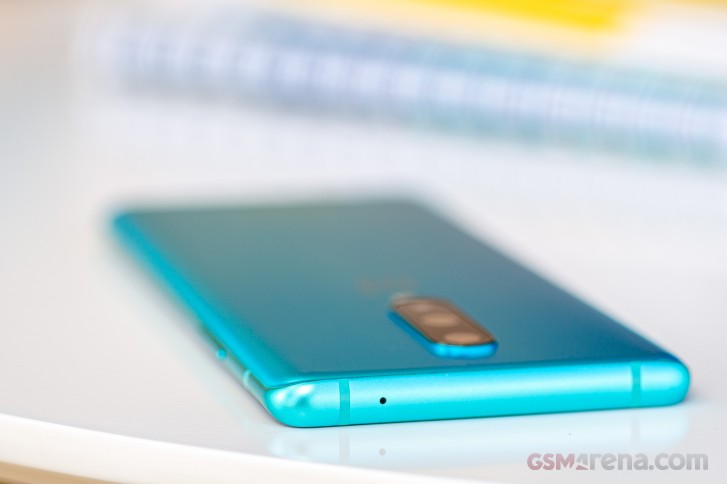 But to our big surprise, the OnePlus 8 felt considerably smaller than its predecessor. That's probably because of the aspect ratio - the 8 is a bit taller but considerably narrower allowing for a better, more comfortable grip. Reaching for the top part of the display is harder now. The taller 20:9 aspect ratio doesn't come without some caveats.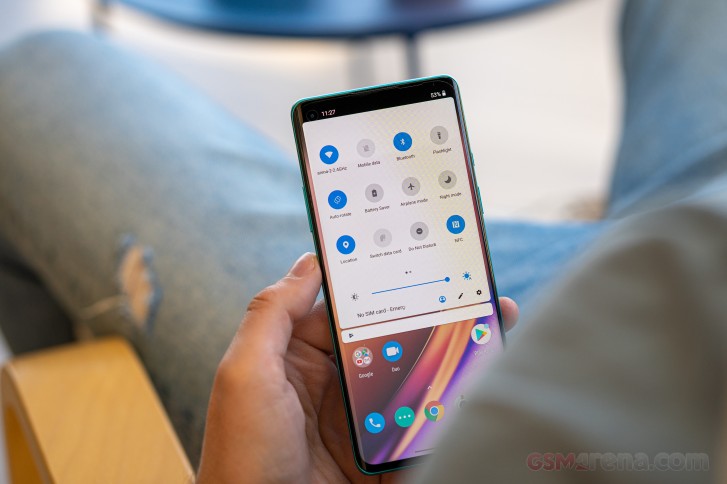 As it gets taller, OnePlus felt the need to move the fingerprint reader a bit higher. We didn't have any complaints with the previous implementation of the scanner but this one definitely feels a bit more comfortable or at least more suitable given the aspect ratio. Another reason for the smaller feel could be the thickness. Even though it's just 0.8mm thinner than before, it does have its impact on the overall feel.
Probably unrelated to this, the power button and the notification slider have been moved a bit closer to the upper edge too, which isn't optimal in our opinion. Having a tall phone with buttons positioned closer to the top will prove to be an issue with users with smaller hands.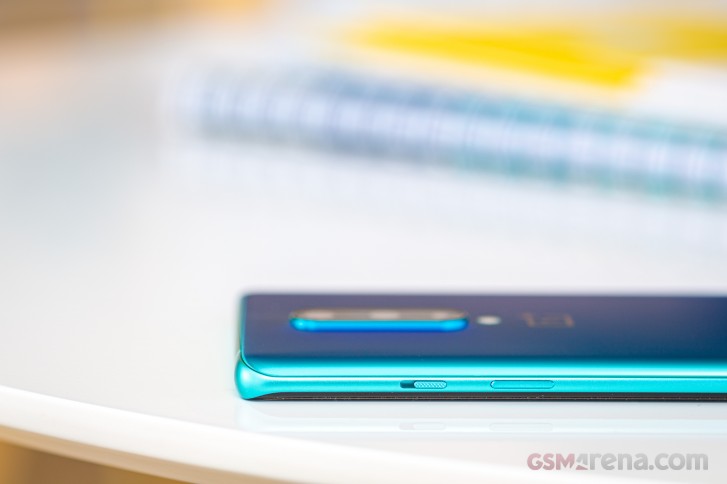 Another noticeable change is the finish. At first, it looks like the old one - silky-smooth frosted glass. It's really nice to touch and feels premium but it's a nightmare to handle. The new 8 has that same finish while being a bit more grippy. The finish resembles the one on the Pixel 4-series, getting closer to that rubbery feel. But don't be fooled, it's still super slippery.
At least the Glacial Green color that we got looks immune to fingerprints and smudges. They don't stick that easily and are hard to spot.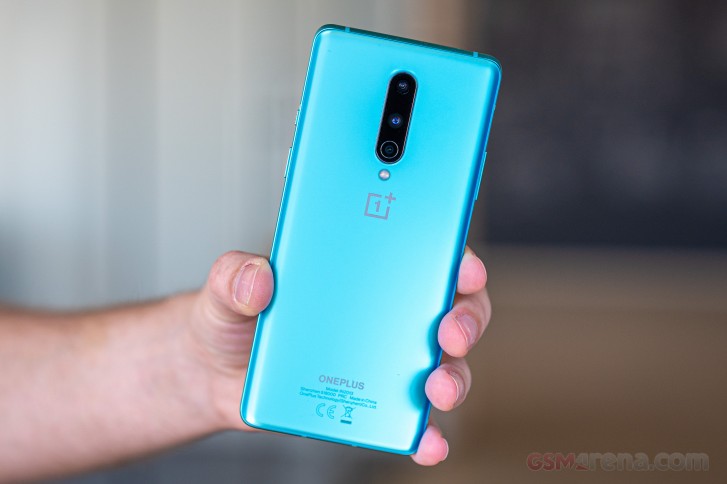 Going around the sides, we see the frame's finish has also been altered. Now with a matte finish, it's slightly more grippier than before and feels more in line with the matte glass finish on the back. The antenna bands positioning has changed and the down-facing speaker grille looks different but anything other than that looks the same.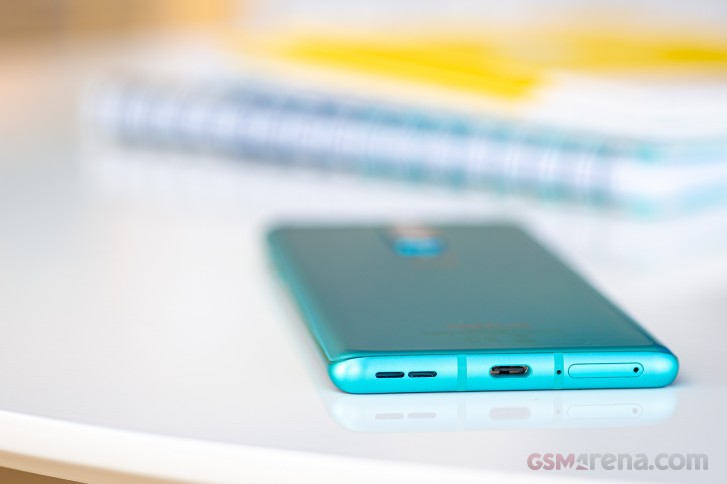 Now a couple of words about the punch-hole design. It's debatable whether the punch-hole is better than the minimalist notch from the 7T or a pop-up selfie module. Mathematically speaking, the punch-hole approach makes more sense compared to the notch but in reality, each implementation can be better or worse in a way. In this case, the hole is quite small - one of the smallest around - but it's placed further away from the upper-left edge of the display. This is mostly because of the curvature - the camera can't be placed on the curve and it has to be placed behind a flat surface display to avoid distortion. This way, the punch-hole design eats away a bit too much of the screen real estate.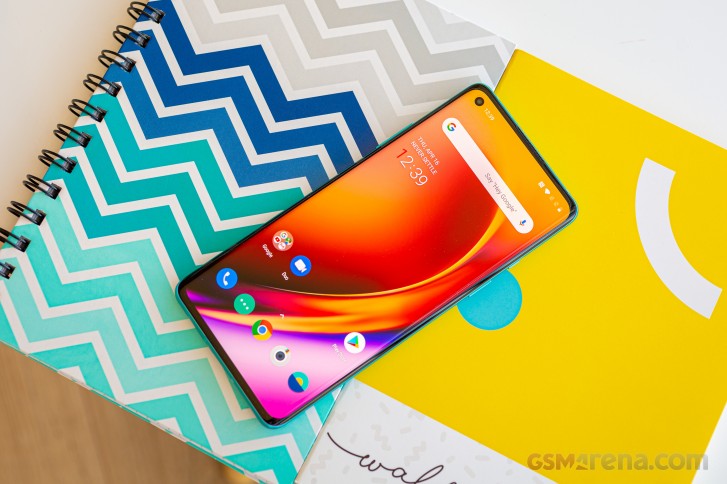 Clearly, the full-screen design with the pop-up camera is the best approach in this regard. However, it doesn't come without caveats. Not everyone wants moving mechanisms on their phones because let's face it - any moving mechanism is prone to breaking sooner or later. Also, you can't do proper water-proofing and it adds a significant amount of weight to the body. Just look at the weight difference between the 7T Pro and the 8 - both have roughly the same display size and the latter has bigger battery and yet, it's 26 grams lighter. Obviously, there's no right way to do it right in this state of the tech so it strongly depends on personal preference.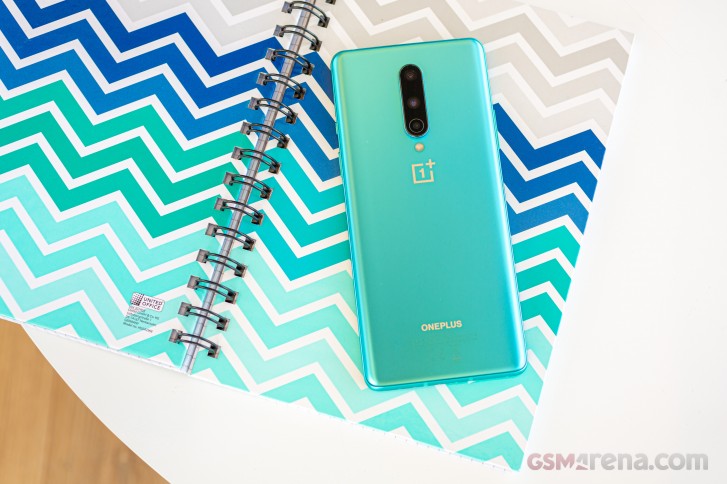 All in all, the design and build of the vanilla 8 feels great. The camera protrusion is sane, the punch-hole camera isn't in your face and for a big phone like this one, somehow doesn't feel unwieldy. The overall feel is familiar, yet refined. Not many things to complain about except for the curved display design. We know some of you may be a bit disappointed with OnePlus going curved all the way because at least last year, both generations offered a flat-screen solution.
Fluid AMOLED panel with 90Hz refresh rate
The vanilla OnePlus 8's display might lack some of the features the Pro offers, but that doesn't make the display any less impressive. In fact, this could very well be one of the best screens we've seen in this class. It has an adequate 1080 x 2400px resolution adding up to a tall 20:9 aspect ratio, and it's an OLED panel. OnePlus calls it Fluid AMOLED because it has curves to the sides and because it supports 90Hz refresh rate. The latter has become a standard nowadays, but the panel itself isn't very different compared to the 7 Pro and 7T Pro. The curves look identical. Except for the punch-hole camera and the resolution, of course.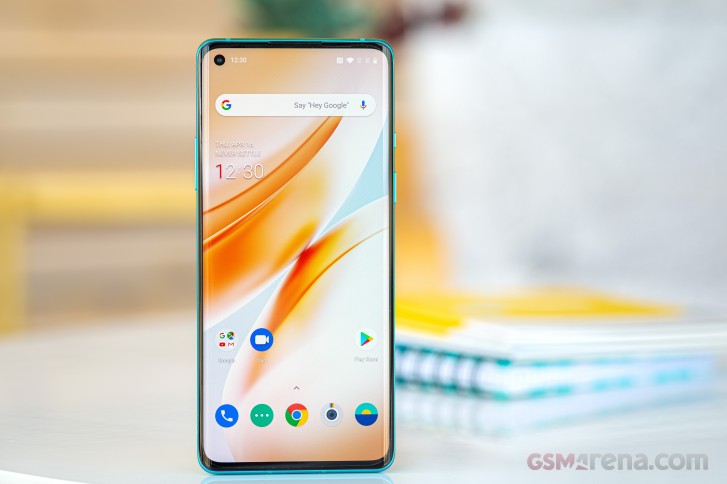 So what makes this display inferior to the one in the 8 Pro? For once, it caps at 90Hz instead of 120Hz, it doesn't have the MEMC (Motion Estimation, Motion Compensation) feature, has 8-bit color depth instead of 10-bit and has no adaptive display tone with the help of an RGB sensor. The 8 Pro's display is also said to be considerably brighter too.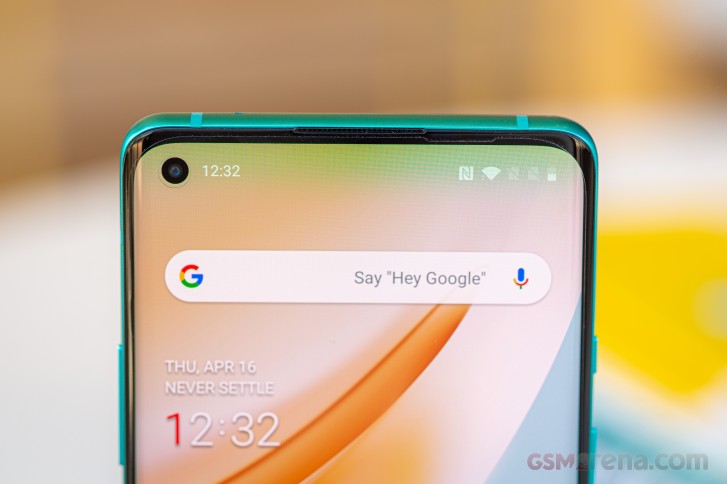 To be honest, though, you shouldn't feel bad about not having MEMC as it's a notorious gimmick used by TV manufactures. You will only be getting fuzzy visuals when watching 30fps video adapted to 90 or 120Hz display. However, the other advantages of the 8 Pro do seem pretty compelling.
Display test
100% brightness
Black,cd/m2
White,cd/m2
Contrast ratio
OnePlus 8 Pro
0
538
∞
OnePlus 8 Pro (Max Auto)
0
888
∞
OnePlus 8
0
496
∞
OnePlus 8 (Max Auto)
0
803
∞
OnePlus 7T
0
525
∞
OnePlus 7T (Max Auto)
0
743
∞
OnePlus 7T Pro
0
429
∞
OnePlus 7T Pro (Max Auto)
0
596
∞
Huawei P40
0
440
∞
Huawei P40 (Max Auto)
0
589
∞
Samsung Galaxy S20+
0
379
∞
Samsung Galaxy S20+ (Max Auto)
0
797
∞
Apple iPhone 11 Pro Max
0
820
∞
Apple iPhone 11
0.428
644
1505:1
Xiaomi Mi 10 Pro
0
510
∞
Xiaomi Mi 10 Pro (Max Auto)
0
858
∞
In any case, our tests show exceptional peak brightness at 802 nits and 496 nits in manual mode. As far as color accuracy goes, the Display settings menu offers a couple of modes and a customizable preset as well. With the default Vivid mode, you get a rather good 3.6 average dE2000 with blue-ish whites and punchy reds, greens, and yellows. But color accuracy is your thing, you can use the natural mode, which achieves an impressively low 1.2 average dE2000 and 1.8 maximum dE2000.
Battery life
The battery life on the OnePlus 8 is surprisingly good. We say surprisingly because even with the external Snapdragon X55 4G+5G modem, the phone managed to score excellent standby runtimes. The on-screen results were also quite impressive, and what we found more interesting is that there was virtually no difference between the 90Hz and 60Hz screen modes. The discrepancy ranged between several minutes and its due to statistical error more than anything. So the jump to a 4,300 mAh battery is more than welcome and has improved the overall endurance by a lot.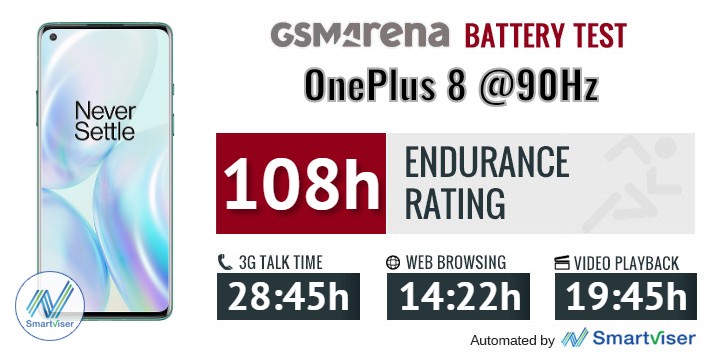 The charging speed has also been largely improved as it tops up faster than the 7 Pro and 7T Pro with the same 30W charger while holding a bigger battery. For the first 30 minutes, you can expect the battery to reach 69%, and leaving it for another 23 minutes will top off the battery completely. We suspect that OnePlus has messed with the charging curve a little. And we noticed that it gets a bit warm if you leave the phone on the charger for long. Then again, this shouldn't be an issue in most cases as the idea of fast charging is to leave the phone on the charger for 20 or so minutes to replenish some juice.
Speaker test
The OnePlus 8 is equipped with stereo loudspeakers - one of them is bottom-facing while the other doubles as an earpiece sitting behind the tiny bezel on the top. They both get really loud, even a little louder than the 7 Pro, but more importantly, the vanilla 8 shows some improvement in the quality aspect as well. Vocals don't sound muffled, while the bass is quite impressive for speakers of this size. The music sounds lively overall, and the highs are punchy. The balance between the two speakers is also good. You can take a look at the graph below - it shows excellent performance across almost all frequencies.
Use the Playback controls to listen to the phone sample recordings (best use headphones). We measure the average loudness of the speakers in LUFS. A lower absolute value means a louder sound. A look at the frequency response chart will tell you how far off the ideal "0db" flat line is the reproduction of the bass, treble, and mid frequencies. You can add more phones to compare how they differ. The scores and ratings are not comparable with our older loudspeaker test. Learn more about how we test here.
Good old OxygenOS with a couple of new features
There aren't any major changes in the new OxygenOS except for a couple of new features that come with the new OnePlus 8-series. And some of them might end up in the older models as well. But the overall stock-ish Android experience with some small additions are once again here.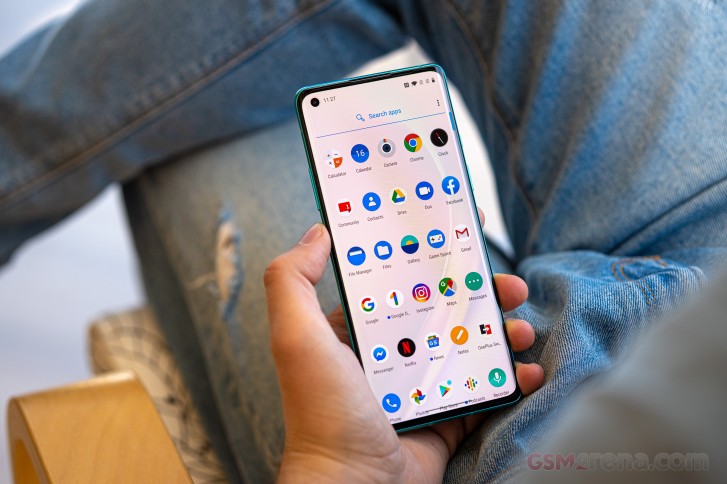 We will start with what's new. First and foremost, the new Dark Mode 2.0 offers refined and deeper integration with third-party apps supporting the dark theme. Not much has been disclosed but it's supposed to work better and with more apps. It's still a switch you have to flip in the Customization menu. Which, by the way, doesn't add any new options this time around and you can still play around with custom accent colors, the shapes of the quick toggles in the notification shade, the font style and the icon pack. The only new thing here is that OnePlus is giving you the HydrogenOS icon pack - the Chinese version of the ROM. But that's pretty much it.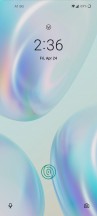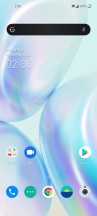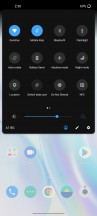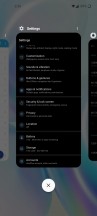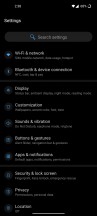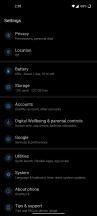 Lock screen, home screen, notification shade, general settings menu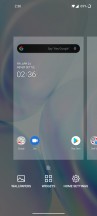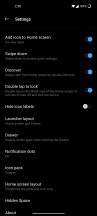 Additional settings and features for the home screen =
Still no Always-on display feature but the good news is that OnePlus promises to bring it with an update in the near future. Probably older handsets will get it too. But for now, the so-called Ambient display options should do it and it really is a second-best option. Unless you don't want an Always-on anyway, so this is the best option for you. With a single or a double-tap - depends on how you set it up - you can see the clock, notifications and some contextual info like appointments, the current weather, etc. The fingerprint area also lights up.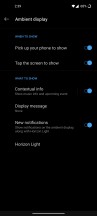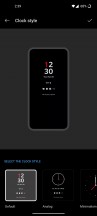 Ambient display
Speaking of which, it's still one of the best under-display fingerprint solutions around. As we already mentioned, it has been moved a little higher to go along with the taller aspect ratio and increased diagonal. OnePlus didn't say anything about it, so it's safe to assume that it uses the same fingerprint sensor from before. However, we can't get over the notion that the the screen illuminates a bigger area on and now it looks easier to place your whole fingertip on the area. As for speed, reliability and functionality, we can't say anything bad about it. It's super snappy and accurate. Unless, there's a bright sun shining right onto the screen, Then, the fingerprint scanner struggles to recognize your fingertip and battles with the bright light. Then you should probably let the facial recognition feature take over. Since you are not waiting for a pop-up selfie cam, it it's even faster. At least compared to the 7 Pro and 7T Pro.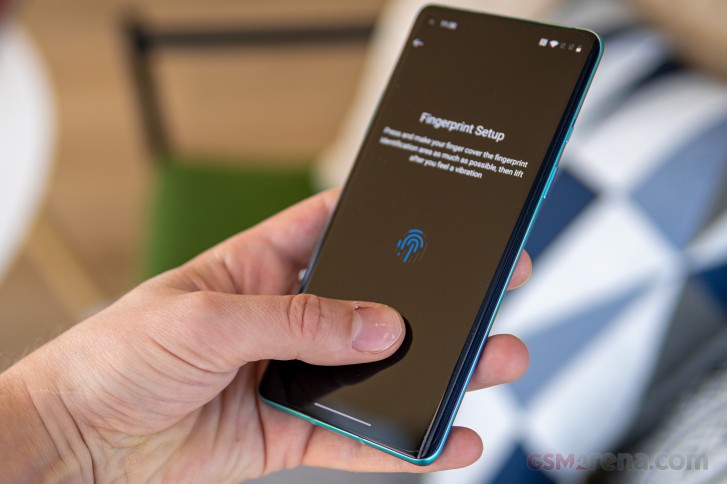 Another subtle change we've noticed is the vibration motor. It feels a bit more precise and "punchy" in a way. It really adds to the overall snappy experience when unlocking, performing a gesture, typing on a keyboard or when taking photos.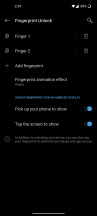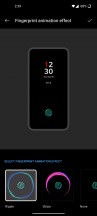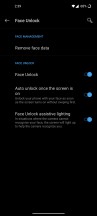 Biometrics security options
With the introduction of the punch-hole camera design, there's a new feature in the Display settings menu. You can choose between the default option of showing all content around the camera itself or just hide it with a black bar. And since this is an OLED panel, it's really hard to tell whether there's a camera there or not. Interestingly enough, unlike other similar implementations we've seen, this one pushes down the status bar icons and everything just below the camera. In short - you just disable a chunk of the display creating a thick forehead. It's kind of nice, when you think about it because it really eliminates the punch-hole design and if you find the 20:9 aspect ratio a bit too much to handle, it helps with that one as well. Notice the difference between the last two screenshots below.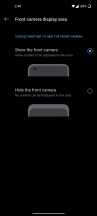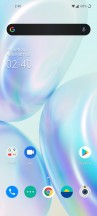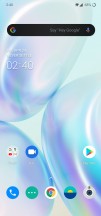 Hiding the hole for front-facing camera
Digging deeper into the Buttons and gestures menu, we find the usual suspects - settings for the alert slider, the navigation gestures options and the so-called quick gestures. The latter set of gestures are a well-known feature for OxygenOS users - you can draw different letters on a locked screen to launch an app immediately. You can also take a screenshot with a three-finger swipe. The raise-to-answer functionality is also pretty nice - you can answer an incoming call without touching the screen. It's especially useful if your hands are dirty and you don't want to mess up your screen. The double-tap-to-wake is also available along with gestures for music playback control.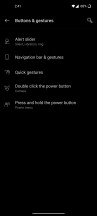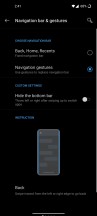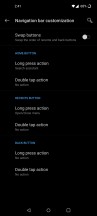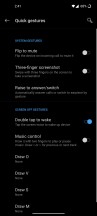 Navigation gestures and quick gestures
The navigation bar and gestures menu gives you just two options - the good old software buttons or Android 10's default gesture-based navigation. You can remove the tiny navigation bar on the latter, while the software buttons support a ton of additional options. You can launch apps or assign actions by holding or double-tapping on each button.
The battery menu is mostly the same with the small but important addition of the so-called Optimized charging feature. What it does is preserves the battery in the long run by learning your charging habits. For example, if you leave your phone charging overnight, it would charge to something close to 90% and then stop charging until a couple of minutes before you reach for the phone. This way the battery won't be left at 100% during the whole night but instead will be kept at a more reasonable percentage until it's time.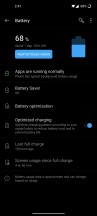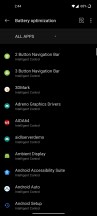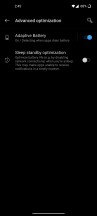 Battery options
And as usual, OnePlus is offering deeper battery optimization by killing apps in the background that haven't been used in a while. You can also whitelist apps, which you need in the background at all times.
Moving onto the Utilities menu, we find some old-new features. The so-called Pocket mode makes a return after being absent from last year's OnePlus handsets, probably because the OnePlus 7 Pro and 7T Pro used a different approach by combining several sensors, including a proximity one under the display. With the OnePlus 8-series, the company has returned to using the good old IR proximity sensor making the Pocket mode functionality possible. If the proximity sensor is covered, it will lock the screen.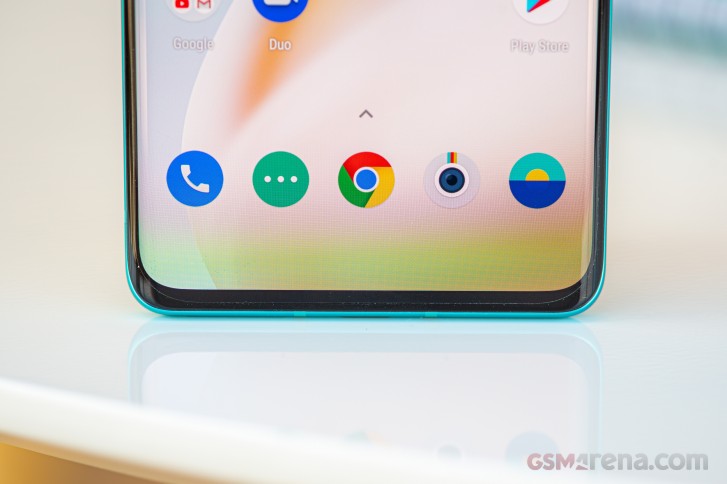 What's truly new is the "Enable dark tone in more apps" in the OnePlus Laboratory sub-menu. It essentially enforces the dark mode in third-party apps that don't support it. The feature is still experimental so some apps may not work properly. You can always exclude those from the list.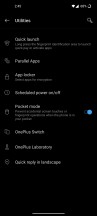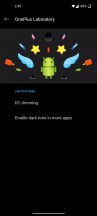 Additional options in the Utility menu and OnePlus Laboratory
So those familiar with the OxygenOS experience would know this but we still feel compelled to point it out. It doesn't offer as much features as other custom takes of Android, although the set of features has expanded significantly in the last few years, but it offers one of the fastest and smoothest experiences in town. The OxygenOS is OnePlus' most powerful weapon drawing in current OnePlus users year after year. It's indeed one of the snappiest and most refined Android experiences out there but it may not be suitable for everyone, especially users looking for that extra customization or just want to break free from the stock Android look and feel.
Performance
It's needless to say that for the time we used the device, we didn't encounter any hiccups or hangs. The OS ran smoothly and without any issue, which is to be expected with the Snapdragon 865 chipset on board. Speaking of, it's based on the 7nm+ EUV manufacturing process promising marginal power savings compared to the Snapdragon 855 chipset while offering better overall performance. It consists of an octa-core CPU and an Adreno 650 GPU. The processor consists of a single Kryo 585 core clocked at 2.84 GHz, another cluster of three Kryo 585 cores running at 2.42 GHz and four more Kryo 585 ticking at 1.8GHz. The chipset, in this case, is aided by 12GB of LPDDR4X memory and 256GB of UFS 3.0 storage. Unfortunately, the vanilla 8 misses on the LPDDR5 memory whereas the Pro is using it. The other configuration makes use of 8GB of RAM and 128GB of storage.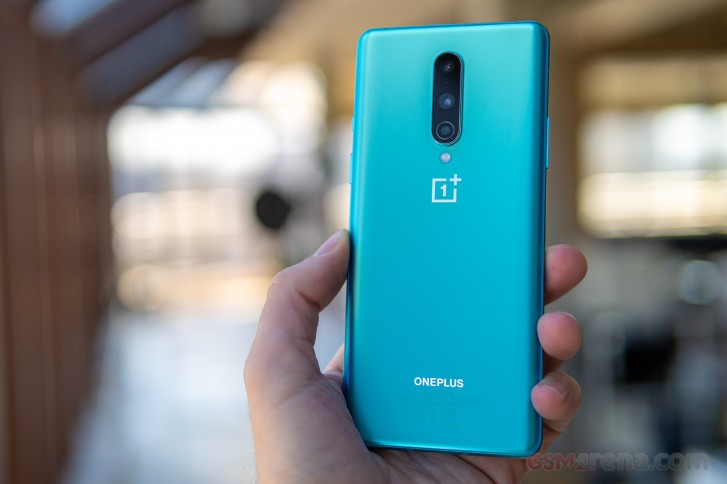 Additionally, the chipset comes paired with an external Snapdragon X55 modem supporting 5G. This may be of concern, however, even if you don't have 5G in your country as the 4G connectivity is also handled by the Snapdragon X55 modem. And as most of you know, external hardware draws more power than integrated one. The HiSilicon Kirin 990 chipset is superior in this regard.
So here's how the phone stacks against the competition and how it fares compared to its predecessors.
GeekBench 4.4 (multi-core)
Higher is better
OnePlus 8




13291

Oppo Find X2 Pro (120Hz, 1440p)




13245

OnePlus 8 Pro (120Hz, 1440p)




13171

Huawei P40




12619

Samsung Galaxy S20+ (120Hz, 1080p)




12269

OnePlus 7T




11394
GeekBench 4.4 (single-core)
Higher is better
Samsung Galaxy S20+ (120Hz, 1080p)




4873

Oppo Find X2 Pro (120Hz, 1440p)




4273

OnePlus 8




4256

OnePlus 8 Pro (120Hz, 1440p)




4237

Huawei P40




3887

OnePlus 7T




3644
GeekBench 5.1 (multi-core)
Higher is better
OnePlus 8




3399

OnePlus 8 Pro (120Hz, 1440p)




3374

Xiaomi Mi 10 Pro 5G




3331

Oppo Find X2 Pro (120Hz, 1440p)




3269

Huawei P40




3148

OnePlus 7T




2858

Samsung Galaxy S20+ (120Hz, 1080p)




2703
GeekBench 5.1 (single-core)
Higher is better
OnePlus 8




919

Xiaomi Mi 10 Pro 5G




905

OnePlus 8 Pro (120Hz, 1440p)




902

Oppo Find X2 Pro (120Hz, 1440p)




900

Samsung Galaxy S20+ (120Hz, 1080p)




886

Huawei P40




778

OnePlus 7T




776
AnTuTu 8
Higher is better
Xiaomi Mi 10 Pro 5G




595246

Oppo Find X2 Pro (120Hz, 1440p)




593717

OnePlus 8 Pro (120Hz, 1440p)




573276

OnePlus 8




564708

Samsung Galaxy S20+ (120Hz, 1080p)




500114

Samsung Galaxy S20+ (60Hz, 1440p)




489371

Huawei P40




486583

OnePlus 7T




485585
GFX 3.1 Manhattan (1080p offscreen)
Higher is better
OnePlus 8




88

Oppo Find X2 Pro (120Hz, 1440p)




87

OnePlus 8 Pro (120Hz, 1440p)




86

Xiaomi Mi 10 Pro 5G




86

Samsung Galaxy S20+ (120Hz, 1080p)




85

Samsung Galaxy S20+ (60Hz, 1440p)




85

OnePlus 7T




79

Huawei P40




75
GFX 3.1 Manhattan (onscreen)
Higher is better
Samsung Galaxy S20+ (120Hz, 1080p)




75

Xiaomi Mi 10 Pro 5G




75

OnePlus 8




60

OnePlus 7T




59

Huawei P40




58

OnePlus 8 Pro (120Hz, 1440p)




43

Samsung Galaxy S20+ (60Hz, 1440p)




43

Oppo Find X2 Pro (120Hz, 1440p)




43
GFX 3.1 Car scene (1080p offscreen)
Higher is better
OnePlus 8




52

OnePlus 8 Pro (120Hz, 1440p)




51

Samsung Galaxy S20+ (60Hz, 1440p)




51

Oppo Find X2 Pro (120Hz, 1440p)




51

Samsung Galaxy S20+ (120Hz, 1080p)




50

Xiaomi Mi 10 Pro 5G




50

OnePlus 7T




48

Huawei P40




44
GFX 3.1 Car scene (onscreen)
Higher is better
OnePlus 8




46

Samsung Galaxy S20+ (120Hz, 1080p)




42

Xiaomi Mi 10 Pro 5G




42

OnePlus 7T




41

Huawei P40




37

Samsung Galaxy S20+ (60Hz, 1440p)




25

Oppo Find X2 Pro (120Hz, 1440p)




25

OnePlus 8 Pro (120Hz, 1440p)




24
3DMark SSE OpenGL ES 3.1 1440p
Higher is better
OnePlus 8




7290

Oppo Find X2 Pro (120Hz, 1440p)




7159

OnePlus 8 Pro (120Hz, 1440p)




7127

Samsung Galaxy S20+ (120Hz, 1080p)




6819

Samsung Galaxy S20+ (60Hz, 1440p)




6735

OnePlus 7T




6296

Huawei P40




6079
A familiar setup minus the telephoto
Last year's disparity in the camera department between the OnePlus 7T and 7T Pro was barely noticeable and if it was just about the cameras, the 7T was the more sensible option of the both as it was cheaper. Unfortunately, that's not the case anymore. The OnePlus 8 swaps the telephoto lens for a dedicated macro one. And thus, the zoom photos are a simple 2x crop from the main 48MP sensor.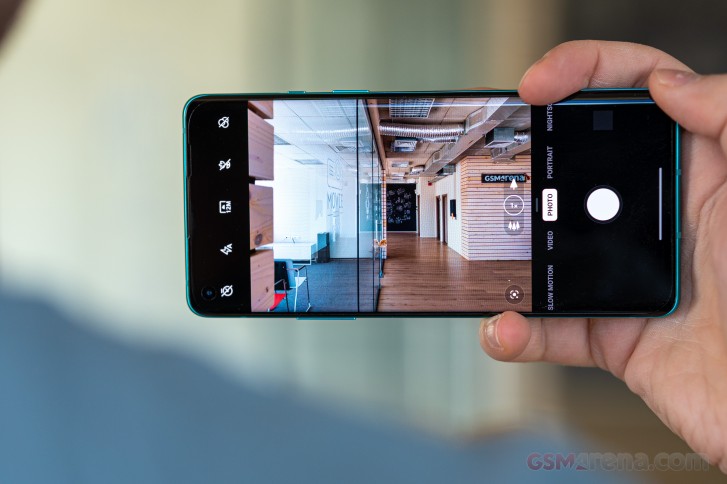 Which, by the way, gets a slightly narrower aperture than the OP 7T - f/1.8 down from the f/1.6. At least the OIS is still intact.
The ultra-wide camera gets a small bump up to 16MP but more importantly, has lost its autofocus capabilities. This called for a dedicated macro cam to be added - a 2MP fixed-focus one - for those close-up shots. The ultra-wide has f/2.2 aperture while the macro offers f/2.4.
The front-facing camera is the same 16MP sensor used before and paired with a lens having f/2.0 aperture.
Camera menus
There are some changes in the camera menu but they are mostly visual. Oh, and the Settings menu is no longer located in the modes drawer when you swipe up (or to the side depending on how you are holding the phone). You can enter the Settings menu quicker by just tapping on it in the upper-left corner of the viewfinder.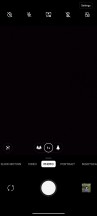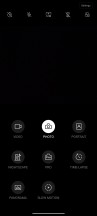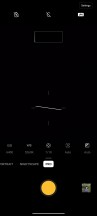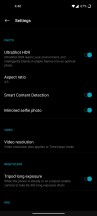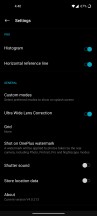 Camera menus, modes and settings
Also, if you, for some reason, want to shoot with the full 48MP of the main sensor, you can do so from the default Photo mode - there's a toggle and you don't have to switch to the Pro mode. Speaking of, it gives the full set of options - manual focus, white balance, ISO, exposure and shutter speed. You can also choose to shoot in 12MP, 48MP or in RAW.
Daylight samples
First off, since the main and ultra-wide cameras on the vanilla 8 are the same from the OnePlus 7 Pro and the 7T Pro, all three phones produce similar images. As expected, the OnePlus 8's processing is familiar.
During the day, the main camera captures good detail but sharpness, on the other hand, could be better. Colors are really punchy and vibrant, one could say they are a bit over the top. Dynamic range is impressive and white balance appears to be accurate. To our surprise, though, we found some noise in the sky and there's some fuzziness in some of the images. The sharpness drops and the noise goes a bit up when in indoor scenes even if they are well-lit.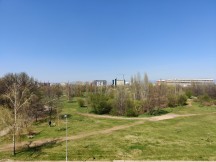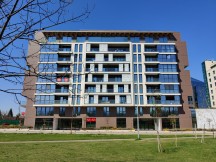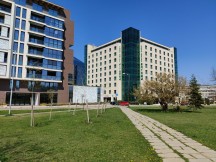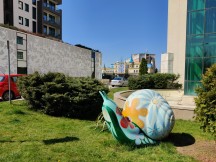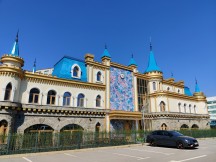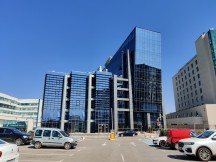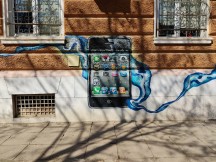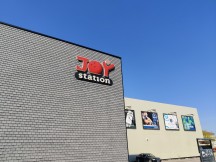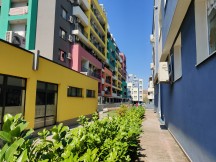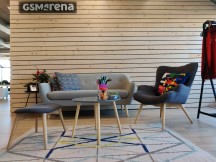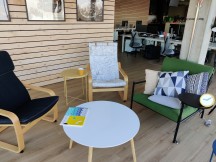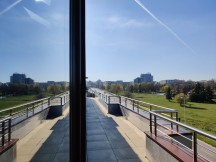 Daylight main camera samples
Compared to the OnePlus 7 Pro, the 8 has more accurate white balance as the 7 Pro tends to go a bit on the warm side. The latter also manages noise during the day better and is closer to the real-life colors. In some really rare cases, the 7 Pro brings out more detail and is a bit sharper.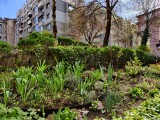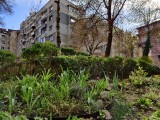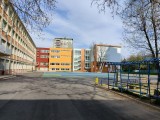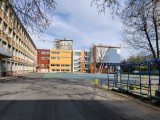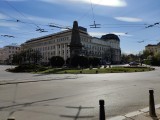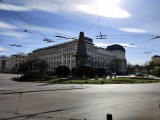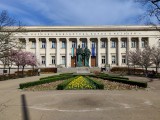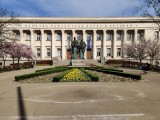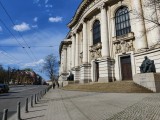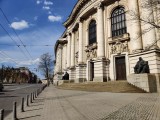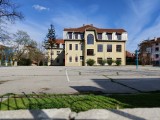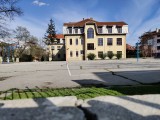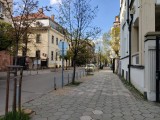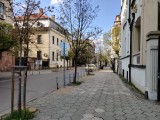 OnePlus 8 vs OnePlus 7 Pro
As expected, the crop zoom isn't nearly as good as the proper 2x telephoto. The images lack detail, they are soft, fuzzy and noisy. And if you are wondering how Samsung pulled it off when cropping from its 64MP sensor, well, the latter wasn't doing the pixel-binning thing. It was a pure 64MP sensor cropping from a much higher resolution, whereas in this case, the OnePlus 8 crops from an already binned 12MP image and then upscales back to 12MP.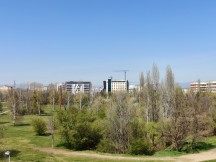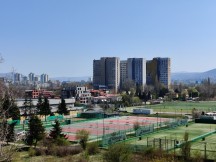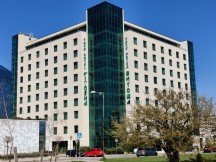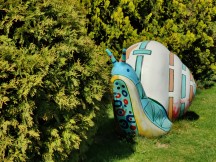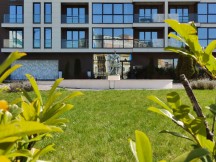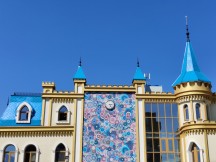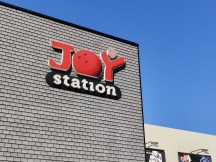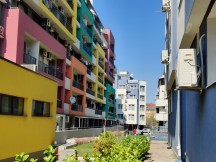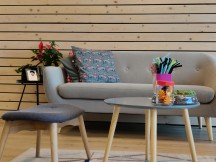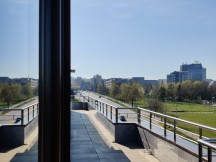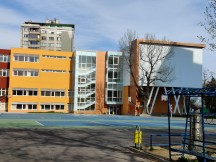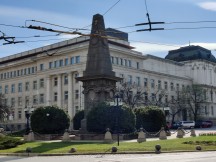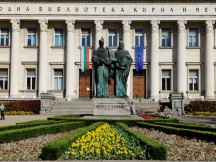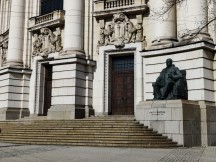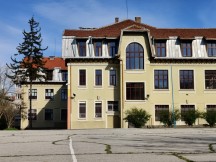 Daylight 2x zoom samples
The ultra-wide unit is also performing as expected - it produces softer images compared to the main cam and noise is higher but it retains the excellent dynamic range. Sharpening is a bit too much but it's not excessive and makes the images look generally better. We can even point out at images looking just as sharp as the main camera.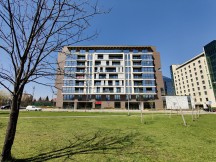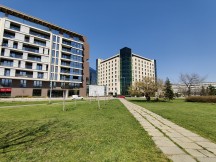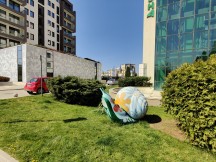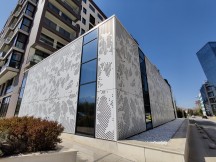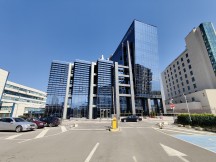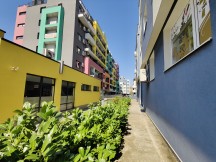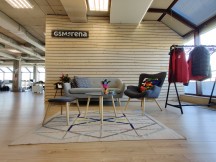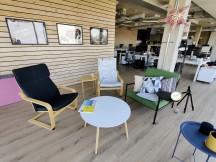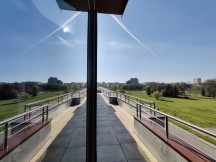 Daylight ultra-wide camera samples
Minor differences compared to the OnePlus 7 Pro ultra-wide camera as well.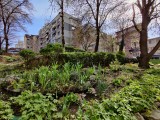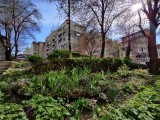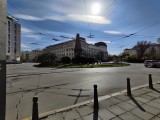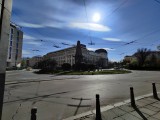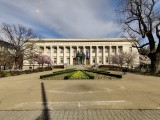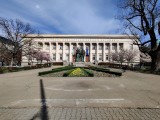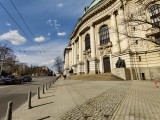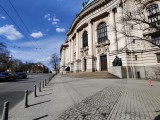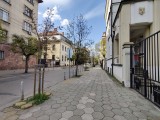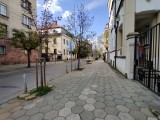 Ultra-wide OnePlus 8 vs OnePlus 7 Pro
Low-light samples
The low-light samples aren't particularly impressive and there's no major improvement over the previous generation OnePlus phones. You can see plenty of noise if you look closely enough, detail is lacking and sharpness could be better. But the contrast, dynamic range and colors look really nice.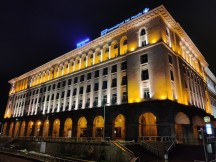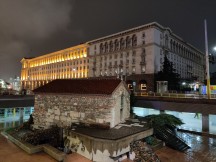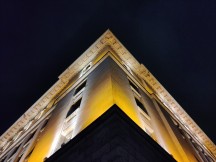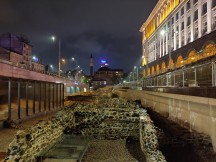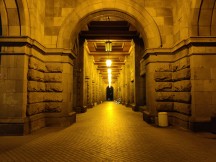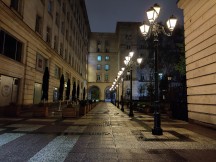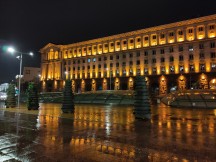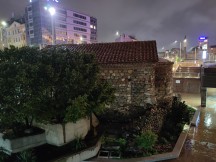 Low-light samples in Photo mode
And even though we don't recommend Night modes all that often, in this case, it's very good. The Night mode crushes the noise, brings out even more detail out of the shadows and highlights, adds just the right amount of sharpness and the best part is that it stacks the images really fast. This is probably the fastest Night mode we've tested and it feels almost as if you are shooting in the normal Photo mode.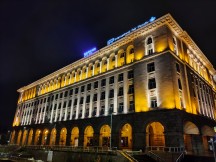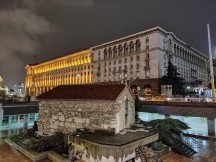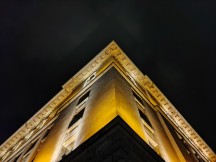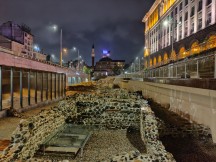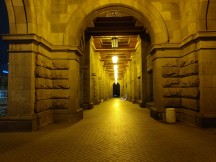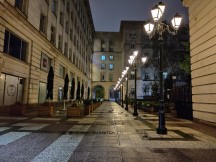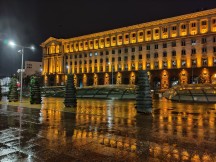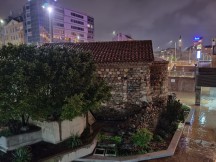 Low-light samples in Night mode
So, is there any improvement over the previous generation in the low-light? Well, in the default Photo mode, both phones perform almost identically except for the white balance. This time around, the 7 Pro tends to cooler in some of the scenes while the actual light source emits warm light. Other differences, all of which hard to notice, include brighter images with a bit more detail from the 7 Pro, higher contrast from the 8, and the noise reduction algorithm is considerably more aggressive with the 7 Pro. With the exception of the sky, where the 8 offers clearer view. And there's virtually no difference with the Night mode, the 7 Pro is warmer and generally brighter, but that's it.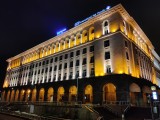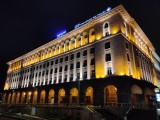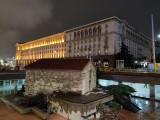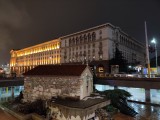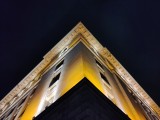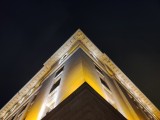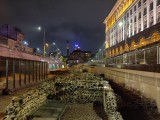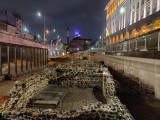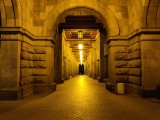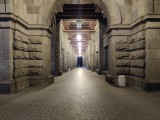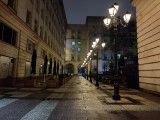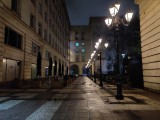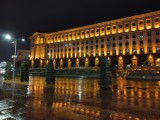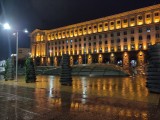 Low-light OnePlus 8 vs OnePlus 7 Pro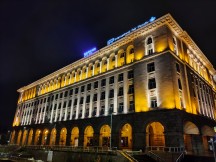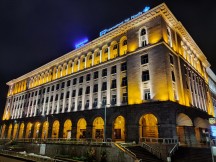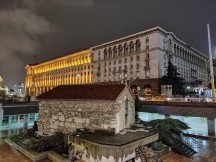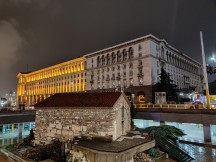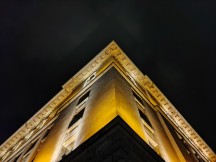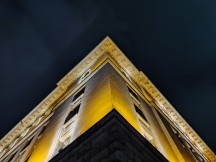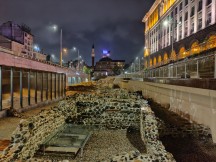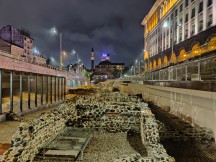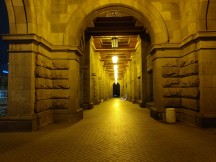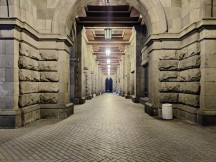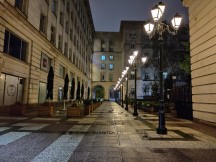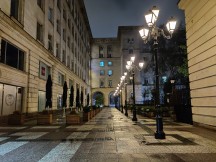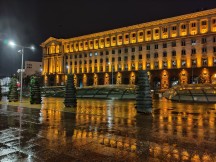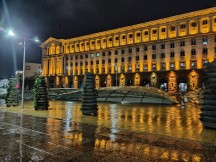 Night mode OnePlus 8 vs OnePlus 7 Pro
The ultra-wide camera, like most out there, isn't impressive in the dark and produces rather soft, noisy and some of the photos look like they are out of focus. Contrast, dynamic range and colors look just as good as on the main camera.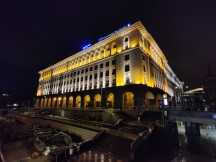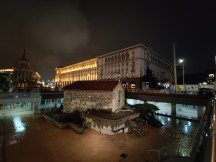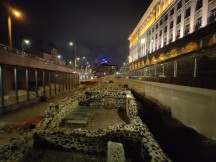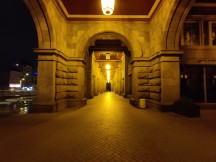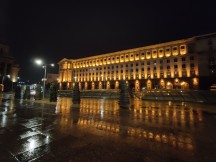 Low-light ultra-wide samples
The good news is that you can use the Night mode to save pretty much all of your nighttime shots. The Night mode adds the much-needed sharpness, reduces the noise and brings out more detail from the highlights and shadows for the photos by the ultra-wide.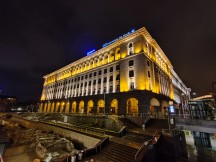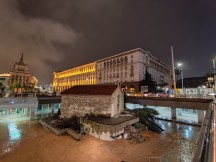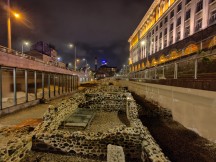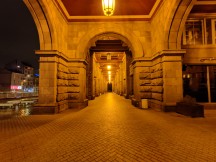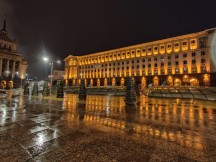 Night mode ultra-wide samples
No difference in the ultra-wide images too, except color temperature again. The 7 Pro is a bit more accurate in this regard.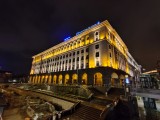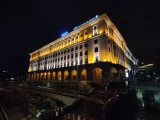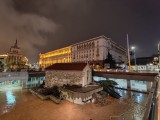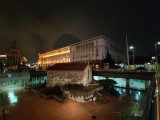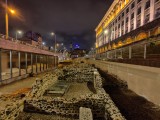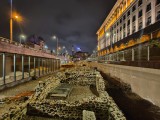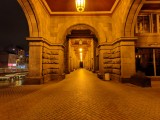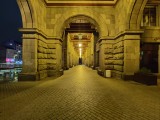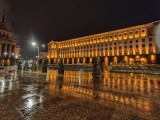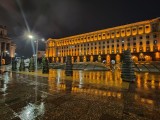 Ultra-wide Night mode OnePlus 8 vs OnePlus 7 Pro
You can also take a look at our photo compare tool and see how it stands against some of its rivals.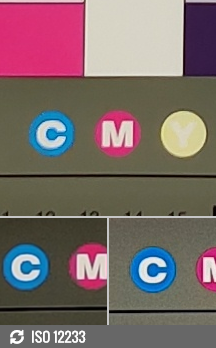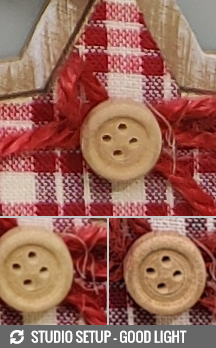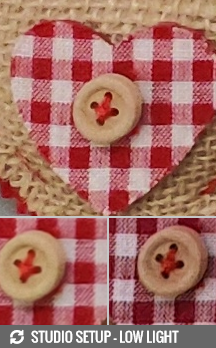 OnePlus 8 vs OnePlus 7T Pro and the Samsung Galaxy S20+ in our Photo compare tool
Macro samples
Due to the fixed-focus properties of the dedicated macro cam, it's often hard to capture your miniature subjects in focus, especially if there is wind. The detail isn't impressive as well - it's a 2MP sensor anyway. And you absolutely need lots of light to get a proper macro. Honestly, this cheap sensor isn't nowhere near the excellent macro capabilities the ultra-wide camera from last year demonstrated.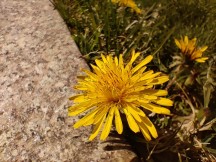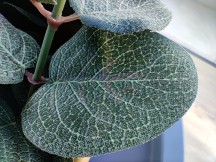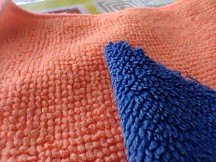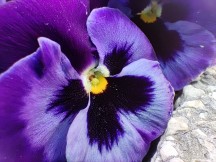 Macro samples
Portraits
In portrait mode, the main camera seems to quite consistent when changing lighting conditions and backgrounds. It delivers good amount of detail, the images look generally sharp, colors pop while retaining pretty natural and accurate skin tone. The faux bokeh effect seems pretty well-executed as well. Sure, there are some glitchy separations if you look close enough but the software is still doing a pretty good job even with more complex backgrounds.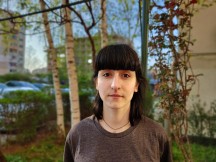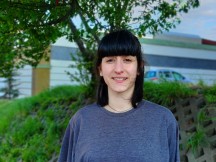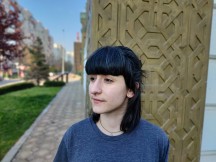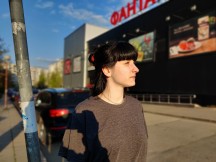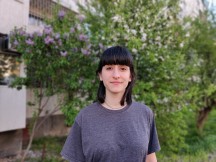 Normal portrait
You can also do 2x zoom portraits but we wouldn't recommend doing that as you will lose a good amount of detail and sharpness by doing so and portraits come out a bit over-saturated.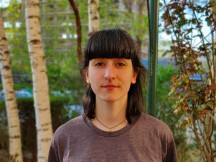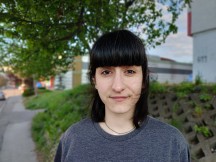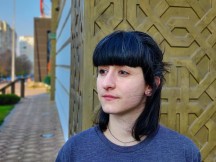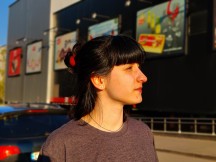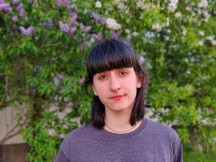 2x zoom portrait
Seflies
The selfie camera can do sharp, colorful pictures rich in detail. The dynamic range is also quite impressive no matter if you use portrait mode or not. Which, by the way looks just as good as the portrait mode with the main camera. The edge detection is surprisingly accurate.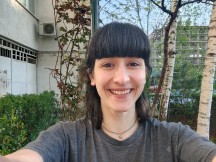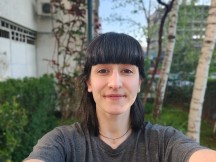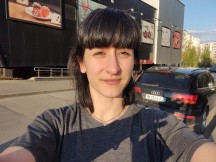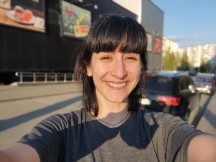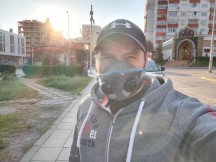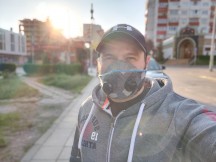 Selfie samples: Normal • Portrait
Video recording
Unlike the most 2020 flagships so far, the OnePlus 8 can't shoot 8K videos and to be honest, we don't really want it to. At least for now, we'd prefer good 4K and Full HD videos. It can do both in 30 and 60 frames per second while the slow-motion videos can go up to 240fps in 1080p or 480fps in 720p. There's also this Super Stable video mode that caps at 1080p but gives you gimbal-like stabilization by doing extreme cropping around the edges. A new cinematic mode has also been introduced recording in 21:9 aspect ratio.
The 4K video looks nice, color-wise, and offers wide dynamic range, good contrast and no noise. However, we don't find it sharp enough for a 2160p footage.
The 1080p video is identical in terms of processing but naturally is even less sharp than the 4K one.
You can record 2x zoom videos by cropping from the main sensor but as expected, the quality is underwhelming.
The ultra-wide camera can do some pretty nice footage in 1080p and 2160p. We found it to be pretty similar in terms of quality compared to the main sensor although a bit on the softer side. But this doesn't come as a surprise either.
The 21:9 cinematic video can be taken with either the main sensor or the ultra-wide one. We recommend sticking to the first one and you only stand to gain the wider field of view and cinematic aspect ratio if you find it more pleasing.
We also did a comparison between the normal stabilized 4K video and the Super Steady mode in 4K. We found that the Super Steady mode shoots using the ultra-wide lens as it has more headroom to crop around the center and it's also an upgrade in resolution. The older generation OnePlus phones, which supported this feature, were capped at 1080p. The stabilization itself seems pretty good but it also seems that the normal 4K mode has also been largely improved upon.
You can also take a look at our video compare tool and see how it stands against some of its rivals.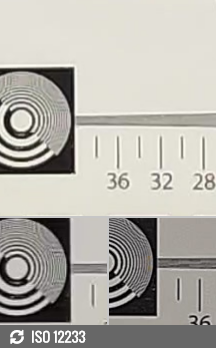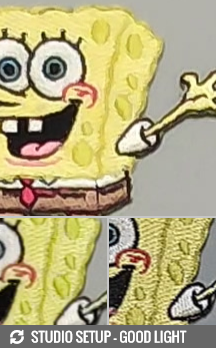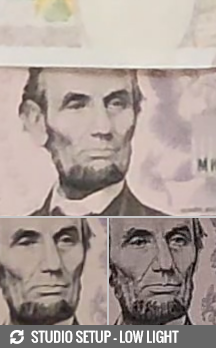 4K: OnePlus 8 vs OnePlus 7T Pro and the Samsung Galaxy S20+ in our Video compare tool
Camera verdict
There are no major improvements with the cameras compared to last year's OnePlus 7T and we felt that OnePlus should have continued to improve upon this camera setup. So we can't strip away the feeling the camera on this phone is a downgrade in comparison. The switch from a proper telephoto lens to a macro unit is a big disappointment because the 7T did both better. The zoom was optical and the macro was handled by the higher resolution ultra-wide camera, which had autofocus. Macro shots were pretty nice. And so were the zoom photos. Not to mention that the OP 8 comes at an even higher price than the 7 Pro and 7T Pro (accounting for the storage) when they launched.
Final words
You could say that the OnePlus 8 is in no man's land in a way. While the Pro is all geared up to fight with the big boys - price-wise and feature-wise, that is. The 8, however, is considerably cheaper than the 8 Pro while still competing against flagship killers and high-value flagships. The price seems to be the biggest hurdle of the 8, especially when considering the fact that it costs a little bit more than the 7 Pro and 7T Pro without offering a significant improvement in most aspects. In fact, if you are not seeing 5G happening in your area soon or it's not a big factor for you, then getting a hold of the OnePlus 7T or the 7T Pro might be the more sensible purchase. Or you could always take a closer look at what the competition has to offer.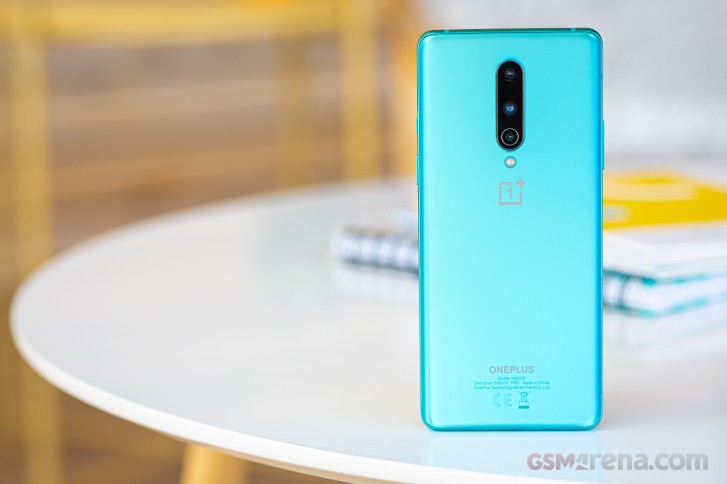 The first phone that springs to mind is the newly released Samsung Galaxy S20+. Yes, the vanilla OnePlus 8 costs just around 40 to 50 Euros less than the S20+. Oh, what times we live in. Anyway, spending a little more on the Galaxy S20+ will get you a superior 120Hz display, a camera setup, which also performs a little bit better and gives you a more sensible selection of focal lengths. Or at least the zoom cropping execution is far better. Also, the new Samsung One UI is more refined than ever with tons of features to play around with.
On the other hand, the OnePlus 8 offers longer battery life, slightly faster charging, better speakers, way superior under-display fingerprint reader, arguably better Snapdragon 865 chipset (not valid in China and the US) and has a lot to offer to stock Android fans. The software, as always, is the biggest advantage of the OnePlus 8, depending on how you look at it, of course. The S20+ does have proper IP68 certification outside of the USA and wireless charging, though. All in all, the OnePlus 8 Pro might stand a chance against the S20's this year when you account for the price, but the vanilla 8 will have a hard time competing for your hard-earned money.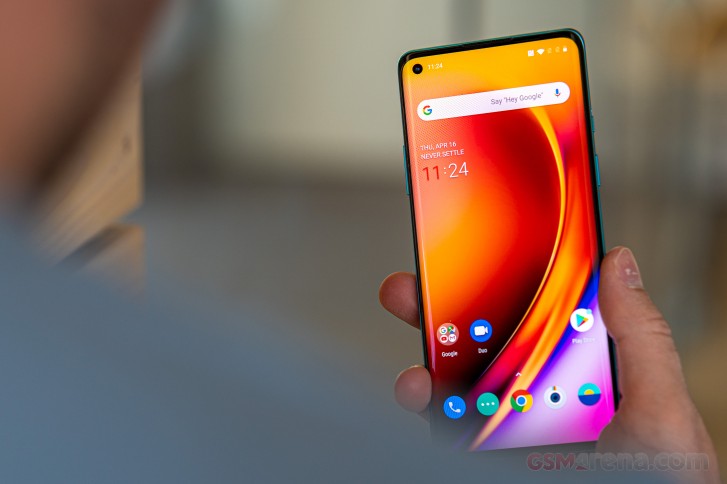 Another surprisingly pricey addition to the flagship family this year is the Xiaomi MI 10 5G and Mi 10 Pro 5G. The former, in particular, is competing against the proper OnePlus 8. They are equally priced at €700 in Europe and offer roughly the same hardware - big and bright 90Hz displays, standard, ultra-wide and macro camera setups, Snapdragon 865 chipsets and fast 30W charging. And if the samples we took with the Xiaomi Mi 10 Pro 5G are anything to go by, the camera performance on both phones seems mostly on par. Xiaomi's contender, however, gives you wireless charging, bigger battery, which doesn't necessarily mean longer battery life due to other factors like software and hardware optimization but it's probably safe to assume it's going to be in the same ballpark, meaning excellent. It all boils down to personal preference between Xiaomi's MIUI and OnePlus' nearly stock OxygenOS.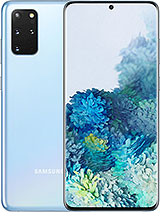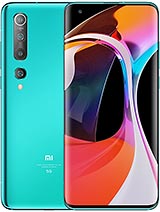 Samsung Galaxy S20+ • Xiaomi Mi 10 5G
If you've come this far into the review, you are probably asking yourself whether the upgrade to the 8 Pro is worth the extra €200. Of course, this strongly depends on your budget but in most cases, we would say yes. In those cases where you are absolutely sold for this year's OnePlus' 8-series, and you are okay with digging a little bit deeper into your pockets. Perhaps the software side of things is making you come back for another year, or it's something else. Whatever the reason may be, the 8 Pro does have a couple of important advantages over its more affordable sibling, unlike last year's nearly non-existent disparity between the 7T and 7T Pro.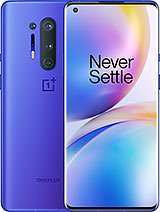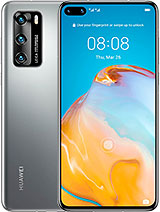 OnePlus 8 Pro • Huawei P40
The 8 Pro will get you a proper telephoto camera, much-improved main and ultra-wide cameras, bigger display (if you are into that) with higher 120Hz refresh rate, 10-bit color depth and true tone adjustment using RGB sensor, fast wireless charging, IP68 certification, and a bigger battery. With all being said, the 8 feels like too big of a compromise if you are looking for a true flagship experience and let's face it, if you are looking for phones in this price category, you might as well get the proper flagship this year. Sadly, this wasn't an issue last year with the 7T and 7T Pro.
Lastly, an honorable mention for Huawei's P40-series, which this year seems to be a worthy competitor once again but lack the much-needed Google services outside of China. The vanilla P40 is an excellent phone to consider with great camera experience, compact form factor, and dependable battery life with fast charging. However, the high price and the lack of Google services keep us from recommending it.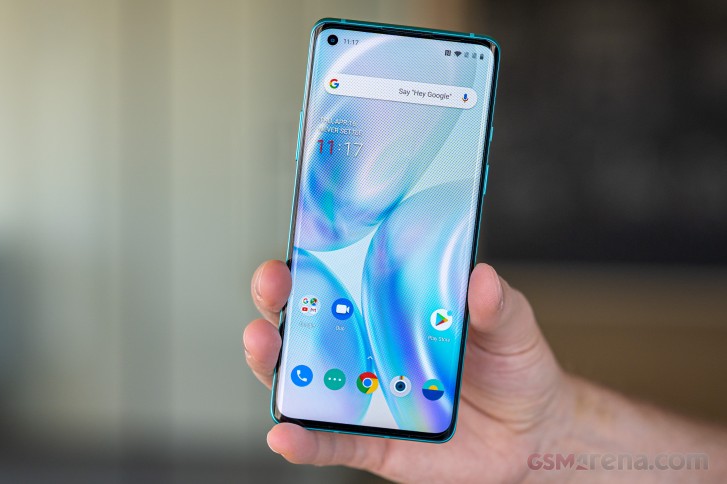 We'd also like you to keep in mind that the pricing situation in India and China is a little bit different. In those two markets, the OnePlus 8 family appears to be way more sensible, probably because both markets are home to some cutthroat competition while the western markets are somewhat less price-sensitive. For example, the OnePlus 8 costs INR 41,999 in India, which is almost €200 less than in Europe. And as for the OnePlus 8 Pro, it goes for INR 54,999 - around €230 less than what OnePlus is asking in Europe and the US.
Verdict
As an isolated case, the OnePlus 8 is an excellent phone with nice main camera performance, excellent battery life, fast charging, bright and buttery-smooth 90Hz display, probably the best-sounding stereo speakers in town, unrivaled fingerprint reader performance and fast and optimized OxygenOS.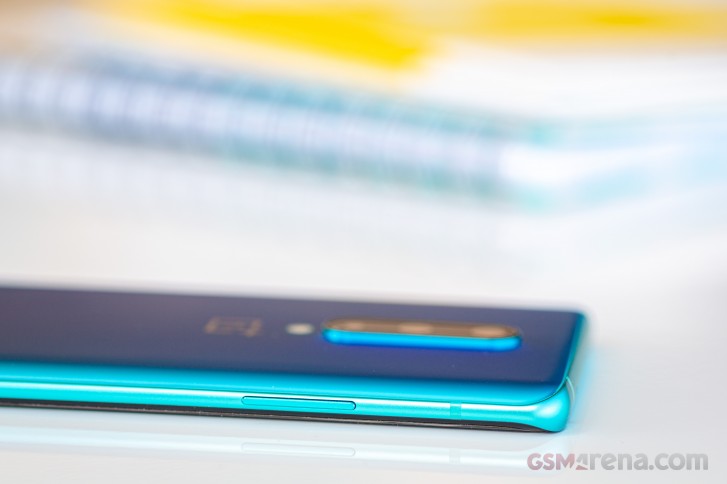 However, at this price, the phone is going to have some hard time competing with the likes of Samsung S20+, for example. It also leaves a lingering sensation of a downgrade compared to the OnePlus 7T, which had all the proper focal lengths and offered better macro shots too.
So this time around, it's hard to say for sure whether the OnePlus 8 is worth your money. As you can see, it depends on the market, and it depends on what you are after. But putting the software aside, in markets outside of China and India, there might be more sensible options for the price. Better yet, if 5G isn't on top of your list of priorities, getting your hands on a 7T or 7T Pro still hanging on a shelf somewhere might be the best way to go. And if going up the price ladder is an option, 8 Pro or any other flagship for the price will serve you better in the long run.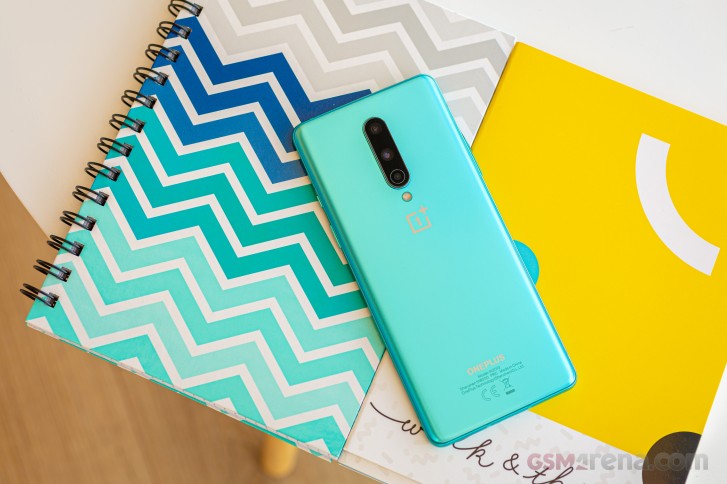 Pros
Great build and ergonomics, the phone feels smaller than it actually is.
Super bright, accurate and smooth 90Hz OLED screen.
One of the best-sounding stereo speakers in town.
Excellent battery life even in 90Hz mode.
Competitive fast charging.
OxygenOS with more features than ever.
Satisfactory main camera performance with great Night mode.
Cons
A bit pricey outside of China and India, costs more than the 7T Pro when accounting for the storage.
The camera setup is a downgrade compared to the 7T and 7T Pro - a useless macro instead of telephoto.
The 2x zoom is no match for a proper telephoto and the ultra-wide has no AF.
4K videos not sharp enough.
No wireless charging and no official IP68 certification (except for T-Mobile and Verizon units).
tinyurl
is.gd
v.gd
v.ht
u.nu
clck.ru
ulvis.net
shrtco.de
tny.im