Introduction
The Lenovo IdeaPad Chromebook Duet is an entry-level tablet running Chrome OS - but Lenovo includes a kickstand and keyboard (with touchpad) as standard accessories so it can be used as a laptop, completely mobile as a tablet, or flip the kickstand up and consume media on it.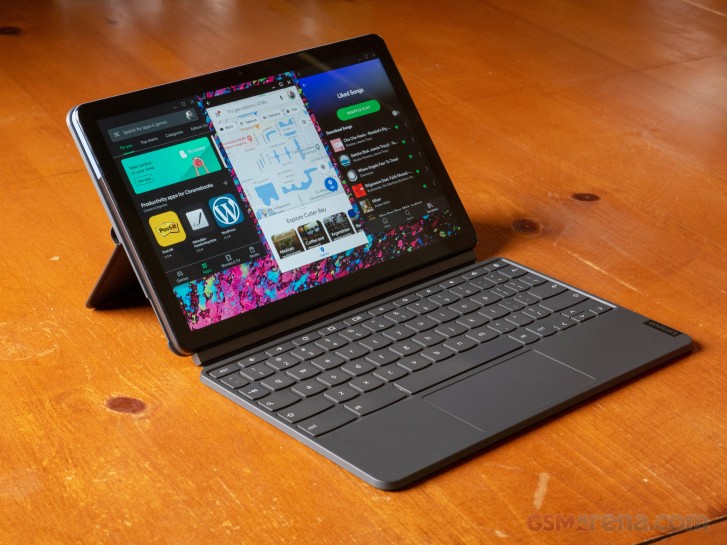 Starting at under $300, the Duet has a 10.1-inch Full HD LCD screen that gets decently bright and supports USI (Universal Stylus Input) styli. It runs on a midrange MediaTek Helio P60T chipset and equips a modest 4GB of RAM. Lenovo has made 2 in 1 ChromeOS devices in the past, but they were laptops with 360-degree hinges. The removable keyboard and kickstand offer more versatile use cases.
Lenovo Chromebook Duet specs:
Hardware: Convertible 2-in-1 tablet; magnetic fabric-wrapped kickstand; snap-on keyboard + touchpad; two-tone Ice Blue + Iron Gray color scheme.
Dimensions and weight: Tablet only: 239.8 x 159.8 x 7.35 mm, 450g; Tablet + Keyboard + Kickstand: 244.87 x 169.31 x 18.2 mm, 920g;
Keyboard: Lenovo Smile Key; 1.3mm key travel; 3mm key space,
Display: 10.1-inch Full HD (1920 x 1200) IPS LCD touchscreen display; 400 nits peak brightness; 70% NTSC
Chipset: MediaTekHelio P60T (12nm) (4x Cortex-A73 @ 2.0GHz + 4x Cortex-A53 @ 2.0GHz); Mali G72 MP3 @ 800MHz
Memory: 4GB LPDDR4X + 64GB/128GB eMMC
OS: ChromeOS
Cameras: 8MP autofocus (main); 2MP fixed focus (front)
Connectivity: 2x2 WiFi 802.11 ac; Bluetooth 4.2
Battery: 7,000 mAh; includes 10W charger
Misc: Articulating kickstand - 135-degree free stop; accelerometer; support for USI universal stylus; dual stereo loudspeakers
The IdeaPad Duet is rated for 10 hours of video playback, or 8 hours of web browsing. It offers two cameras: a 2MP front-facing camera for video calls or the occasional blurry selfie, and an 8MP main camera with autofocus.
The timing of this tablet is well in Lenovo's favor. With many folks switching to online work and school, a low-cost device that can log into web meetings, take notes, and browse the web with a large enough display makes this an ideal device for getting things done from home, and its compact size and portability make it easy to use while traveling.
Unboxing
We are pleased that the Chromebook Duet includes everything it needs in the box. The tablet comes with a magnetic backplate (which serves as the kickstand), the snap-on keyboard + touchpad, charge adapter and cable (5V @ 2A), and a USB-C to 3.5mm headphone jack adapter.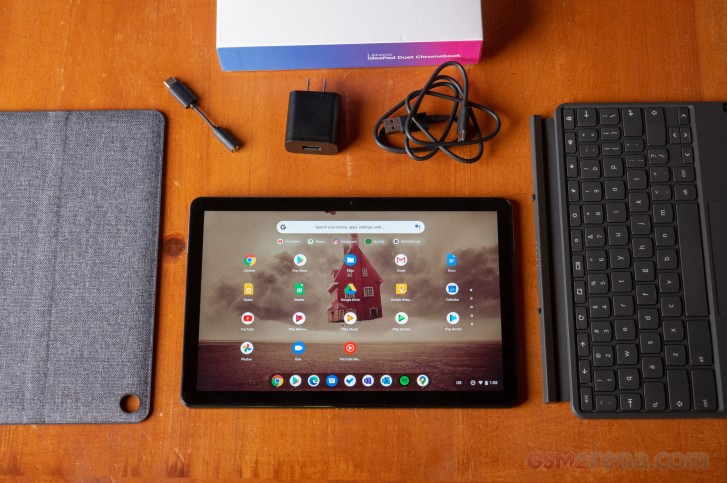 Let's take a closer look at the design and build of the Duet.
Design and hardware
The Chromebook Duet's screen measures 10.1-inches diagonally, and the bezels, the thinnest of which is 9.13mm, are large enough to handle the tablet without accidental inputs. This is an IPS LCD screen with FullHD resolution.
Above the display is the front-facing 2MP camera, an LED indicator that lets you know when an app is using it, and the ambient light sensor is here as well.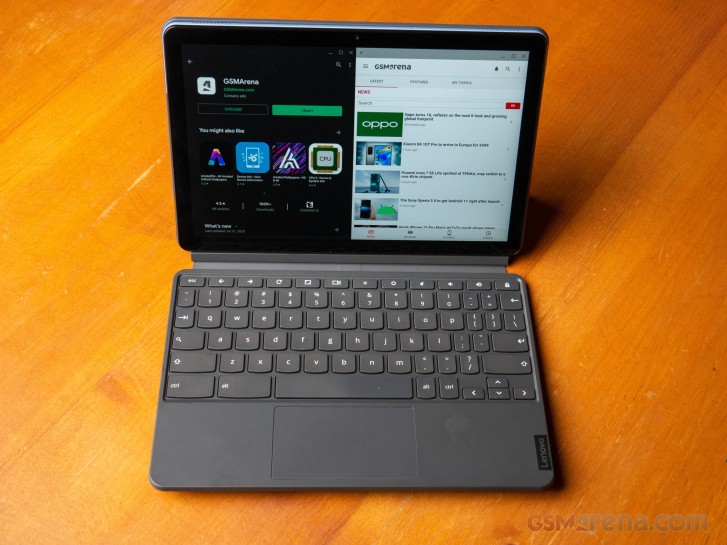 On top of the tablet are two microphones, and both loudspeaker ports which are upward firing. The right side of the tablet contains the only three physical buttons: a power key and a volume rocker - positioned up in the top third of the edge. Towards the lower end is the tablet's only port (USB-C) and a battery LED indicator.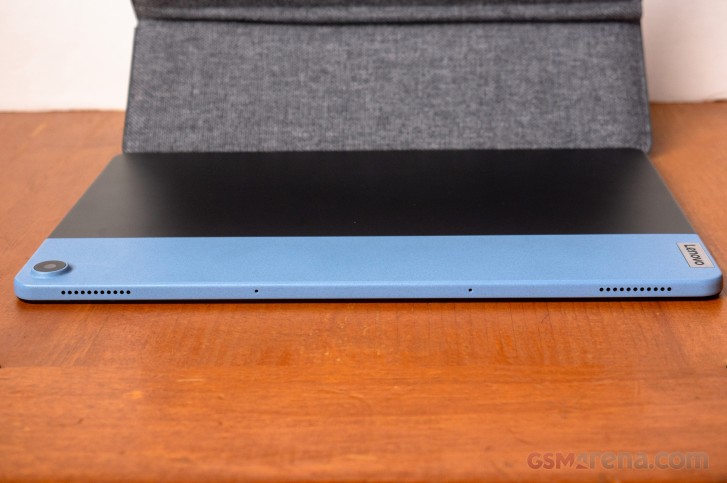 Finally, around back we have an attractive two-tone color finish consisting of an "Iron Grey" metal backplate and an Ice Blue accent strip where the antennas are located. This is the only color scheme the Chromebook Duet is available in.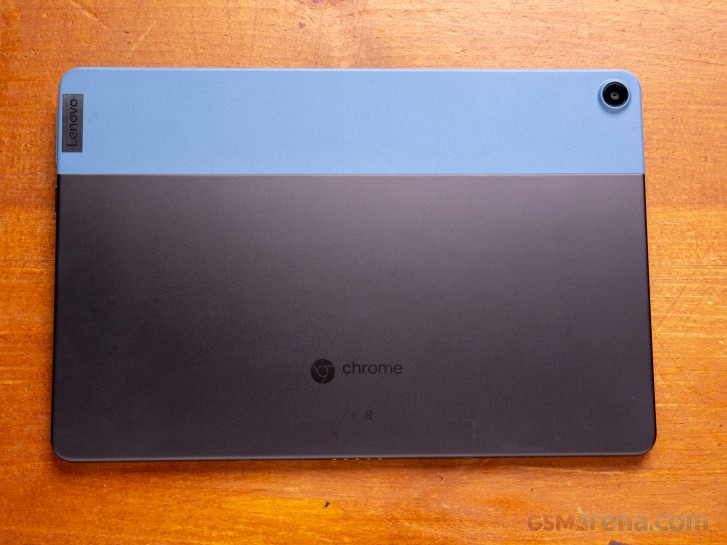 The keyboard attaches magnetically via the 5-pin pogo contacts.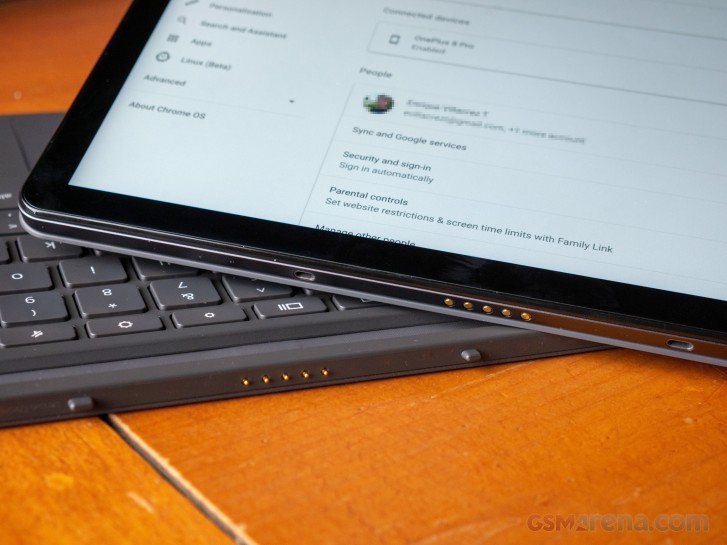 By itself, the tablet weighs in a 450g or around 1 lb on our scale, and if you bring it along with the magnetic kick stand and keyboard, that brings the total weight up to 920g or 2 lbs. You can get away with leaving the keyboard at home if you think using the on-screen keyboard will be enough for the task at hand.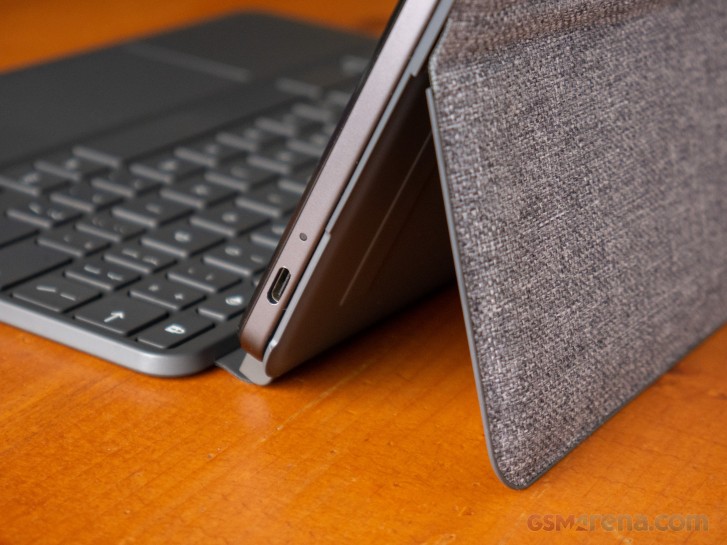 Display
The screen here is a 10.1-inch IPS LCD with a resolution of 1920 x 1200 which comes out to an aspect ratio of 16:10. Although it isn't of the OLED variety, the colors and brightness of the display are both aspects in favor of the Duet. This display is rated for 70% NTSC colors, which shows its low-cost nature, but it doesn't sacrifice brightness.
Although whites on the screen have a purplish tint, colors are generally accurate. We tested a average deltaE of 2.8, which is quite good. Meanwhile, the max deltaE recorded was 9.1 deviations from pure white. In any case, most people buying this product won't notice or care about the purplish whites.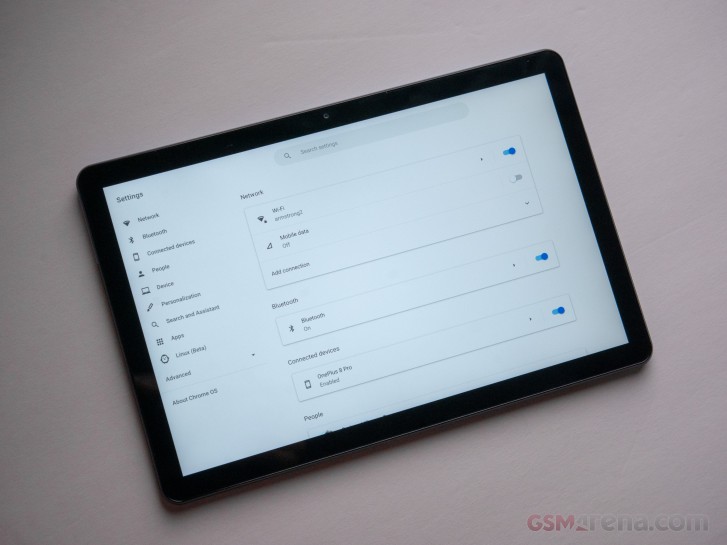 In terms of brightness, we are happy to see the Duet reached 428 nits of max brightness. There's no auto brightness adjustment, though. On the opposite end, the Duet's display went all the way down to 4.3 nits of brightness, which is pretty dim; great for consuming content after work hours in a dark room.
The screen is large enough to comfortably work with apps side by side but if you switch the display size to 100% (hidden deep in the accessibility settings) it lets more content fit in the screen.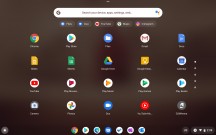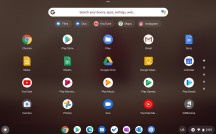 Display: 90% • 100% • 110% (default)
Battery Life
There's a 7,000 mAh battery inside, which Lenovo estimates will yield 10 hours of use. Lenovo didn't specify the test conditions it used, but based on our regular use of this guy, it took a lot before the battery would deplete. The Duet certainly lasted a full day of continuous use, with plenty of charge left over to watch some Netflix before bed.
The included 10W charger will eventually fill in the battery, but it's quite slow. 30 minutes on the 10W charger got us to about 16% battery, 1h got us up to 36%, and we reached 82% in 2:30h. It took just over three hours to get a full charge.
It turns out that the Duet does support faster charging speeds with a USB-C PD charger. With a 15W (5V @ 3A) charger, charge speeds were much better. It reduced charging time by about a third, reaching 25% after 30 minutes, 50% after one hour, and a full charge was achieved in just over two hours.
Software
Google's Chrome OS is a powerful operating system that works well in today's digital world. Since you can download most Android Apps onto a Chromebook, you can pretty much install any mobile app that you'd need, and browsing on Chrome is a superior experience with support for multiple tabs and side-by-side windows.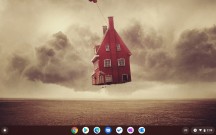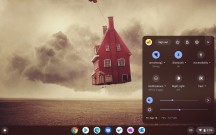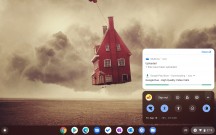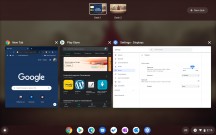 Home screen • Quick toggles • Notifications • Recents
The OS takes about 8 seconds from its off state to the login screen. Logging in can take several more seconds as it prepares the OS and Chome will automatically open so its ready to surf right away. You also get Android's Play Store and most apps are available.
If the app is formatted for mobile such as Instagram, it would take up the full screen when in tablet mode, but it will otherwise be in a resizable window that you can touch to interact with, just as if it was being done from a mobile phone.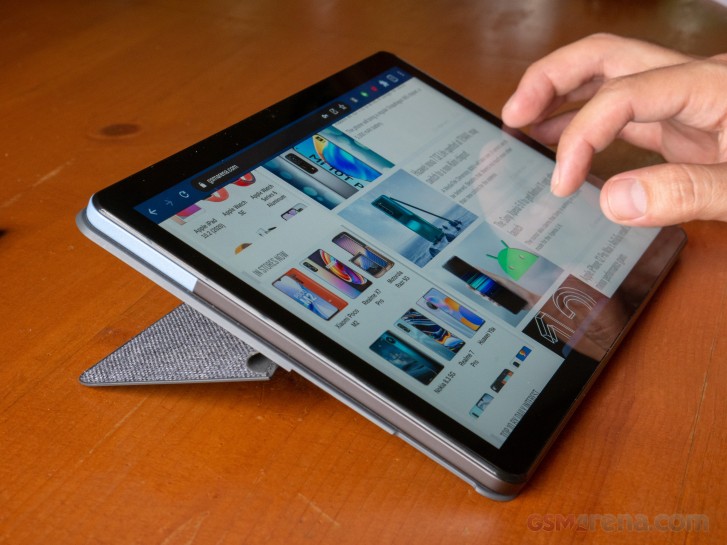 It's worth noting that some apps cause the tablet to freeze up if you try to open it with the keyboard docked but fires up just fine when in tablet mode. This seems to be a result of apps that aren't designed to be freely resized in windows. This is easily remedied by force-closing the app from the taskbar and thankfully doesn't require a forced restart.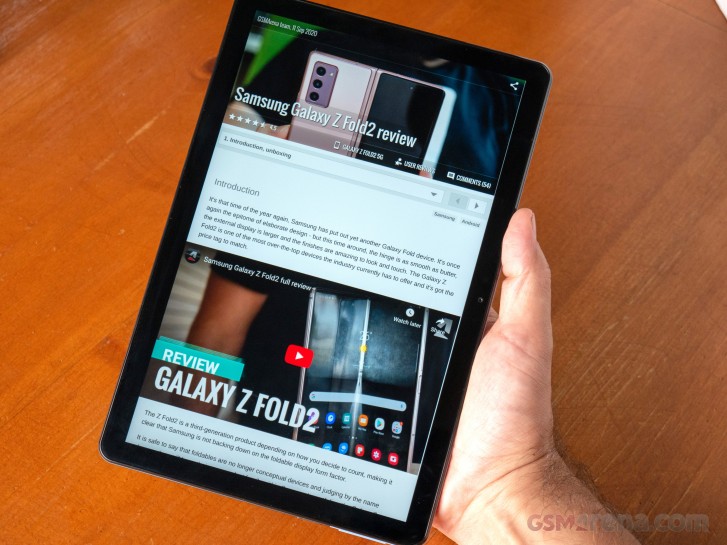 One complaint we have about the app launcher is that it isn't possible to alphabetize all the apps installed on Chrome OS. This isn't anything specific to Lenovo, this is the same with all Chrome OS-powered devices.
On the flip side, the default Google Search input lets you search through your app list. You can also organize your apps into folders, just keep in mind that every newly installed app will have to be organized manually.
A huge benefit is the promise of software updates. New Chromebooks will receive 6.5 years of updates every six weeks to keep up with any vulnerabilities and patches.
The Duet comes with support for any USI (Universal Stylus Input) stylus. This means you can draw or take notes with the Duet, but you can expect the normal amount of input lag due to the lower-cost hardware here.
Keyboard and touchpad
The keyboard can feel a bit cramped at first since it's meant to fit within the side of a 10.1-inch tablet, but the key travel and tactile feel is great considering many higher-end tablets don't even include the keyboard.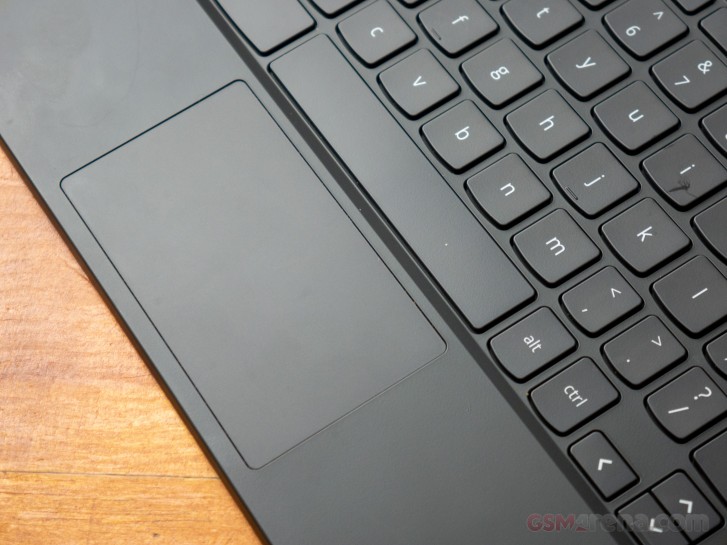 The touchpad, on the other hand, it quite small. It does have an accelerator feature that speeds the cursor up when you slide quicker over the touchpad. It's better than having no touchpad at all, but you can always link up a Bluetooth mouse if you really need to click around.
You can adjust touchpad settings like tap to click, tap-dragging, and touchpad acceleration (the feature mentioned above). You can also reverse the direction the touchpad will scroll when you swipe with two fingers.
Performance
The Lenovo Duet is powered by a MediaTek Helio P60T - which was first introduced in early 2018. This ARM chipset is built on the 12nm process and features 4 large Cortex-A73 cores and 4 little power-efficient Cortex-A53 cores all clocked at 2.0GHz. There's also an ARM Mali-G72MP3 GPU clocked at 800Mhz, integrated 802.11 Wi-Fi ac, and Bluetooth 4.2.
The difference between the Helio P60T and the P60 is that the latter integrates an LTE modem for smartphones. The Helio P60T has comparable performance to the Qualcomm Snapdragon 660.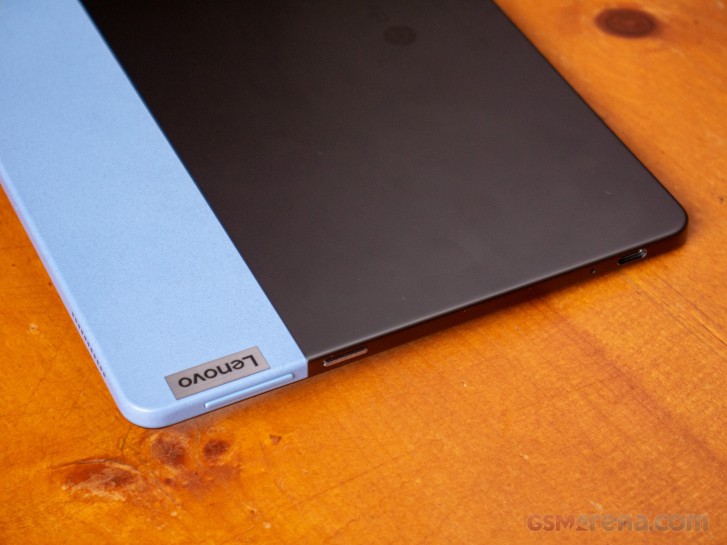 Performance is generally good. Opening casual apps and browsing the web works perfectly on this device. Where you can start to notice stutters is when scrolling Instagram, for instance - especially when there is some auto-playing content in the feed. Note-taking, writing papers, zoom meetings, school lectures, and replying to email are all things this tablet was made for.
You can technically play games on the Duet if you can download them from the Play Store. Games that support keyboard input work well enough.
Verdict
Lenovo has a solid product on its hands. Lenovo doesn't nickel or dime you for any of the extras like the fabric-wrapped kick stand of the snap-on keyboard, and although there isn't a real headphone jack, there's an adapter included in the box.
With a suggested retail price starting at $279, it's no wonder that Lenovo has a hard time keeping up with demand of this entry-level Chromebook. The Duet is a portable, versatile, and well-rounded product for its price. It's a no-brainer when it comes to buying a computer for one of the kids to use for school, particularly since this school year has started virtually in many parts of the world.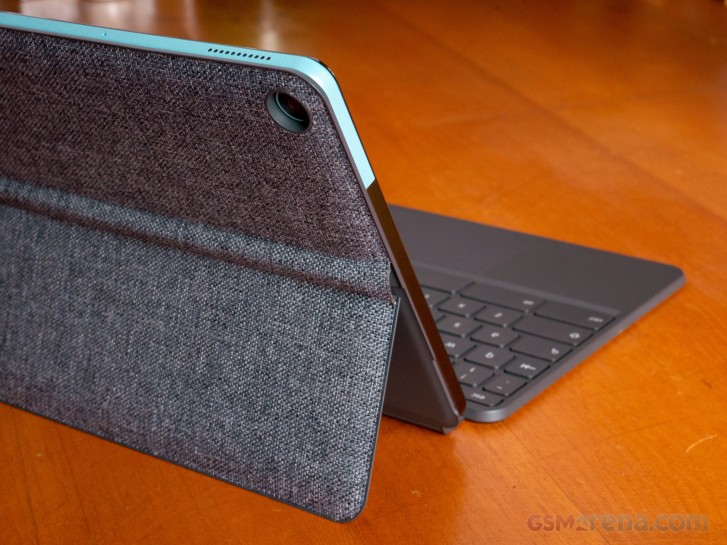 If you're wondering whether you should get one of these for your job that has converted to working from home over the last pandemic or so, you should consider that the Duet is a small computer with a midrange chipset and cramped keyboard. If you need to use desktop-grade software or need to work with more applications, you might want to look at something like an entry-level Windows notebook. This price point usually has computers with 15.6-inch screens and some even have full number pads on the keyboard.
There is no shortage of Chromebook devices out there nowadays -including refurbished units that retail for even about half the price of the Duet. Any of them will do basic computing just as well as the Duet. However, the added versatility of a detachable keyboard and a convertible form factor makes this a nice tablet/computer. The Duet gives us Pixel Slate vibes, but with less power and at a much more reasonable entry-level price point. Cutting corners is often frowned upon, but the Duet strikes a nice balance between cost-cutting with fit and finish.
Pros:
Versatile, portable form factor
Includes keyboard and kickstand
Decent keyboard travel and tactility
Great battery life
Cons:
Included 10W charger is slow
cramped touchpad
No headphone jack
Limited RAM, performance is occasionally sluggish
tinyurl
is.gd
v.gd
v.ht
u.nu
clck.ru
ulvis.net
shrtco.de
tny.im