Introduction
Is there life without Google? Huawei clearly hopes your answer to this question will be a resounding "Yes!", but we're not ones to just take a company's marketing at its word. So we decided to find out for ourselves. Is this Pro sufficiently Pro even so? Let's see.
We've had a P40 Pro around since day one, so we thought it would be a good experiment to try and live with it, day in and day out, as our one and only smartphone, and get to the bottom of how big of an impact the lack of Google apps and services actually has on the user experience. And, that aside, we were obviously curious to see if Huawei has improved upon the already proven formula of the P30 Pro from last year, which was one of our favorite devices we've reviewed long term.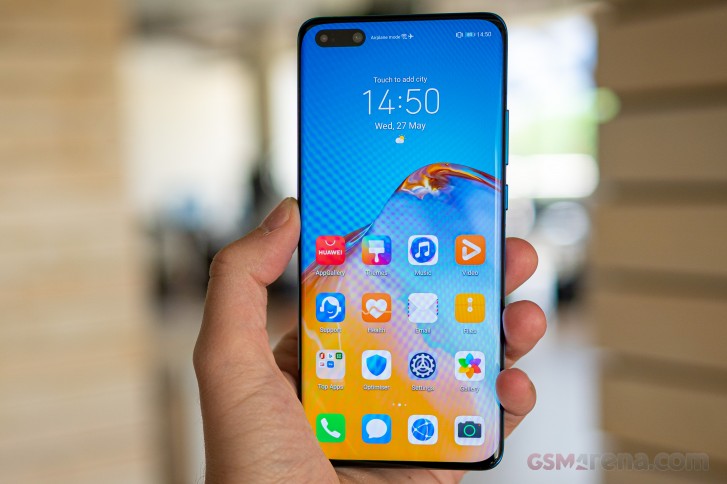 So, this is going to be a unique journey, as this is the first Huawei device we are reviewing long-term after Google got banned from providing the Chinese company with its version of Android, built-in apps and services included. The Mate 30 Pro was technically the first Huawei flagship to launch in this new reality, but that only got a very limited release outside of China, so it may still not be available where you live. The P40 series, on the other hand, has global ambitions (that is, if you don't count the US market).
With that in mind, we set out to find out if the P40 Pro has what it takes to be your daily driver, in this weird world we're living in, where some companies get arbitrarily banned from doing business with other companies, and where the COVID-19 pandemic is still doing a lot of damage. Is this the time to spend top dollar on a smartphone? That's a question for the statisticians to answer in a few months, presumably. In the meantime, if you have said top dollar to shell out for a high-end slab of technology, you might be interested to know if the P40 Pro fits your bill.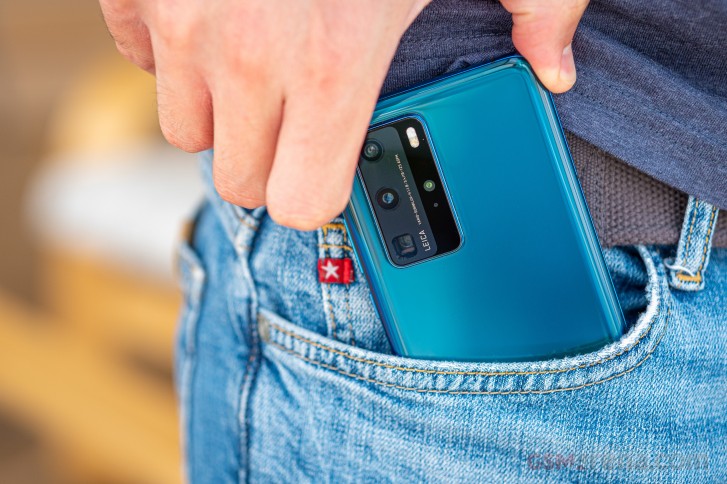 Buckle up, and join us over the next pages to find out what we think about the P40 Pro after a few weeks of using it exclusively, Google services be damned.
Design, build quality, handling
Glass, metal, glass. Yes, it's another sandwich. But wait, this one has cheese spilling off on all sides... we'll address that in the Display section below.
The P40 Pro is pretty much a standard looking flagship smartphone for 2020, otherwise. Aside from the screen itself, there are two main design elements that stick out - the rear cameras and the front cameras.
The front-facing pill-shaped cutout is impossible to not see, and the huge camera island at the back definitely makes its presence felt too - whether it's when you hold the phone to your ear or you have it lying flat wobbling on a table and. The case that's included in the box (in some markets) alleviates this somewhat, and it allows the screen to curve on all sides without covering it. Bonus points for that design, since the case doesn't take away much of the improved feel of swiping from any side on the curved glass.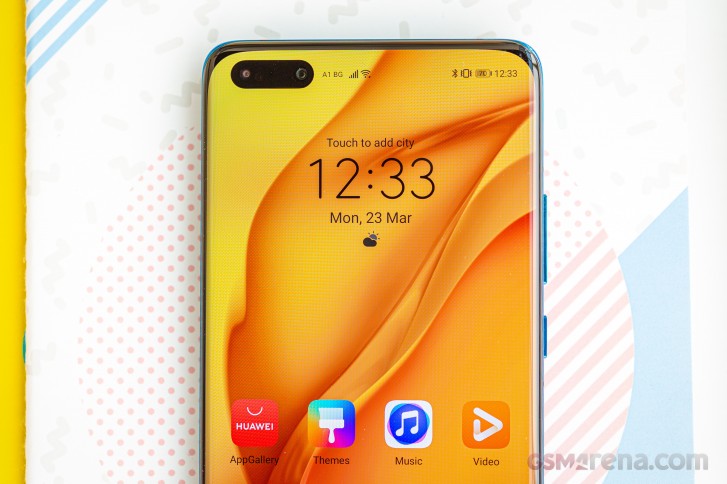 The P40 Pro's build quality is perfect, which is of course what it should be considering the premium amount you're being charged for buying this handset. There's nothing to nitpick here, it's all rather outstanding. Interestingly, the device is marginally narrower than its predecessor, if a tad taller and thicker. It's also narrower than most of its competitors, which makes handling it a real breeze.
The in-hand feel is extremely good, aided in part by the fact that while the front and back glass do curve into the metal frame, the curves aren't as extreme as with some other phones, and the frame itself is rather flat. The size of the P40 Pro might be one of its biggest assets, if you're not one to go for humongous devices. Don't get us wrong, though, it's still big, just not unwieldy by today's standards.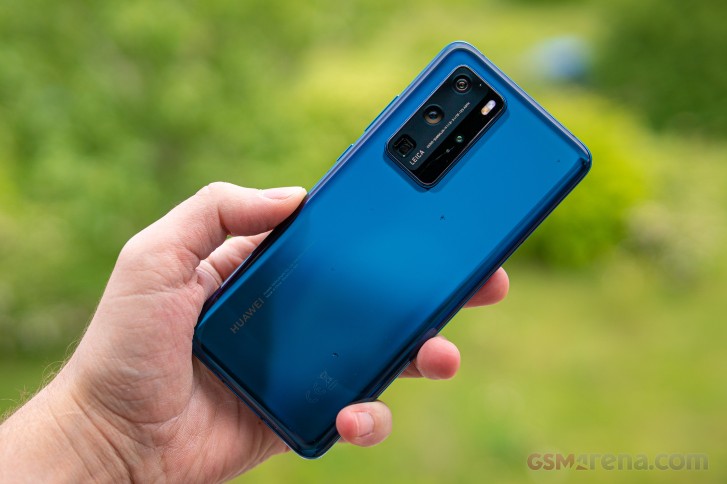 With the advent of 5G and ever bigger batteries packed inside (those two things are probably connected, by the way), Android phones have been getting progressively heavier lately, and the P40 Pro is definitely not even close to featherlight. It has a healthy dose of heft to it, and yet we found that more reassuring than disturbing. That might have to do with the weight distribution, which seems to be spot-on.
On the back the glass finish is glossy or matte, depending on which color version you pick. The glossy ones are obviously shinier, but have the downside of being easily smudged with fingerprints. On the flip side, those fingerprints actually aid in gripping the phone, so what usually ends up happening in real life is that a glossy back with fingerprints on it is less slippery than a matte one.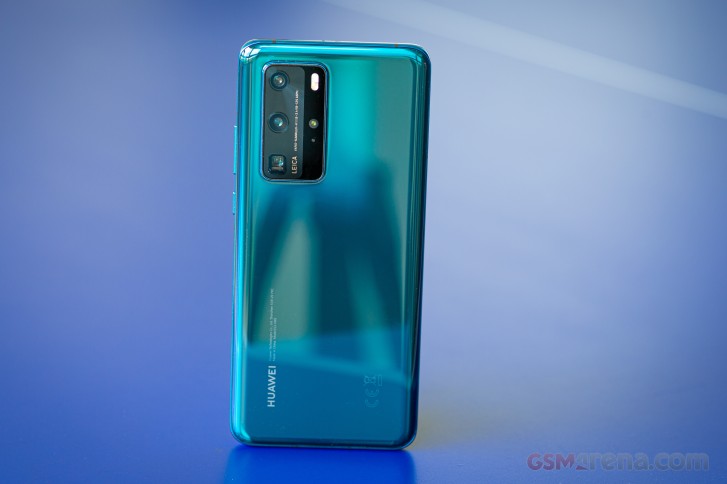 The Matte Grey (also known as Silver Frost) P40 Pro is one of the least slippery matte handsets we've handled, but that may be due to the fact that it's... less matte than others. It still allows some fingerprints to show, which may explain its superior grip. The Deep Sea Blue (aka Ink Blue in some markets) version you see pictured here is the glossy variety, for what it's worth.
The power and volume buttons are both on the right side, and both too stiff for our liking. They work well enough, but there's a lot more resistance to pressing than in most other phones. And speaking of things taken to extremes, the vibration motor in the P40 Pro is the most powerful this reviewer has ever come across. By a mile, too. That wouldn't be a bad thing in and of itself, but there are no settings to tone down the vibration intensity for when you get notifications as opposed to calls, for example.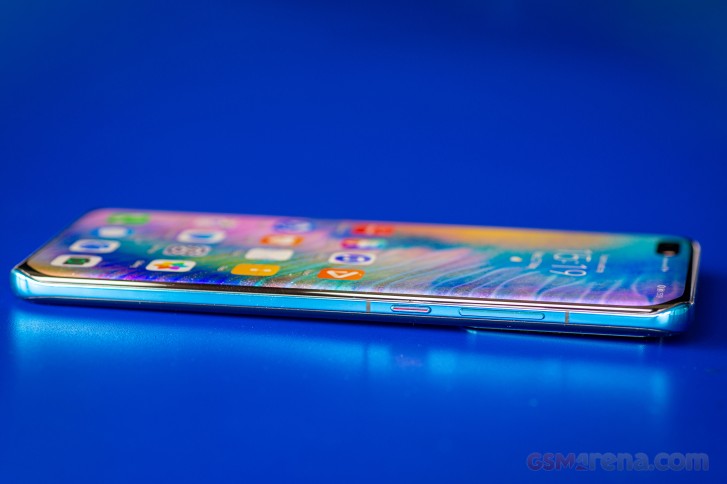 If you use your phone in vibrate mode a lot, we hope you aren't faint of heart. Plenty of times we found ourselves getting a scare from the P40 Pro just vibrating for a message while lying on a desk. This is obviously much less of an issue on the couch. Still, with so much power in that motor, we feel like a way to customize how crazy it goes would've been great.
Display
Quad-curved screen edges? Well, yes and no. Yes, the sides of the panel are curved, but that's nothing new. The top and bottom also feature the teeniest tiniest curve you can possibly imagine, and it's easy to miss unless you're really looking for it. What is actually quad-curved in a rather symmetrical way is the glass sitting on the display.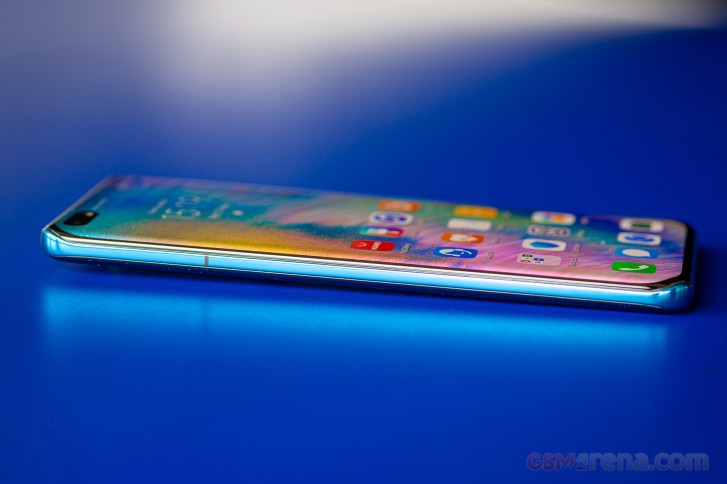 This might sound like a marketing gimmick, and for the most part it is, but it does have a usability gain. When you swipe from the bottom, as you are going to a lot of times if you use gesture navigation, it's that much more pleasing to swipe across the curved glass. It's definitely a minor detail, this, but one that speaks volumes to Huawei's general philosophy when engineering this phone, which seems to be something along the lines of "the little things matter too".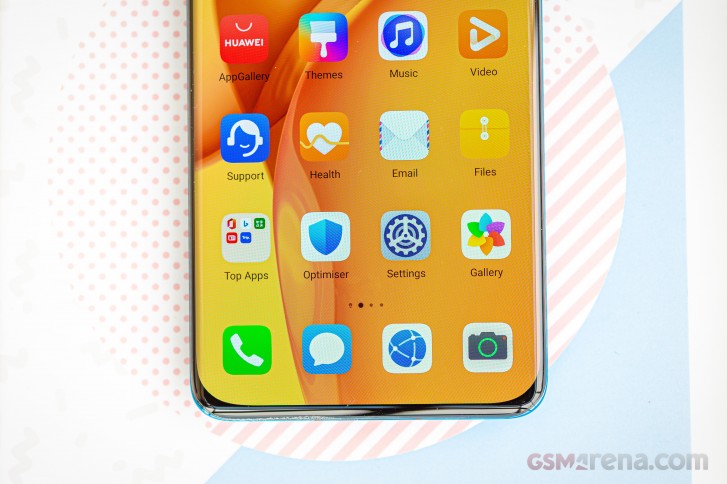 We'll admit, these quad-curves give the phone a weird look at first sight, and it's something we needed to get used to. Because the screen curves in all four directions, the frame has to drop there, which is something we're used to on the sides of screens, but less so on the top and bottom. The corners of the frame are thus raised, in order to provide some very needed protection to what would otherwise be the most fragile points in the glass. That's an excellent decision on Huawei's part, but it does make the frame look uneven (because it is), and just plain strange.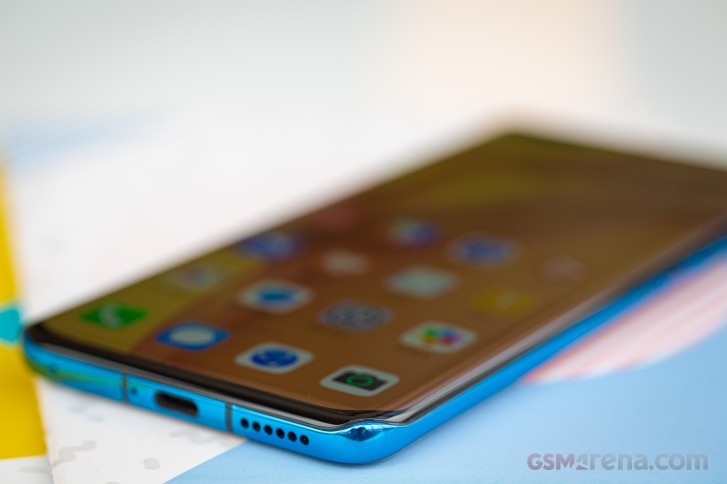 As does the huge pill-shaped hole-punch cutout for the front-facing camera and sensor array. When you first turn the phone on, this feels like a massive eyesore, and we were expecting that feeling to never go away. But, surprisingly, it did within a few days, and keep in mind that we didn't choose to 'hide' the cutout through software. There's a method behind the madness of that ugliness, though, and it all has to do with face unlocking, more on that in the Biometrics section on this page.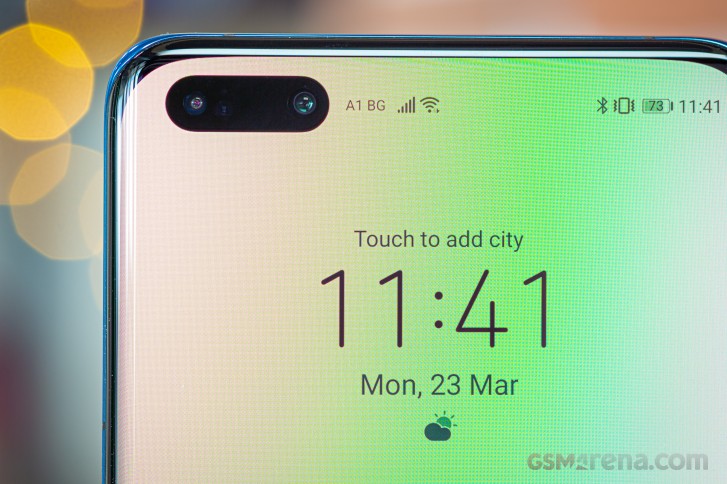 The display itself has 90Hz refresh rate, which doesn't match up to some of the P40 Pro's competitors like the Samsung Galaxy S20 line and OnePlus 8 Pro, but there's one important thing to keep in mind here: the perceived difference in smoothness is much larger going from 60Hz to 90Hz than it is from 90Hz to 120Hz or beyond. We can still tell a difference, but barely, and we are looking for it. So for most people, 90Hz should be fine, especially if coming from a previous smartphone with a 60Hz panel.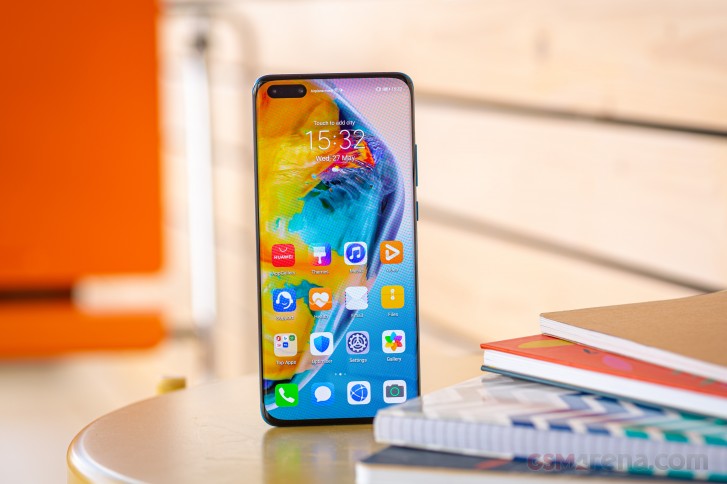 Speaking of 90Hz, while the OS obviously supports that, as well as all the built-in apps, we feel like some third-party apps still don't take advantage of this added smoothness, or at least not fully. There's a huge difference between the Opera browser and the Opera Touch browser in this respect, with the former seeming like it's stuck at 60Hz in our experience, while the latter looks like it's using 90Hz. This makes a huge difference, especially when you're used to everything else on the phone being 90Hz smooth. Note that we haven't used any scientific tools to ascertain this issue, so there's a very small chance it may not be a refresh rate issue per se, but more of a difference in scrolling inertia and how that's set up in each app.
The screen has an uncommon resolution, but it's close enough to FHD+ that we'll just treat it like it's that. Yes, some of the P40 Pro's competitors go bigger with resolution, but again - most people wouldn't be able to tell the difference. The pixel density is high enough as it is that you can't see any individual pixels unless you happen to have a magnifying glass lying around and go looking.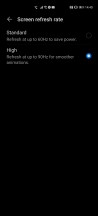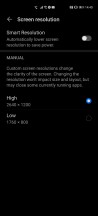 Screen refresh rate, resolution
The quality of the screen is outstanding, and we're assuming this has to do with the lamination Huawei is using. More than a lot of other phones, the content on this screen simply feels painted over, like there's zero gap between the touch layer and the display panel. A lot of devices claim such a feat, but few achieve the effect to such an extent. Contrast is also excellent, as are the colors. Punchy if you want them to be, accurate if that's what you're going for.
We used the Vivid color mode because we're fans of that 'pop', but chose the Warm color temperature because both Default and Cool make whites laughably blueish. There's an entire color wheel to play with if the presets just aren't to your liking, but we find that to be overkill.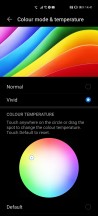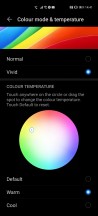 Color mode and temperature settings
You can see the screen in bright sunlight, but it could have been better in this respect. The numbers in our normal review don't tell the whole story, though. This screen seems to be slightly less reflective than others, so even if it can't match the brightness of some of its competitors in raw numbers, in actual feel, side by side, the difference is smaller than the numbers would make it out to be. That said, we would still have liked to see a higher maximum auto brightness, just to have more leeway. It's not a bad device to use outdoors, this one, but it could have been a tad better.
On the other hand, the default tuning of the auto brightness function is probably the best we've ever seen. Manual adjustments have been incredibly rare, unlike with some other phones, and switching brightness states in auto mode is incredibly smooth, there's no obvious jumping around from level to level. We probably only had to manually adjust a dozen or so times during our time with the phone, which is rather outstanding.
Display features, in-screen earpiece
There is Always On Display functionality in EMUI 10.1, and it is actually always-on. You can schedule it, but it only ever shows you the clock and date. That's a weird missed opportunity here, to give you some more info, like a lot of competitors do - the battery level and notification icons, most importantly.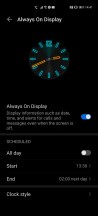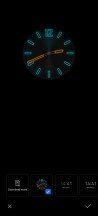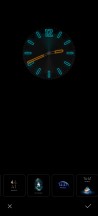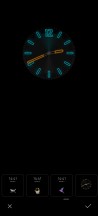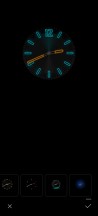 Always On Display settings and styles
Eye Comfort is the name under which the blue light filter is hiding, and it works well, and you can schedule it if you want, as well as adjust its intensity. All pretty standard stuff. Additionally, "flicker reduction" is Huawei's (rather accurate) name for DC dimming and you can enable this too if you're sensitive to the flicker that the usual PWM method of brightness control induces.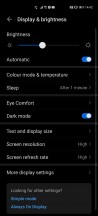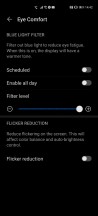 Display settings, Eye Comfort
The earpiece isn't an actual earpiece, cut into the frame above the screen. Instead, like in last year's P30 Pro, the display itself vibrates to act as an earpiece. This works very well, although clarity-wise we feel like the P30 Pro's was a tad better - as in, it actually outdid any standalone earpiece, whereas the P40 Pro's just equals those.
You'll have to get used to holding the phone to your ear differently, though, as the ear should be lower on the handset for the best effect. The built-in phone app helpfully guides you by putting the contact's picture exactly where your ear should be for the best experience. This takes a little bit of getting used to, fighting muscle memory which wants you to have your ear as close to the top of the phone as possible, but in the end it only took us a day or two to fully get the hang of it.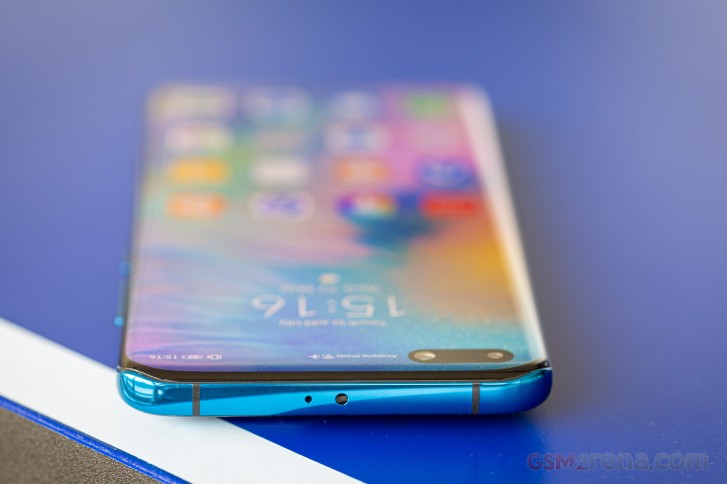 What this also means is that you don't get stereo speakers on the P40 Pro, not even the faux variety with the earpiece acting as one of the channels, because... there is no earpiece. A lot of Huawei's competitors have seriously upped their stereo speaker game this year, and thus this feels like a sad omission. Since the sound is only coming out of the bottom-firing speaker, it's very easy to cover up with your hand while holding the phone. On the other hand, at least it is loud enough for most environments that aren't extremely noisy.
Biometrics
The P40 Pro's optical in-display fingerprint sensor is perfectly adequate. It's in a good position, hence easy to reach, and it works flawlessly. While our subjective assessment is that there are a few units that are marginally faster on other devices, this too is one of those in-display sensors that we feel won't make anyone miss the capacitive ones of past flagships.
As far as accuracy goes, it's tied for the "best" spot in our experience with a few others. It's gotten way past 90% with the best optical sensors out there nowadays, and most of the highest performing ones are actually closer to 100%. This just goes to show how much this technology has improved in the past few years.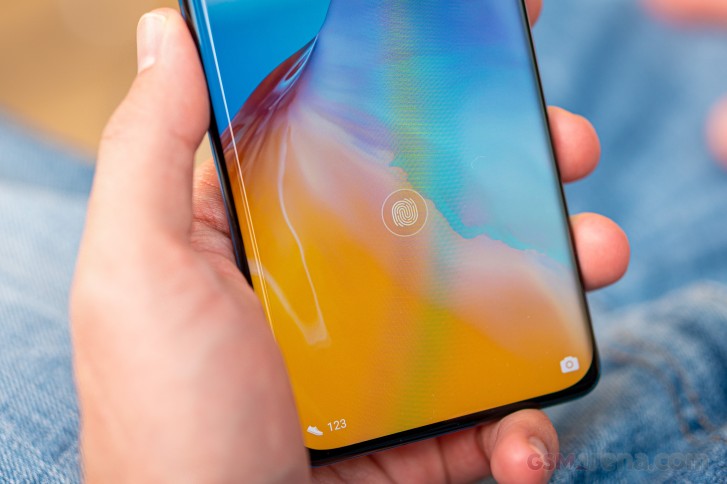 You don't even have to use the fingerprint scanner if you don't want to, though, because the P40 Pro also has face unlock, and this implementation is more secure than what most Android smartphones offer. It's not just a case of using the camera, the phone has an IR sensor and a time-of-flight 3D camera to aid with security, and that also allows it to unlock at night, just with your face, without needing to shine the screen really bright at you.
However, the P40 Pro's face unlocking does feel just a teeny tiny bit slower than the simpler and less secure camera-based implementations out there, like what you'd find on a OnePlus, Oppo, or Realme handset. The slightly longer wait is obviously worth the added security benefit, though.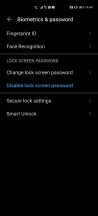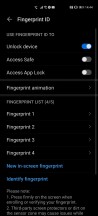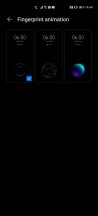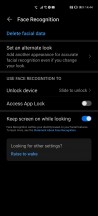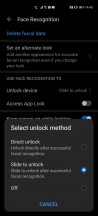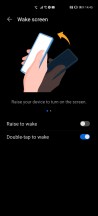 Biometrics settings
We love the flexibility of the biometric security methods employed here. You have both of the prevailing biometric authentication methods at your disposal, and you don't have to relinquish some security in order to use either one. You can set them up and then they're both ready to use at a moment's notice. Have a mask on (thanks, COVID-19!)? Use the fingerprint sensor. Don't want to bother with placing your finger on the screen? Just hit the power button and look at the phone, letting face unlock do its magic.
Oh Google, where art thou?
Time to address the elephant in the room. Or rather, the missing elephant. Its name is Google Mobile Services (GMS), and you aren't getting that on the P40 Pro. You're probably aware that the Chinese company has been put on the now famous Entity List by the US Government around one year ago, which, to make a long and very political story short, means Google is not allowed to do business with Huawei anymore.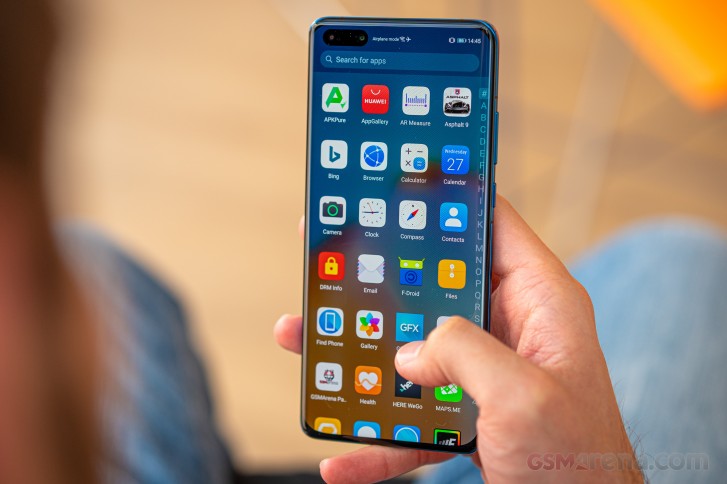 Hence, the P40 Pro ships without the Play Store or any Google apps, and it doesn't support the underlying GMS either, even if it does run Android 10. This creates a few problems, let's explore them here.
App discovery, Phone Clone, AppGallery
First off, there's reduced convenience for you in finding apps to install and managing updates once you have them. On an Android device with GMS, that's all taken care of by the Google Play Store. On the P40 Pro, as on all other brand new Huawei and Honor smartphones launched after the US Government's ban came into place, there are a bunch of workarounds for this, but we'll warn you from the get-go: whichever way you go, the act of finding and installing apps is more cumbersome than it otherwise would be if GMS was on board.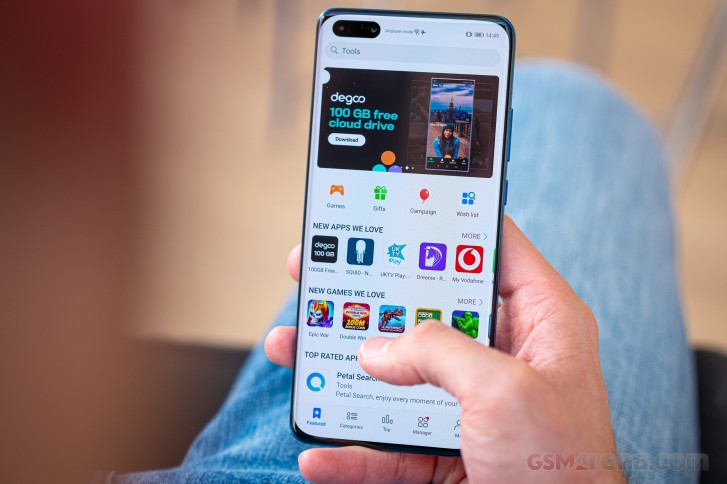 When you first power up your brand new P40 Pro, you'll be offered the option to use the company's Phone Clone service to transfer over your apps and data from your previous device. This is all pretty standard fare for Android devices, but note that you obviously won't be able to restore from a Google backup of your prior phone.
Additionally, Phone Clone does its best to transfer over apps, but don't expect all of them to make it through. In fact, we found that quite a few of our most used apps didn't make the cut. Clearly this depends on which specific apps you had installed on the other phone, and we're not sure exactly how Phone Clone chooses the apps that it can transfer versus the ones it leaves behind.
So you might get lucky and see that most of your apps are now sitting there waiting for you to use them on the P40 Pro. However, even so, that doesn't automatically mean that they'll ever get any updates. By default the phone ships with Huawei's AppGallery, which will update the apps you have that are in its directory. The rest will just be forgotten, so you won't get any new features when they launch, or any bug fixes, you get the idea.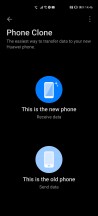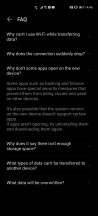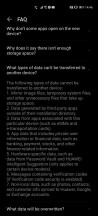 Phone Clone
If you want to find additional apps, the obvious method is just go into AppGallery and search for them. Except, for all of Huawei's concerted efforts recently to get developers to publish their Android apps in AppGallery as well as the Play Store, let's just say that it's a pretty arid landscape in there at the moment. A few of the bigger most popular apps and games are in, but there are still very many omissions.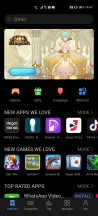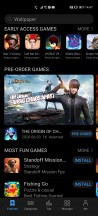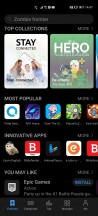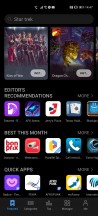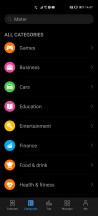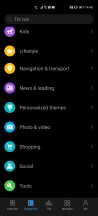 AppGallery
AppGallery also weirdly lists some apps but then when you want to download them it sends you to the app maker's website where you download an APK file and are then expected to manually install that. This is true for Facebook and WhatsApp, for example. While this does create a way for you to get set up with these highly popular apps quickly, it introduces additional friction into the app discovery + install phase, that most people would not have been exposed to in the past.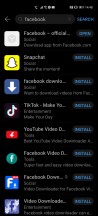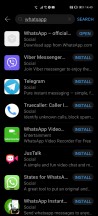 Facebook and WhatsApp listings are just links
Of course, if you're the tinkering geek type, then you probably know all about APKs and installing apps from third party sources, which is something that is possible thanks to Android's inherent openness, but for a lot of owners of the P40 Pro, this will be a new experience.
Amazon Appstore and APKPure
Moving on, let's say you don't find the app you want in the AppGallery, which, again, will happen more often than not. Then what? You can use a third party app store, actually, the most popular of which are Amazon's and APKPure. You'll need to grab both of these from the internet, installing their APK files from your browser of choice.
The former is a classic app store (albeit with a severely dated design), so it handles app updates and it also has paid apps for you to buy through your Amazon account if you so wish. The Amazon Appstore is actually the only alternate way to get paid apps onto your P40 Pro, so if the thing you want isn't free and isn't found in either Huawei's AppGallery or Amazon's Appstore, you're just out of luck.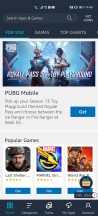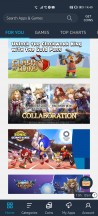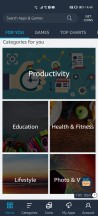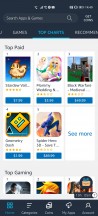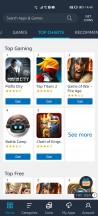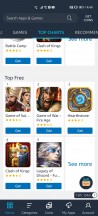 Amazon Appstore
You're also out of luck if you were assuming that your purchases from the Play Store (including subscriptions) would somehow magically be moved onto your P40 Pro. There's no way for that to happen automatically, since all of those use Google infrastructure that is a no-go on the P40 Pro. We assume you could contact individual developers and ask for your purchase to be restored, and if you're lucky and the developer is small enough they may want to do that for you, but even so - the activation process itself might be tied to GMS, so you'd better not hold your breath.
An additional issue with the Amazon Appstore is that it does not always have the most up-to-date versions of some apps, so be on the lookout for that. There are also apps which haven't been updated in ages as if the devs had forgotten all about this app store's existence. It's rare, but it does happen.
The other option is APKPure, which isn't run by a company trying to sell you apps. It is a repository of free APKs, presented in an app store form (which means in that area it has a leg up compared to APKMirror). This has almost all of the apps you will ever need, provided that they are free, and with the exception of some highly local per-country apps.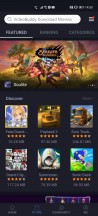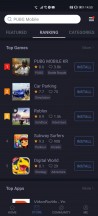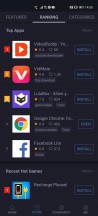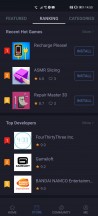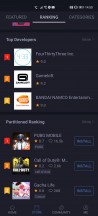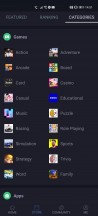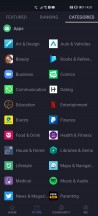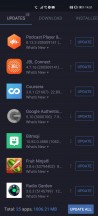 APKPure
APKPure can handle updates to your apps too, but because it's not a built-in app store, the process isn't as seamless as you'd expect. "Auto-updates" aren't fully automatic. The downloads are automatic, but then you need to confirm the installation of the updated version for every single app. This seems to be a security-oriented limitation in Android itself. All this, mind you, is with the APKPure service turned on as an Accessibility option. Without that, the process is even more convoluted.
MoreApps, not working apps
Okay so let's say you have installed APKPure and the Amazon Appstore on your P40 Pro, and now the prospect of searching for an app you want in three different stores seems a bit daunting. Well, there's a fix, and it's an app called MoreApps. This should be preinstalled on the phone, but if it isn't, it's easy to grab from AppGallery.
It is a meta search engine of sorts and it's an invaluable resource when living with the P40 Pro day in and day out. You just search here, and it will tell you where to grab any app from. Or, in the case of some Google apps, which we'll get to later, it will inform you of alternatives. You'll see if a specific app is in AppGallery, or APKPure, or if you can just grab the APK from the maker's website, all with one-tap links.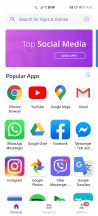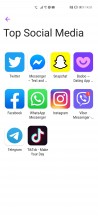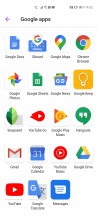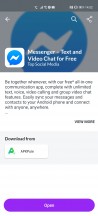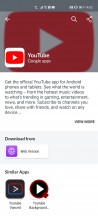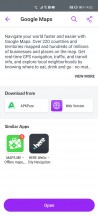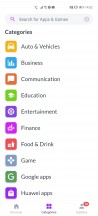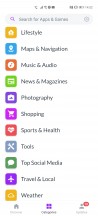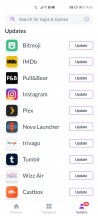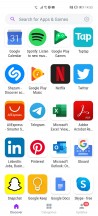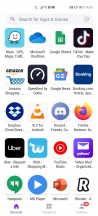 MoreApps
Seriously, the usefulness of MoreApps can not be overstated, and we're glad Huawei created it, although we're a bit confused as to why it isn't featured in promos and marketing materials more. Even discoverability on the phone and in the AppGallery isn't great. But anyway, once you have it, you're set.
Or rather, you're mostly set. Some apps will just not work at all, even if you find them on APKPure or wherever. This is because GMS isn't just about the Play Store and installing things and keeping them up to date, and purchases and all that. GMS also makes developers' lives easier when they code apps, if they want to take advantage of Google's cloud functionalities. The best example for this is Uber. The map you see in that app is actually a Google map, and the Uber app needs Google services to work. You can install it, but you won't be able to use it.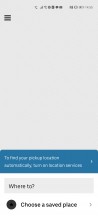 Uber installs but doesn't work
MoreApps 'helpfully' recommends using the Uber mobile website, which is fine, but unfortunately the user experience of most mobile websites compared to apps is just appalling. And with some apps, such as a lot of our local food delivery services (that also don't work as apps on this phone), going this route also means losing notifications about the order's status, and thus having to refresh the order page constantly in order to be updated.
Or take Todoist, one of the more popular to-do apps. You can install it, but you won't be able to sign in, unless you're using Facebook for logon. There are of course a bunch of other to-do apps out there, but are you willing to give up on something you've been using and just switch to a new one? Or create another account through Facebook to make it work?
Also note that while MoreApps does cover a lot of the most popular apps out there, it doesn't return results for every single app you may have had on your previous phone. It's all a work in progress, really.
Google apps status
Given what we explained above, you might expect that none of Google's apps works on the P40 Pro at all, but you'd be wrong. Maps and Chrome work, but you can't sign in, which takes away a lot of their unique selling points. And while there are a ton of alternative browsers out there, using one means you have to give up on Chrome account syncing to your desktop or laptop. Of course you can mitigate this by, say, using Opera or Firefox on both your phone and your computer (since they have sync services of their own), but you probably weren't expecting your choice of smartphone to impact which browser you use on your other devices, were you?
Google Maps unfortunately has no competition at the moment. And we don't mean for navigation or just mapping, sure you can use Here WeGo for that, or Maps.me, etc. But Google Maps hasn't been just a maps app for a long time, and it's grown into the world's biggest database of places - with pictures, information, reviews, recommendations, and all that. You can use that on the P40 Pro, but since you can't sign in those recommendations won't be personalized, you can't add places to lists, and so on. Of course, if you have always simply ignored this expanded functionality in Maps and just used it for getting to point B from point A, you'll be fine. Waze works but seems to randomly forget your points once you log in, by the way.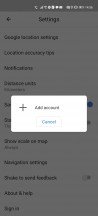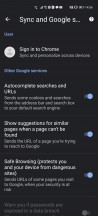 Can't sign in to Maps or Chrome
While the Gmail app doesn't work, you can add your Gmail account to the built-in Email app, or use any number of third-party email clients. There are three possible downsides here: first, these apps look and may behave differently than what you're used to from Gmail, second they might handle conversation mode awkwardly, and third they will only sync every 15 minutes and not instantly, because they're using IMAP since they don't have access to Google's proprietary instant sync.
For most of the other Google apps you can use their mobile websites, although on Drive for example that doesn't let you upload anything. To alleviate the lack of the Google Docs suite, you get Microsoft Office, which handles the same types of files.
Using Google Photos through a mobile website kind of negates its main claim to fame, which is the seamless photo backup with unlimited cloud storage. Huawei has an alternative for that (see the EMUI 10.1 section of this review), but switching from another phone with Google Photos support to this one means you'll now have your stuff in two different 'clouds'. That can get messy.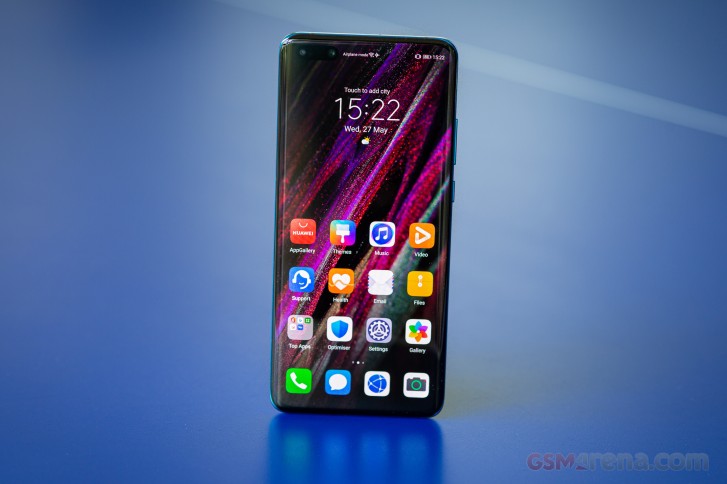 Google Play Music is a complete no go, although Google will soon kill it to make YouTube Music its streaming service of record. For what it's worth, YouTube Music doesn't work either, so hopefully you're into Spotify, Deezer, or Tidal (which all do work).
YouTube itself doesn't work as an app, but the mobile website is obviously available, and provides what is probably the closest user experience to an app that we've seen. If you really need an app, there are alternatives you can use, like NewPipe, but you lose the Home feed with its recommendations. That might be a huge plus or a big minus, depending on your thoughts about YouTube's recommendation algorithm.
Other app issues
There are, weirdly enough, also apps that work on the P40 Pro, but keep telling you they won't. Like, every single time you start them or go into them, you'll get a message saying the app needs Google services to function, which your phone doesn't have. That sounds scary, but after you tap OK in that message, the app works fine. We've had this happen with a bunch of local apps, as well as Opera Touch. On the Opera Touch note, that's even weirder because there is no such behavior on the main Opera browser app, although that one doesn't seem to support smooth 90Hz scrolling, while Opera Touch does, but requires seeing that annoying message every single time when you tap a link in another app and that opens it up.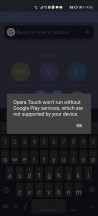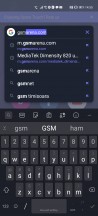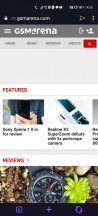 Despite the warning, the app works
There are, as you could undoubtedly tell, quite a few complications involved with using the P40 Pro when it comes to apps. We can't rule out the fact that you might get lucky, especially if you don't have 200+ apps installed like this reviewer, and have all of the apps that are important to you simply work. But you might not be so lucky, and even if something is working now, who knows what will happen in the future. There's the additional issue of not having a lot of paid apps to choose from between the AppGallery and Amazon Appstore, and of losing all the purchases you had made in the Play Store. In that regard, switching to the P40 Pro is basically like going from Android to an iPhone.
Here's something you may not have thought about: do you sync your current phone's contacts to Google? Well, if so, you will not get those transferred over to the P40 Pro, thus having to resort to one of many manual contact transfer apps. And once you do get your contacts to the P40 Pro, there's obviously no more syncing changes to the Google account as before. This may not be an issue for you, unless you have two phones (one of which is an Android with GMS), or will switch back to an Android device with GMS at some point in the future, when merging the changes you've made on the P40 Pro with the entries that sat unused in your Google account will definitely be an interesting challenge.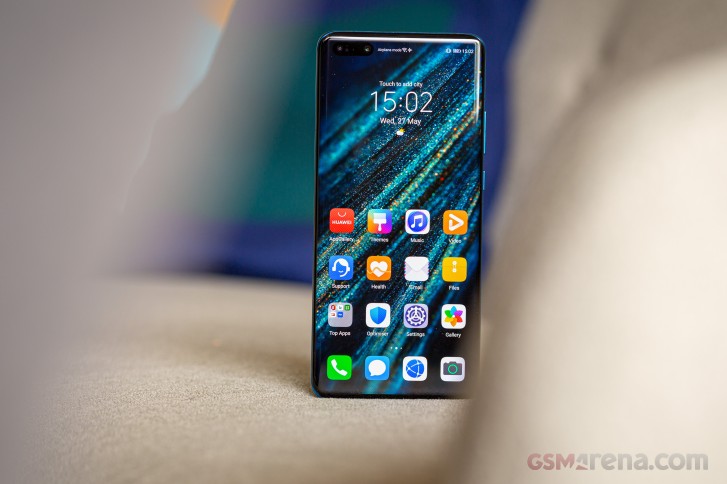 This is probably a small issue for most people, but we're describing it because it speaks to a general situation - a lot of things that we just take for granted on a GMS Android phone are simply harder to address on the P40 Pro. Most issues aren't actually impossible to work around, but the fact that there are workarounds involved means your life will be more complicated, at least initially, until you get the hang of things. It took us a few days, and we handle phones all the time. That initial period was frustrating, we won't lie, because it felt like we needed to work hard to achieve things that on any GMS Android phone would simply just work.
You should also be OK with missing out on a lot of Google apps, or using the ones that do work without signing in, or picking mobile websites over apps. Now if all you've ever wanted was a good Android smartphone devoid of any Google services with their incessant tracking and all that, then you'll probably be in heaven.
We should note that Huawei keeps pushing app developers to join its platform, and use its replacement for GMS, which is imaginatively called HMS ("H" for Huawei), but at the moment there are less than 100K apps with HMS, way less. So this is one tough, long road ahead, and we don't think that you should make your purchasing decision based on what could be in the future.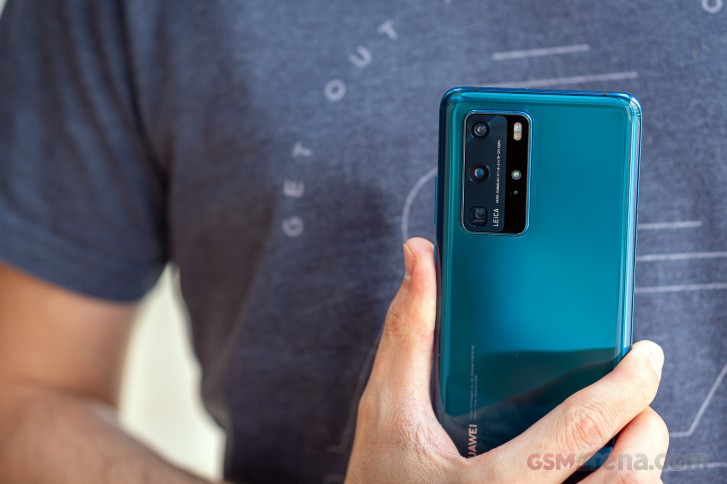 Sure, a year from now, in the best rosiest case scenario, the AppGallery would have all the apps in the Play Store, with HMS support, and so on. But that's not very likely at the speed things have been going so far, so if you're eyeing the P40 Pro we wouldn't recommend buying it based on theoretical possibilities.
Instead, make sure you're okay with the software situation as it is right now. And perhaps buy the phone from a store with a good returns policy (in some countries this is only attainable if you purchase online), so that if you find that it's all too complex for you, you can rest assured that you haven't spent a lot of money in vain.
Pro tip: it's easy to install Huawei's AppGallery, Amazon Appstore, as well as APKPure on your current Android device, so if you're wondering what the exact app situation will be for you if you buy a P40 Pro, we think it might be a good idea to grab those three and see for yourself what's what: what apps you can get, and which you'll have to live without (especially of the paid ones). Just remember that being able to install an app doesn't necessarily mean it will work (see our notes above about Google apps and Uber).
EMUI 10.1
The P40 Pro runs the latest version of Huawei's Android skin turned OS, EMUI 10.1. It's based on the open source Android 10. EMUI used to be one of the more egregious skins out there, but with version 10, and 10.1 which isn't very different design-wise, we feel like it's one of the most polished interpretations of the OS.
The design language is a love it or hate it affair, but it is consistent throughout the UI, and there aren't any needless flourishes. Animations are neat and moving through the UI is a breeze, although there are still a few weird touches here and there, which we'll get to.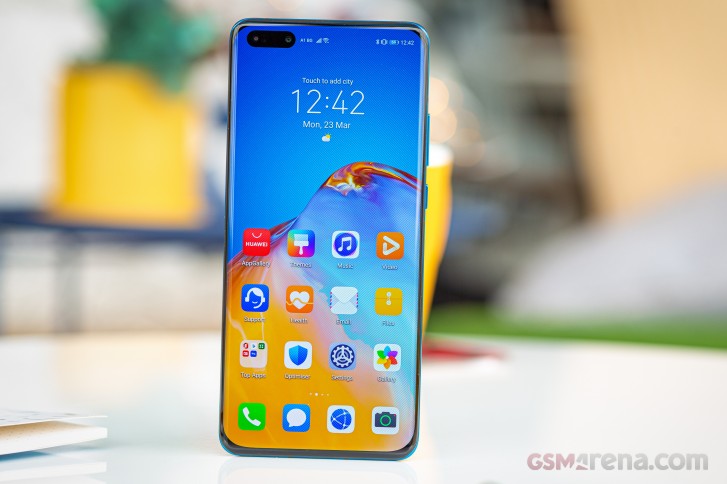 The launcher that comes out of the box does support an app drawer, and it's also reasonably customizable.The entirety of EMUI 10.1 is like that, actually. It won't win any awards for offering you the most options ever, but it does have a fair amount, and ignores a whole bunch of gimmicks in the process. We're happy to see the alphabet to the right of the app list in the drawer, letting us quickly jump to all the apps that start with a specific letter with just one tap.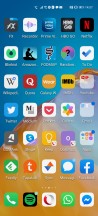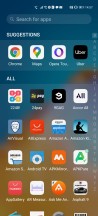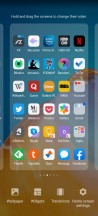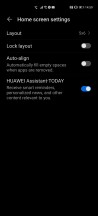 Home screen, app drawer, home screen setting
To the left of your leftmost home screen is a feed that seems like it wants to emulate Google's, and it does a decent job at showing you news as well as giving you quick access to some functions. You can add widgets of sorts here, which show your favorite pictures, contacts, or let you add a note or play music. This feels less useless than OnePlus' Shelf and MIUI's AppVault, so we left it on, although we have to confess not using it a lot throughout our time with the P40 Pro.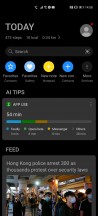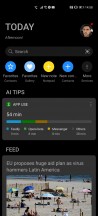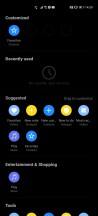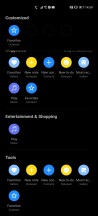 The Today screen with its news Feed and settings
One annoying thing about the built-in launcher is that there's no way to set a swipe down from anywhere on the screen to show the notification pane. This is now a staple of most custom Android skins out there, but for some reason Huawei chose not to include it. Instead, that gesture will always take you to a screen that lets you search through your phone - iPhone style. We would have at least preferred a choice between these two features, like some other skins offer.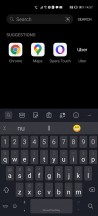 Search comes up when swiping down
The dark mode is in, but it doesn't get forced onto apps without one of their own. So if you want dark Facebook on the P40 Pro, you'll have to wait for the social network to finally discover the concept of a dark theme, or for Huawei to enable forcing it through a future EMUI update.
The dark mode gives you a black background in a lot of places (especially Settings), and a very dark grey background for notifications and Quick Settings. Overall it's very pleasant to look at, and should help save some power given how the P40 Pro has an OLED screen.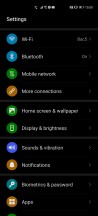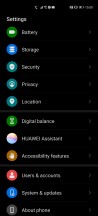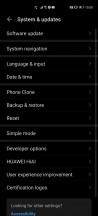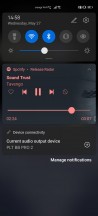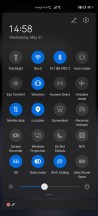 Settings, notifications, Quick Settings
Gesture navigation has finally grown up on Android, and the P40 Pro's implementation is very good, albeit hidden in Settings > System and updates > System navigation. You can still opt for three-button navigation, but we've long given that up in favor of gestures. You can make it so that a swipe across the bottom of the screen switches between apps, and even when this is turned on there is no unsightly pill-shaped bar at the bottom as Google would want. From this point of view maybe it's better that Huawei and Google are going their separate ways?
Anyway, aside from that, there is no dedicated gesture to take you to the previously used app, except there's no need for one, really, as when you swipe up and hold to reveal the app switcher, what will be in focus is actually the previous app you were using, and not the current one. This is an easy solution to solve the conundrum of quickly switching between two apps, and with the swiping across the bottom you get a bit more flexibility than you may have anticipated.
The Recents menu is horizontally scrolling and looks like pretty much every other multitasking menu that isn't in MIUI. It works well, there's really not much to report here.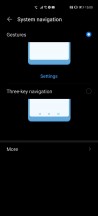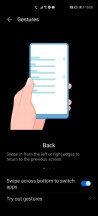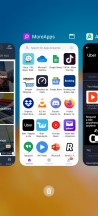 Navigation settings and Recents menu
Because there's no Google anything on this phone, there's also no Google Assistant, or any assistant, for that matter. Huawei is working on its own, called Celia, and this is already available in some regions, but not ours.
The Huawei Assistant section in Settings is, for now, just a repository of AI buzzword-infused vaguely assistant-y types of things available on the phone, like AI Lens (think Google Lens but with calorie counting), AI Touch (which tells you what something in an image on your device is), AI Tips, and AI Search - which is just the local search function that you can access with a swipe down in the launcher.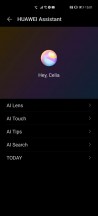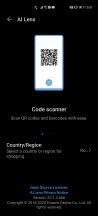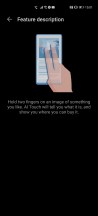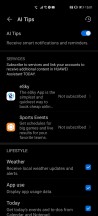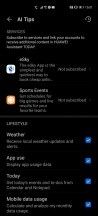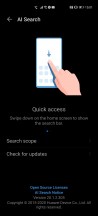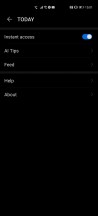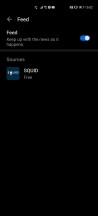 Huawei Assistant menu
One of the things that used to be unique about EMUI (although it's now been copied by a lot of its competitors) is Magazine unlock, and yes it's still there. This shows you an assortment of random images on your lock screen. You can pick categories and scroll through them with horizontal swipes before you unlock your device.
Huawei has had an alternative to Google's Digital Wellbeing for quite a while now - it's called Digital balance, and serves the same purpose of giving you stats on how you've been using your phone, as well as allowing you to set usage limits.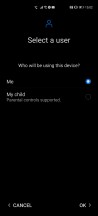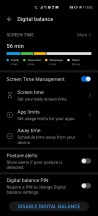 Digital balance
RAM management is okay on EMUI 10.1, we haven't had any obvious issues with it reloading apps when it shouldn't, but notifications still don't get through from all apps as easily as they should. This comes down to the aggressive background task management, which works with a whitelist. So you won't have issues with receiving notifications from any of the big messaging apps, for example, but you may run into some snags with others. We have tried everything and couldn't get Skype Preview (the beta version of the app) to show us notifications. At all. Ever. That may, however, be an issue with the app, since it is the beta.
Otherwise, we got our smartwatch working with the P40 Pro after jumping through the usual (for some skins, EMUI included) hoops. That means turning off the automatic management of app launches and turning on Auto-launch, Secondary launch, and Run in background. These options are found in Settings > Apps > Apps > Your app's name here > Power usage details > App launch. You can also turn off the Power consumption alert if you feel like it's overreacting to apps that should, by design, run at all times.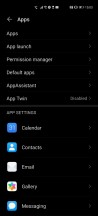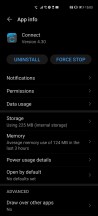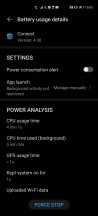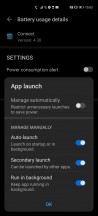 Hoops to jump through for apps that need to autorun
Huawei cloud and apps
We don't usually talk a lot about a phone maker's built-in apps in our long-term reviews, unless one of them really stands out in some way, and that's because we mostly view these as unnecessary duplicates of Google's apps. And yet, since the P40 Pro doesn't have any Google apps, we felt it would be helpful to mention that Huawei has been trying to come up with usable alternatives.
Using these of course means you get sort of dependent on Huawei's own ecosystem, which may not bode well for you if you'll ever move to an Android phone made by another company (or an iPhone). But in this case the manufacturer's own cloud storage and backup solution does make a lot more sense to have than on a phone that can also access Google's.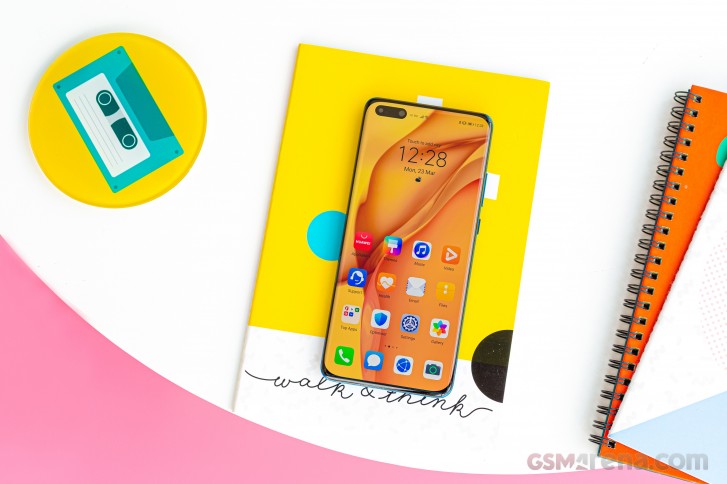 Huawei's sync solution, tied to your Huawei account, gives you 5GB of free space in the cloud to back up a bunch of stuff for you but only as long as Huawei's own apps are involved.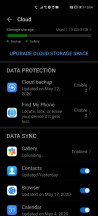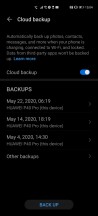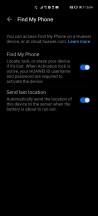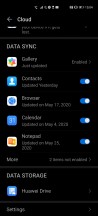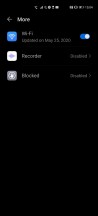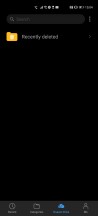 Huawei Cloud and its features
That said, 5GB isn't a whole lot, but there are a lot of things that can get backed up, which means jumping to another Huawei phone in the future will be quite seamless. That said, restoring apps will most likely only work with apps that are available in AppGallery, so for those which you found elsewhere Phone Clone should help, and for those that it refuses to transfer over you'll need to once again manually install as described on the previous page.
Huawei also bakes in Find My Phone functionality of its own, which is definitely good to have. If you need more than 5GB of storage in its cloud, then you can upgrade to 50GB, 200GB, or 2TB, for a monthly fee. At the moment there's a promo in our region that gives you 50GB for free for one year, but you need to sign up for a yearly subscription, and after the first year ends you'll pay the full amount for the next year. You can cancel anytime, though. We're not mentioning prices of these tiers because they are region dependent. They should be competitive compared to what Google charges. You can also use this space to store random files, just like with Google Drive. In fact, Huawei's is called Huawei Drive, just to make things easier to understand.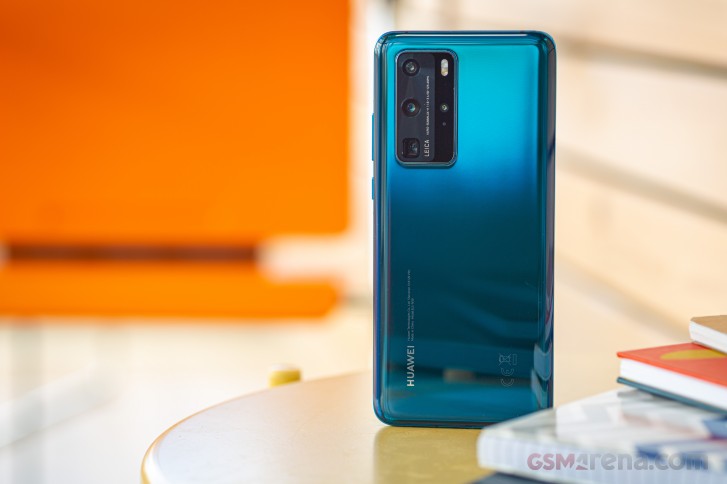 The built-in apps themselves are all good, but you are, in some cases, limited by the lack of interconnection with... yes, Google. The built-in Calendar app, for example, will take an Exchange corporate account with no issues, but there's no way for it to plug into Google Calendar. The Notepad app is quite barebones compared to Google Keep. And so on. It's not like the phone ships without any of the basic apps, Huawei has all of those covered, and they work well even if they can be a little barebones at times. But hey, at least we don't get to complain about duplicate apps in this review.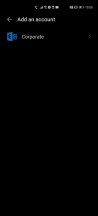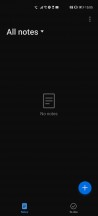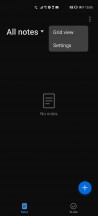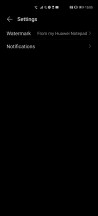 Calendar only has Exchange sync, Notepad is barebones
Updates
The P40 Pro launched running EMUI 10.1 on top of open source Android 10, and those are still the current versions for both. So we can't really tell how the update situation will go. Presumably Huawei will be able to create EMUI 11 based on the open source branch of Android 11, although because it's stopped working with Google that probably means it lost early access to the future build.
This is likely to mean that Huawei will have to wait until Google releases the Android 11 update to its phones, and then posts the source code for that version, before it can start working on its own EMUI 11 update. This could result in a few months' wait for that to reach your P40 Pro, compared to when Pixels will be getting Android 11. However, it's always been "a few months wait" anyway, even when Huawei and Google were working together, so it's hard to foretell anything specific. Perhaps there will be more months of waiting this time around, or maybe Huawei will want to disprove this theory and have people working overtime to deliver a very quick update. We just can't know at the moment.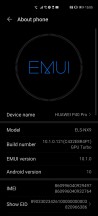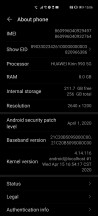 Current software
When it comes to security updates, the situation definitely could be worse, but it's not great either. Our review unit is still on the April 2020 security patch level, which is just one month old at this point, so nothing too bad. If you don't expect these updates to arrive perfectly in sync with Google's, you'll probably be fine.
Performance, smoothness
The Kirin 990 5G in the P40 Pro is Huawei subsidiary HiSilicon's current flagship chipset, and in day to day use, you can tell. It might not benchmark as high as some competitors, but that has absolutely no impact on how well the P40 Pro performs in actual real life situations. And that's one more reason why it's not the greatest idea to just take synthetic benchmark results as gospel. Sure, they can give you an idea of how one phone compares to another, but living with any high-end phone from 2020 (or even late 2019) shouldn't result in a lesser experience, unless there are some huge issues with optimizations.
We're happy to report that not only does the P40 Pro not have any such issues, but it's actually quite the opposite. Performance is outstanding, the phone is incredibly fast no matter what you throw at it. That's the way it should be, for the asking price, of course, we're just mentioning that there are no kinks here whatsoever.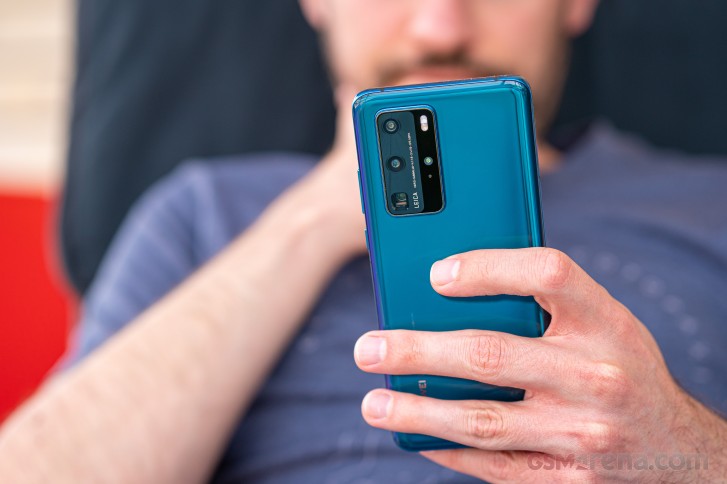 The P40 Pro is the smoothest smartphone we've ever tested for our long-term review series. This is a subjective assessment as always, because there's no accurate objective way of going about this, but we were definitely impressed. The top of the line chipset works amazingly well in concert with the 90Hz refresh rate of the display to keep things silky smooth all the time. We've had zero stutters, zero lags, zero slowdowns.
In this regard the P40 Pro is a clear step up from some of last year's flagships, including its predecessor, the P30 Pro. While that phone was very smooth when we tested it, the P40 Pro is even more so. It will be a joy to use, day in and day out, that's for sure.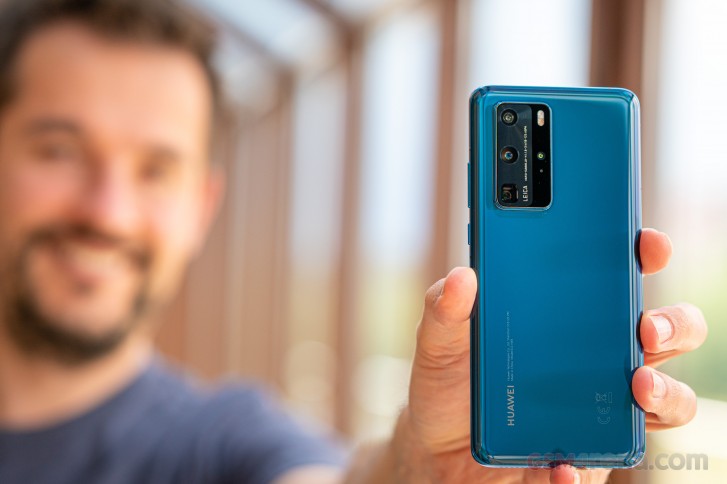 The software seems to be incredibly well optimized too, with the system apps as well as all the built-in apps performing admirably and using the higher refresh rate as they should. That's not always the case for third-party apps, but there's nothing Huawei can do about that, it's down to the developers to smoothen things out on their end.
Call us crazy but we feel like the lack of Google services, especially Google sync services, might actually contribute to this feeling of overall unmitigated smoothness. Perhaps there was some cruft in there that the removal of those services has simply taken care of, or maybe Huawei has been focusing a lot on optimizing its now Google-free software to take advantage of its in-house designed SoC. It is after all the only Android device maker in this position, where it uses its own chipsets and its own software, with the base layer of open source Android, sure, but without another company's services on top of that. Whatever the reason for this level of performance might be, our time with the P40 Pro was excellent from a smoothness perspective.
Battery life
The P40 Pro's 4,200 mAh battery is large, but a lot of its competitors do pack even larger cells. Add in the 5G connectivity which might drain more battery than 4G, and we weren't quite sure what to expect, in terms of battery life, going into this review.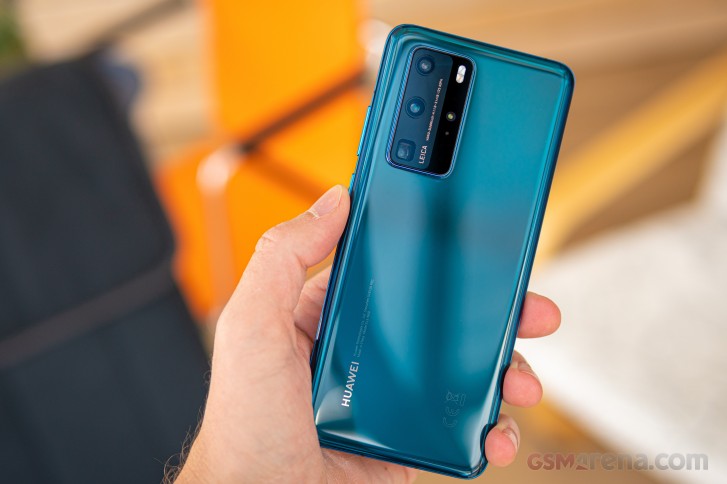 We're happy to report that battery life on the P40 Pro has been very good. The phone always lasted us through an entire day of our usual shenanigans, with the use case involving primarily Wi-Fi connectivity with 30 minutes to an hour of mobile data (on 5G this time), Bluetooth always on with an hour or two of music streaming, location on (with Bluetooth and Wi-Fi scanning on as well), and an hour or two of phone calls. We always got 6+ hours of screen on time with this use, and we even tried to go entire days with Wi-Fi off, connected only to 5G. That will, unsurprisingly, lower the screen on time, but only to about five hours, which we still find perfectly adequate.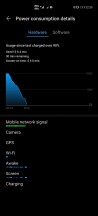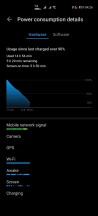 Screen on time on 5G and Wi-Fi
So while the P40 Pro wasn't a phone that lasted significantly more than a day for us, we feel like that's the most important threshold - if a device makes it to the end of a 12-16 hour day off the charger, we're satisfied. If your usage is more extreme than ours, perhaps involving a lot of GPS navigation (which we haven't been able to test a lot because of the COVID-19 lockdown situation), then the phone's fast wired and wireless charging speeds will aid in getting a quick top-up every now and then when you feel anxious about making it to the end of the day.
We appreciate the flexibility of having both wired and wireless charging built-in, and they're both incredibly fast, while not record-breaking. That's kind of the theme here - battery life is great, but not the best we've ever seen, and the same goes for charging speeds. A full top-up from zero using the bundled charger takes less than an hour, every single time. Unfortunately, we didn't have Huawei's 27W wireless charger around to test those speeds, but we did try using a Xiaomi 30W wireless charger, and it doesn't seem to work as fast as it should. Meaning - if you want wireless charging that goes over and above the traditional 15W Qi standard, you might be best served by using a charger supplied by the same company that made your phone.
Connectivity
The P40 Pro supports 5G networks, and we haven't had any issues connecting to 5G and using the higher speeds and lower latencies the technology can offer. There's even support for both NSA (non-standalone, dependent on LTE) as well as SA (standalone) 5G networks baked in. Right now most carriers across the world use NSA 5G, but SA is coming, and when that happens, you'll be covered too.
The P40 Pro even has experimental support for VoNR, which is the 5G equivalent of VoLTE, although it might take a long time before carriers launch that functionality. Still, it's there for when it will happen.
5G performance has been adequate, and Bluetooth is also on point. Unlike what happens with some other Android smartphones, we've had zero issues regarding Bluetooth at all. Pairing devices, connecting to them, auto-reconnects, everything worked flawlessly every single time. However, note that there's no aptX support of any kind.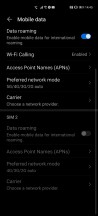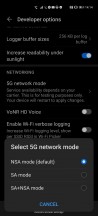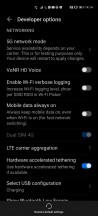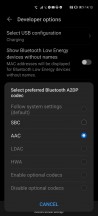 5G, NSA/SA support, VoNR, Bluetooth codecs
AptX is a Qualcomm technology, which may have something to do with why it's missing. You do, on the other hand, get AAC and LDAC codecs aside from the default SBC. Wi-Fi speeds on our Wi-Fi 5 (802.11ac) network have been among the highest we've ever seen, and there were never any random disconnects or any problems there.
Camera
Camera-wise, the P40 Pro improves on the already very good formula of its predecessor, the P30 Pro from last year. There's a larger and higher-res main shooter on the back, with even larger pixels, OIS and the added benefit of omnidirectional phase detection autofocus, aided by a larger and higher-res ultrawide, and a higher-res periscope zoom camera, that is still capable of 5x optical magnification.
The trend is clear, then - make everything bigger. That's usually better in camera optics, but the main snapper does have a darker aperture than last year, while the ultrawide is a tiny bit less ultra. The specs of the selfie snapper seem to be identical between generations, and the unsightly pill-shaped cutout in the screen also houses the tech required for secure face unlocking but misses out on a wider-angle selfie-taker that some people seem to like a lot.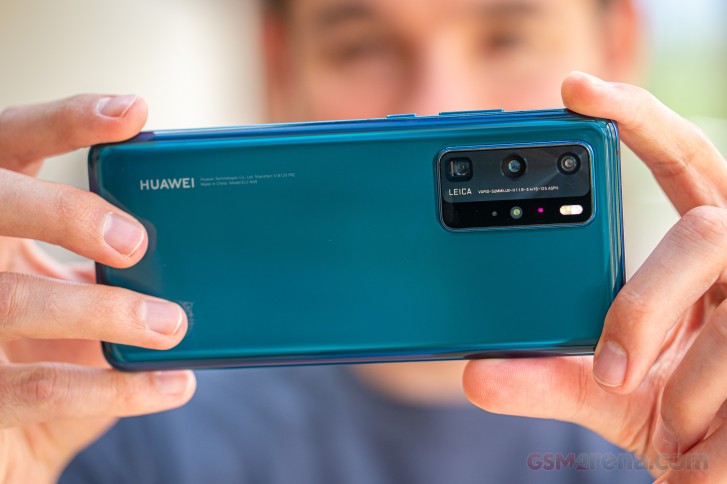 The camera app is a breeze to use, and it's quite similar to every other camera app out there, really, so we don't feel the need to go into a lot of detail here. Everything is arranged the way you expect it to be, although the zoom slider moves around when in landscape, to the bottom side, which means that for all intents and purposes you're going to need two hands to operate it, using your left hand to control zoom.
The shortcut to quickly open up the camera app even when the phone is locked is double tapping on the volume down button, which works well every time, we just wish manufacturers would settle on one specific button for this, like they did with their camera apps' UI. Right now it's either the power button or the volume down button, with the former being a tad more prevalent in terms of options to quickly jump into the camera and snap a quick pic.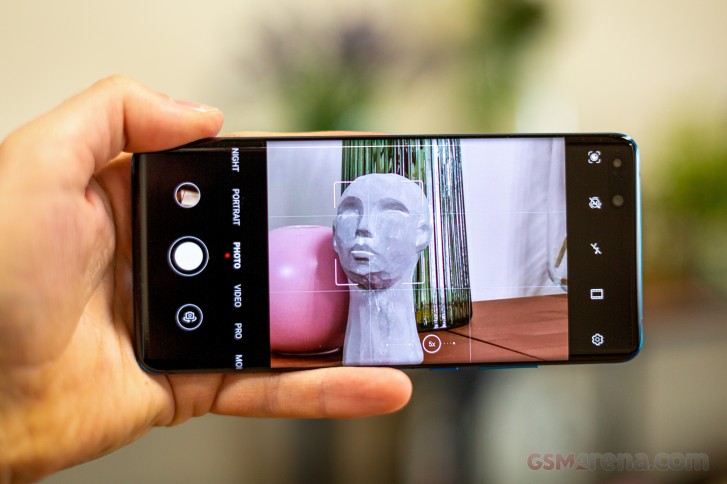 Speaking of, let's get right into samples. As usual note that we've shot everything on Auto settings, because that's how we feel most people would use a phone. There's a Pro mode if you want it, of course, and you can shoot in "high-res" mode too but the main sensor is meant to be used in the default Auto way of doing things, allowing it to bin four pixels into one and present a 12.5 MP image out of the 50 MP it has to work with. Going high-res means you will lose a lot of detail because multi-stacking is a no go in this mode.
We turned the Master AI off, because it has the tendency to create incredibly unrealistic renditions of whatever you may be shooting. This is especially bad for skies or greenery. Here are a couple of comparison shots from both the main camera and the ultrawide, with Master AI on and off. We hope you can see what led us to the decision to turn it off after this short experiment.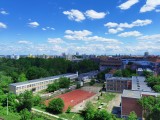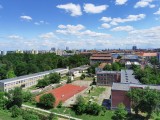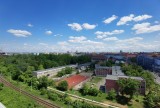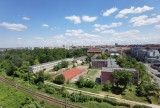 Master AI on/off
It's not like the P40 Pro's image processing doesn't make colors pop even with Master AI off. It does, and sometimes we felt that it went overboard even so. Then again, we were comparing the result on the screen to what our eyes were seeing of the scene that was just captured. If you weren't there, so to speak, you'd probably think the output is pleasant looking. Which it is, but there's a lot of sharpening going on all the time. Sure, the sharp look will go over very well on social media sites, but it does lose the P40 Pro points for sheer accuracy of capture compared to the real, unsharpened world.
All this said, photos from the main camera come out very good during the day. There is a ton of detail, the dynamic range is good, and noise levels are very low. Colors on the whole do skew towards warm, though, aside from greenery and sky blues which while not overly warm, do seem to be overly 'pumped'. Maybe that's what people want?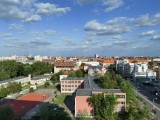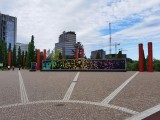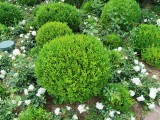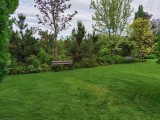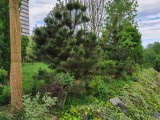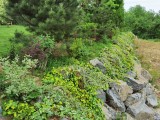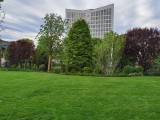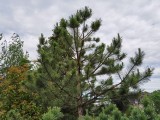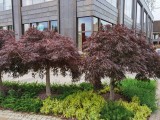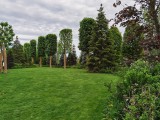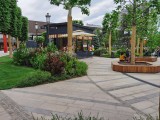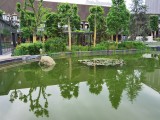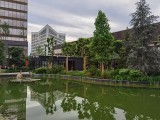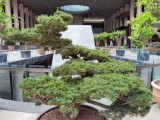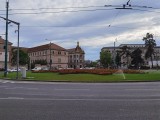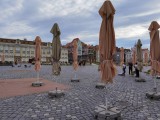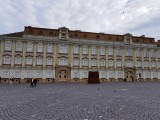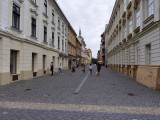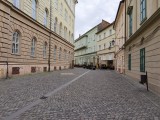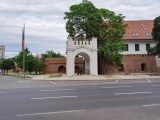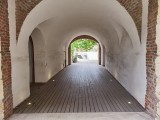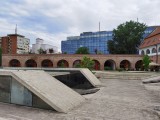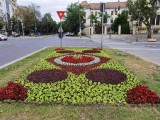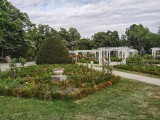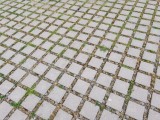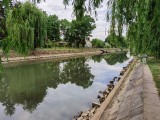 Daytime samples from the main camera
The ultrawide camera isn't as ultrawide as others, coming in at 18mm, but it still widens the field of view somewhat, compared to the main shooter. It is a very good shooter, though, in terms of quality, easily one of the best ultrawides we've ever handled. In daylight, it produces shots with great dynamic range, good detail levels, and accurate-ish colors. Oversharpening is present, but that seems to be the theme of this phone's image processing so far.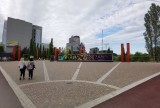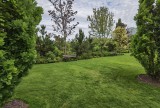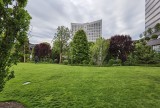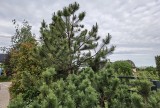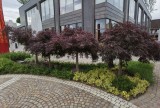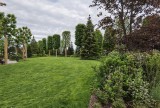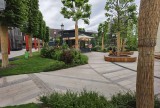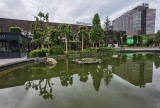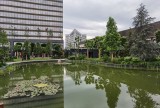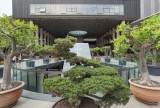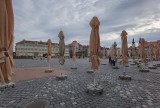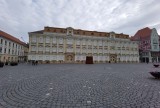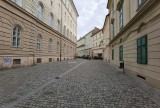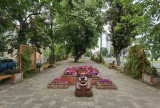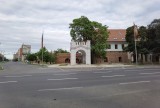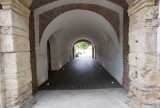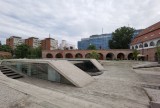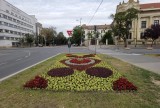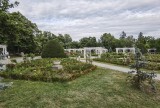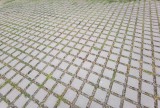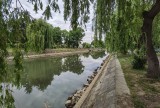 Daytime samples from the ultrawide camera
The zoom camera has 5x optical magnification, and if you shoot in this way you will get excellent pictures during daytime too, with very good detail levels and dynamic range, practically no noise, and sharpness that is slightly toned down compared to the other two cameras, but still visible. Colors are a bit on the warm side too.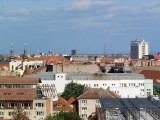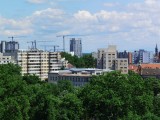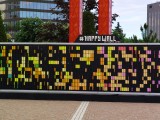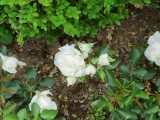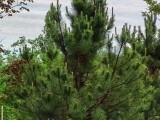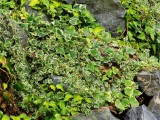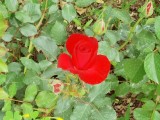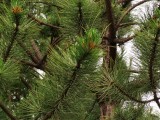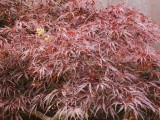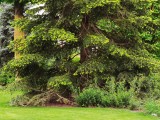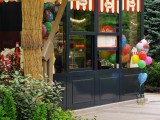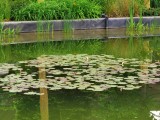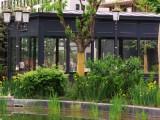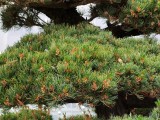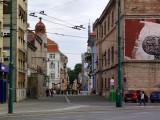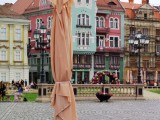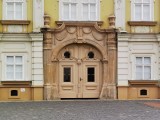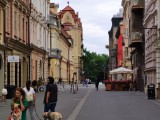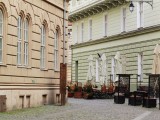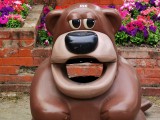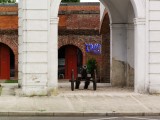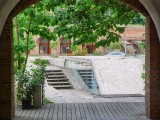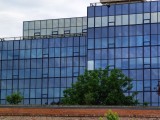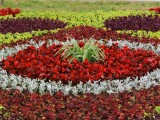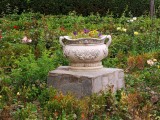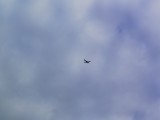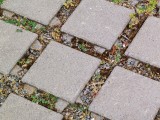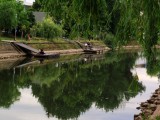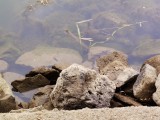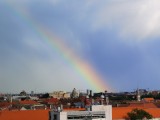 Daytime samples with 5x zoom
Hybrid zoom will take you all the way up to 50x, although if you go there, you'll get pictures that, for the most part, are just barely usable. We took a few samples just to show you that this extreme zoom level is probably best avoided most of the time.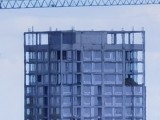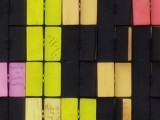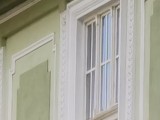 50x zoom samples
On the other hand, going to 'just' 10x does produce much better results, although obviously not even close to on par with the 5x ones that only use optical zoom. The 10x shots definitely look better on the phone's screen than when you view them on anything bigger, and while they are all usable, they're not impressive really.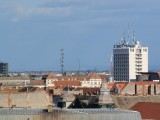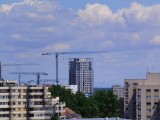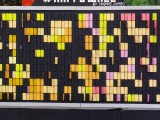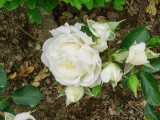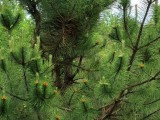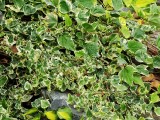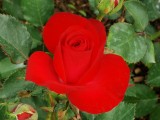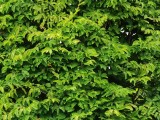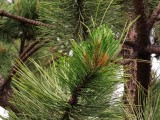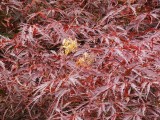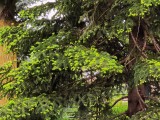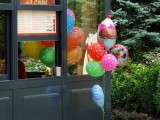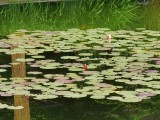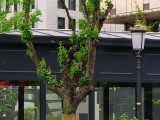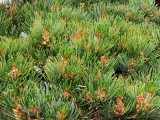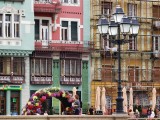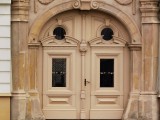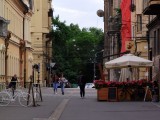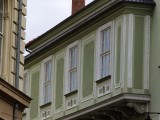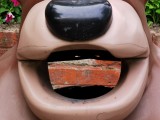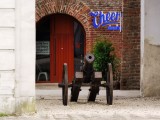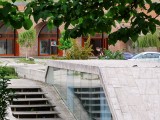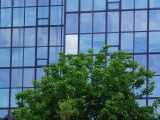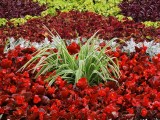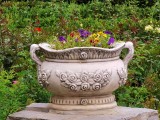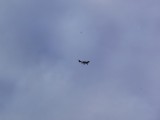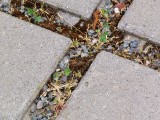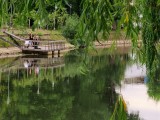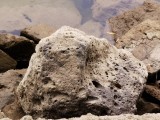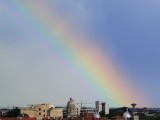 Daytime samples with 10x zoom
Since the ultrawide camera has autofocus, you can use it to snap macro shots, and we couldn't help trying this out. The results are quite good as you can see, and the colors are accurate.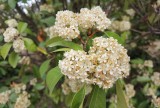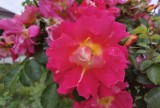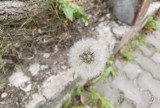 Macro samples
Low-light photos
Moving on to night time shots, the main camera produces images that are so good in its Auto mode, that we're wondering whether Night Mode even serves a purpose anymore. Okay, so that's a bit of an exaggeration, but seriously - the Auto mode images from the main sensor at night are simply stunning for a smartphone camera. They do take a bit to capture, though, because while Huawei doesn't outright say it, there seems to be some sort of long exposure going on here even if it's not as long as in Night Mode. Anyway, for a few seconds of stillness you get great detail levels, a good exposure overall, nice colors, low noise, and once again the tiniest hint of oversharpening.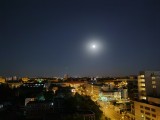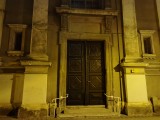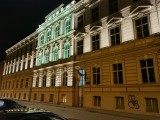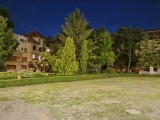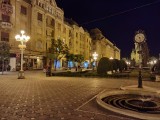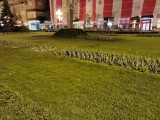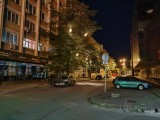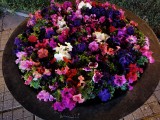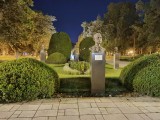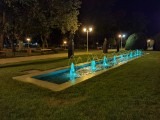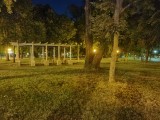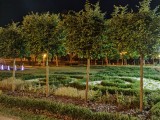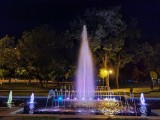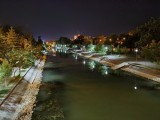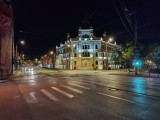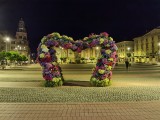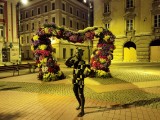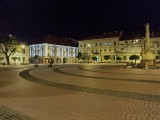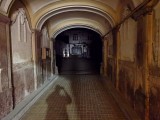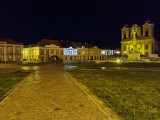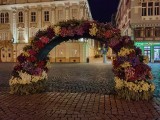 Nighttime samples from the main camera
If you do go with Night Mode, capture will take a few seconds longer, and this will result in some more detail being revealed in the shadows, although there isn't a lot going on with highlight restoration. The benefits versus the normal Auto mode are there, but not huge, so you won't be missing a lot by not going with this dedicated shooting mode at night, aside from situations with extremely dark shadows. That's not a knock on Night Mode itself, it's just a testament of how good the Auto mode is at night.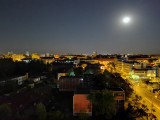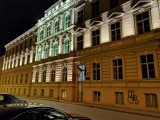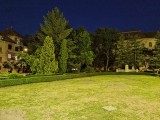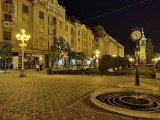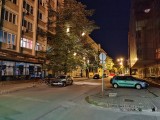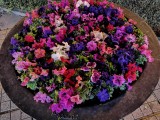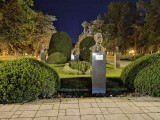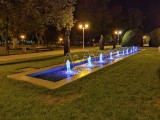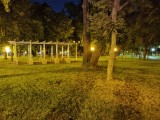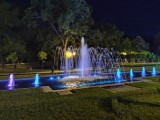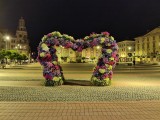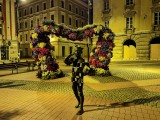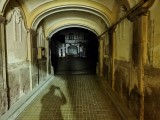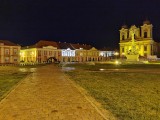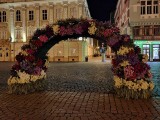 Night Mode samples from the main camera
The night time pictures coming out of the ultrawide camera are good, while not on par with the main one. They're usually sharp, detailed, and with decent amounts of noise, yet sometimes they just have a dull look to them. This ultrawide is better than most at night time photography, but unless you really need to fit more in your frame, we wouldn't recommend using it a lot.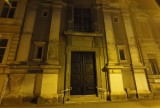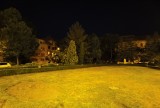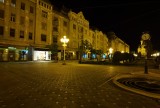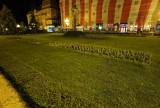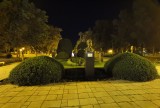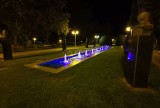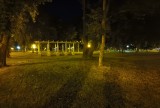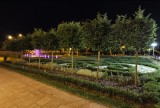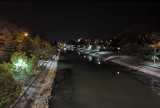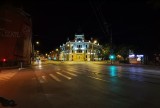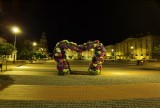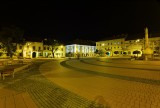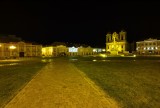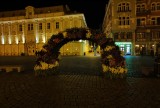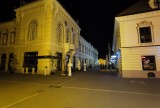 Nighttime samples from the ultrawide camera
Night Mode on the ultrawide is an entirely different story, though. It requires waiting for 7-8 seconds for each capture, and holding very steady while you're at it because this camera has no OIS. The resulting images aren't very detailed and if you can't keep steady enough they will understandably become soft to the point of blurriness, and so this Night Mode isn't very worth using, but for an entirely different reason.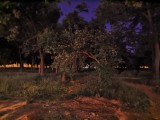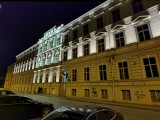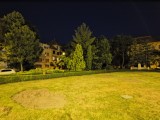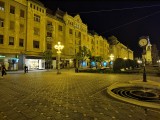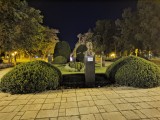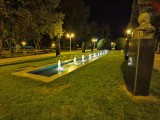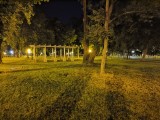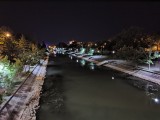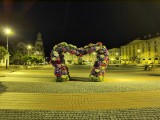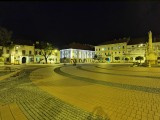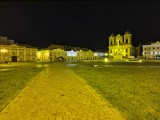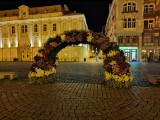 Night Mode samples from the ultrawide camera
If you go with the 5x setting on the zoom slider in low light, you should know that the phone will automagically decide whether to use the dedicated zoom shooter or simply crop from the main sensor - the latter happens if it's decided it's too dark. There's a reason for that, which is that when the dedicated 5x camera is used, the shots are all underexposed, although some end up being usable, with decent levels of detail towards the center. Color rendition isn't great, and edge sharpness is way off in a lot of the shots. In our samples below you can figure out which sensor was used based on whether details are splotchy or not.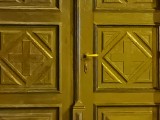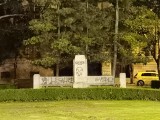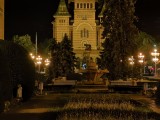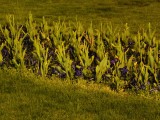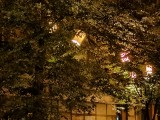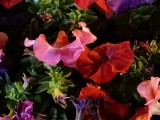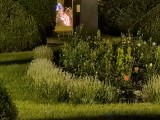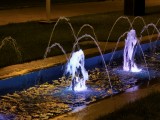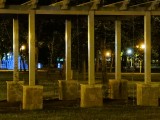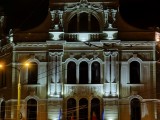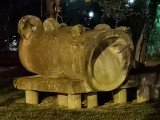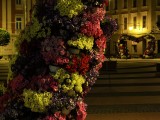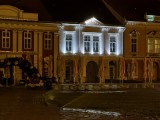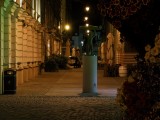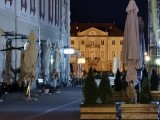 Nighttime samples with 5x zoom
The colors do get fixed by Night Mode, although it takes around 8 seconds to do its thing. It also improves detail levels and brightens up the scenes, so for zoomed shots it might actually turn out that Night Mode is preferable to Auto. That said, this snapper is best used when there's still some lighting around, going very dark will yield bad results.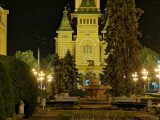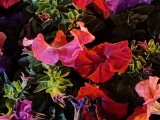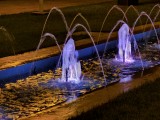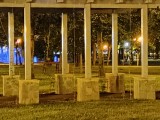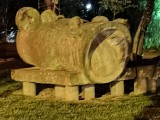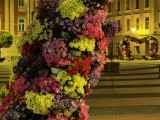 Night Mode samples with 5x zoom
Selfies
Selfies come out rather detailed, with good contrast, dynamic range, and colors, in broad daylight. For Portrait Mode shots, the ToF camera next to the selfie snapper should help with separation, except there seems to either be a bug with Portrait Mode during the daytime that makes it not work, or it's the subtlest Portrait Mode we've ever come across. See for yourself below, each pair of shots is supposed to be with Portrait Mode off then on.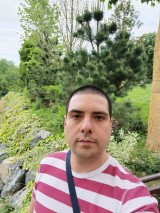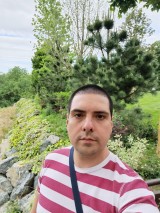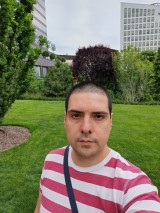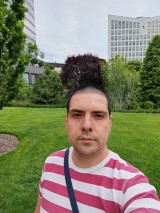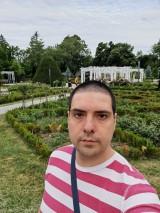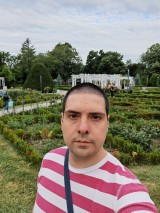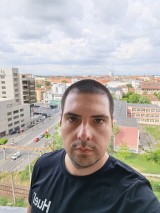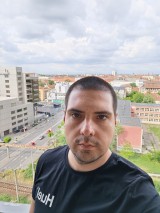 Selfie samples
At night, things get duller, unsurprisingly, but thanks to the automatic use of the screen as a fill light of sorts, you can still get shots that light up your face decently. There's also Night Mode for selfies, here' a quick comparison between that, Auto mode, and Portrait Mode.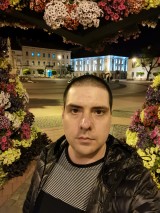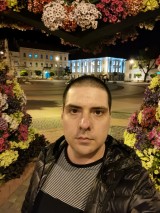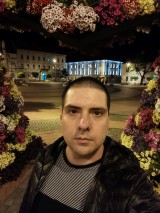 Night selfies: Auto, Portrait, Night Mode
Overall, the P40 Pro has one of the best camera setups of any smartphone ever. It also provides a lot of flexibility in use, with regard to framing. One of the best main shooters is aided by one of the best ultrawides we've ever seen on a phone, as well as a refined periscope zoom camera that is also outstanding. On the other side, selfies come out great too, and portrait mode effects are helped by the ToF sensor, that also aids with face unlock. It's a package that seems pretty complete by our standards.
Conclusion
The P40 Pro is a unique device in the Android world, because while it goes head-to-head in pricing with the premium competitors from other Android makers as well as Apple, it does lack something we've all grown accustomed to, and, dare we say it, take for granted on any Android phone: yes, we're talking about Google services.
That omission, that has happened by no fault of Huawei's as it's just a victim in a political war, is glaring, there are no two ways about this. The handicap this entails isn't unsurmountable, at least for most things, especially if you can be flexible about using mobile websites for some services, and don't necessarily care about the superior user experience packed into most of Google's apps.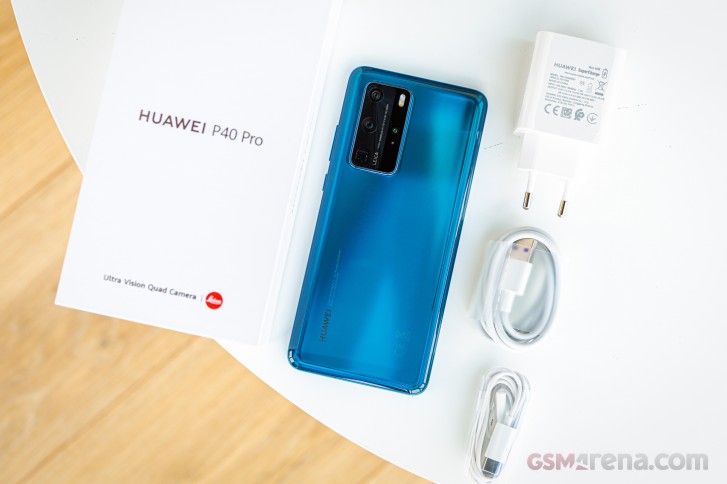 But here's the thing. Even if we may not realize it consciously, more often than not we are used to paying for (added) convenience. And the P40 Pro's software situation definitely removes some convenience from one's life, while not actually giving something back in return - like, for example, a lower price compared to its primary competitors. Had that been the case, then we would've argued that for a lot of people it might be worth it to pay less to get ultra premium features, with the flip side being living with a tad more inconvenience on the software side.
Except the P40 Pro is unashamedly expensive, retailing for €999 even today, which serves it well. It definitely is a top notch smartphone, and has a lot of things going for it. Performance is amazing at all times, smoothness is so far unmatched by any other device we've tested for a long-term review, the camera system is among the best on any device ever, battery life and charging speeds are very good (if not record-breaking), and it has all the premium features you'd expect at this price point.
Sure, the screen resolution might stick out sorely from the spec sheet, but in actual day-to-day use we never thought we'd need more pixels. The same goes for its refresh rate, which is "just" 90Hz compared to some competitors pushing 120Hz. These may seem like downsides on paper but for us, they weren't in real life, although at this price point we would've expected maximum brightness to be higher. Still, the phone is visible even under direct sunlight, it's just not as visible as others.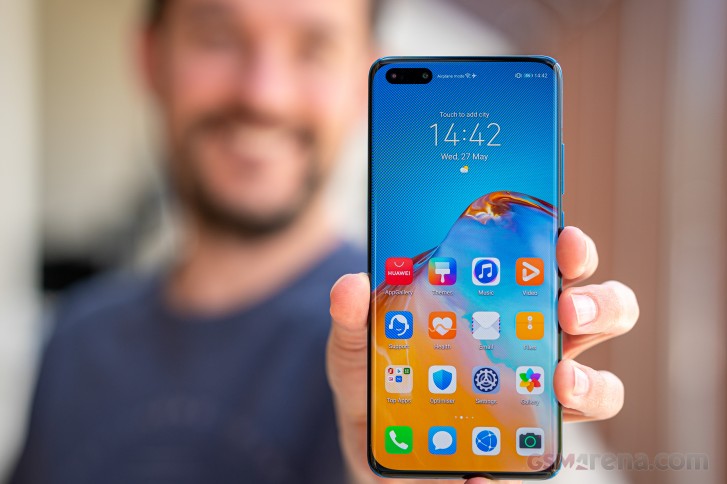 Anyway, the point is the P40 Pro offers a premium package for 2020 overall, so in the end it's only hampered by two interconnected things: the lack of Google services, and its price. These are connected in our view because getting similar innards with all the other high-end flagships out there for a lower price would've made the complicated software situation much easier to swallow.
The way things are, though, if you're interested in the P40 Pro, you'd probably be well served to order it from a place with a decent returns policy, to give yourself that extra peace of mind that you can get your cash back if you realize you don't want to complicate your life with three different app stores and some apps simply refusing to work no matter where you get them from.
Of course, you can also scour the internet for tricks to getting Google services up and running on the P40 Pro - these methods all seem to involve installing weird apps from weird places but they do work - for now. Any workaround that works today may not work tomorrow, or it could work with significant downsides - how about having to turn off notifications for all Google apps, for example? And that is why we chose not to delve into such madness, and just give you an account of what it's like to use the P40 Pro the way it was designed to be used, sans Google, with a lot of Huawei services meant to pick up the slack.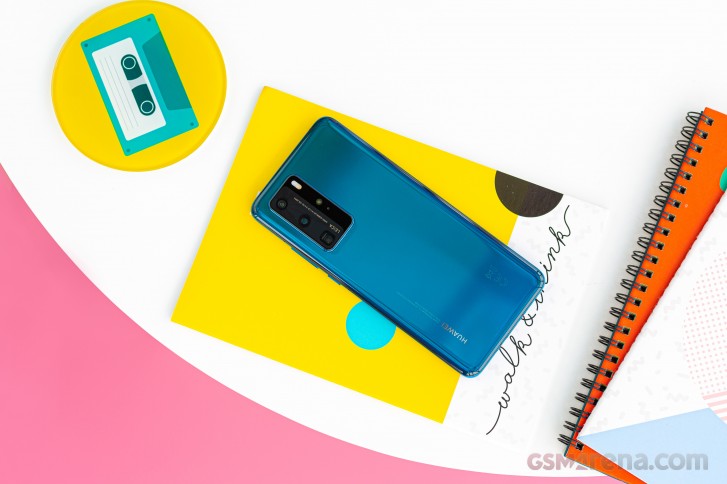 If you're a die-hard user of Google stuff, then this phone is probably not for you. However, if you're a die-hard anti-Google person, sick of the company's incessant tracking of everything you do on a 'Google-ified' Android phone, then the P40 Pro might be a godsend, because unlike past 'Google-free' Android handsets, this one has the backing of a major manufacturer, and will not just be forgotten in a few months. It also helps that it provides the best software performance ever, and that its innards are all properly high-end.
There's also the possibility that you're somewhere in the middle, not the type of person that wants to live a Google-free life, but also not a fan so involved in the Google universe that you can't picture life without the official YouTube or Gmail apps. In this case, we recommend you try the P40 Pro for yourself (backed up by a good returns policy, as we said), and figure out what your tolerance to UX friction is. You might realize it's not that much of a hassle to find your most used apps working on this phone after all, and that everything it delivers is worth the initial learning curve.
If we were to judge it by pretending that the Google software situation mess isn't a thing, the P40 Pro would definitely be among the best phones of the year so far. However, in reality we can't just ignore that, so we're going to qualify that remark: it is hands down one of the best phones of the year so far, if you can live with the added complications around the software.
tinyurl
is.gd
v.gd
v.ht
u.nu
clck.ru
ulvis.net
shrtco.de
tny.im