Introduction
Ah, the Apple iPhone SE. The Special Edition. Even if the Smaller Edition was more appropriate. And just like the first iPhone SE, its second generation is both - Small, even if larger than the first one, and Special - as such launch happens once in four years or so.
We are sure Apple had plans for a great premiere event last March, but COVID-19 turned everything upside down and such plans were abruptly scrapped. The new iPhone was unveiled fanfare-less on the maker's website, out of the blue, but it quickly became famous for being not only one of the cheapest iPhones ever made but also as one of the season's hottest bang for the buck offers.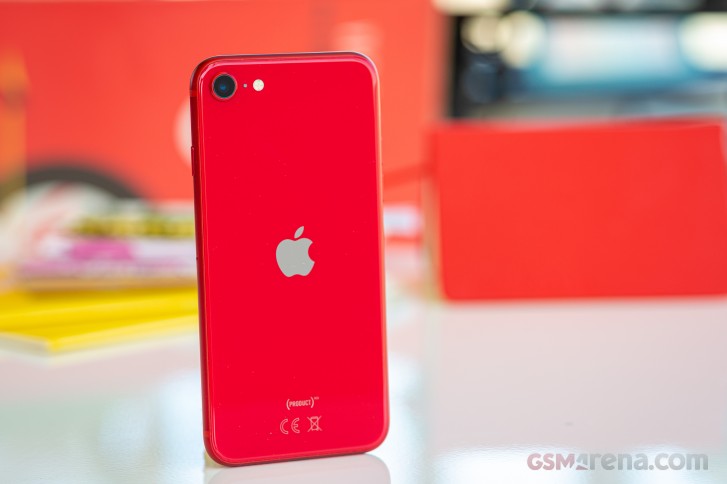 Imagine that - bang for the buck coming from Apple! Indeed, the highlight feature of the new iPhone SE is the A13 Bionic chip - that's Apple's latest platform - the one that's powering the iPhone 11 trio. As for the rest, well, it's mostly iPhone 8.
Apple did use the 2.5 years old iPhone 8 as a canvas in more than one way. The shell is the same, as is the screen (sans the 3D Touch layer), same front and rear cameras ergo photo and video capabilities, same stereo speakers, same battery capacity, same charging capabilities.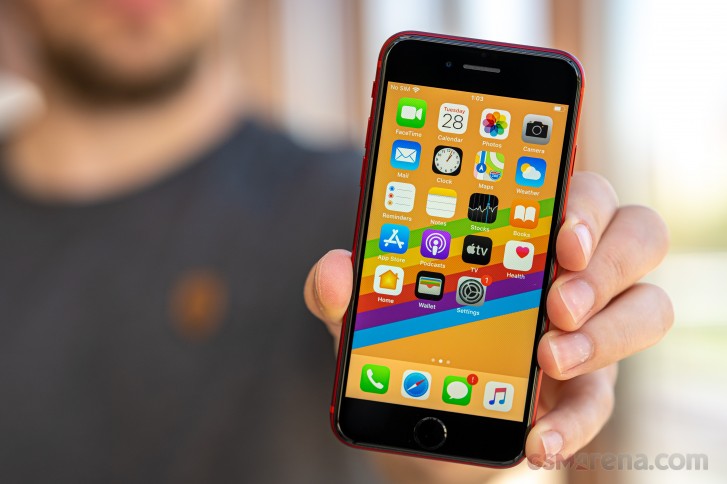 A thorough look reveals the iPhone SE (2020) is indeed small by today's standards, and while it brings features introduced more than two years ago, those are hardly outdated - the phone is water-resistant, its single camera offers numerous features such as portraits, Smart HDR and even 4K at 60 with both OIS and EIS available, while the stereo speakers are of an excellent quality that is tough to beat even to this very day.
Apple iPhone SE (2020) key features
Body: Aluminum frame, Gorilla Glass front with oleophobic coating, Gorilla Glass back with glossy finish, IP67 certified for water and dust resistance. Red, Black, and White color options; 138.4 x 67.3 x 7.3 mm; 148g.
Screen: 4.7" 16M-color LED-backlit IPS LCD screen of 750p resolution, 326ppi, True Tone adjustment via four-channel ambient light sensor.
OS: Apple iOS 13.
Chipset: Apple A13 Bionic (7nm+) chip - 2x2.66 GHz Lightning + 4x1.8 GHz Thunder) Apple CPU, four-core Apple GPU, 8-core Apple NPU 3-gen.
Camera: 12MP camera with F/1.8 lens, optical image stabilization, quad-LED flash with slow sync, phase detection auto focus, Smart HDR, wide color capture.
Video recording: 2160p@60/30fps, 1080p@30/60/120/240fps video recording
Selfie: 7MP F/2.2 front-facing camera with BSI sensor and HDR mode, 1080p@30fps video
Storage: 64GB, 128, or 256GB of built-in storage.
Connectivity: 4G LTE Cat.12; Wi-Fi a/b/g/n/ac; Bluetooth 5.0; Lightning port; GPS with A-GPS, GLONASS, GALILEO, QZSS; NFC (Apple Pay only).
Battery: 1,821mAh battery, 18W fast charging, wireless charging (Qi compatible).
Misc: Stereo speakers, pressure-sensitive Home key with fingerprint scanner, Taptic Engine.
The bezels are what looked old on the iPhone 8, and now they look ancient on this new SE model. They are wonderful as thumb rests for when you are using the phone in landscape orientation for gaming or videos, but they will be a target for many laughs either way. And the battery capacity could have been improved a bit, but we are yet to see the new A13 chip in action, so let's not judge just yet.
And now, it's time to unpack our red iPhone SE.
Unboxing the Apple iPhone SE (2020)
The iPhone retail bundle has seen few changes over the year with the most prominent being the 18W charger replacing the 5W adapter for the iPhone 11 Pro models. That is not the case with the iPhone SE, though.
The Apple iPhone SE (2020) retail box contains the prehistoric 5W charger and the usual Lightning cable. We do appreciate the EarPods that are included with every iPhone, though. Two Apple logo stickers and the SIM ejector complete the SE bundle.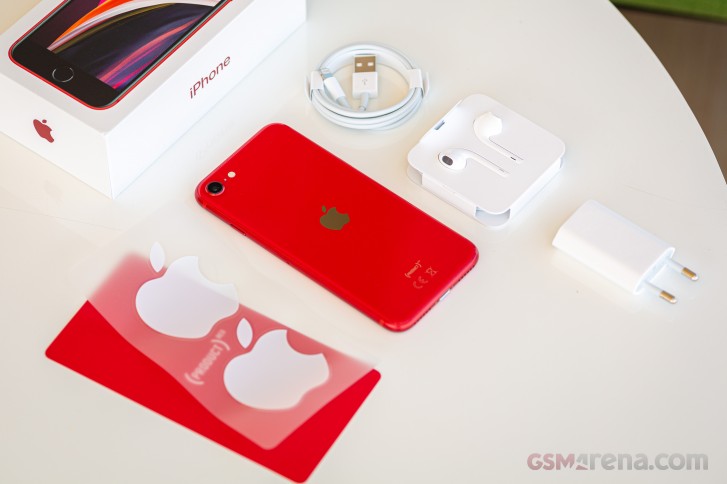 The iPhone SE supports USB-PD fast charging (up to 18W), as well as wireless charging (up to 8W), so at least you are not without other options. You just have to get yourself a quick charger separately.
Design and handling
There are always two ways to look at an iPhone, especially one with such a controversial design as the iPhone 8, sorry, SE. It's either love or hate. It has been this way since the iPhones came into existence, even if specs, features, and prices do help fuel these two feelings, too. But one thing is undeniably true - this is not only the smallest iPhone available but one of the most compact smartphones on the market.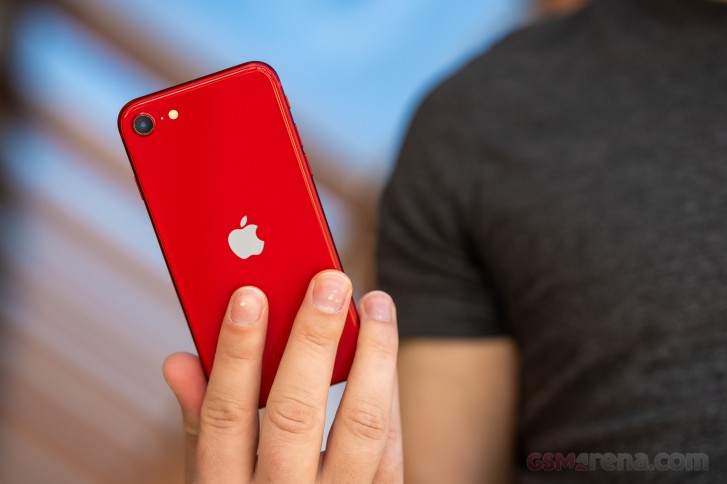 Remember when we called the 6" Xiaomi Mi 9 SE one of the most compact phones and a remarkably pocket-friendly handset? So, we take those back - these titles belong to the iPhone SE now. Thank you, Mi, you may go now.
So, the iPhone SE (2020) is indeed quite small - it measures 138.4 x 67.3 x 7.3 mm and weighs just 148g - meaning it is 1cm shorter and 3mm narrower than the Mi 9 SE.
But if we are to compare the new iPhone SE to the old one, well, it's definitely grown bigger - 1.5cm taller and 1cm wider, to be specific. It also gained some 35g - a noticeable load if you are comparing those two directly.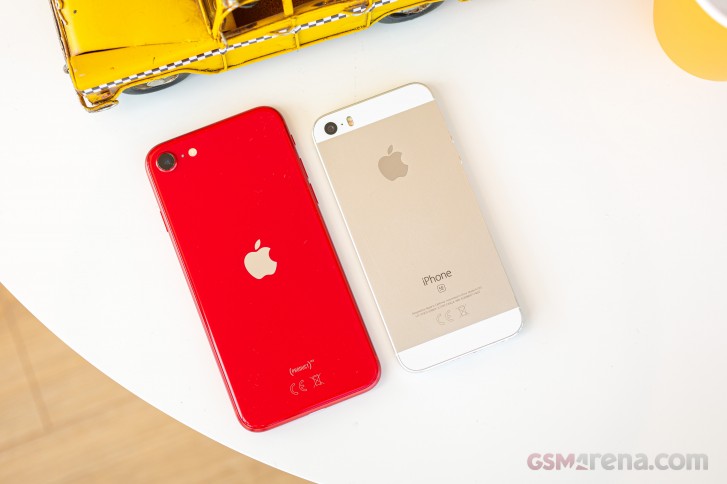 Well, the past couple of years did change the definition of the small smartphone, for the worse if you ask us, and the new iPhone SE is well below the current status quo.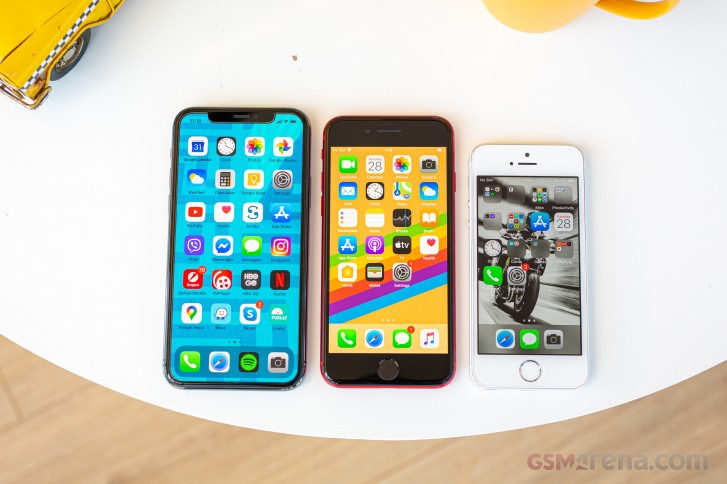 iPhone 11 Pro, iPhone SE (2nd Gen), iPhone SE (1st Gen)
But as far as its design is concerned - it's modern but also, a remnant of our digital past. The iPhone SE (2020) uses the same Gorilla Glass panels and aluminum frame the iPhone 8 had back in 2017 - and even then this design was already three-years-old.
And as the most recent teardowns have revealed, Apple has recycled pretty much everything in the iPhone SE - from the hardware design on the outside to the components used inside.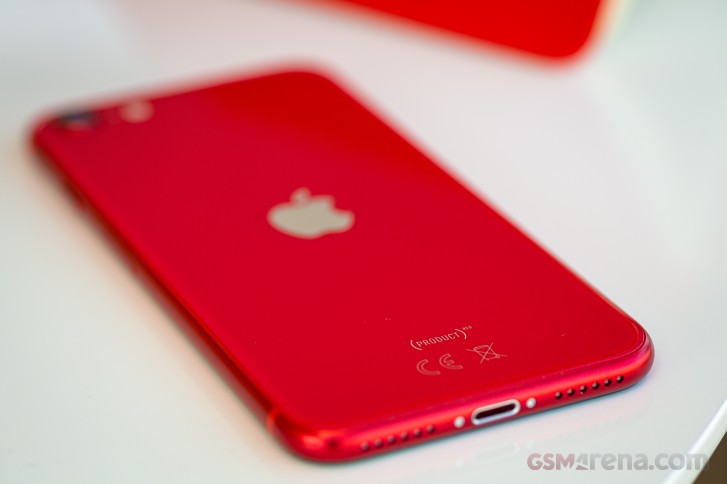 Still - a glass-sandwich body with a metal frame is the default phone design in 2020, so the iPhone SE is as current as possible looking at its bill of materials. Even better, it is IP67-rated for dust and water resistance - something that still many decide not to offer and yet, here were have it on a $400 phone.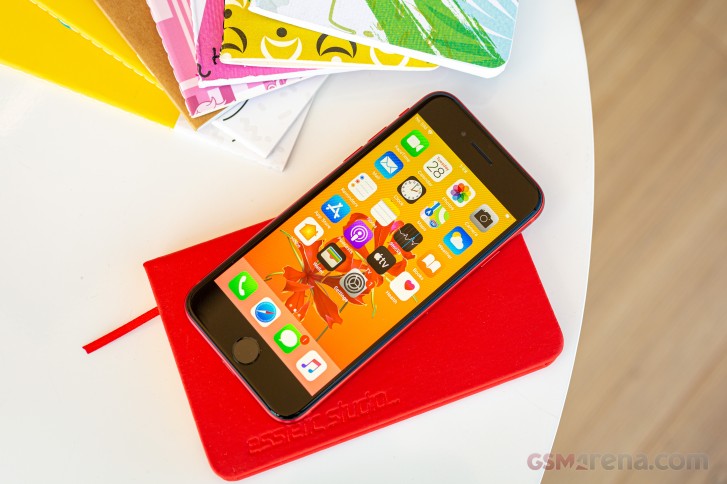 Then we look at the front and honestly, we can hear 2014 calling and asking its bezels back. The iPhone SE has large black bezels above and below its LCD screen, and for some of you, they will be too much of an eyesore to bear. We can get behind this, of course - not only the screen doesn't impress with the resolution, but it also makes you lose all that room to what - a Home key and earpiece?
Then again - the earpiece is one of the loudest speakers you can get on a smartphone today, one of two actually, and we are impressed with quality audio coming from the SE stereo speakers. The old 7MP selfie camera is around, now capable of selfie portraits, too.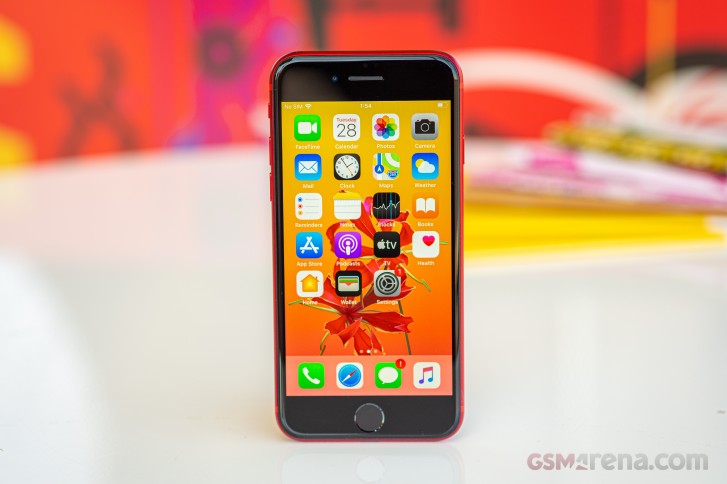 The Home key is also your Touch ID - a feature many missed when it got the boot on the iPhone X. It is the fastest and most convenient security measure, and on top of that - the Home key is also the better way to work with iOS than the current swiping mess.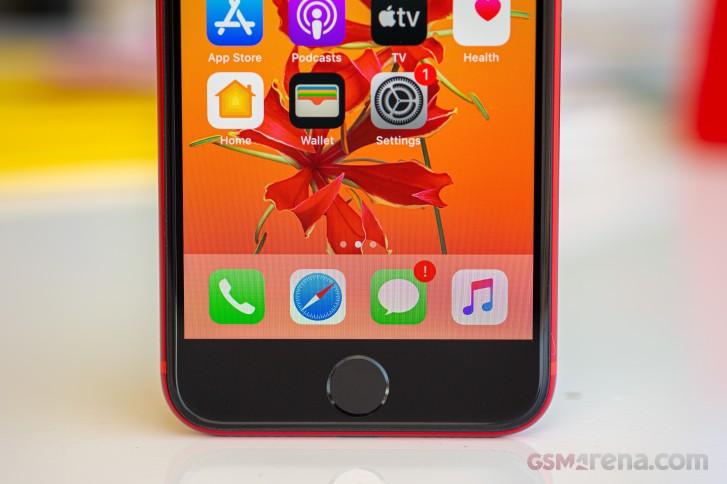 Sure, the bezels have the benefit of providing nice grip. Such a powerful small phone will need a proper grip for gaming, and the two non-screen ends provide that in buckets. You can rest your thumbs there comfortably and enjoy your gaming session hassle- and obstruction-free.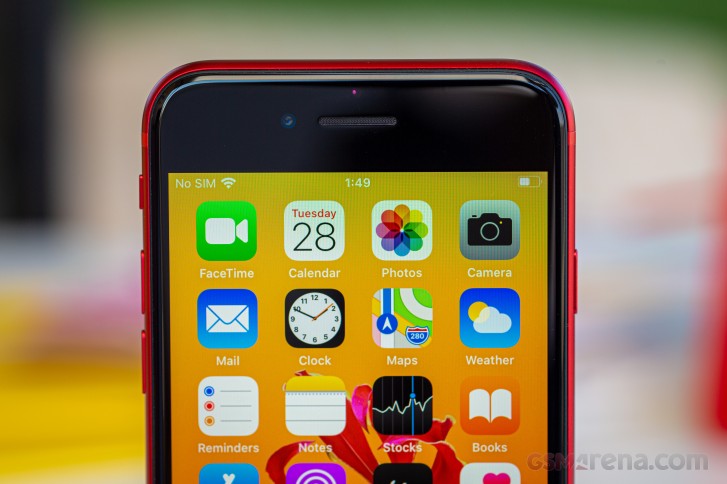 The 4.7" IPS LCD screen is familiar - it's the same display we saw on the iPhone 8 with the so-called Retina 326ppi resolution. There are no notches, it's fully utilized by every app and games because of its native 16:9 aspect, it is bright and with excellent contrast and color reproduction. Small - it is. Bad - it is not.
One thing that's missing from the iPhone 8 display is the 3D Touch layer. Apple has ditched the 3D Touch sensors in favor of tap and hold gestures plus feedback from the Taptic Engine. It works almost the same, plus nobody was using the 3D Touch anyway.
The custom-made Gorilla Glass has 2D finish at the front and then transition rather seamlessly into the aluminum frame. The frame itself has a matte finish that provides for some grip and contains all ports and buttons.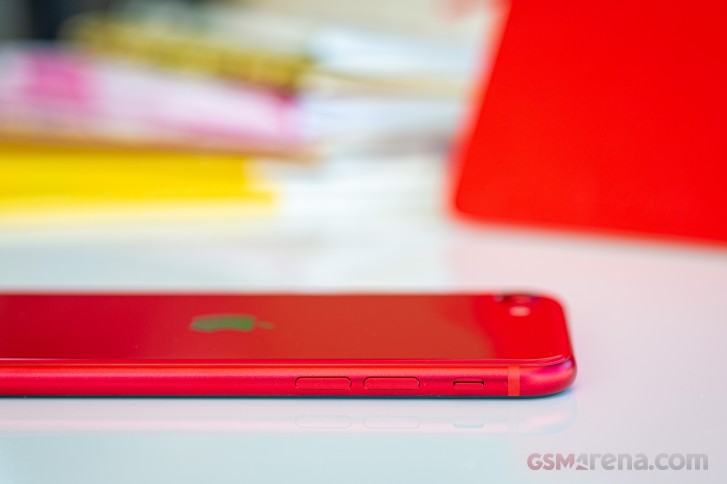 The silencer switch and the volume keys are on the left, while the power button and the SIM slot are on the right. The Lightning port, the speaker grille, and the mouthpiece are all at the bottom of the iPhone SE.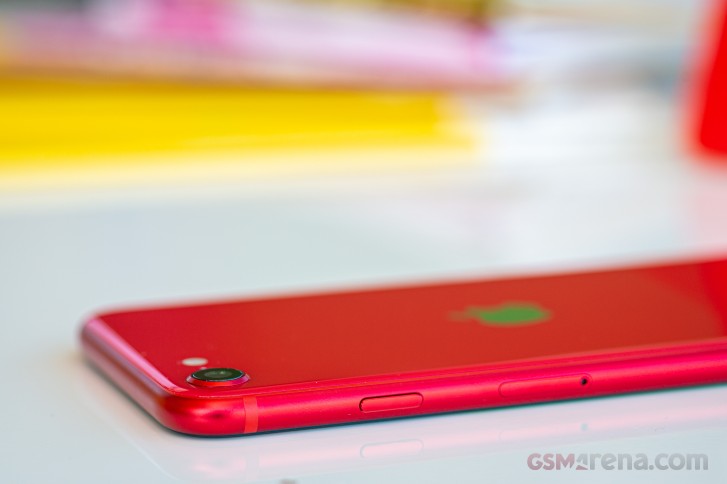 The back of the iPhone SE, especially this red one, is as beautiful as it can get. Not having a multiple-camera setup makes for one of the cleanest and stylish rear glass panels we've seen in a while. It is also custom-made by Corning, with 2.5D finish.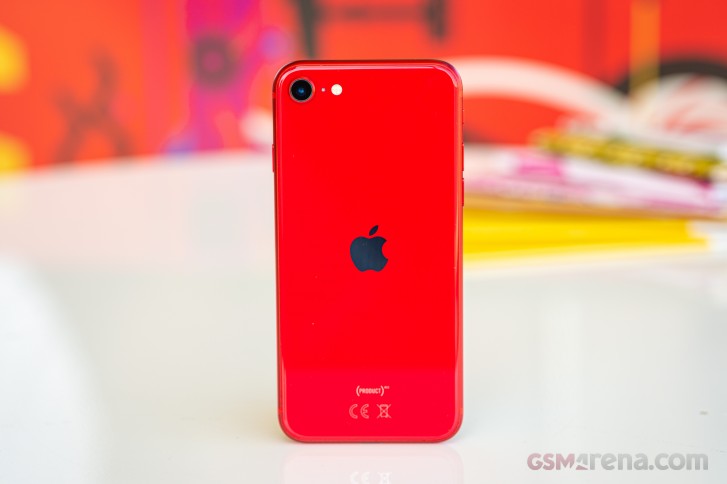 The main camera is protruding just a tiny little bit, and a thin metal ring surrounds it. Next, flush with the glass, is the dual-tone quad-LED flash. The iPhone SE barely wobbles on a flat desk, and that's only if you are tapping around the top left part of the phone.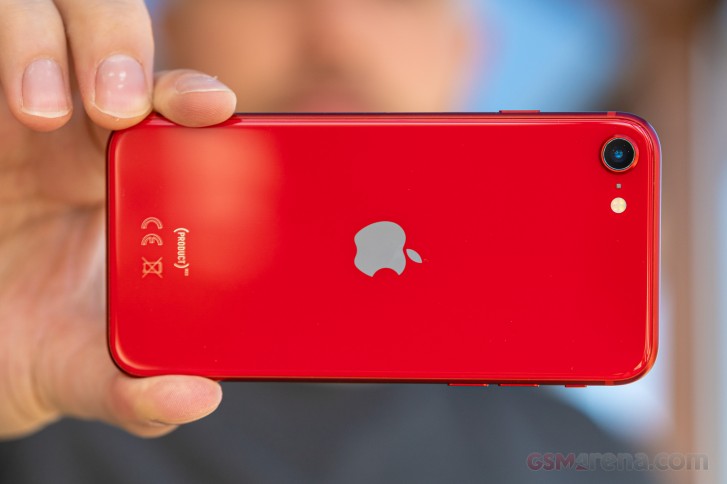 Finally, the iPhone SE is a joy to handle, easily operated with one hand, and it just disappears in pockets. The brushed frame provides enough grip, and even while fingerprint smudges accumulate on the glass with time, the oleophobic coating makes them easy to clean with a quick swipe.
Display
The iPhone SE (2020) borrows iPhone 8 display - yes, the same that was borrowed in the first place from the iPhone 6. The panel in question was introduced way back in 2014, but it was improved over the years with wide color gamut support, True Tone enhancements, and HDR adjustments.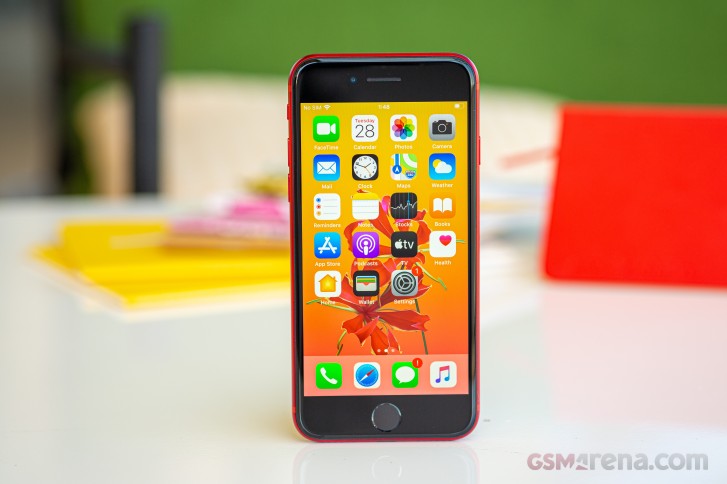 So, the new iPhone SE packs a 4.7" 16:9 LED-backlit IPS LCD screen, also known as Retina display, which has 326ppi or 1334 x 750 pixels. This particular pixel density has been introduced with the iPhone 4, and it is the true meaning behind the world Retina in Apple's world all these years. The iPhone X was first to change that to Super Retina 458ppi.
The screen is flat, protected by a custom-made glass by Corning and has oleophobic coating for additional smudge resistance.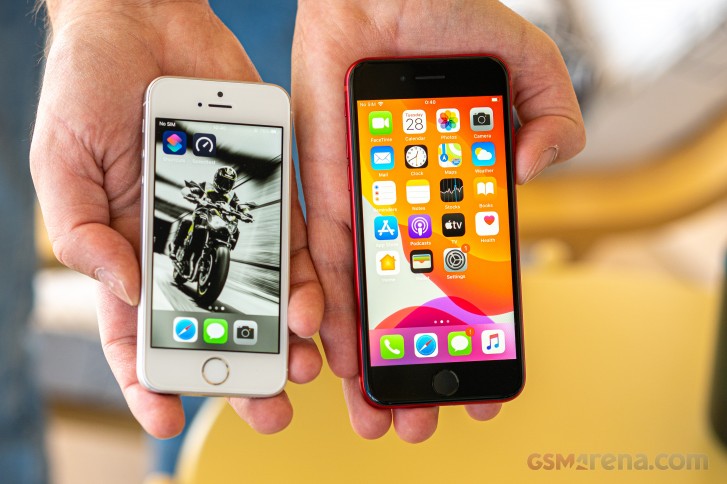 TrueTone color-correction adjustments are available for the iPhone SE display, Night Shift - the blue-light filter, is a part of the iOS feature set, too.
Apple says the screen can display HDR10 and Dolby Vision content. Thanks to the wide color support, the high screen brightness, and contrast, the display can do some improvements to the dynamic range, and you can indeed see some benefits. But a proper HDR-enabled screen, like the iPhone 11 Pro's, can show you true HDR10 with all the benefits.
And now with all these technicalities out of the way, let's look at some numbers.
The Apple iPhone SE (2020) screen can be very bright - we measured 670 nits at the top end of the brightness slider. That's even more than the promised 625 nits from Apple. The black levels are about average, and the iPhone SE panel delivered north of the suggested screen contrast ratio of 1400:1.
The minimum brightness we captured on the white color is 2.7 nits - a great one for reading sessions in the dark!
Display test
100% brightness
Black,cd/m2
White,cd/m2
Contrast ratio
Apple iPhone SE (2020)
0.434
670
1544:1
Apple iPhone 8 (Standard)
0.399
566
1419:1
Apple iPhone 8 (Max Auto)
0.468
640
1368:1
Apple iPhone SE
0.77
618
804:1
Apple iPhone X
0
679
∞
Xiaomi Mi 9 SE
0
444
∞
Xiaomi Mi 9 SE (Max Auto)
0
637
∞
Realme 6
0.343
451
1315:1
Realme 6 Pro
0.318
421
1324:1
Realme X50 Pro 5G
0
525
∞
Realme X50 Pro 5G (Max Auto)
0
635
∞
Samsung Galaxy S20
0
397
∞
Samsung Galaxy S20 (Max Auto)
0
814
∞
Apple iPhone 6
0.61
740
1213:1
We did our usual measurements on the iPhone SE screen, and we captured very accurate levels of color rendering. The screen has an average deltaE of 1.4, while the maximum deviation of 2.8 is at point white. All measured colors are well below deltaE of 4, which means the screen has excellent calibration.
These measurements were taken with TrueTone turned off, as it changes the color calibration depending on the ambient light and can fool our colorimeter. For the most realistic colors, you should keep this option off, whereas for the most eye-pleasing rendeding of white and gray - keep it on.
Battery life and charging
The iPhone SE (2020) is powered by 1,821mAh battery - the same capacity as iPhone 8's, though a different cell. You can charge the iPhone SE with its ancient 5W charger, the Pro's 18W charger, or any USB-PD charger really. The iPhone SE also supports wireless charging, so that's an option as well.
The iPhone SE ships with a regular 5V/1A charger plug that replenish 27% of a dead battery in 30 mins, while a full charge requires about 2 hours and 30 mins.
We also tested the iPhone SE with the iPhone 11 Pro 18W charger - it refills about 57% of the SE's battery in 30 mins, while a full charge takes about 100 mins.
The iPhone SE posted balanced scores on our battery test - it can do about 10 hours of 3G calls, north of 13 hours of web browsing on a single charge, or you can watch videos for about 9 hours. The standby endurance turned out above average and thus the good but unremarkable overall endurance rating of 59 hours.
Still, for such a small battery, the screen-on times turned out to be rather respectable.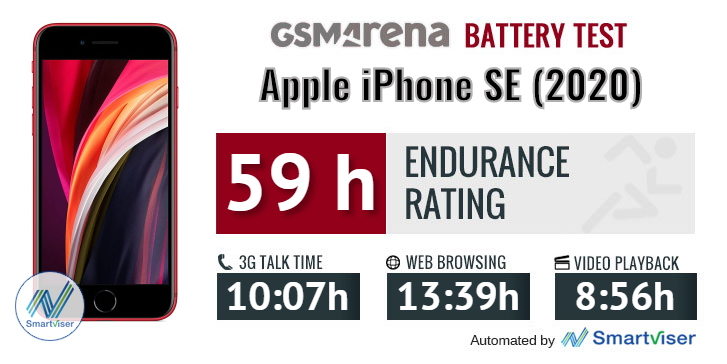 Our battery tests were automated thanks to SmartViser, using its viSerDevice app. The endurance rating above denotes how long a single battery charge will last you if you use the Apple iPhone SE (2020) for an hour each of telephony, web browsing, and video playback daily. We've established this usage pattern so that our battery results are comparable across devices in the most common day-to-day tasks. The battery testing procedure is described in detail in case you're interested in the nitty-gritty. You can check out our complete battery test table, where you can see how all of the smartphones we've tested will compare under your own typical use.
Speakers
The Apple iPhone SE (2020) has two speakers - one dedicated at the bottom and the other one is the earpiece. The bottom one offers more bass than the earpiece, but other than that - their loudness seems balanced enough.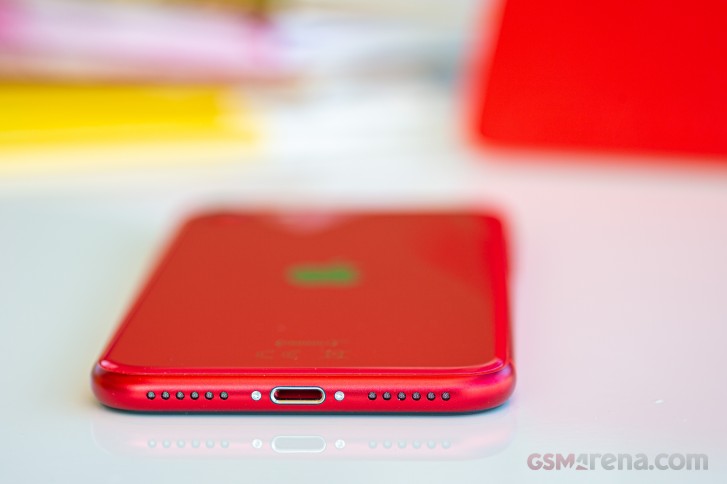 In our new speaker test, the iPhone SE scored a Very Good mark for loudness. As for the quality - it's also very good. The bass and melodies are great, but the vocals could have been better as they sound suppressed at times.
Use the Playback controls to listen to the phone sample recordings (best use headphones). We measure the average loudness of the speakers in LUFS. A lower absolute value means a louder sound. A look at the frequency response chart will tell you how far off the ideal "0db" flat line is the reproduction of the bass, treble, and mid frequencies. You can add more phones to compare how they differ. The scores and ratings are not comparable with our older loudspeaker test. Learn more about how we test here.
Audio output quality
We've recently discontinued our audio output quality test.
The reason for that is that most phones were already excellent in this regard and whatever difference there was, it was marginal and probably indistinguishable to anything but lab equipment.
Apple iOS 13 with Home key and Touch ID
The iPhone SE (2020) runs on the latest Apple iOS 13.4 OS and should be enjoying about 5 years of uninterrupted software updates - both major and minor. The iOS 13 wasn't that of a major OS update - it focused on improving the default system apps instead.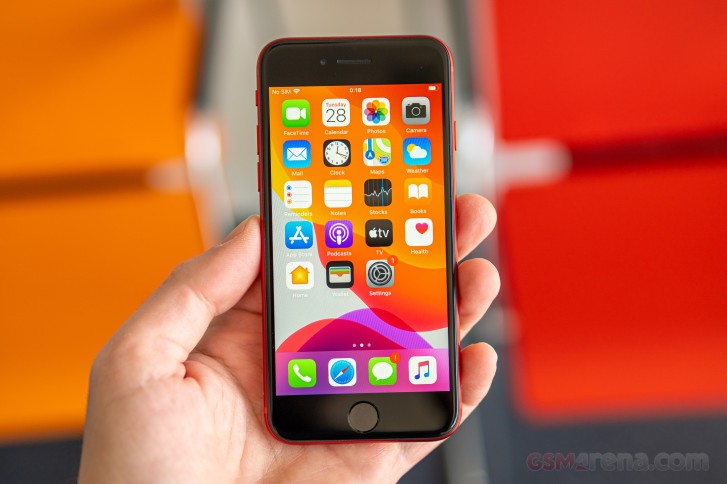 The iPhone SE relies on Touch ID for biometric security. It hasn't changed one bit since the iPhone 8 - you press on the sensor, and the iPhone gets unlocked immediately upon successful recognition. Lift to wake up works like a charm, too, so no need to manually wake up the screen.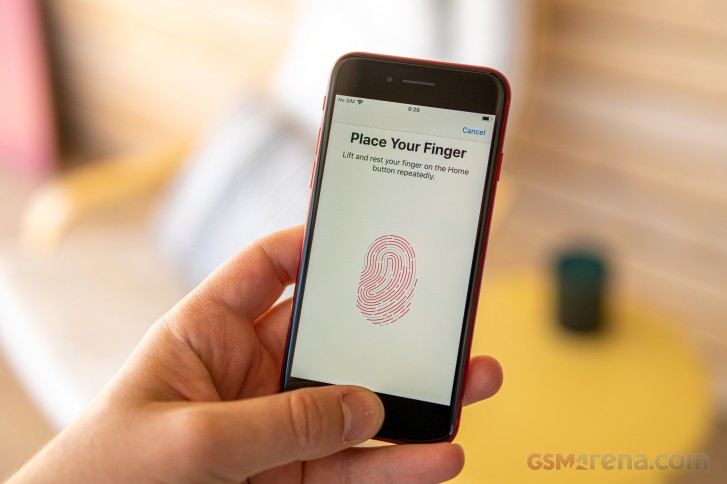 The lockscreen is simple - it has three pages - Central for notifications, Left for Today, and Right for the camera app. There is no visible flashlight toggle, but you can bring up the Control center with a swipe from the bottom and trigger it from there.
Naturally, apps go on the homescreen, there are no widgets and no separate app drawer, but folders are available. The leftmost Today page is here to stay - it is the place where various widgets go, and it also includes a system-wide Spotlight search field.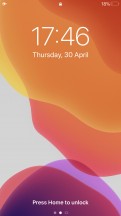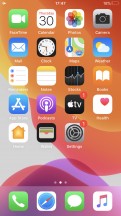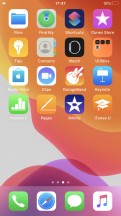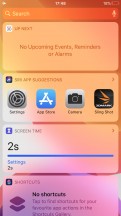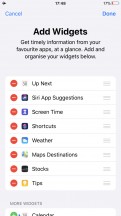 Lockscreen • Homescreen • Homescreen • Today • Today settings
The navigation gestures stay the same as they were on the iPhones before the X - press on Home key for Homescreen/app close and double press for Task Switcher.
The Notification Center is summoned with a swipe from the top of the screen. The pane was unified with the lockscreen in iOS 11, and if you use different wallpapers for home and lock screens, you may get confused at first.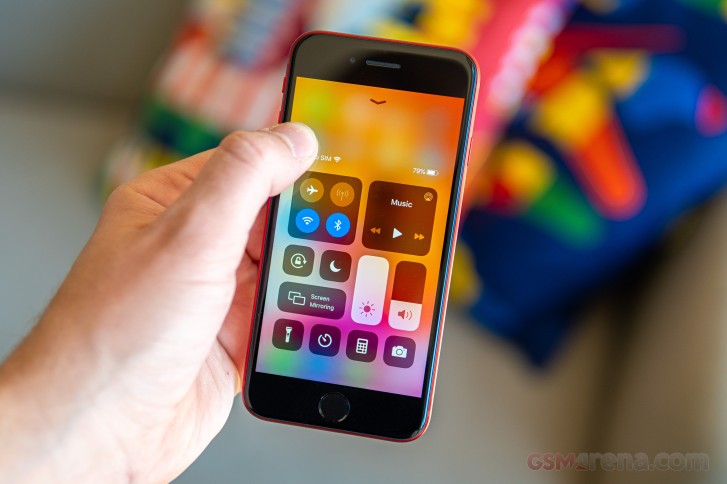 The Control Center with all your (customizable) toggles, is called with a swipe from the bottom of the screen. You can use haptic touch to access additional controls. And the battery percentage has been moved permanently here because there is no room left for it on that status bar.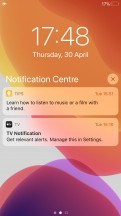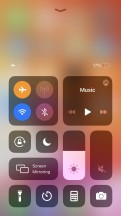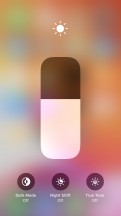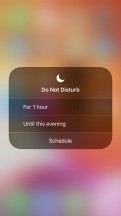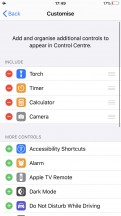 Notification Center • Control Center
3D Touch is gone for good, and we have Apple to blame for its demise. The company had years to use it for something more than just an overengineered long-press functionality for quick previews and context action pop-ups, but it appeared it simply chose to ignore it. Its functionality is still here, but now it requires a mere tap-and-hold instead of an actual press, although a press would do it too. The taptic engine provides the appropriate haptic feedback, and it feels like the 3D Touch is still here even though it's not. And we are glad Apple ditched the 3D Touch layer as it helped free some space inside the phones.
So, you can use the Haptic Touch on various app icons to reveal quick actions, if available. You can also use it for notifications, toggles, and in-app content pop-up or expansion (pictures, links, file descriptions, etc.). You can also use Haptic Touch on folders to rename them or see the apps inside that have pending notifications.
And as usual - a pop-up preview of pictures, weblinks, messages, emails, notes, and photos, is available.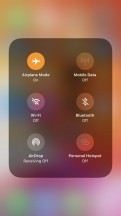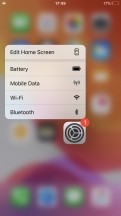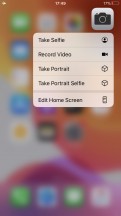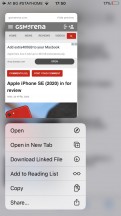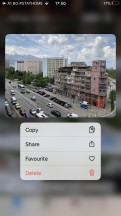 Haptic Touch
Apple iOS 13 introduced a systemwide Dark Mode. You can enable it within Display Settings, and it switches to dark all-white backgrounds across iOS. The Dark Mode affects all system apps, but also apps that rely on system backgrounds. It will supposedly save you some battery because the screen is often less lit.
You can choose between always-on or automatic. The latter means you can either manually schedule the Dark Mode or choose from Dark Until Sunrise/Light Until Sunset.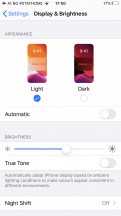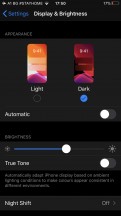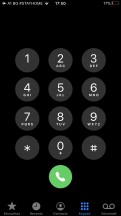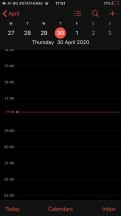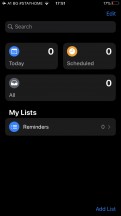 Dark Mode
Siri - Apple's digital assistant - is used by 400+ million people monthly. You summon it by holding the 'side' key (the Power key). It's continuously evolving thanks to all machine-learning improvements, and iOS 13 introduces a new voice with even more natural speech.
Siri Shortcuts were introduced as part of iOS 12, but now those get their standalone Shortcuts app. There are so many things you can assign a shortcut to that it will take many pages to describe them. You can script almost anything available within iOS itself, a lot of stuff from within the system apps, and some advanced actions from any well-known apps such as YouTube or Facebook.
The scripting option offers opening apps, choose a menu from settings, exit app, if and repeats, get different stats, adjust various settings, turn on or off something, calculate, measure, get network details and whatnot.
You can request a various type of files - latest imports from images, a different type of images, screenshots, open PDFs, edit notes, print, scan QR, and many more.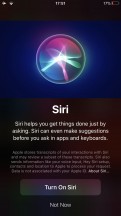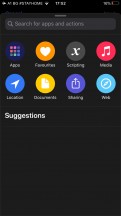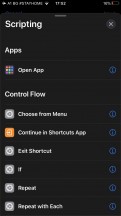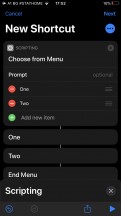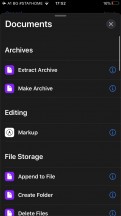 Siri • Shortcuts app
The Photos app is a major part of iOS, and it has been completely overhauled in iOS 13. The Photos tab now has four different views - Years, Months, Days, and All Photos. The last one is what the previous Photos app offered as default view.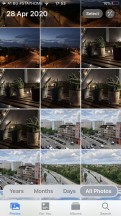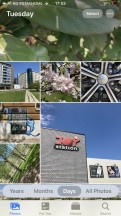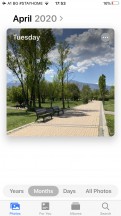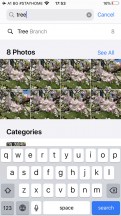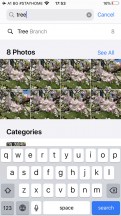 Photos
Days, Months and Years tabs use what the AI considers as best pictures at a glance and this way all the clutter gets filtered - you won't see screenshots, notes, or even duplicates. When you scroll through your images in these three categories, all live photos and videos will play automatically, muted, of course. Also, your best photos or videos will show in bigger thumbnails.
The new Photos app also offers new editing mode, both for photos and videos - more powerful, and yet easy to use.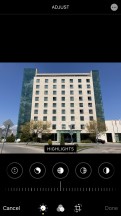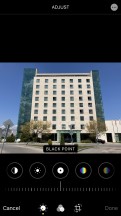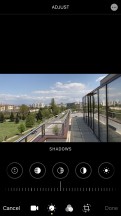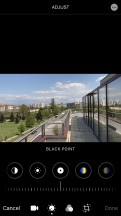 Editing a photo • Editing a photo • Editing a video • Editing a video
The rest of the iOS app package is quite familiar - Books is here for your documents, PDFS, and eBooks. Apple Maps, Stocks, and News are onboard. Safari is your default web browser, and it has Download manager now.
There is also an updated Health app with improved summary, highlights, and new cycle tracking feature.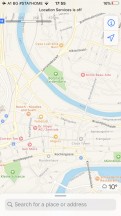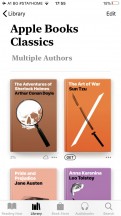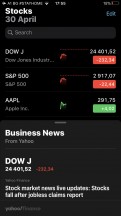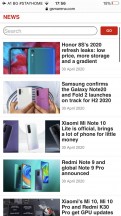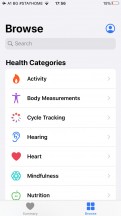 Maps • Books • Stocks • Safari • Health
The Apple TV app is part of iOS 13, and it is your default video player local movies and shows you've added via iTunes. This is also the digital store for movies and TV shows, but it is also the place where Apple TV+ streaming service will launch in just a month, and all new iPhones will come with 1-year free subscription.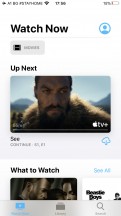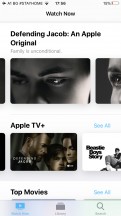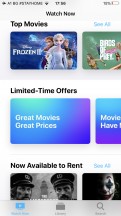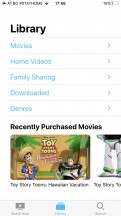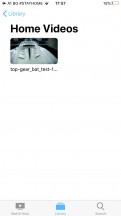 Apple TV
Music is the default player, and it relies heavily on Apple Music. But even if you decide not to opt for the streaming service, it can still do an excellent job if you have a few minutes to add your songs via iTunes. The number of clicks is the same as if you were to copy them via Windows Explorer, but the prejudice against the app quadruples those.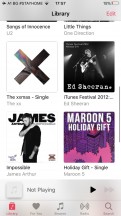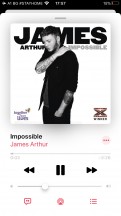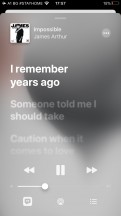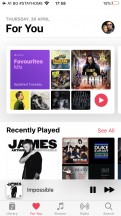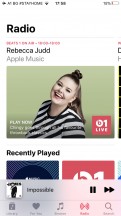 Music
Finally, Apple pushes Apple Pay even more with iOS 13, and there is a new feature called sign-in with Apple. You can use this in iOS 13 to quickly sign into apps with your Apple account, authenticating with TouchID (and with two-factor authentication included). Apple will send the app a unique random ID. If an app demands your email address, you can choose to give it your actual email, or a random one automatically created by Apple for you with built-in forwarding (and these throwaway emails are actually per-app, so you can delete only one that's associated with a specific app if you choose to).
Apple A13 runs the iPhone SE
The highlight feature of the $400 iPhone SE is its hardware platform - Apple A13 Bionic - the same one within the premium iPhone 11 models. The A13 has 8.5 billion transistors and is built on a 7nm+ process.
The Apple A13 Bionic chip packs a hexa-core processor with 2x2.65 GHz Lightning high-performance cores and 4x1.8 GHz Thunder efficient CPU cores.
The A13 SoC has a new GPU that keeps the 4-core design introduced with A12. But is now 20% faster and a whopping 40% more efficient when delivering the same performance as A12's GPU.
The third generation Neural Engine has 8 cores (20% faster, 15% more efficient) and is in charge of the iPhone SE image processing features such as the single-camera Portrait Mode.
Finally, all iPhone SE come with 3GB of RAM - 1GB (or 25%) less than the iPhone 11 4GB of RAM.
And now it's time to run some benchmarks.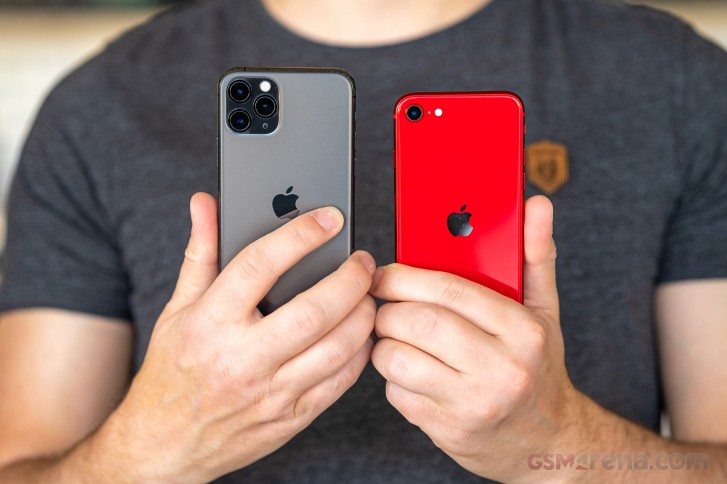 We ran GeekBench first. Apple has been a leader in GeekBench charts, and with the A13, it continues to be the chart-topper. The Lightning core is much faster than anything the Android competition has to offer right now, even the most current Kryo 585 Prime core.
GeekBench 5.1 (single-core)
Higher is better
Apple iPhone SE (2020)




1334

Apple iPhone 11 Pro Max




1332

OnePlus 8




919

Realme X50 Pro




911

OnePlus 7T




776
When two Lightning cores fight together, they are a good match to four of the most current Kryo cores by Qualcomm.
GeekBench 5.1 (multi-core)
Higher is better
Apple iPhone 11 Pro Max




3503

OnePlus 8




3399

Apple iPhone SE (2020)




3237

Realme X50 Pro




3175

OnePlus 7T




2858
Unfortunately, GFX Benchmark isn't optimized for the most current iPhones and we couldn't test the GPU performance. But it should be the fastest on any iPhone given the most current chip and the lower resolution screen.
Finally, we ran the compound AnTuTu 8 test and the iPhone SE did very well, though not the best of the bunch - its lower RAM impacted the performance and it scored lower than the iPhone 11 Pro.
AnTuTu 8
Higher is better
Realme X50 Pro




592447

OnePlus 8




564708

Apple iPhone 11 Pro Max




536883

OnePlus 7T




485585

Apple iPhone SE (2020)




462253
Not that it matters that much, but the iPhone SE packs a lot of oomph under the hood, a lot more than it needs. It's like putting a Ferrari engine in a Beetle. Still, it is very much welcome, and it should last the iPhone SE for the planned 5 years ahead and probably beyond.
A single 12MP camera
Apple's iPhone SE features the same 12MP single camera found on the iPhone 8. It uses a Sony sensor with 1.22µm pitch behind 28mm f/1.8 lens. Optical stabilization is available, as well as phase-detection autofocus.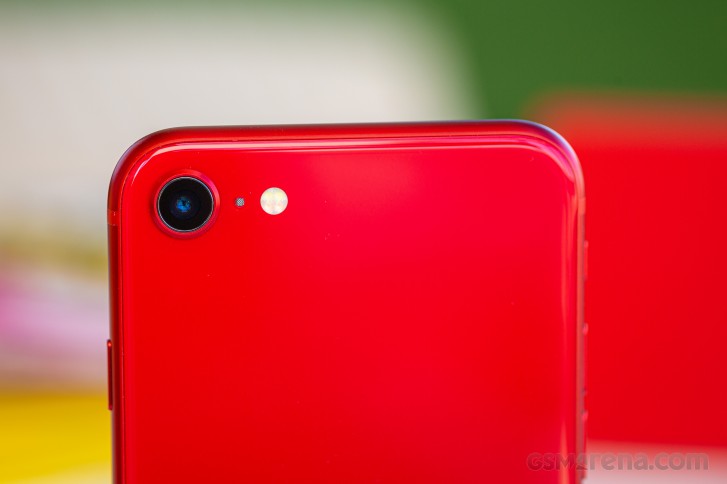 The camera lenses are factory-calibrated to provide superior performance in AR.
The quad-LED dual-tone flash from the iPhone 8 is also available on the SE, and it supports slow-sync flash. It keeps the shutter open for a bit longer, letting in some of the ambient light and making the image look more natural and not as contrasty as with regular flash images.
Thanks to the new Apple A13 Bionic chip and its ISP, the camera now supports portrait mode based solely on a depth map created by a machine learning process just like with the selfie camera.
The latest Apple Smart HDR from the iPhone 11 generation is also available on the iPhone SE - it should provide a noticeable boost in image quality, both day and night.
Unfortunately, the new Night Mode from the iPhone 11 series is missing on the SE.
The front-facing camera is the same 7MP unit we saw on the iPhone 7 and 8. It can use the so-called Retina flash, where your screen lights your face up in particular color to provide more pleasing skin tones depending on the color of the available light.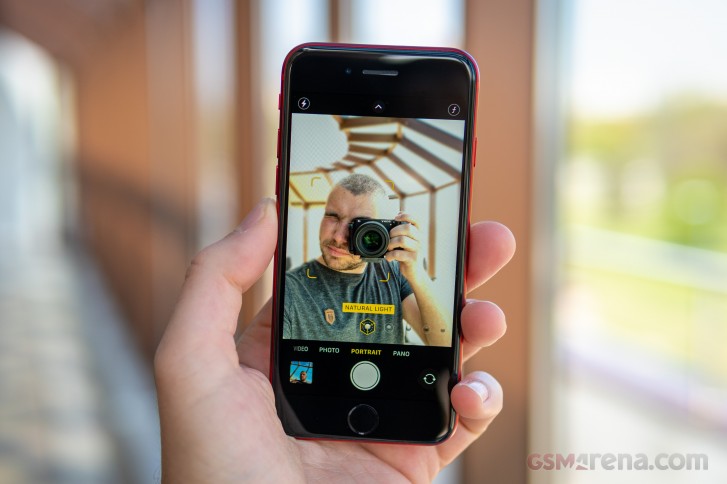 As we said, portraits are supported for selfies, too.
Camera app
The camera app has seen few changes over the years. It has the same interface with swipe-able modes that's been around for quite some time. As usual, all image- and video settings aren't in the camera app itself. Instead, you have to close the camera, open Settings, and then return to the camera. Hardly user-friendly!
You should also know that portrait mode works only on human subjects. Not that the camera is incapable of building a depth map no matter the subject, but because Apple doesn't want it to do it. You can always download a third-party app, like Halide, and make nice portraits of, say, your dog.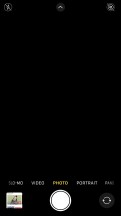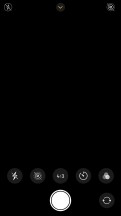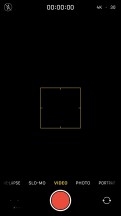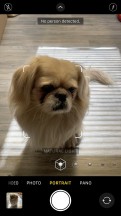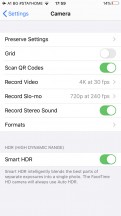 Camera app
Image quality
The Apple iPhone SE shoots very natural-looking photos. The dynamic range and the contrast are superb, the colors are simply spot-on, and noise is non-existent.
The detail levels are very good, even excellent at some spots, though elsewhere some more complex areas turn out a challenge for the camera - intricate details on the window blinds, as well as grass and tree branches are smeared and look like oil-painting.
Still, there very few phones capable of making out the entire grass terrain and/or all trees in the vicinity, and they are flagships. For a $400 phone, the iPhone SE shoots excellent daylight photos.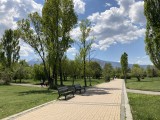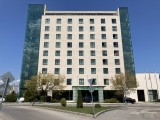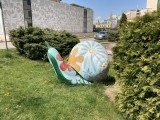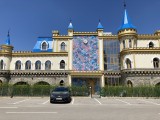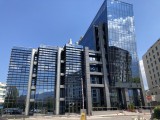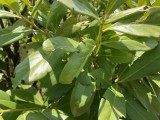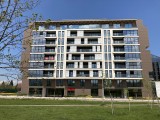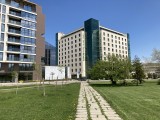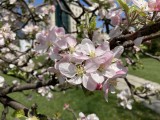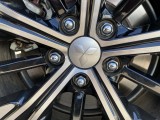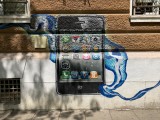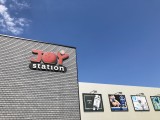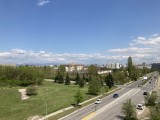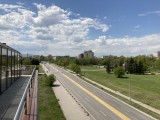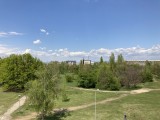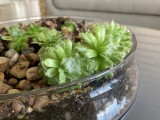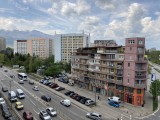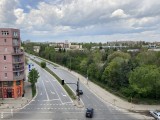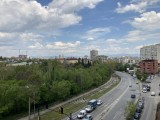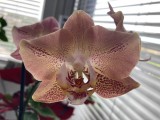 Apple iPhone SE (2020) 12MP daylight samples
The low-light performance has improved since the iPhone 8 by a lot even if the same camera takes the images. They present enough resolved detail, probably a result of a gentler noise reduction. The exposure is balanced on most of the photos, the color saturation is great with true to life colors (neither washed out, nor over-saturated). The dynamic range isn't the best, but a single camera can do only so much.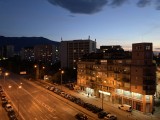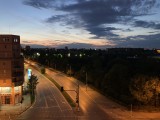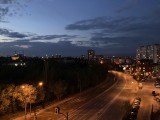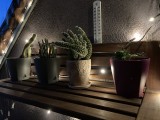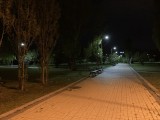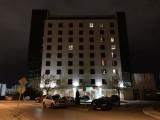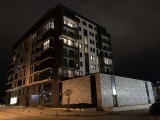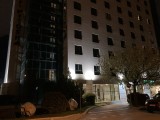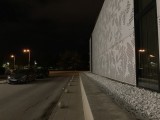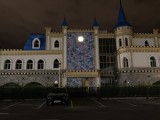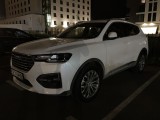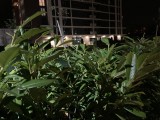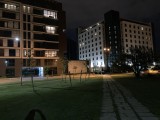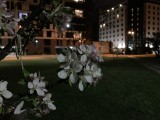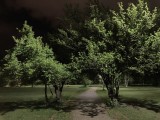 Apple iPhone SE (2020) 12MP low-light samples
It is a real pity Apple didn't put a bit more effort to bring the Night Mode to the iPhone SE, but they again, knowing Apple's way of things - we were surprised to even find a Portrait mode.
Speaking of portraits, we shot a few with the rear camera and they are okay. The subject separation is far from flawless, but the faux bokeh is quite nice. Those aren't the best portraits we've seen, but for a single camera - they are pretty fine.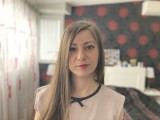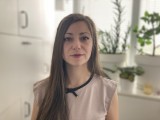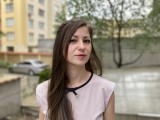 Apple iPhone SE (2020) 12MP portraits
You can check out how the iPhone SE 12MP camera perform in our dedicated compare tool.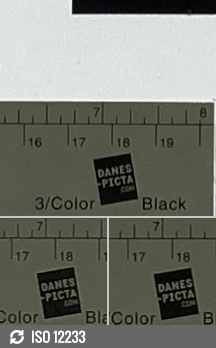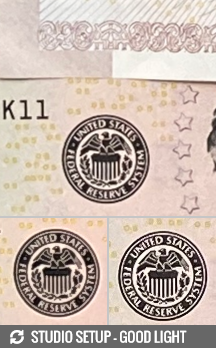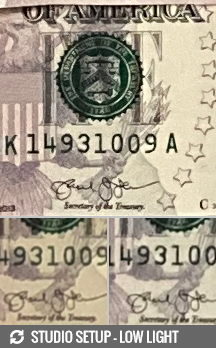 Apple iPhone SE vs. iPhone 8 vs. iPhone 11 in our photo compare tool
Selfies
The 7MP Apple iPhone SE (2020) selfie photos can put to shame most of the 20MP and 32MP Quad-Bayer shooters we've experienced lately on a variety of Android phones. The iPhone SE 7MP images come out with outstanding detail, contrast, and even dynamic range. The colors are great and overall - this is one of the best selfie cameras we have seen in a while.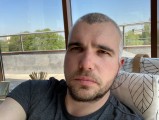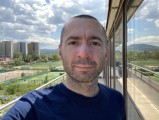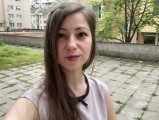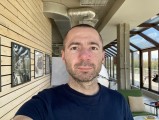 Apple iPhone SE (2020) 7MP selfies
The iPhone SE selfie shooter can also do portraits, and it does such with surprising proficiency. Both subject separation and simulated bokeh are remarkable, while nothing was lost on the subject, be it fine detail or body parts.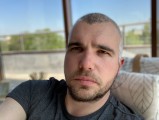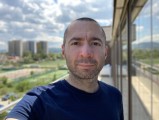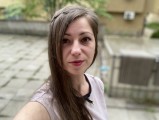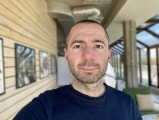 Apple iPhone SE (2020) 7MP selfie portraits
Video recording
Apple iPhone SE captures videos in all popular resolutions and frame rates, all of them - optically stabilized as usual. All 30fps videos also feature cinematic video stabilization and expanded dynamic range thanks to the Smart HDR. The iPhone SE can do 4K at 60fps and 1080p at 240fps.
The video bitrate is about 45Mbps in 4K at 30fps and 100Mbps for 4K at 60fps, or 15Mbps or 24Mbps in 1080p at 30fps and 60fps. Audio is recorded in wide stereo with a 160Kbps bitrate.
The 4K videos are captured at either 30fps or 60fps are virtually identical in quality. The picture is close to the still images - enough detail outside complex areas, but there is an average foliage presentation at best. The colors are great, and so is the contrast and white balance. There are no focus issues or compression artifacts. And the dynamic range is nothing short of impressive even when Smart HDR (on 60fps) was not involved.
The 1080p videos, 30 or 60 fps, are class-leading. Plenty of detail, great foliage, jaw-dropping, dynamic range. Those are among the best 1080p videos a smartphone can do.
The iPhone SE offers this interesting setting for its videos where it would automatically drop the frame rate of the 4K videos down to 24fps to improve the quality in low-light as this alows the camera toi also drop the shutter speed. You can easily notice the brighter 24fps video. Sure, the low-light video quality isn't worthy of a flagship, but the iPhone SE is not one, which means it is fine for its class.
The optical and cinematic stabilization work in all resolution and frame rates, on both the main and the selfie camera.
The Apple iPhone SE (2020) is ready to meet the competition in our Video Compare Tool.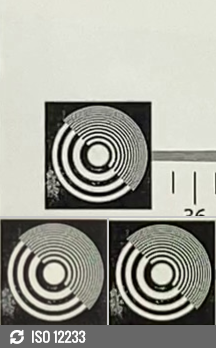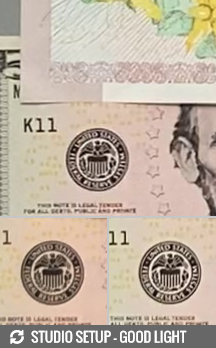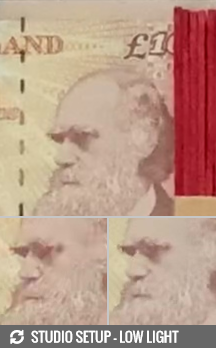 Apple iPhone SE vs. iPhone 8 vs. iPhone 11 in our 4K video compare tool
Wrap-up
The new Apple iPhone SE is indeed one of the most compact smartphones not only within the iPhone ranks but among the Android phones as well. It is thin and lightweight, yet powerful and dependable, with great speakers and a high-quality screen, and impresses with camera performance even if it misses a feature or two.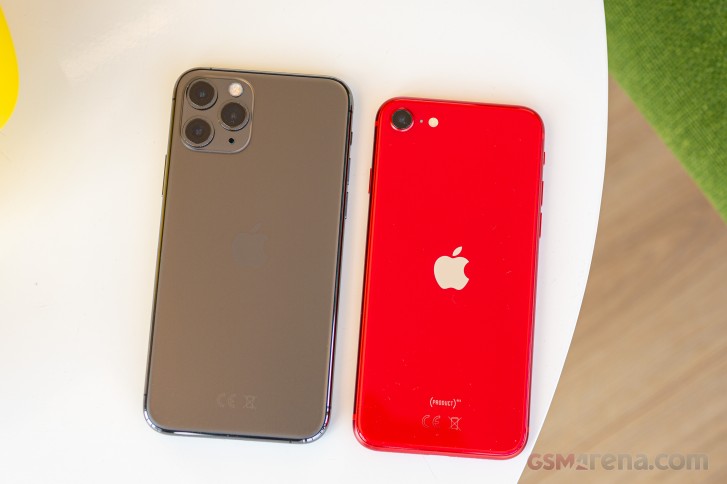 iPhone 11 Pro and iPhone SE (2nd Gen)
Recycling the iPhone 8 parts and design may be a letdown to some, though it's hardly surprising - the first iPhone SE was an iPhone 5s with an iPhone 6s chip, so it was kind of obvious the next SE would be an old iPhone (8) with a new iPhone chip (11). Still, the iPhone SE (2020) does remarkably well across the board, with Apple delivering some nice improvements in camera quality thanks to the power of A13 chip and the latest software tweaks.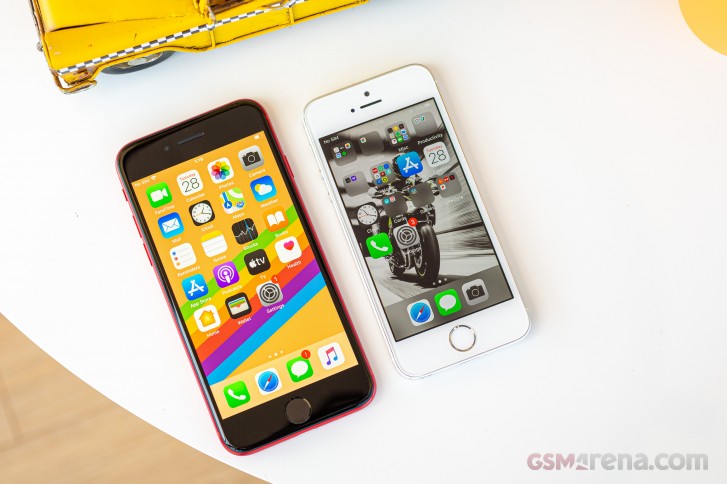 iPhone SE (2nd Gen) and iPhone SE (1st Gen)
And the most important part - the price is quite attractive. The base storage has grown to 64GB (up from 16GB on the old SE), and the 64GB model costs $399 in the US or €479 in the EU. These price tags are quite cheap for such a powerful phone, let alone an iPhone.
Alternatives
Being the cheapest of the iPhones there really is no alternative. If you are on the budget, the iPhone SE is your only option, but it is a great one if you can live with the bezels.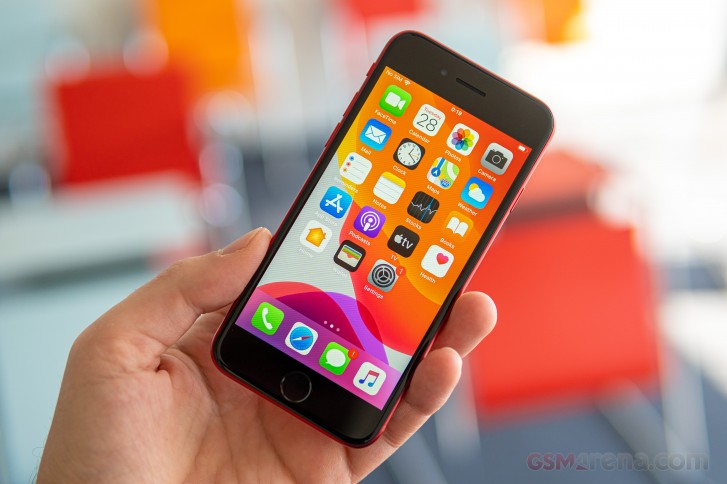 Or, you can add about €220 on top of the SE and get the iPhone XR with a larger 6.1" screen with tiny bezels and Face ID within its notch. The iPhone XR is about 1cm taller and wider than the SE, so it is not a giant. It may have the previous A12 chip, but most importantly, it offers a much better overall battery life.
For €300 on top of the iPhone SE you may as well go for the iPhone 11, which will give you the same screen as the XR, but with the new Apple A13 underneath and the iPhone 11 Pro main camera with Night Mode. You also get doubled battery life over the SE.
The first-generation SE is still available from various retailers across the globe, mostly refurbished by now, but it is still a good option if you want a decent phone with the size of a credit card.
Finally, if you aren't chained to iOS, the yet-to-be-revealed Pixel 4a looks like what many hoped for the iPhone SE to be - an all-screen phone with an excellent camera. We know Google can deliver on camera with the Pixels, and our fingers are crossed for an issue-free screen, though the Pixel 4a won't match the gaming performance of the iPhone with that rumored Snapdragon 730.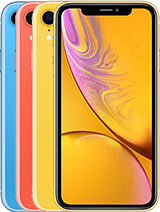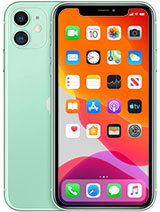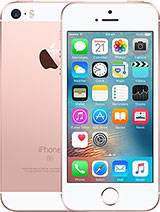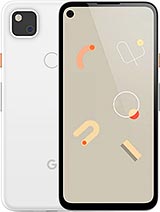 Apple iPhone XR • Apple iPhone 11 • Apple iPhone SE • Google Pixel 4a
The verdict
The small iPhone is dead! Long live the small iPhone! That is pretty much the deal with every new iPhone, and it was about time to happen with the SE generation. The second SE is a small and powerful phone, water-resistant and beautiful, with a capable camera and great iOS support.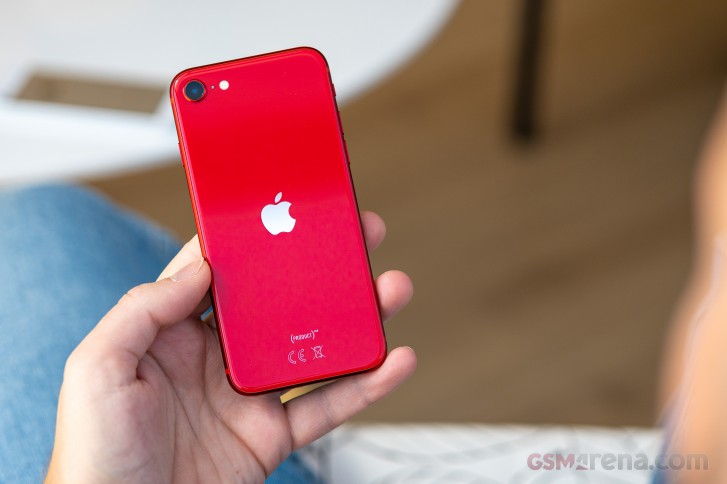 The new iPhone SE is the cheapest iPhone right now, but also one of the cheapest flagship-like phones on the market if we are to compare bang for the buck. The only things you must do to like it is to embrace the bezels and buy a fast charger.
Pros
Compact and lightweight, water-resistant.
Bright and high-contrast screen.
Outstanding performance from the A13 chip.
Loud stereo speakers.
Touch ID is back and we love it.
Excellent daylight photos and good low-light ones.
Very good video recording capabilities with proficient stabilization.
Future proof with the latest chipset and regular iOS updates.
The cheapest iPhone yet.
Cons
Bezels, bezels, bezels.
The battery capacity is uninspiring.
Night Mode in the camera is sorely missed.
Slow 5W charger in the box.
The iTunes file exchange can be frustrating for many.
tinyurl
is.gd
v.gd
v.ht
u.nu
clck.ru
ulvis.net
shrtco.de
tny.im