Introduction
Huawei has become a staple of smartwatch with a rapidly growing roster of GT and Honor Magic watches that have great build quality, battery life and deliver great value for money.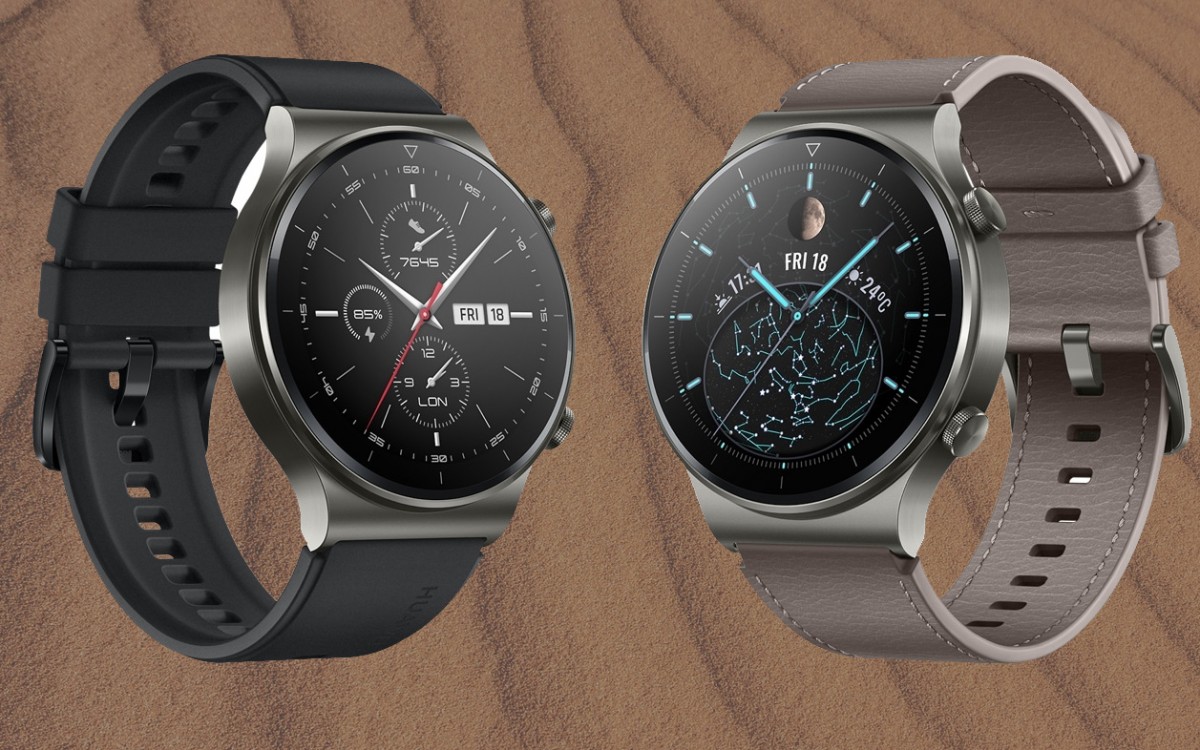 We loved the Huawei Watch GT2 for its responsive interface, great build quality and advanced set of features. The Huawei Watch GT2 Pro retains the internals, but is made with a much more premium selection of materials. Its borderless dial is made of sapphire crystal isntead of the traditional glass, the watch case is Titanium and the watch plate, which rests on your wrist is ceramic.
Inside are a myriad of sensors. It can monitor your heart rate, while the long list of sports supporting tracking now includes skiing and climbing. You get the usual notification forwarding, while the selection of watch faces has expanded.
So without further ado, let's jump into the review of the Huawei Watch GT2 Pro.
Design and build quality, wearing it
The Huawei Watch GT2 Pro comes in a simple box with a USB cable and a standard Qi wireless charging cradle. This means that the Huawei Watch GT2 Pro can charge on most any wireless charger you have lying around, like some of Samsung's Galaxy watches. That's a first for a Huawei wearable and is great news for everyone who has ever come close to losing their proprietary charging cradle.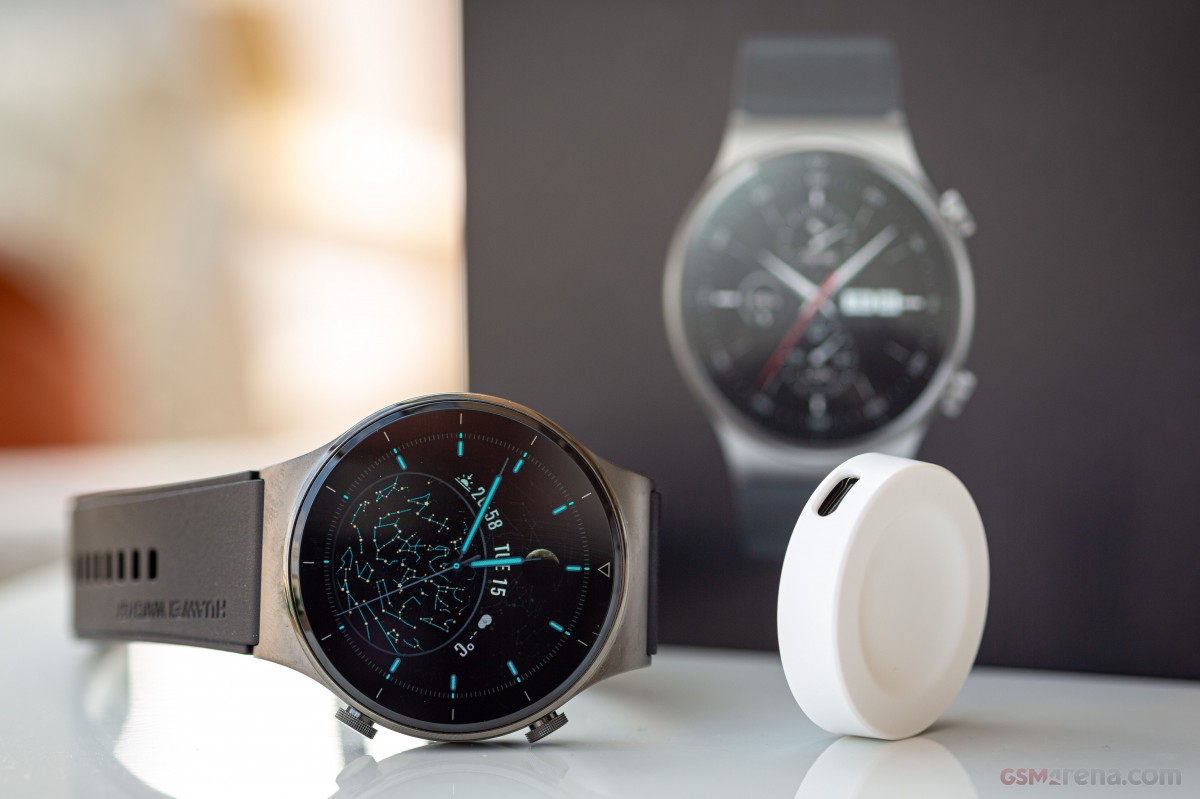 I tested the Huawei Watch GT2 Pro on a number of Qi charging pads and can report that it works without issues on every single one. Of course charging the watch on an upright charger will be a harder task.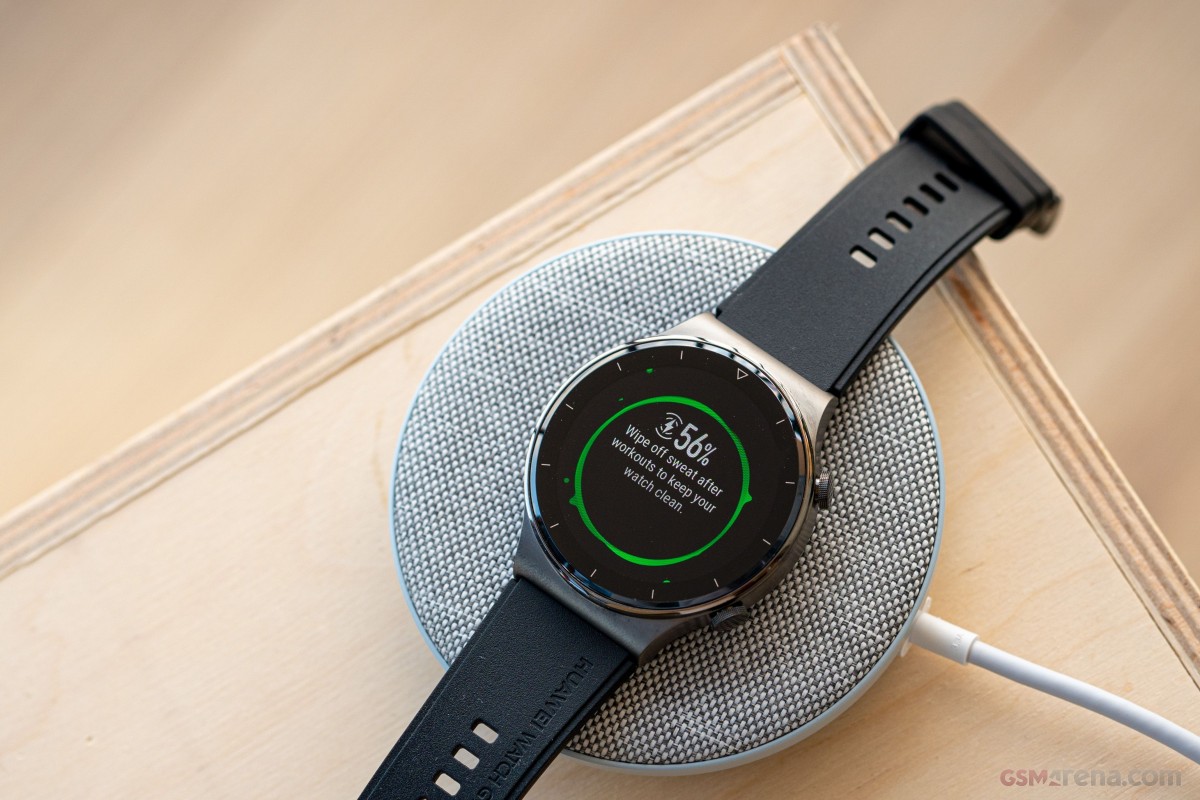 The exposed glass front, compared to the Watch GT's raised metal bezel gave me some anxiousness and invoked memories of the Watch GT2 that got scratched pretty easily. However you shouldn't worry about scratches on the Huawei Watch GT2 Pro, thanks to the sapphire crystal glass. My nearly two weeks of testing involved several brushing and hits, but the GT2 Pro didn't even get a micro scratch.
Sapphire is almost as hard as diamond – it scratches at a 9 on Mohs' scale of hardness for you JerryRig fans reading this, so it's hardly a surprise the Huawei Watch GT2 Pro remained pristine in our testing.
The ceramic back plate is a nice addition. Previous Huawei watches have had mostly plastic rear panels. The ceramic is smoother to the touch and sits more comfortably on your wrist.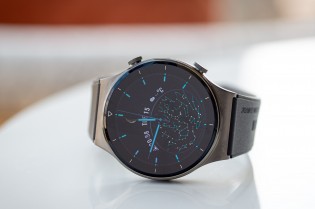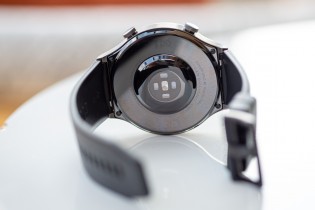 Huawei Watch GT2 Pro from front and rear
We have the Sport version of the watch, which comes with a Fluoroelastomer rubber strap. There's also a Classic, which has a leather strap attached. Whether you prefer one or the other, you can always swap out the standard 22mm strap easily..
Our unit is the Night Black, which is more of a dark grey. There's also a lighter color model called Nebula Grey.
The strap itself has a two-sided finish. On the inside, the one that makes contact with your skin, it's smooth. The outer side is grippy and textured. It's accurate to describe the strap's outer surface's feel as roughly leather-like. It also looks better than plain smooth silicone.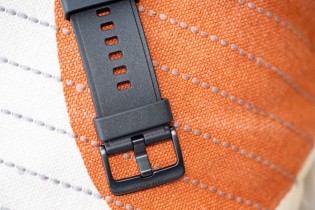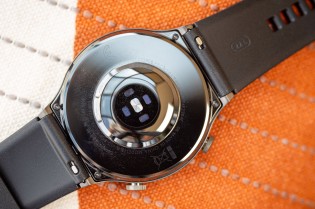 The watch band is a standard size
The Huawei Watch GT2 Pro has a heft to it that I like and which lends the watch even more premium feel. The watch itself weighs 52g. It's comfortable to wear and sits securely on the wrist – thanks to its choice of band material it doesn't slide up and down my hand.
Keep in mind that this is a watch that's designed for a large wrist. It comes in a single 46mm configuration.
I did take the Huawei Watch GT2 Pro on a couple of workout sessions and it did fine, but it's definitely not a device that's designed to go with you to the gym. It heavier than most fitness trackers and isn't the ideal shape for keeping out of the way.
Features and battery life
The Huawei Watch GT2 comes with a selection of over 200 watch faces, each with its own set of displayed complications. Huawei is most proud of the Night Wish face, which can show you all 8 phases of the moon.
The display will turn off after a few seconds by default and light up when you raise your wrist to look at the time. The watch is smart in determining how much time to light up its face – sometimes it will shine for a few seconds, while others it can stay on for as much as 10 seconds. You can set your custom screen off timer if you like.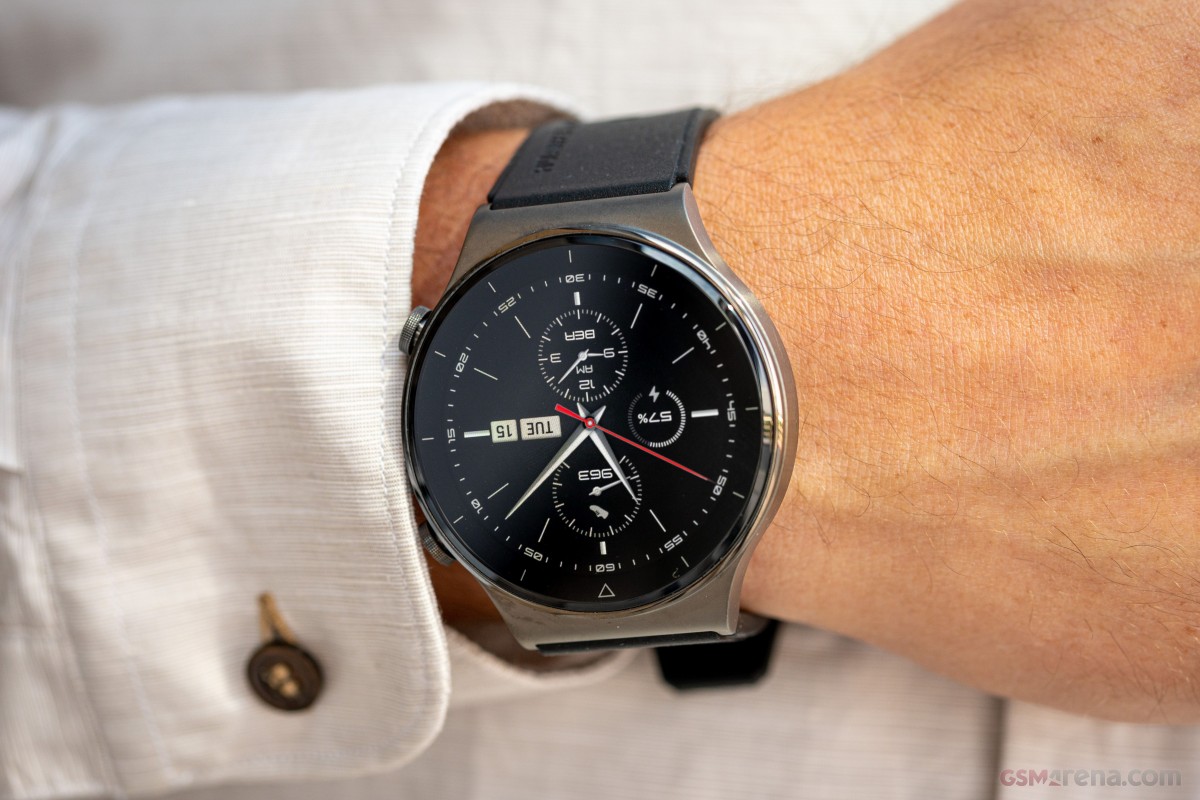 You can also choose any of six always on watch faces. Some are analog and others are digital. In always on mode the watch remained perfectly visible outdoor and we left it to determine its own brightness as it saw fit.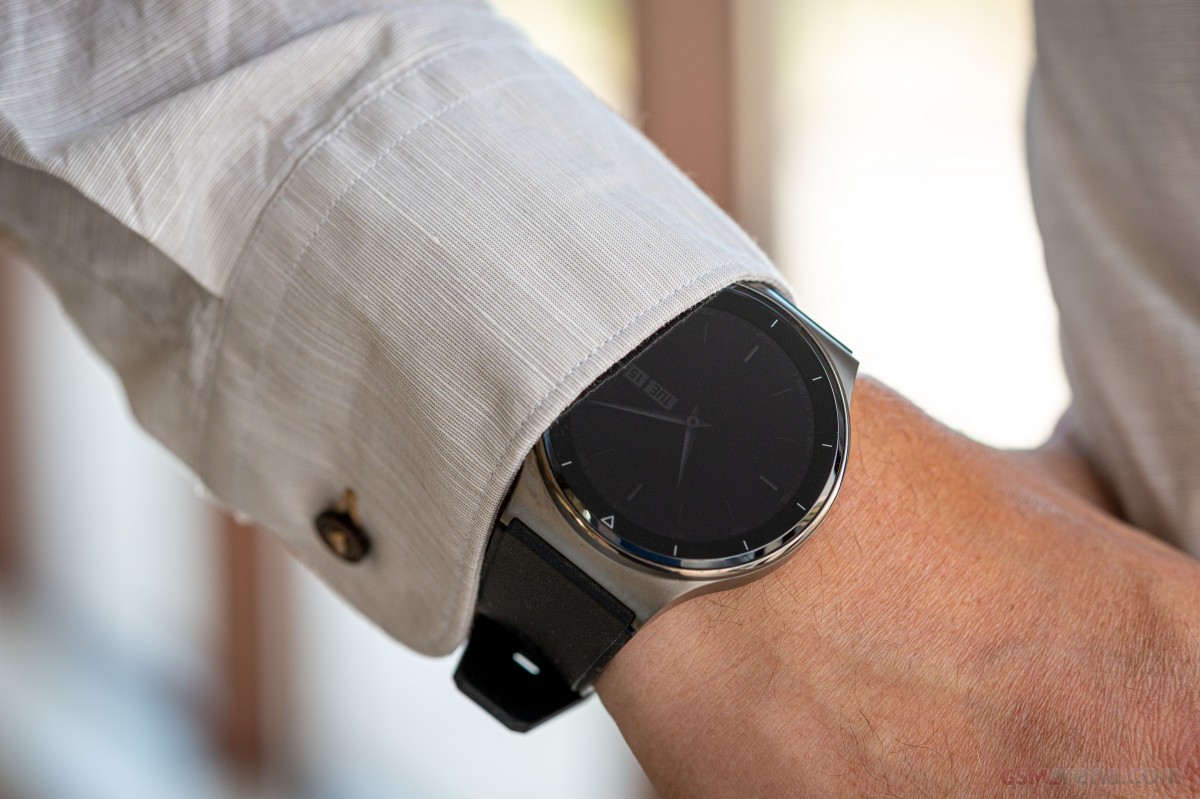 Like Huawei's other smart wearables, the GT2 Pro comes with a comprehensive suite of workout modes. It can track over 100 types of workout and even offers north of 10 running courses with voice guidance. It can automatically detect certain types of workout (six of them) and will let you know when it's engaged. This did lead to it telling me on a few occasions that it was tracking my not so brisk outside walk, which I didn't find useful, but some people might.
Sleep and stress tracking are also available.
The sensors on the bottom of the Watch GT2 Pro can monitor heart rate, blood oxygen saturation levels and can use that data to estimate your VO2Max levels – that's a reading meant to represent your base fitness level.
In workout mode the Watch GT2 Pro will tell you, depending on your heart rhythm, if you're warming up, burning fat, performing at the optimum conditions or if you should slow down and let your heart rate drop a bit. The watch will also vibrate at 10 minute intervals to tell you 'good job' and urge you on.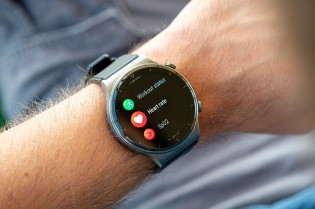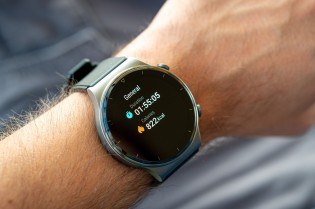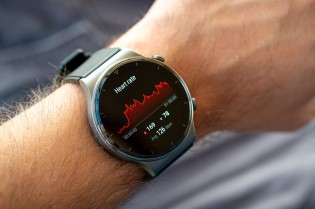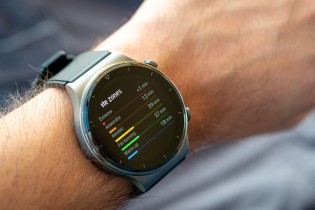 Menu and workout data
Like its predecessor and some of Huawei's fitness bands, the Watch GT2 Pro can do an independent SpO2 (or blood oxygen saturation) reading. A healthy adult should have between 94% and 100% of oxygen saturation in their blood in normal conditions (extreme high altitude is an example of an abnormal condition). SpO2 isn't constantly monitored and it takes about 10 seconds for the Watch GT2 Pro to produce a reading.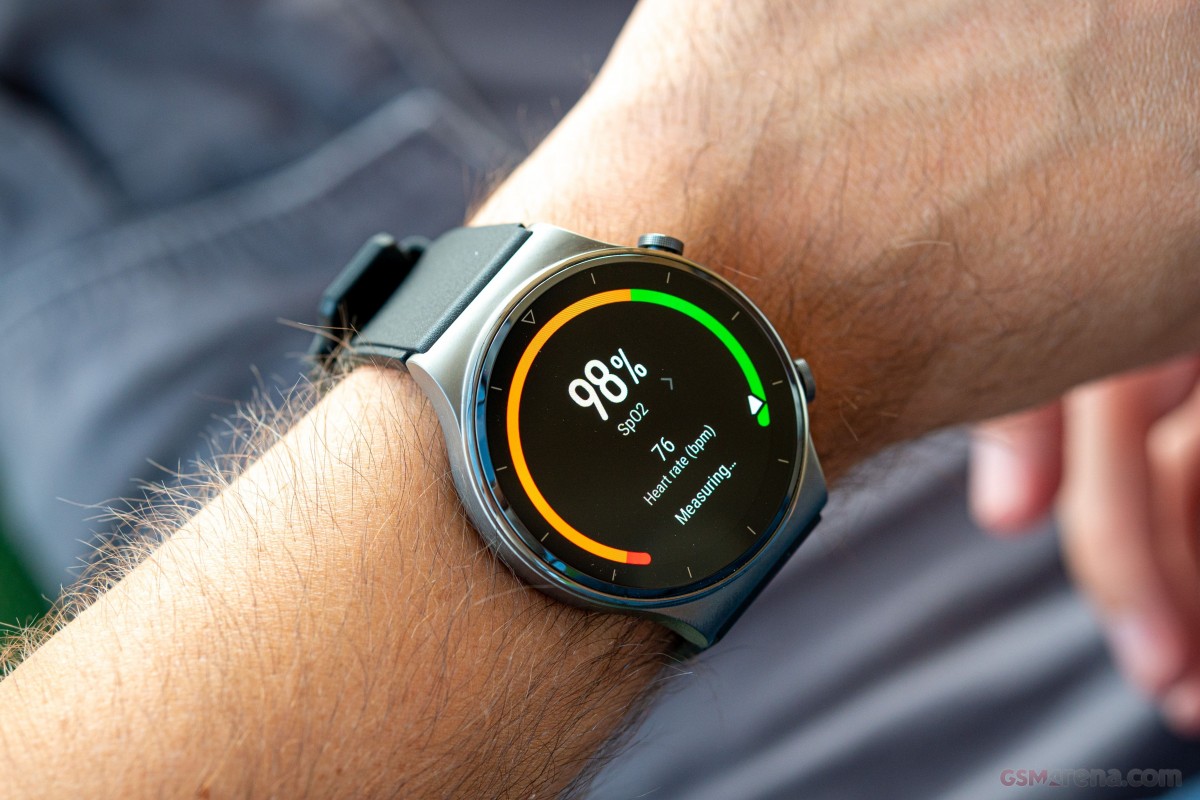 There are a few specialized sports modes on the Watch GT2 Pro. One is climbing, there's a Golf-centric mode that can monitor your swing and give you pointers on angle and speed of attack.
The Skiing and snowboarding mode is particularly exciting. While on the slopes the watch will measure your heart rate, maximum speed, total descent in meters, sliding distance in kilometers and your taxi time. Sadly we couldn't test any of that this time of year.
There's a neat Route Back feature, which uses GPS to record your trail on a hike and will then give you assistance on the way back.
Finally, the Huawei Watch GT2 Pro will warn you of incoming severe weather changes, using the readings from its Barometer sensor.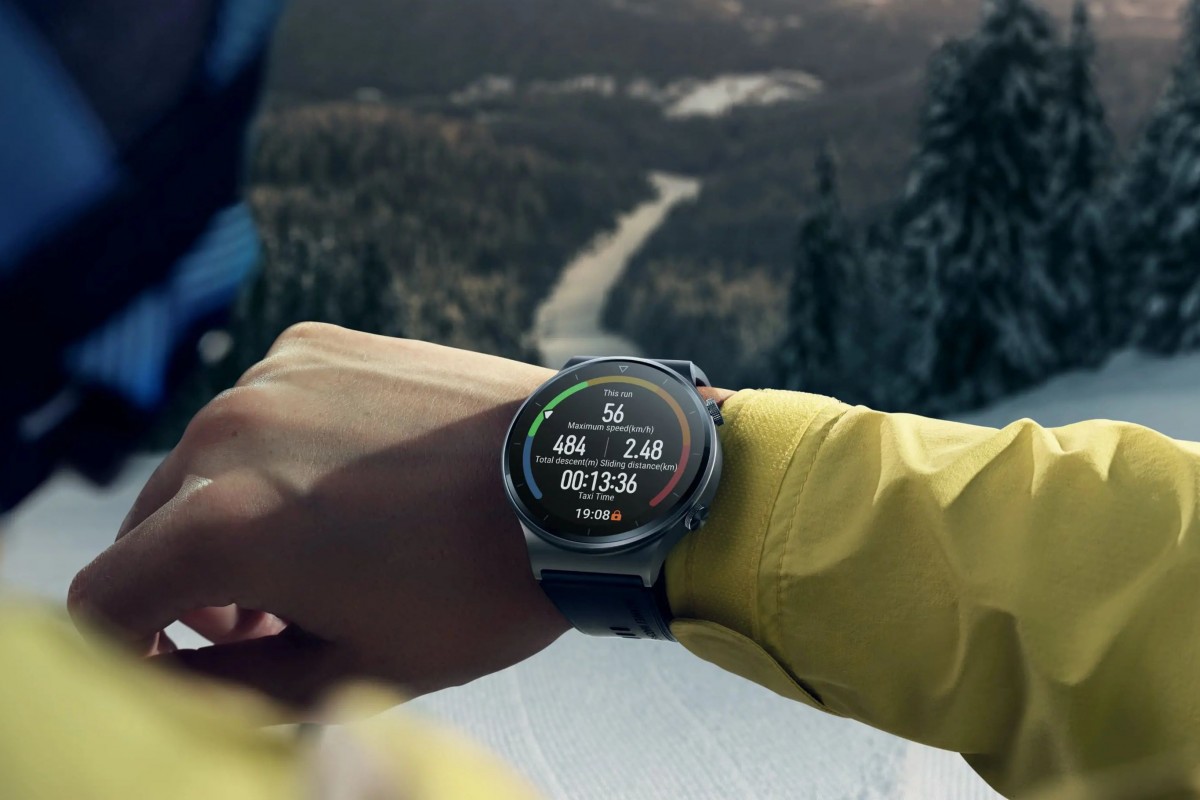 The Huawei Watch GT2 Pro comes with 4GB of on-board storage and can connect to Bluetooth headphones on its own, meaning that you can go out running without your phone. However you can only use locally stored mp3 files – you can't download Spotify and use the internal storage for songs from your library.
The Huawei Watch GT2 Pro has a speaker and microphones and it can take calls if it's connected to your smartphone. Call quality was top notch and the speaker is more than loud enough to carry a call while you're on your morning commute. The Watch GT2 Pro can act as a remote shutter for your smartphone, but it only works with Huawei and Honor phones, running EMUI 8.1 and above.
Battery life on the Huawei Watch GT2 Pro was excellent. We used it with always on display, notifications on and did two serious workouts and the Watch GT2 Pro went for 8 full days before it needed a charge. Turning notifications off and disabling always on display can easily push you into two weeks territory.
A full charge takes about an hour and you can get a claimed 10 hours of use from just 5 minutes on the charging cradle.
Verdict
The Huawei Watch GT2 Pro is excellent as a watch and packs enough features to make your day better as a smart tracker.
If you're looking for an amazing looking watch that will tell you time but can double as the odd fitness tracker – the Watch GT2 Pro should be near the top of your list.
There are few conventional or smart watches that offer a better build than the sapphire, titanium and ceramic Watch GT2 Pro. It truly feels better made than almost any other smartwatch we've tested.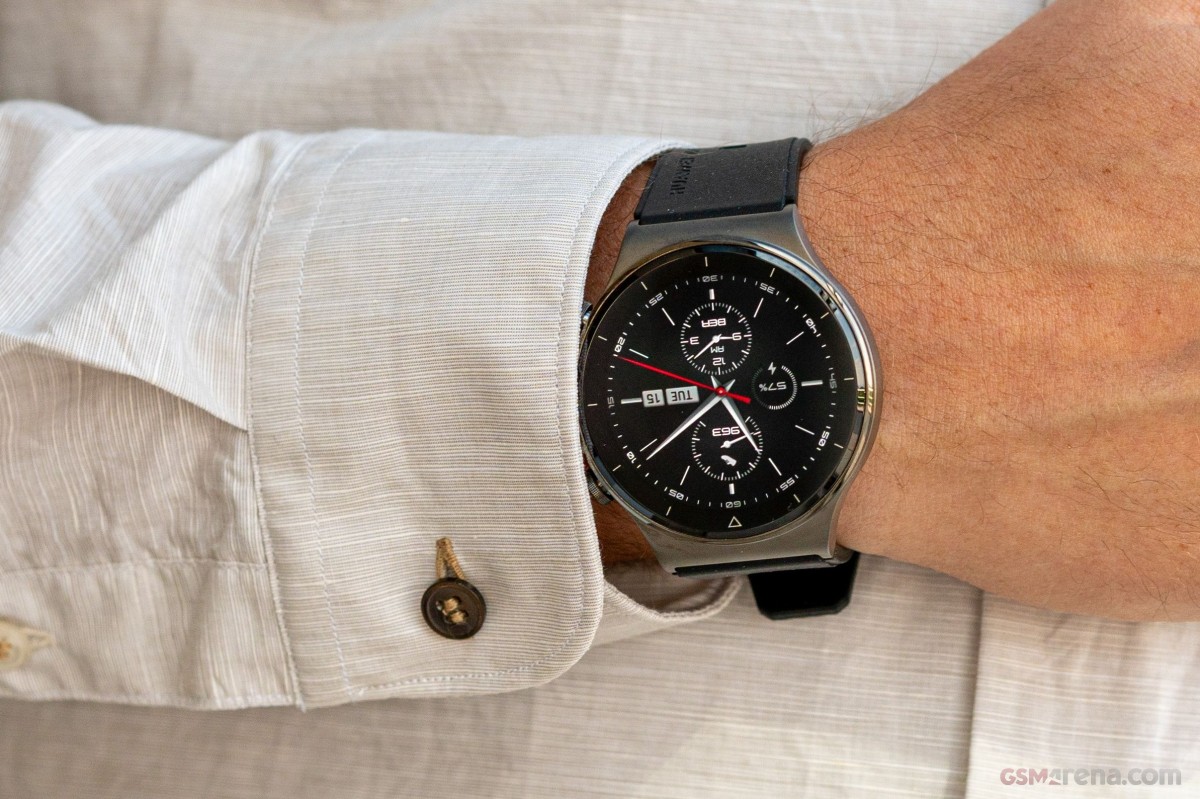 Now consider the excellent price of just €299 and compare it to the price of a 45mm Galaxy Watch3 (€450 for an aluminum, €633 for a titanium) or a 44mm Apple Watch Series 6 (€447 for a regular and €808 for a stainless steel model). One of the easier recommendations we've dished out.