Introduction
The Huawei Mate Xs is finally here! We have it in our hands, in the comfort of our office, without any show floor employees looking over our shoulder and carefully guiding us through what our experience should be.
The arrival of the Mate Xs is a noteworthy moment – yet another high-end foldable device will be making its way to the market and in the hands of consumers.
The original model never got released in Western markets. The Huawei Mate Xs is the second release – an updated version, which arrives in even tougher times with Huawei still under the US trade ban and COVID-19 spreading throughout the world like wildfire. Even Huawei itself admits this device has cost it a lot.
But that doesn't take away any of the importance of this milestone. Each new foldable device that arrives breaks the mould and explores new possibilities while offering different and novel user experiences. It doesn't get any more exciting than that for tech reviewers like us.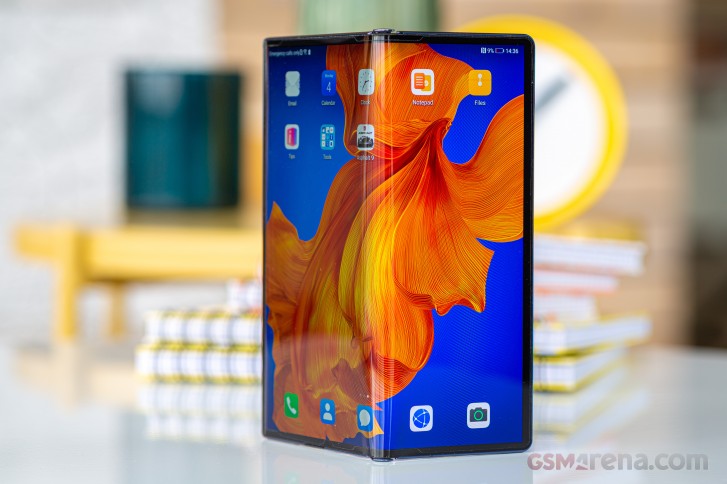 But let's go through the Mate Xs key specs first before getting to the actual reviewing.
Huawei Mate Xs specs
Body: Plastic front, aluminum back and frame; Unfolded: 161.3 x 146.2 x 5.4 mm; Folded: 161.3 x 78.5 x 11 mm; 300 g
Screen:Unfolded: 8.0-inch Foldable OLED FullView display, 2200 x 2480px; Folded: 6.6″ OLED 1140 x 2480px
Rear camera: Primary: 40MP f/1.8, 1/1.7″, PDAF; Telephoto: 8 MP, f/2.4, 52mm, OIS; Ultra-wide: 16 MP, f/2.2, 17mm; LED flash; 3D ToF; [email protected] video recording, EIS; AIS (Huawei Ai image stabilization)
Front camera: Uses the main cameras.
Chipset: HiSilicon Kirin 990 5G (7nm+): Octa-core (2×2.86 GHz Cortex-A76 & 2×2.36 GHz Cortex-A76 & 4×1.95 GHz Cortex-A55), Mali-G76 MP16; NPU (Neural processing unit) Dual Big Core + 1 Tiny Core NPU
Memory: 8GB RAM, 512GB storage; NM (Nano Memory), up to 256GB (uses shared SIM slot)
OS: Android 10; EMUI 10.0.1
Battery: 4,500mAh (separated in two packs), 55W SuperCharge fast charging
Connectivity: 5G (SA/NSA), Hybrid Dual SIM (Nano-SIM, dual stand-by), Bluetooth 5.0, Wi-Fi a/b/g/n/ac/ax, dual GPS, USB 3.1 Type-C; NFC; IR blaster
To put things in context, it was actually the original Mate X that stole all the headlines, mainly due to its leading role in the last big foldable craze that took place during MWC 2019.
That led to an interesting story of rushed progress and all sorts of mishaps due to the overzealous desire of major manufacturers like Huawei and Samsung, as well as a few other smaller operators, to get on the foldable hype train as early as possible. This story is beyond the scope of this review, but let's just say that the foldable efforts by all makers have been through a rather rough patch.
Which gets us back to the excitement caused by the arrival of the Mate Xs for review. Yup, it's a milestone – at least for us – because its arrival means foldables are perhaps a step closer to becoming mainstream.
Design-wise, the Mate Xs is almost identical to its predecessor. However, it is, in a lot of ways, a second-generation device. It has been refined through and through and it's now a real product that Huawei plans on selling globally.
Most of these changes to the Mate Xs, however, are either internal or subtle enough to be rather hard to notice. Certainly not minor, but so intricate and particular that you shouldn't expect the updates to be apparent. It's not that most of us have had much hands-on time with the predecessor anyway so drawing parallels will not be of much use.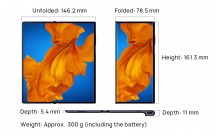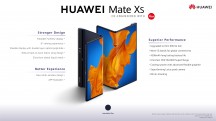 Huawei Mate Xs info slides
It's a good thing then that the new Mate Xs should now be easier to find and experience to anyone interested.
It is still the very definition of a "halo product" only meant for the most affluent and adventurous early adopters. And, of course, ideally suited for attracting media coverage, such as this review, and gathering tons of organic brand exposure and public interest.
What we will be looking into in more detail, however, is how good the Mate Xs rates as an actual end-user product meant to be used day in, day out.
Unboxing the Huawei Mate Xs
When you are paying this much money for a phone, you'd be right to expect a certain level of experience across the board. Packaging and presentation are not things that any company, especially not one of Huawei's size, would skimp out on in a "halo product".
The Mate Xs comes in a big, lavish box made of thick cardboard, with a soft finish all around.
The internal space features the same soft, almost silky material and plenty of boxes to divide everything up, as well as a solid tray for the Mate Xs itself. It ships unfolded and well protected.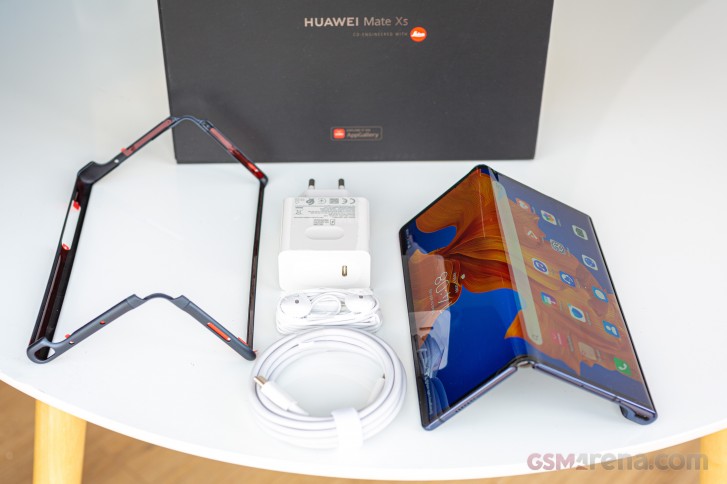 In terms of the accessory bundle, you get a pair of white, USB Type-C buds in one box. These are reminiscent of the signature Apple design that hangs off the ear lobe, instead of going inside the canal.
Also in the box – there is a case for your shiny new Mate Xs. We were quite curious as to what sort of case Huawei would come up for a device that has more screen than anything else and it's exactly what you can imagine – a thin piece of plastic that's meant to be used as a bumper case. It's attached with a set of adhesive stickers to the phone and it's designed to run around all edges, including the thicker metal bit.
There is not much you can do to protect a phone in this form factor from accidental drop damage. As far as we are aware, Huawei should also be offering some sort of a carrying case where you can tuck away the phone so it doesn't get scratched in your pocket.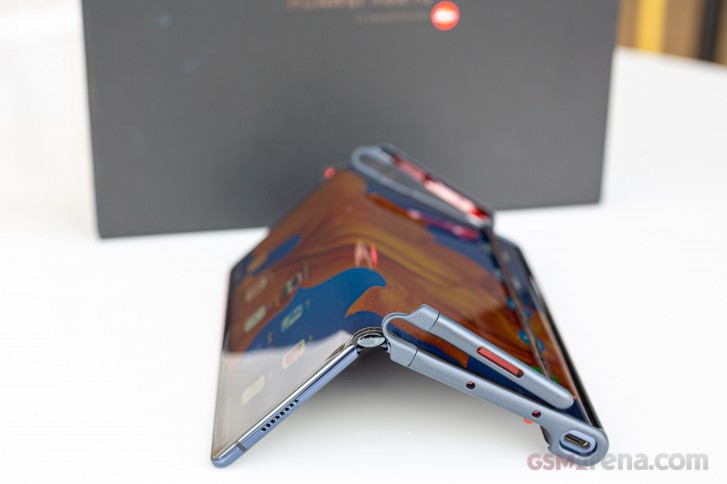 Naturally, Huawei also includes a charger in the box. The cable it uses is a quite long Type-C to Type-C cable, rated at 3.3 amps. This is enough to cover the full 65W Power Delivery rating of the provided wall charger.
The Mate Xs charging capabilities, however, top off at 55W, so it was nice of Huawei to provide a 65W laptop-grade charger which is definitely above spec for this phone but one that might come in handy for your notebook just as well.
Design
Regardless whether you are a fan of Huawei's outer-folding display design or not, there is no denying that it has a striking look to it.
If you ignore the fact that most of its surface is a display, the Mate Xs looks surprisingly "conventional" in both of its end states. The really "unorthodox" bit about it only manifests itself while it is being folded or unfolded.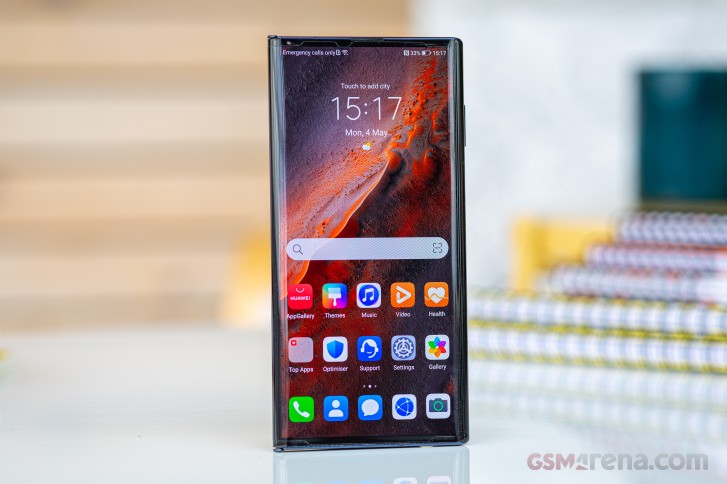 In its folded state, the Mate Xs both looks and feels like a modern, slicker take on some of the rounder smartphone designs of the past. Huawei has done an excellent job of lighting up only the part of the screen that makes up a 6.6-inch display with equal bezels on each side. The inactive display that folds around the back blends so seamlessly with the overall design, that an occasional viewer may not even notice it's an extension of the same panel.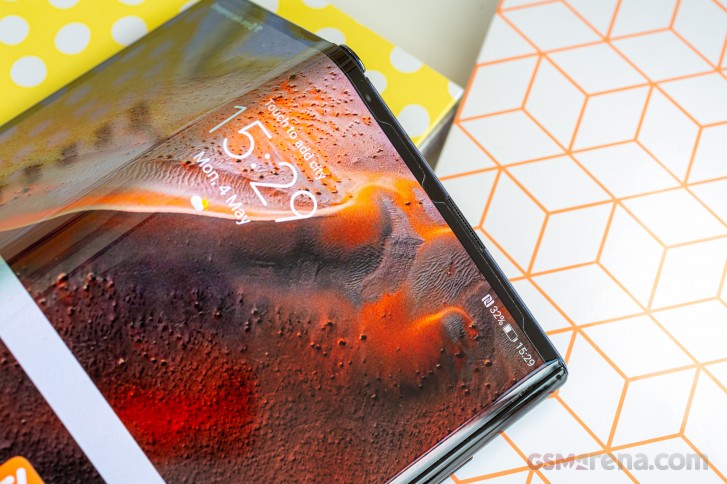 Unlike the thin and very tall outer display offered by the Galaxy Fold, on the Huawei Mate Xs external display (the one meant for folded use) has a rather standard 19.5:9 aspect ratio. This means the Mate Xs has none of the resolution scaling issues, which have been plaguing the Galaxy Fold's external display.
Unfolded, the Mate Xs is another beast entirely. But, again, unless you witness the actual transformation taking place, it looks quite conventional once fully unfolded – which is to say, like a sleek tablet.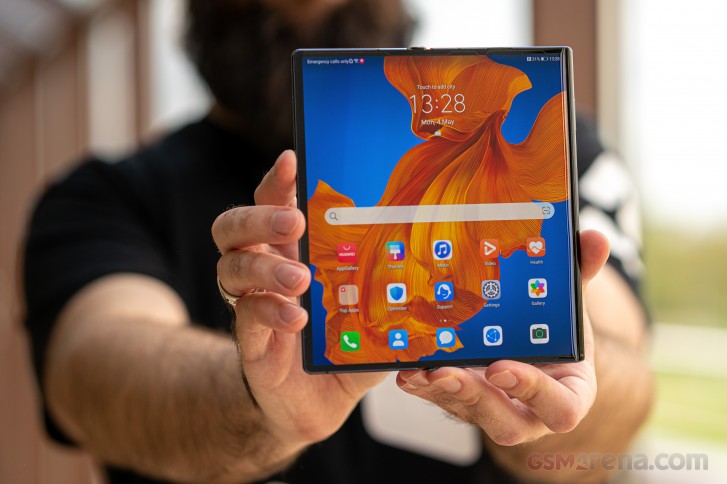 We found it quite amusing that the asymmetrical design with a bulging part at one end was quite reminiscent of Amazon's Kindle Oasis ebook reader – the similarity between those two is really striking.
Falcon Wing Design hinge
A big part of why the Mate Xs feels so natural in the unfolded state is its impressive hinge. Huawei calls it a Falcon Wing Design and claims it has been improved and refined since the original Huawei Mate X implementation.
The hinge is supposedly made using zirconium-based liquid metal – an extra tough alloy which is both sturdy and easy to work for creating complex shapes – and the entire mechanism uses more than 100 precision-cut pieces.
The rotating shaft of the hinge is designed to contract and extend, depending on the current folded/unfolded state of the display, so that it supports the flexible panel in the best possible way. The main advertised benefit of that is that you get a "completely flat" surface in the unfolded state and no "deterioration or distortion of the image along the hinge".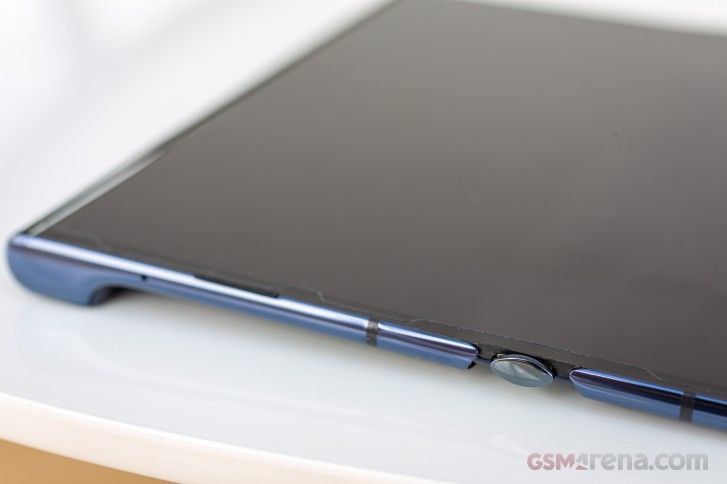 As we can confirm, when you unfold the Mate Xs, there no noticeable crease whatsoever – neither physically nor is there any image distortion on the screen to suggest one.
The large folding display on the Mate Xs is a lot flatter and looks a lot better than the one on the revised Samsung Galaxy Fold.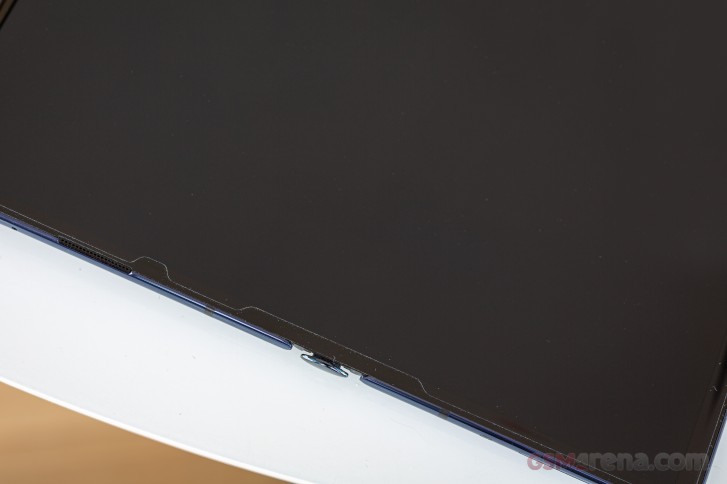 Still, there actually is a palpable crease in the display's surface – only you can't see it that easily. It's mostly noticeable when doing longer swipes across the display.
We didn't expect a foldable screen to be as perfectly flat as a glass-covered panel. So when you put your expectations in check, it's clear that Huawei has done a great job with the foldable screen on the Mate Xs.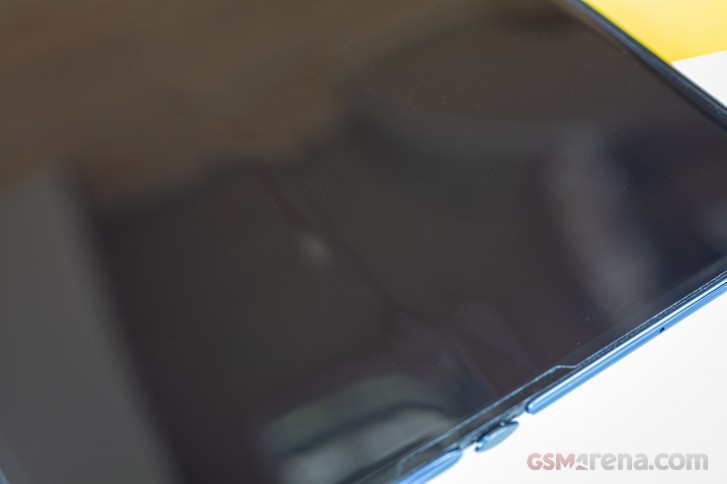 The impressive look and feel remain consistent when the phone is folded. The curvature of the closed display is so uniform and seamless that we honestly couldn't tell it apart from the other side of the phone, which ended in a solid frame. Color us impressed!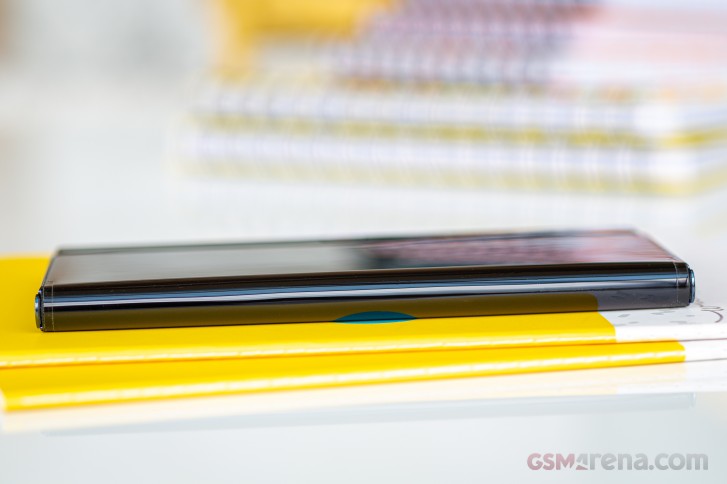 It's worth noting that the opening and closing motions on the hinge are far from smooth. At least this time around the hinge does not sound ratchety like it did on the original Mate X. Still, the folding and unfolding motion is not assisted in any way, and there is no easy way to fully close or open the phone without applying significant pressure on the panel. This fact certainly adds to the overall anxiety this particular reviewer felt about keeping the humongous screen safe from scratches. It is one area in which Samsung's approach and inner-folding solution earn back some points. But if you have a more care-free approach towards your gear, you'll get used to it in no time.
Build and finish
In the next section of the review where we discuss materials, build and finish, we can't miss pointing out the fact that the way the Mate Xs was designed puts the screen at constant risk – regardless of whether it's open or closed.
With devices like the Galaxy Fold and Z Flip, you can hide-away the semi-soft surface of the panel, which is suspectable to damage, and even then, scratches seem to appear almost like out of nowhere.
On the Mate Xs, the risk for the screen getting scuffed, scratched, marked, or otherwise damaged is taken on a whole other level. There is no feasible way of protecting it unless you have a soft case, and you always take great care when handling it. We don't know about you, but after dealing with this daily, this particular reviewer started having some unusual thoughts about getting a second phone as a backup just for situations that require care-free operation .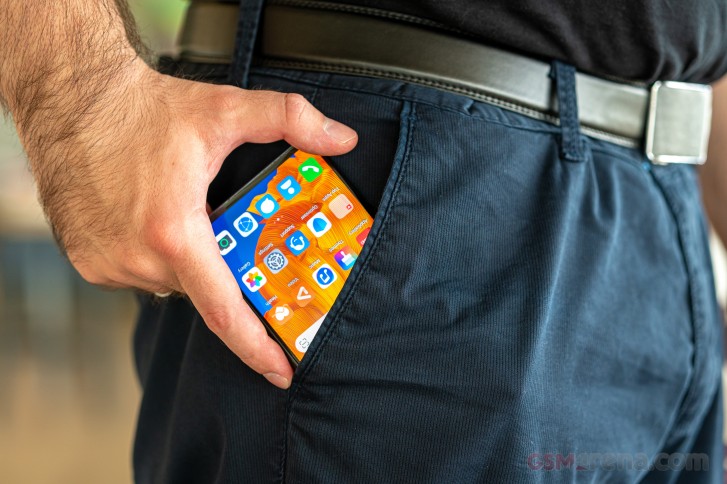 Now, it is worth noting that unlike Samsung, Huawei seems to be playing the PR game a bit more cautiously here, without tossing-around words like "glass" for its finish. Instead, the official press materials have an assortment of technical jargon to relay the claim that the Mate Xs provides "a high degree of resilience against scratches and cracks."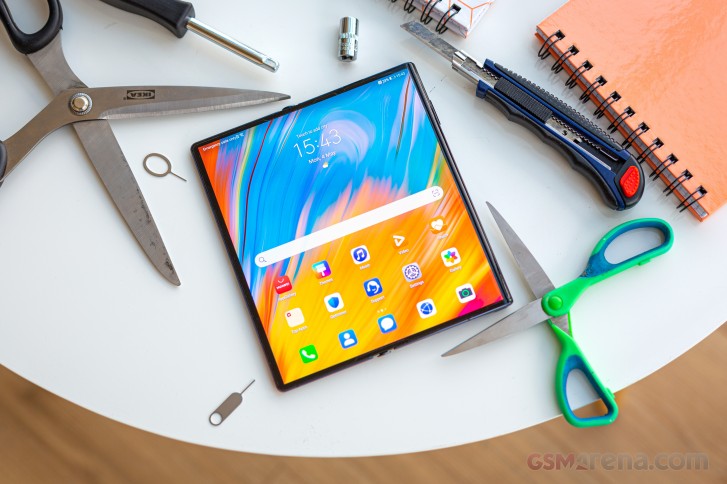 The technical description outlines something called "Double Aerospace-grade Optical Polyimide Design". It consists of two layers of aerospace-grade optical polyimide (PI), stuck together via a Huawei-pioneered process, using an optically clear adhesive (OCA) and then placed on top of the actual flexible OLED panel. We were also assured Huawei's engineers have used two layers of the optical polyamide instead of one, making the whole thing 80% stronger.
Mind you, that polyamide, reportedly, costs three times as much as pure gold by weight, which is a "weird flex" (pun intended) when we are talking about such small quantities and such an expensive device.
We get the point, though. No efforts were spared to making the Mate Xs screen more resilient. But the truth is, there is only so much they can do about the flexible outer layer, which is inherently softer than glass.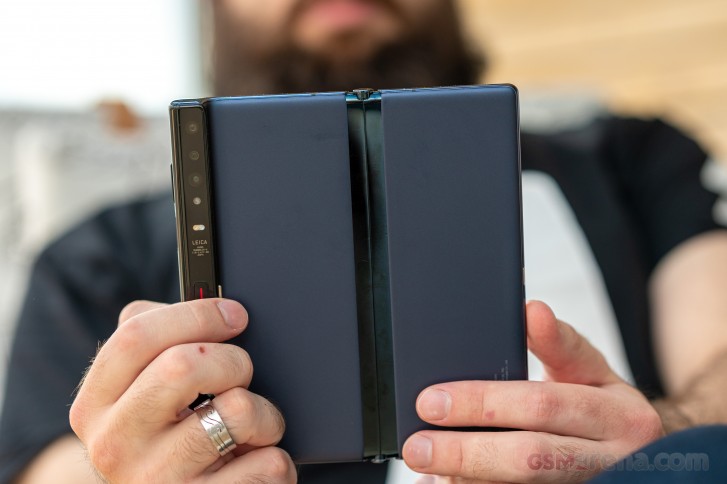 We can't say much about the scratch resistance of the screen, but we can't say we're fans of how the screen feels to the touch. It feels nothing like glass, with plenty of drag. It also seems to gather a lot of fingerprint grease, as well as dust. The latter just loves sticking to it. We get that this kind of trade-offs come with the territory when you are venturing into foldable designs, but we think Samsung's finish has better oleophobic properties. Worth noting.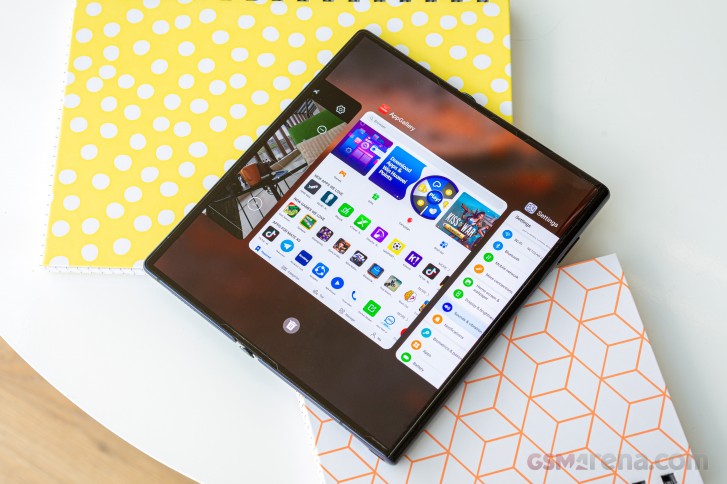 Speaking of Samsung, we are sure you all remember the fiasco with peeling the "screen protector" off of the original Galaxy Fold. The Mate Xs has a top layer of its own that looks like it can be peeled, yet is also an intrinsic part of the display. It has a rather odd shape, with cutouts in certain areas, likely to account for pressure points while folding. Fair enough.
The only problem is that all of these cutouts are quite visible and tend to stick out. You can feel them when swiping from the edges of the phone. Especially problematic for gesture navigation. Samsung specifically had these tucked-away in its Fold re-design, so this makes them stick out all that more on the Mate Xs. Lint also tends to get caught on the edges of this layer, making for a nasty look whe the display is off.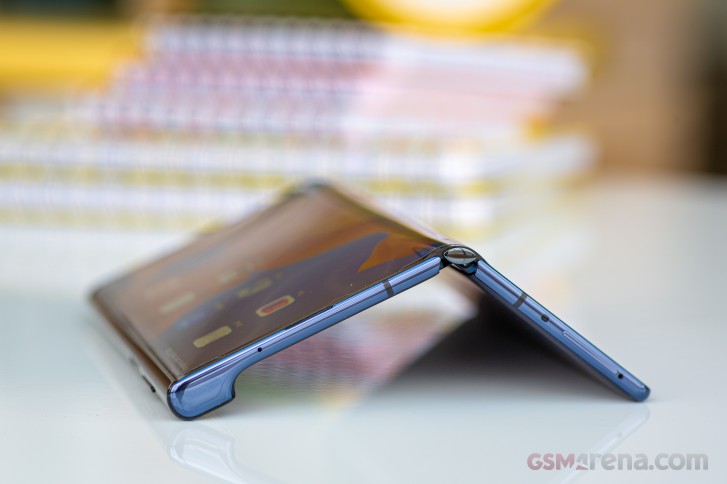 Nitpicking on our end, for sure, but we still feel like these are the kinds of design choices that need to be analyzed and even over-analyzed on these early generation foldable devices, just to get a better understanding of what works well and what does not.
Looking at the Falcon Wing hinge more closely, for instance, leaves us rather worried about how exposed a lot of its bits are. Not having the top layer's edges hidden-away is the least of its potential problems. Both "spokes" that stick out on the top and bottom of the hinge not only look like tips of a stylus, but also include a lot of empty space between their tip and the rest of the phone body.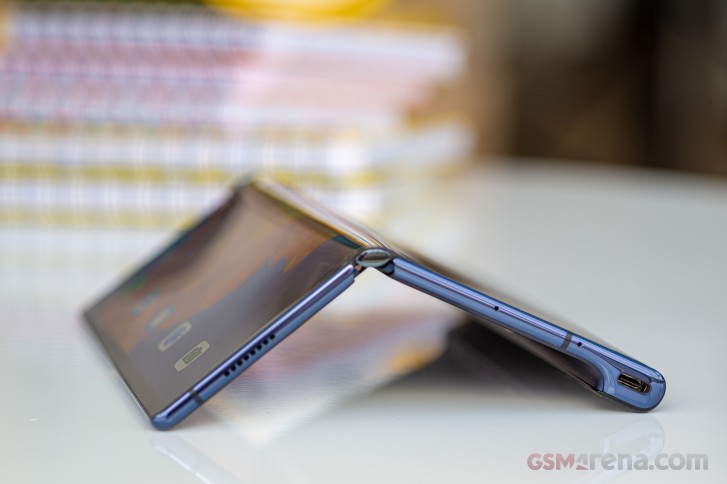 We can only imagine the stuff that's going to find its way there over time – the same goes for the hinge itself. We can only hope that Huawei has engineered a solution to this problem. Only time will tell whether hinge design is solid. The one on our review unit did start creaking, just a bit, at times, after some use. Nothing we would consider worrying, though.
Controls, ergonomics usability
What is it like to use the Huawei Mate Xs? Well, in short – it's an amazing experience and a glimpse of one possible take on a more convenient and productive smartphone future.
Like we already mentioned, the Mate Xs feels equally familiar and approachable in both of its folded and unfolded states even if it's in very different ways.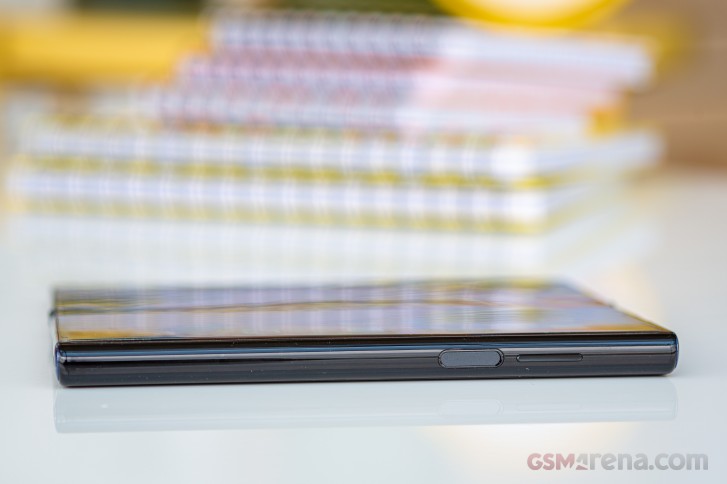 While folded-down, the Mate Xs is almost inconspicuously similar to any other modern-day "slab" design smartphone. We already praised its choice to limit the available display area to a manageable and softly-curved, 6.6-inch area, with a standard aspect ratio of 19.5:9. Even the 11mm hefty thickness of the phone's body is not hard to get used to. It's 300-gram weight, on the other hand, is a bit harder to maneuver. We found it perfectly manageable, though.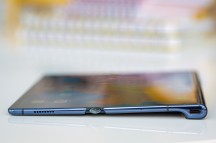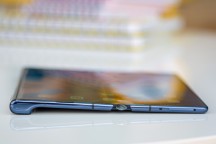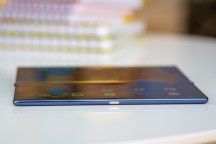 Controls layout
Control placement around the body is well thought-out. The volume rockers are positioned at a convenient height, and so is the power button+fingerprint reader, combo.
The fingerprint reader works well. It is both quick and reliable. It is worth noting that this is the only biometric authentication solution you get on the Mate Xs. With no front-facing camera, there is no face unlock.
There is also no elegant way of having a video call that we could think off, besides a rather "hacky" solution of invoking the back display, while the phone is folded.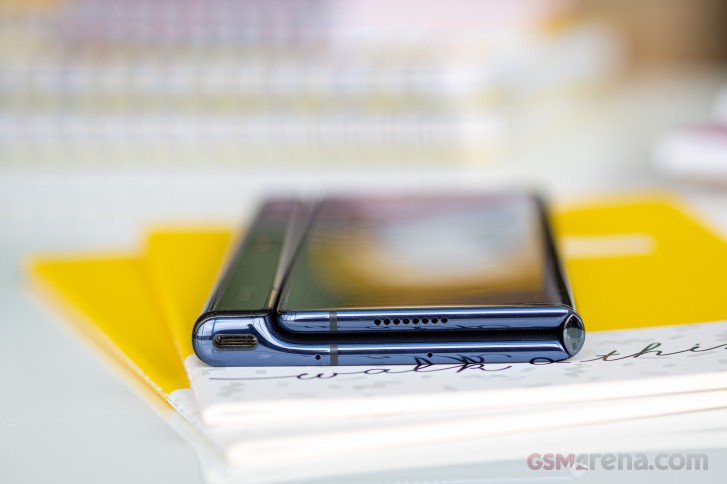 The rest of the controls end up logically placed in a folded state, as well. The bottom, or rather the right "handlebar" side has just enough space to house the USB Type-C port. The same frame has two microphones on the bottom. On the top – the front piece has the third microphone and a pretty well-concealed earpiece, that doubles as a speaker.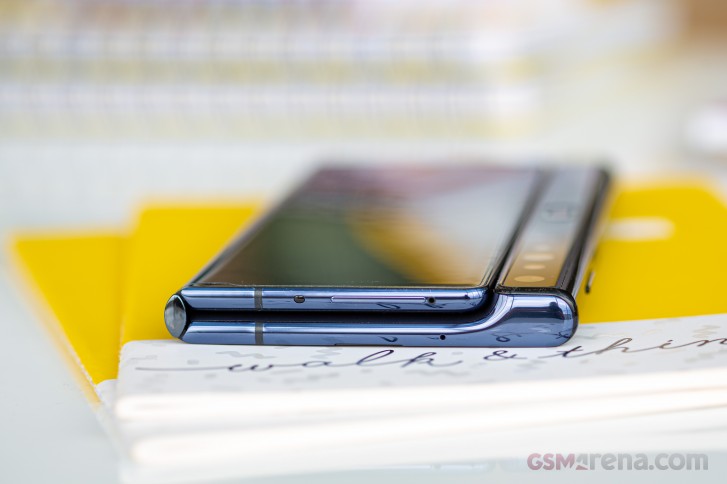 The back half of this "sandwich" has a speaker on the bottom side. On the top – the Dual nanoSIM and NM card, hybrid combo tray. Next to that, it a rather impressive flex of internal space management – an IR blaster. Points there.
There was no space for a dedicated status LED, though. You have to rely on the AlwaysOn Display for staying on top of your notifications. It only offers a few clock styles and no actual way to get it working on the back side of the display, while the device is folded.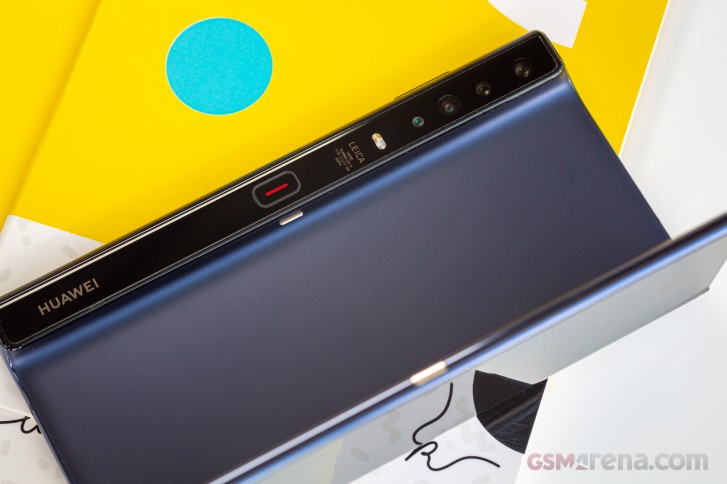 Unfolding the Mate Xs requires the press of a latch-release button on the back, below the camera array. It is in a rather inconvenient spot to press while holding the phone with one hand. However, that might just be on purpose, since it forces you to involve a second hand for the unfolding process.
Pulling-off a single-handed unfold might be possible – with enough dexterity and perhaps an extra surface to use as leverage. It really isn't a good idea, though. The latching mechanism itself feels very solid. While a magnetic solution would have definitely felt more satisfying to open and close, but Huawei has made the right decision in terms of reliability here. Plus, there is quite a bit of inherent tension in the display while fully folded, which requires a secure method to hold it in place.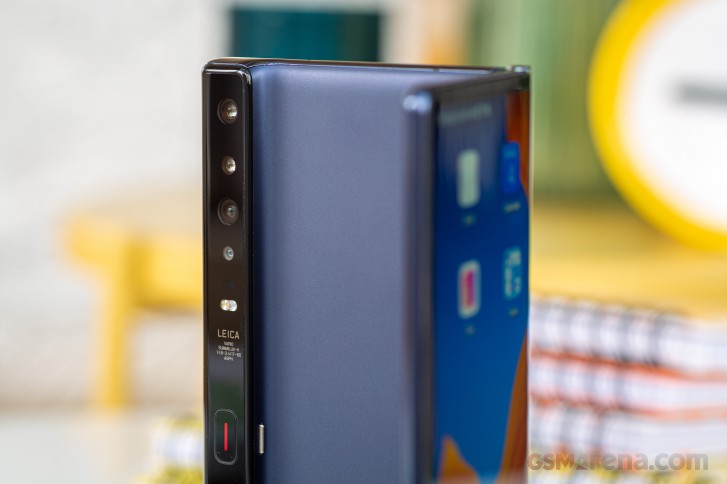 Once you unfold the Mate Xs and look at the control layout once again, and start to appreciate the thoughtful design choices better. Like the fact that the speaker now ends up on one side of the phone, with the earpiece on the other, in horizontal orientation. This makes for proper stereo separation.
Using the phone in a landscape orientation definitely feels comfier if you have the hardware "handle" bit on the bottom, rather than the top side. It does weigh a bit more than the other side and having it in your palms feels a bit better. Plus, that way, the speaker ends up pretty high-up and thus hard to accidentally cover up.
The location of the charging port is a consideration as well. The USB port ends up buried in your palm with our suggested hand-hold, so it's not ideal for charging. If you'd like to charge the phone while using it, you might have to go for the top-heavy option and hold it in the other orientation instead.
Whatever way you are holding the phone though, that huge 8-ich display makes for an amazing gaming and multimedia experience.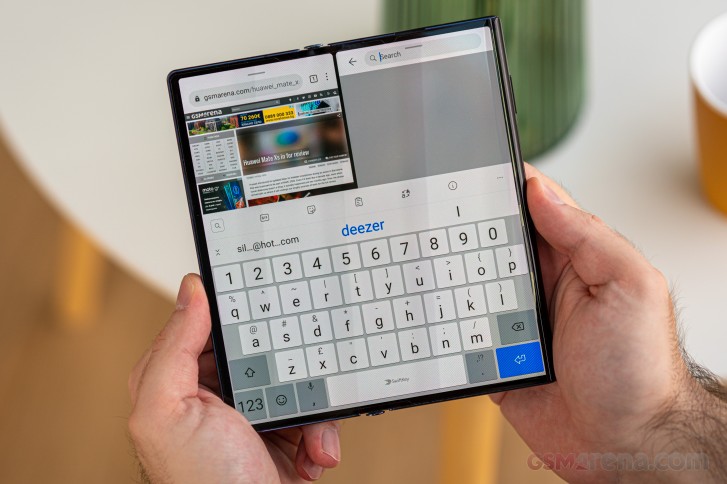 Propping the Mate Xs on a table can be somewhat useful for typing. In this case, you definitely want the "handle" on the top, to get a more ergonomic hand-hold. The on-screen keyboard isn't really big enough in this orientation to get both hands on there, though.
On the flip side, quite literally this time around, when you use the unfolded Mate Xs in the other orientation, the keyboard gets very, very big and it's a breeze to type on with two hands. The "handle" is also thin enough to hold in your hands and still have both thumbs move across the display with comfortably.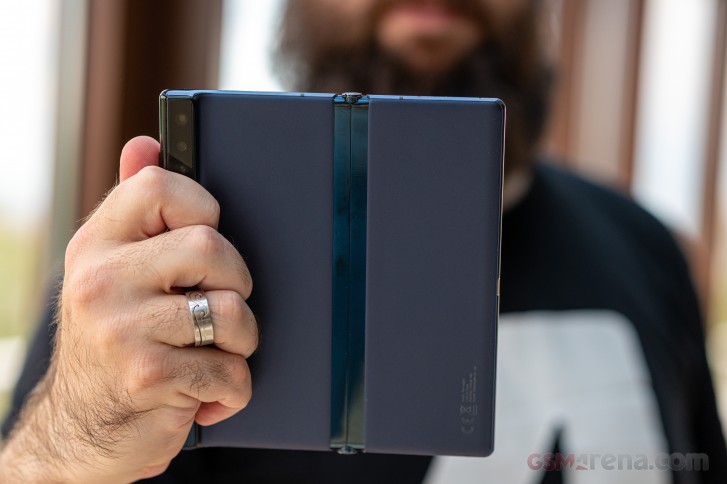 As per press materials, Huawei seems to envision using the part we have been referring to as "the handle" just the way its name suggests. We found it useful but perhaps it's best suited for people with smaller hands.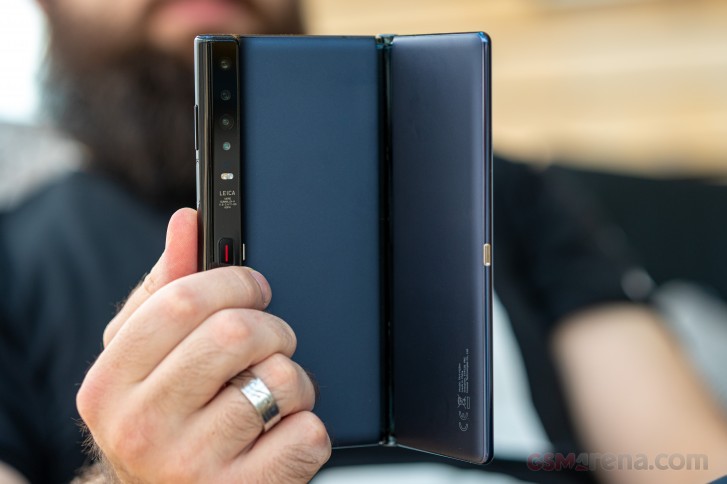 Finally, in case it was not obvious from context already – using the Mate Xs unfolded with one hand is very close to impossible. Even with a good one-handed grip on the handle, a long thumb and willingness for plenty of stretching, you can kind of get to half of the display. Using the phone in "Tent" mode is not possible either, due to the persistent tension in the hinge which always aims to straighten the display out unless it's latched into place. Folding and unfolding is definitely not a smooth linear motion.
Futuristic folding display
The display on the Huawei Mate Xs is unlike anything else we've seen on a smartphone.
We already praised the Mate Xs for its impressive screen surface uniformity when folded and ability to maintain a very flat 180-degree surface when unfolded. We also didn't glance over some of its less-favorable physical characteristics, like the look and feel of its topmost layer and its affinity towards both grease and dust.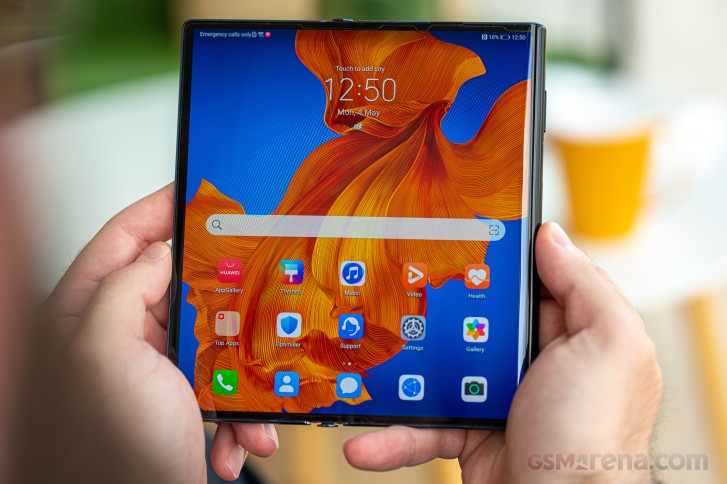 It's now time to see how brightness and contrast are doing. The Mate Xs' FullView display has a massive 8-inch diagonal when unfolded. It also sports a 2480 x 2200px resolution, which is considerably higher than that of the Galaxy Fold's 7.3-inch screen.
In terms of max brigthtness, the Mate Xs behaves rather differently, depending on whether you are using it folded, with its 6.6-inch, 19.5:9, 2480 x 1148-pixel display or fully unfolded at 8 inches, 8:7.1 and 2480 x 2200 pixels.
Since we use a white pattern filling up 75% of the available screen real estate in our brightness measurement tests, we expected different peak white levels in the two modes.
A reading of 448 nits when folded is not amazing, but definitely good enough for indoor use. The measured brightness dropped only to 413 nits with the screen unfolded, so honestly, it's not a huge difference. In either case, we get brightness which is not stellar but perfectly usable.
Display test
100% brightness
Black,cd/m2
White,cd/m2
Contrast ratio
Samsung Galaxy S20 Ultra 5G (Max Auto)
0
894
∞
OnePlus 8 Pro (Max Auto)
0
888
∞
Oppo Find X2 Pro (Max Auto)
0
871
∞
Apple iPhone 11 Pro Max
0
820
∞
Samsung Galaxy Note10+ (Max Auto)
0
794
∞
Huawei Mate 30 Pro (Max Auto)
0.028
683
24393:1
Asus ROG Phone II (Max Auto)
0
626
∞
Samsung Galaxy Fold (cover) (Max Auto)
0
623
∞
LG V60 ThinQ 5G (Max Auto)
0
622
∞
Apple iPad Pro 12.9 (2018)
0.37
610
1649:1
Samsung Galaxy Z Flip (Max Auto)
0
596
∞
Samsung Galaxy Fold (Max Auto)
0.006
557
92833:1
OnePlus 8 Pro
0
538
∞
Oppo Find X2 Pro
0
536
∞
Huawei P40 Pro (Max Auto)
0
531
∞
LG V60 ThinQ 5G (Dual Screen)
0
513
∞
LG V60 ThinQ 5G
0
511
∞
Asus ROG Phone II
0
479
∞
Huawei Mate 30 Pro
0
464
∞
Huawei Mate Xs
0
448
∞
Huawei P40 Pro
0
425
∞
Huawei Mate Xs (Unfolded)
0
413
∞
Samsung Galaxy S20 Ultra 5G
0
398
∞
Samsung Galaxy Note10+
0
381
∞
Samsung Galaxy Fold (cover)
0
380
∞
Samsung Galaxy Z Flip
0
377
∞
Samsung Galaxy Fold
0.002
370
185000:1
Outdoors, under direct sunlight, is where things get a little bit rougher since the Mate Xs has no max auto mode. It definitely has a proper light meter, hidden-away underneath the panel, and we confirmed it's registering ambient light correctly. However, despite our best efforts, our review unit never managed to shine beyond the 448 nits figure, mentioned above.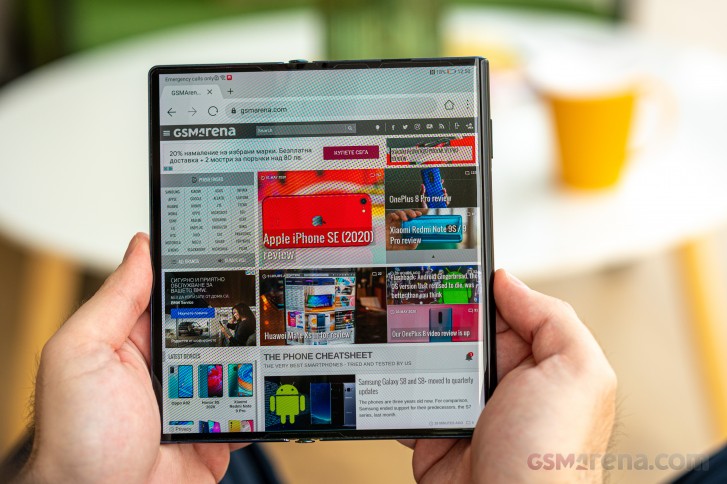 Looking at the comparative results table, that's clearly not on a proper flagship level. Both the Samsung Galaxy Fold and the Z Flip beat it in max brightness, thanks to their temporary overdrive modes.
Even so, it is important to stress that the display on the Mate Xs is still perfectly usable in real-life – only slightly struggling in direct sunlight.
It is also good to note that the panel on the Mate Xs has very little light-bleed. Blasting at max brightness, its black level remained at a solid 0. A lot of this might be due to the impressive uniformity of the display surface, achieved by Huawei. This all adds up to perfect blacks and infinite contrast on the Mate Xs. Just like we are used to seeing from conventional OLED panels.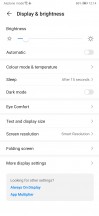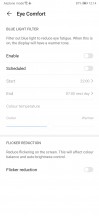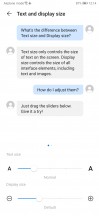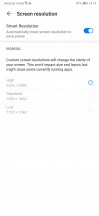 Display settings
One thing that is noticeably missing from the Mate Xs is HDR playback support. We can only assume that's due to it not hitting the required peak brightness levels. A task Samsung did manage with the Galaxy Fold. It's a shame, really, since the Mate Xs otherwise does rather well with color rendition.
There are two color presets in the display settings menu – the default 'Vivid', which offers a more typical, saturated OLED look, with average deltaE values of 5.4 when folded and 5.8 when unfolded.
Then there is the 'Natural' mode, which brings colors a lot closer to the DCI-P3 color space, with average deltaE values of 3.1 and 3.4 for folded and unfolded respectively.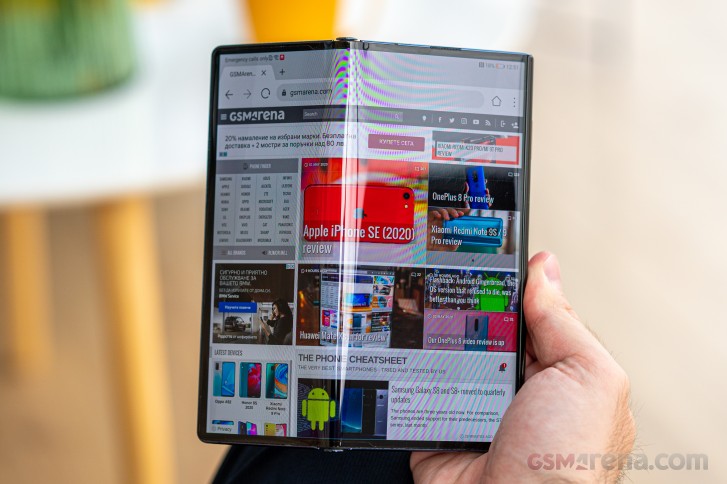 By using of the included white point adjustment sliders, you can definitely make the Mate Xs' panel very close to calibrated. Unfortunately, there is no way to save two different custom color profiles – one for folded and the other for unfolded. And as we said, the color output in the two modes is distinctly different.
Battery life
Due to its unique physical design, the Huawei Mate Xs actually has its 4,500 mAh of total battery capacity split between two packs. This dual design probably has a lot to do with the quick charging implementation.
As expected, battery endurance varies substantially based on the portion of the flexible OLED display which is lit. Hence, we ran our browser and offline video playback on-screen tests with both the Mate Xs folded and unfolded.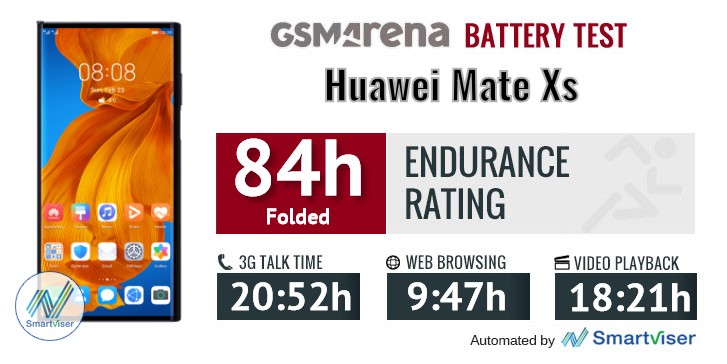 Our battery tests were automated thanks to SmartViser, using its viSerDevice app. The endurance rating above denotes how long a single battery charge will last you if you use the Huawei Mate Xs for an hour each of telephony, web browsing, and video playback daily. We've established this usage pattern so that our battery results are comparable across devices in the most common day-to-day tasks. The battery testing procedure is described in detail in case you're interested in the nitty-gritty. You can check out our complete battery test table, where you can see how all of the smartphones we've tested will compare under your own typical use.
Back when we tested the Samsung Galaxy Fold, we didn't really bother to see what kind of endurance we could get out of the tiny front display. That didn't really make much sense, since it was not a realistic way of using the phone. So for the Fold, we only have the battery life numbers with the 7.3-inch screen unfolded.
In stark contrast to the Galaxy Fold, the Huawei Mate Xs remains perfectly usable when folded. In fact, we would go as far as to say that for many of its users, the 6.6-inch folded-mode OLED experience will likely be the "daily" one.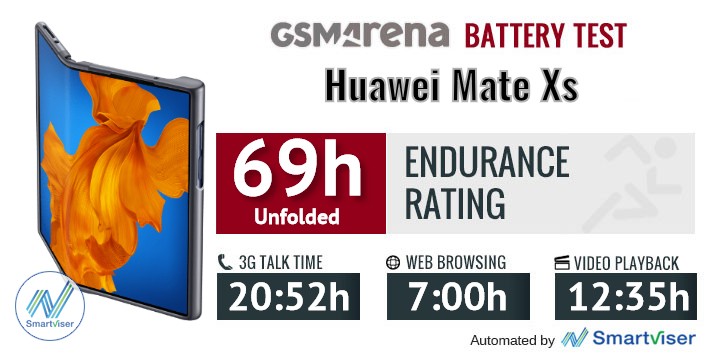 Offline video playback actually managed surprisingly lengthy run sessions. Over 12 hours on the full 8-inch OLED is admirable. Plus, it should be noted that despite our best efforts to force it back to 16:9, our test always stretched the video to fullscreen. That's not really the most likely way of consuming typical video content on the Mate Xs, so this number is actually a "worst case" scenario for the OLED, which had all of its pixels engaged all the time.
Same goes for the browser test. However, browsing on the full width and height of the panel is, in contrast, the preferred way of doing things. This is where the endurance of the Mate Xs really plummeted to surprisingly low levels. So much so, that we ran upwards of 10 individual browser tests, between the folded and unfolded states. The numbers are consistently disappointing.
The Huawei Mate Xs can charge at up to 55W, using Huawei's SuperCharge tech. You get a 65W PD wall charger in the box, alongside a nice quality Type-C to Type-C cable, rated at 3.3A. That combo can even charge larger devices like laptops, at up to 65W. We do have to wonder whether Huawei is staying within PD spec to pull-off its 55W SuperCharge, or there is something proprietary going on behind the scenes. That is an investigation for a different time, though. But, do leave a comment if it's something you would be interested in.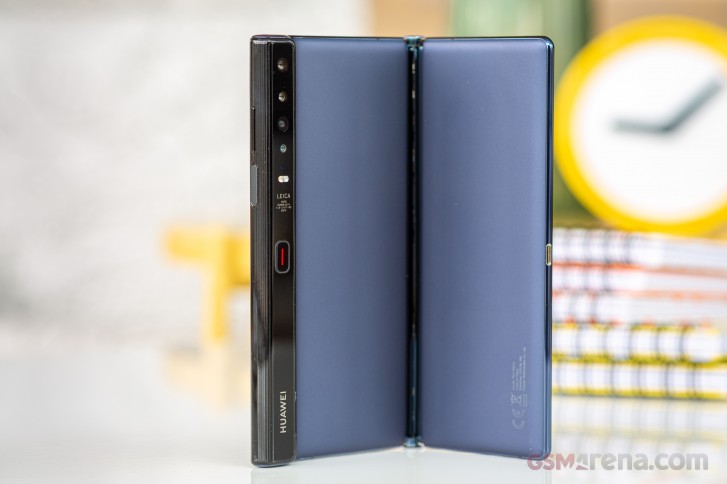 Anyway, using the included charger and cable, we got from a dead battery to 42% in just 15 minutes. Then 80% at the 30 minute mark. A full charge took right around 57 minutes. Excellent in our book, even if just a bit short of the advertised 85% in 30 minutes.
While we're on the topic of charging, though, one thing we have to note is the lack of wireless or reverse wireless charging capabilities on the Mate Xs. We get that it would cost a lot of internal space in the already crammed design on the Mate Xs. Yet, it still feels like a justified complaint to make, seeing how the Samsung Galaxy Fold is fully Qi charging capable, in both directions.
Speakers
The Huawei Mate Xs only has one full-fledged speaker at its disposal but the earpiece can serve as a second speaker to provide what we call a hybrid stereo setup.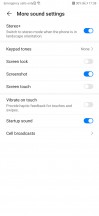 Stereo+ setting
One thing worth noting about this stereo setup is that it only works in landscape orientation. In portrait orientation, the speaker and earpiece work as one without any stereo separation.
The quality of the overall loudspeaker experience on the Mate Xs is good but in no way great. Honestly, that's more than we initially expected of it. Anything better from this space-starved form factor would have been properly surprising. Plus, even if the speakers are not particularly loud, with only a Good rating in our tests, nor particularly accurate, even having a stereo setup goes a long way in complementing the excellent multimedia experience offered by the 8-inch FullView display.
Use the Playback controls to listen to the phone sample recordings (best use headphones). We measure the average loudness of the speakers in LUFS. A lower absolute value means a louder sound. A look at the frequency response chart will tell you how far off the ideal "0db" flat line is the reproduction of the bass, treble, and mid frequencies. You can add more phones to compare how they differ. The scores and ratings are not comparable with our older loudspeaker test. Learn more about how we test here.
EMUI 10.0.1 on top of AOSP, without Google Services
The Mate Xs offers a familiar software experience to anyone who's used a Huawei smartphone in recent years. The OS comes with certain bits and pieces that are tailor-made for the new folding form factor, but they are not as many as you would think.
Let's not get ahead of ourselves, though. Our Mate Xs review unit runs EMUI 10.0.1, which is not to be confused with the 10.1 version, we saw on the P40 family. While the number difference between the two might not sound major, EMUI 10.1 brings about plenty of exciting new features, you can read about here.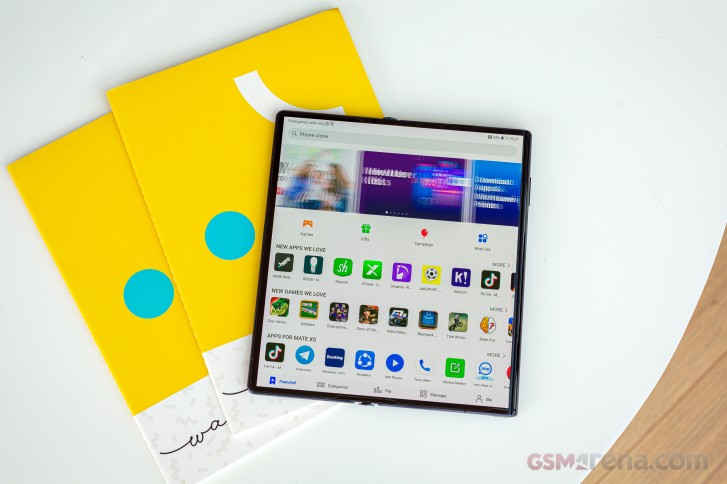 Some of the new features introduced by EMUI 10.1 appear in some form on the Mate Xs, too, like the new Multi-Window, pop-up view, and the Multi-Screen collaboration features. Other features, like Huawei's Celia Ai assistant, are absent altogether. We can only assume that Huawei made an EMUI branch specifically tailored to the Mate Xs and its form factor and then ended up with a mash-up of its current and upcoming feature set.
Starting from the lock screen experience first, we find an optional AOD implementation, but it's rather basic. You only get a small selection of watch widget styles and a scheduler.
The most glaring omission is that the AOD can only work on the front 6.6-inch display, while the phone is folded. There is no way to get this info on the back side of the phone even though it's technically 'a screen,' too.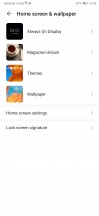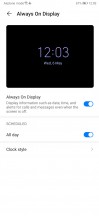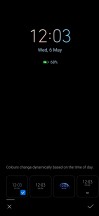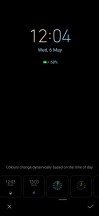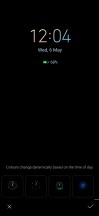 AOD settings
We would have appreciated if Huawei had taken things one step further by offering some eye-catching animations extending from one side of the screen to the other. They could have gotten really creative here by leveraging the unique form factor but it seems their approach was strictly conventional – perhaps to ease future development and updates of EMUI.
Overall, the home screen and lock screen settings menu feel a bit light on options altogether. Huawei's familiar Magazine Unlock is present, so are the quick swipe-up shortcut buttons. But, that's about it.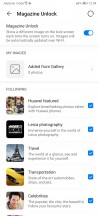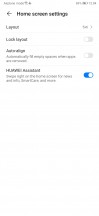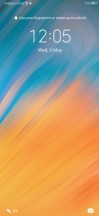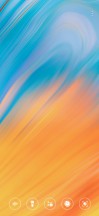 Lock screen and home screen settings
Like we already mentioned, due to a lack of a front-facing camera, the only biometric security you get on the Mate Xs is a fingerprint verification. We already praised the reader itself for its excellent placement, speed, and accuracy.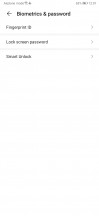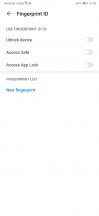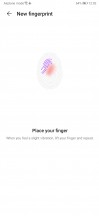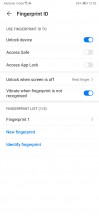 Fingerprint unlock
Huawei is also adamant in advertising its isolated secure system. It is a part of EMUI 10.0.1 which has been isolated on a microkernel level and has earned a CC EAL 5+ security rating. The latter, apparently, is the highest security certification level given globally to a customer device OS.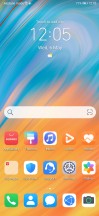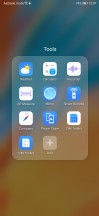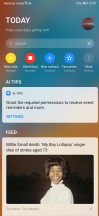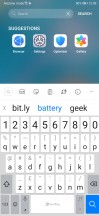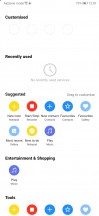 Home screen • Folder view • Today page
Anyway, back to EMUI 10.0.1 and its more tangible aspects. Unlocking the device lands you on a very familiar home page. The only really notable omission here, though, is the lack of Huawei's long-standing Home screen style selection menu. That means, you are stuck without an app drawer on the Mate Xs.
The Today page sits on the leftmost page. It is a replacement for the Google Feed, as found on other "Google-ful" Android flavors. It does its job well enough, providing quick access to things like favorite contacts, photos, a Smart Care graphic (Google Digital Wellbeing equivalent), a customized News feed, and a search field.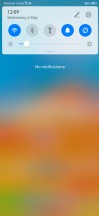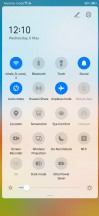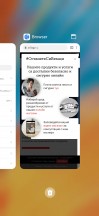 Notification shade • Quick toggles • Recent apps
Looking around at the base UI, we continue to find familiar interfaces. Huawei also claims that a lot of the newly introduced tweaks are either behind-the-scene or subtle and difficult to spot. For instance, there is a new magazine layout throughout EMUI 10.0.1, making everything easier to read and with a new color pallet – Morandi colors. These were created with inspiration from Italian painter Giorgio Morandi and include a total of six muted shades.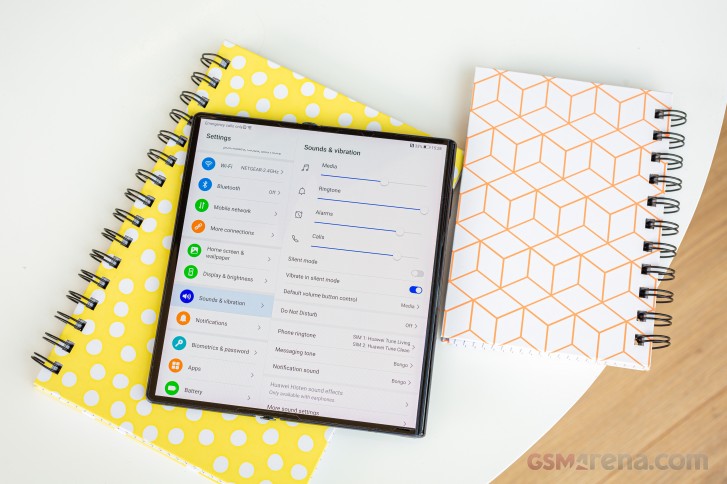 As for the "behind the scenes" bit, there is something called the Dynamic Latency Engine (DLE). It's a mechanism for intelligently allocating system resources to foreground tasks, to ensure optimal performance. We're not exactly sure how new this system is, though, nor can we really test it.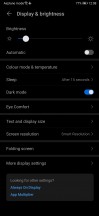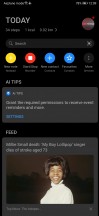 Dark mode
Something we can appreciate and enjoy is the presence of a system-wide dark mode. Most default and system apps and menus tend to comply with Dark mode, adjusting accordingly. Things look better in Dark mode on the impressive Mate Xs display. Plus, there are battery savings to be had on the OLED.
Large screen experience, multi-tasking and productivity
Before we finish the software section off with an overview of some of the important additional settings in EMUI, we should definitely explore what using the Mate Xs unfolded is like. After all, that's what it all boils down to – having the big 8-inch screen at your disposal, as needed and leveraging it to achieve more than is possible on a smaller panel.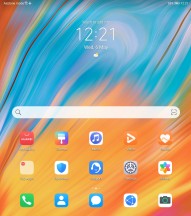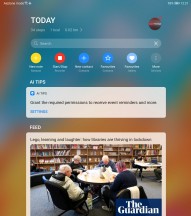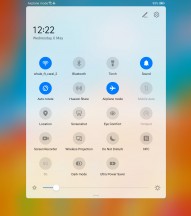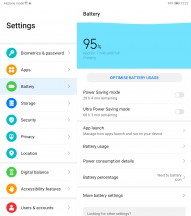 Unfolded UI scaling.
While the UI setup on this phone is perhaps less than ideal because there are effectively three different displays to cater for (front 6.6-inch, back 6.38-inch, and full 8-inch), Huawei deserves credit for keeping things manageable.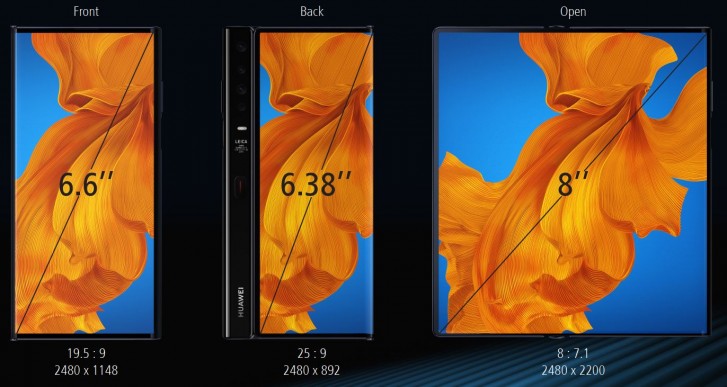 As we already said, when folded, the Mate Xs user gets a conventional-looking screen at the front – it has a standard 19.5:9 aspect ratio and a sizeable 6.6-inch display diagonal. This makes it the perfect canvas for pretty much any app in the current Android ecosystem. This is in stark contrast to something like the external display on the Samsung Galaxy Fold, which was way too small and skinny to play nice with many apps.
While unfolded, the full 8-inch display has a slightly more awkward 8:7.1 aspect ratio. In practice, however, it appears to play equally nice with most apps. In fact, most apps that have a dedicated tablet UI variant simply switch over to it, automatically. The latter might require an app restart, if you decide to leave the app open while folding and unfolding, but that should change gradually, as developers start widely adopting the foldable display facilities, which are already baked into Android 10.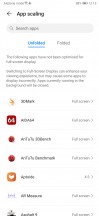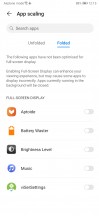 App scaling options
In order to keep compatibility as high as possible, Huawei has included a nifty App scaling menu in the Display settings menu. This is separated out into setting for the folded, and the unfolded display on a per-app basis. If you experience any issues with an app on the folded display, you can tell it not to span the full height of the display, and instead maintain a retro 9:16 aspect.
For the unfolded display, you have a three app scaling options to force – Full Screen, which is the default, as well as 4:3 and 16:9. This whole system works quite well in practice and is even smart enough to analyze the Manifest files of apps and extrapolate any obvious requirements from older-style scaling, like 16:9 and apply that automatically.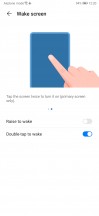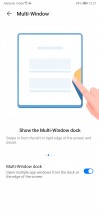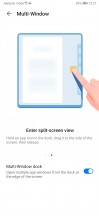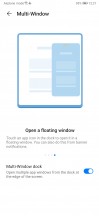 Multi-Window gestures
It is worth noting that many games don't really respond way to the combination of detecting the full resolution and aspect of the display and then being forced to render at a different size. Touch controls can get misaligned, depending on how the game was developed.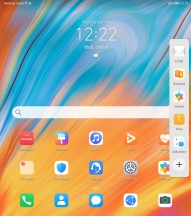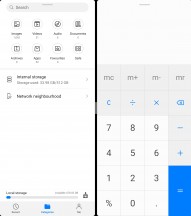 Huawei Multi-Window in practice
The EMUI 10.0.1 software on the Mate Xs includes a re-vamped multi-windows and multi-tasking system. This is what most prospective buyers of the Mate Xs are probably going to be looking forward to.
We are happy to say that in most respects, Huawei got the Multi-Window functionality right. Spawning apps into a split-screen view is generally done via a side menu, accessible by swiping from the right edge of the display. Tapping an app from here spawns a floating window of it. From what we can tell, you can only have one of these open at a time.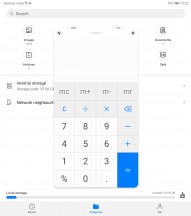 Floating window
To initiate the split-screen view, you have to long-press the app, and then drag it on top of another app, which is already open. You can add any app you choose into this Multi-Window menu, and most seem to work and scale pretty effortlessly.
Something worth noting is that you can't change the sizes of the two app sides in unfolded mode. Perhaps it's a conscious limitation to keep everything working well.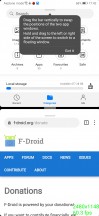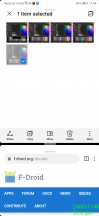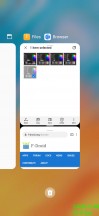 Multi-Window working while folded
Adjusting the app split is possible with Multi-Window while the Mate Xs is folded, though. This looks and behaves a lot like we are used to on any regular phone.
There are at least a few nifty features in Huawei's Multi-Window, which are a boon for usability. First, you can drag and drop certain content between two apps.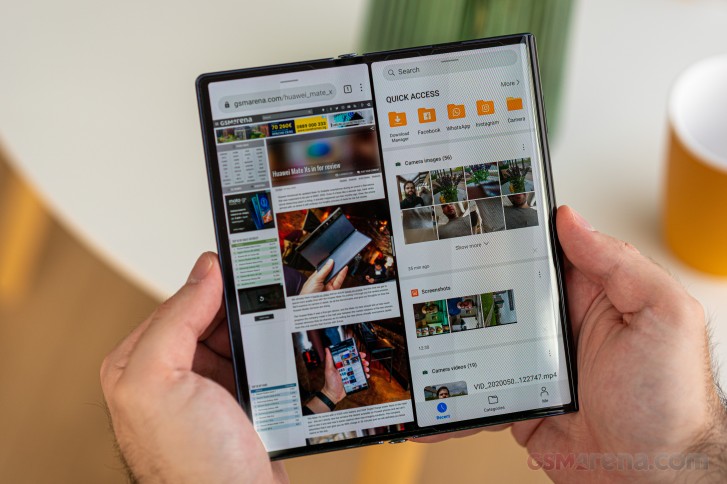 Another nifty trick is having an app pair remain bundled together as one entry in the recent apps view, so you can easily close both of them or return to that particular side-by-side workflow.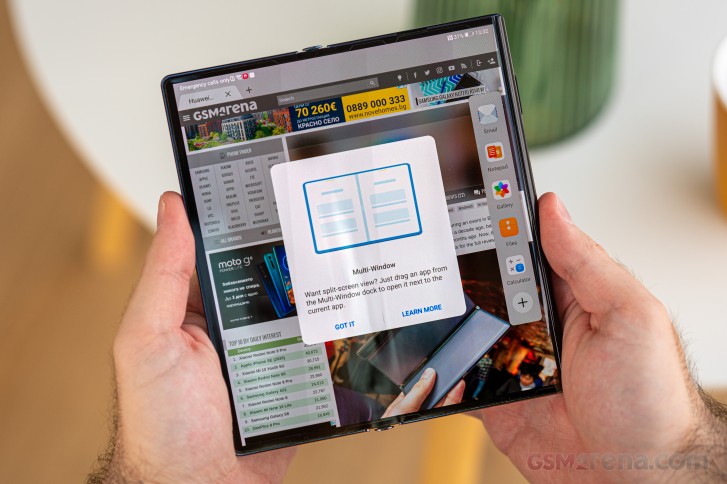 Last and probably least, since we really couldn't figure out how to use this feature, there is something called App Multiplier, alongside the self-explanatory Twin apps feature, under the Apps settings menu.
As far as we understand it, the idea of the multiplier is to have two instances of the same app open side by side with one, providing a more generalized view, while the other is showing more details. So for instance – a document processor with a page chooser interface in one instance and the actual content in the other. Or a news app, with listings of the articles in one instance and their contents in the other.
Unfortunately, despite our best efforts, we couldn't find a single app that could be added to this menu.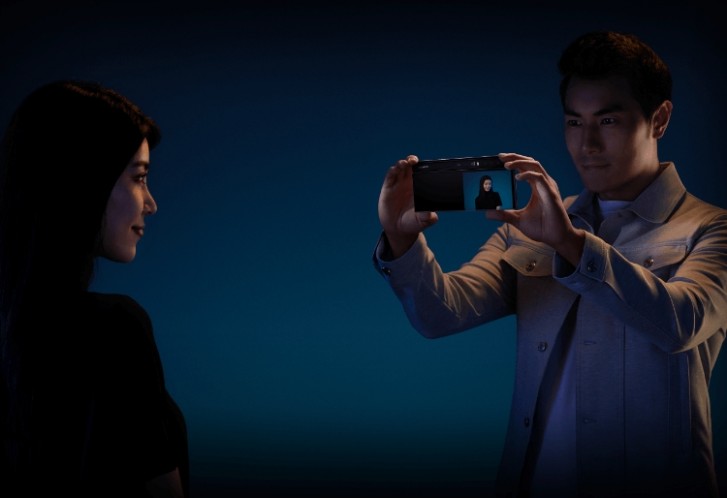 Before we wrap-up the transforming and multi-display aspects of the Mate Xs, there is still the matter of the "back" 6.38-inch display. In the current implementation of EMUI 10.0.1, it is both literally and figuratively left behind while the phone is folded, which is a real shame.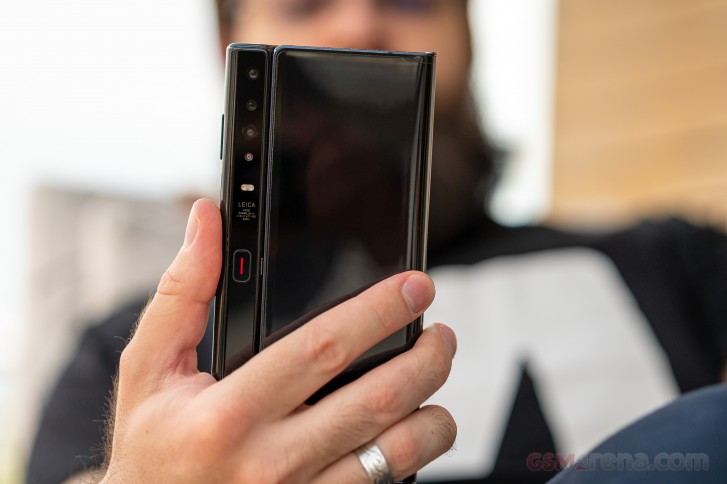 This screen is used very rarely and even more rarely in conjuncture with the main display. The latter only seems to happen when a mode is toggled in the camera app, allowing the subject to view himself in the viewfinder.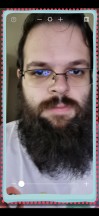 Mirror app
Since there is no selfie camera on the front of the Mate Xs, apps that request access to it via the standard Android API get automatically opened on the back display. This, in fact, seems to be the only way to get an actual UI working on the back display. Apps like Snapchat have this behavior, as well as the default Mirror app.
If you really want to use the rear display, the easiest "hack" we found is to open the mirror app then minimize it, leaving you at the home screen to continue working. We see no reason for Huawei not to include a toggle to switch to this display but they obviously downplayed its prominence intentionally.
Other EMUI settings and features
Some of the other curious features on the Mate Xs include the App assistant. Despite its slightly confusing name, it is, more or less, a game accelerator and assistant, complete with its own slide-out menu and interface.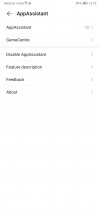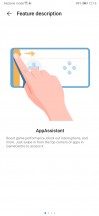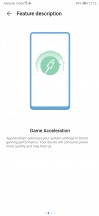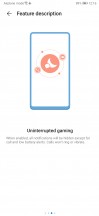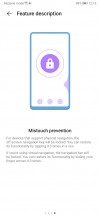 App assistant and game booster
There are plenty of security and privacy options available. Including a Password vault for logins, App lock, a Safe for files, as well as a full-fledged Private Space, which is a complete separate UI with apps and files.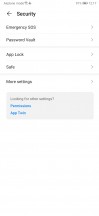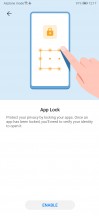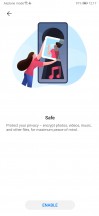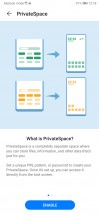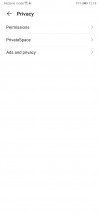 Security and privacy
Digital Balance is Huawei's direct answer to Google's Digital Wellbeing. It also includes parental control features.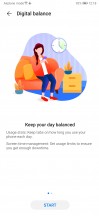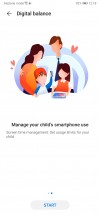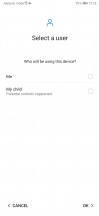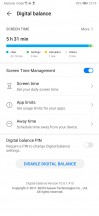 Digital Balance
The Mate Xs' default OS navigation is an iPhone-like gesture – swipe up for Home, swipe up and stop midway for Task switcher, or swipe from the left or right edge of the screen for Back. You can opt for the classic virtual buttons, of course. Beyond that, there are plenty of other gestures to explore, as well.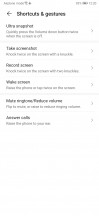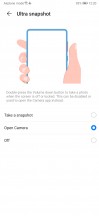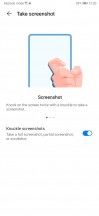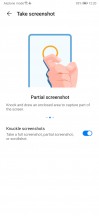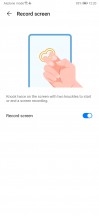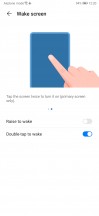 Huawei gestures
Huawei has a long-standing habit of including a plethora of its own apps in EMUI. That's especially true now when there is hardly any involvement of Google in this phone.
From the phone manager app, which is now called Optimiser, you can access shortcuts for storage cleanup, battery settings, blocked numbers, Virus scan powered by Avast, and mobile data usage.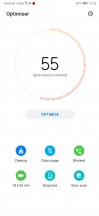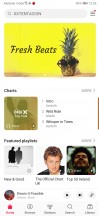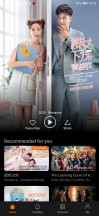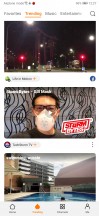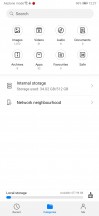 Optimiser • Music • Video • Video • Files
Huawei's Music app offers a way to listen to stored MP3s, and it also includes Huawei's own music services in compatible regions. Same goes for the proprietary Video app – it plays your local videos, but it also includes Huawei's video streaming service similar to YouTube. Huawei has partnered with BBC to deliver more interesting content in addition to all the videos you will find within Huawei's own streaming servers.
Huawei's Health app is pre-installed, and it offers step counting, among many other things. There's a file manager app and a note-taking app.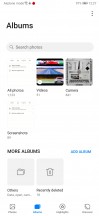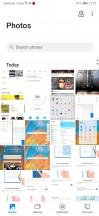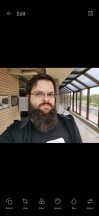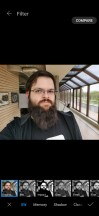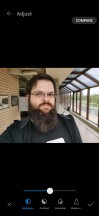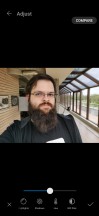 Gallery and image editor
The gallery is an entirely custom job, too, but it has the usual chronological and albums views plus an AI-powered highlights selection. The editing functionality is quite powerful, as well.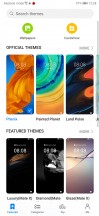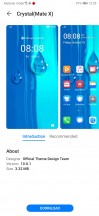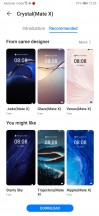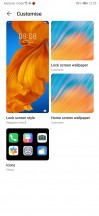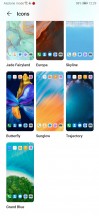 Themes
Themes are definitely a thing in EMUI 10.0.1. You can download whole creations, or just parts and customize individual aspects, like icon packs and wallpapers separately.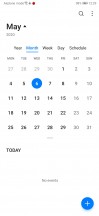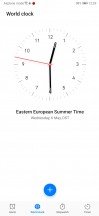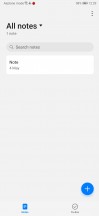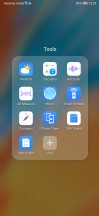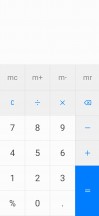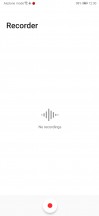 Various Huawei apps
There are Huawei-created small utilities and tools for pretty-much every job there is.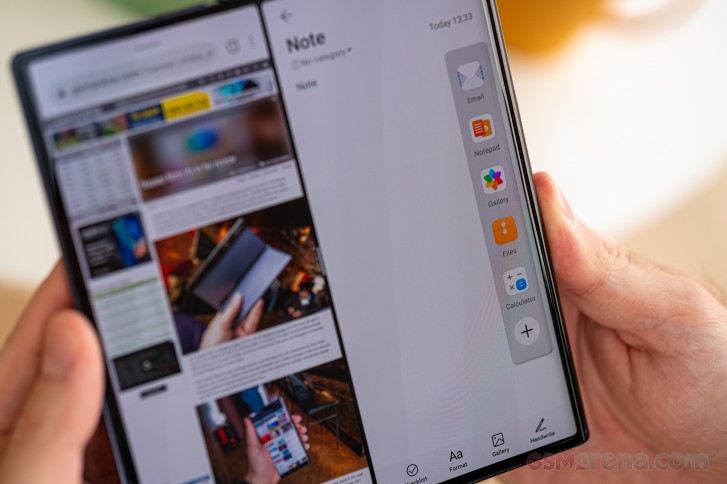 While relations between Huawei and Google seem to be at an unfortunate low, collaboration with Microsoft appears to be going strong.
Multi-device collaboration is a relatively new addition to Huawei's feature set even though, it is also present on the Mate 30 series of phones. It's a remote-control utility that allows you to link-up a Huawei phone to a Windows 10 PC. Canonically, that would only be the Huawei MateBook laptop, which offers all the software pre-installed and seamless NFC-cased connection. However, you can grab the PC Manager Windows app on a different Windows machine, as well, and give it a try. It comes with nifty features, such as drag-and-drop file transfer and a shared clipboard.
Huawei AppGallery, third-party apps and Google Services situation
Huawei's own AppGallery, as well as its HMS suite of Google Service replacements are developing quickly. In no small part thanks to the enormous involvement and financial investment from Huawei themselves, both internally and towards third-party developers.
If you are considering a Huawei device, we suggest you take a look at our research into which popular apps work and what is the best way to about installing apps on your Huawei device.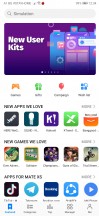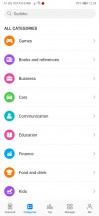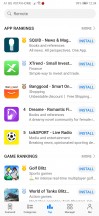 Huawei AppGallery
AppGallery has seen more than 210 billion app downloads in 2019 and now has over 1.3 billion registered developers worldwide. Its progress is impressive. However, it is still not an adequate substitute for the Google Play Store or Google Play Services. On one hand, a lot of third-party apps are still missing from the AppGallery, while on the other, many apps are designed so that they rely on the Play services to operate.
It's a good thing that what can't be found on App Gallery can be procured through third-party app stores such as Amazon's, APK Pure, or even Aptoide. So that covers the biggest part of the problem.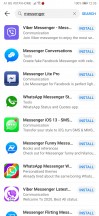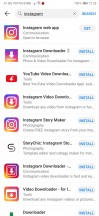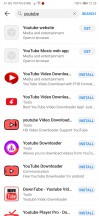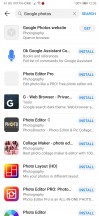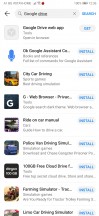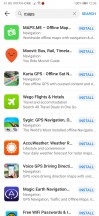 AppGallery is moving at a face pace
You can also use the Phone Clone app, which will copy everything from your old phone including all installed apps except for Google's (and some banking apps) to your new Mate Xs. And that's surely a nice start, but it's not the real deal as you won't get guaranteed future updates to these apps.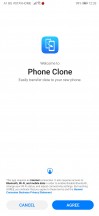 Phone Clone app
Beyond that, there are still less than savory ways to actually get Google Play Services to work on the Mate Xs. We really won't be getting into those, but you can follow the rabbit hole if you want and look at the Chat Partner app as well as research into HiSuite-based backup recovery.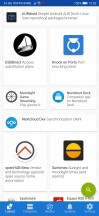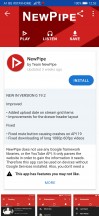 F-droid
So yes, getting your favorite apps and games to work on Huawei phones might be a bigger hassle than you are used to on other phones. However, Huawei has focused heavily on bringing the most relevant regional apps in each country on board. And while certain apps like – ride-hailing apps or location-based augmented reality games – will never work without Google's Location services, chances are you will hit the ground running with most bases covered when it comes to the most essential apps. And the AppGallery is constantly expanding so even if you don't find the app you need now, it might be there sooner than you think.
Performance and benchmarks
The futuristic design on the Mate Xs is so striking trhat it's easy to forget the beauty of its internal design often gets overlooked. It is incredibly intricate and a feat of engineering in itself.
Huawei wasn't content with simply cramming whatever fits inside the thin body and mostly the "handle" bit of the phone. Instead, the top-end Kirin 990 5G was chosen for the task. The 7nm EUV+ design it uses is a definite plus when dealing with such confined spaces.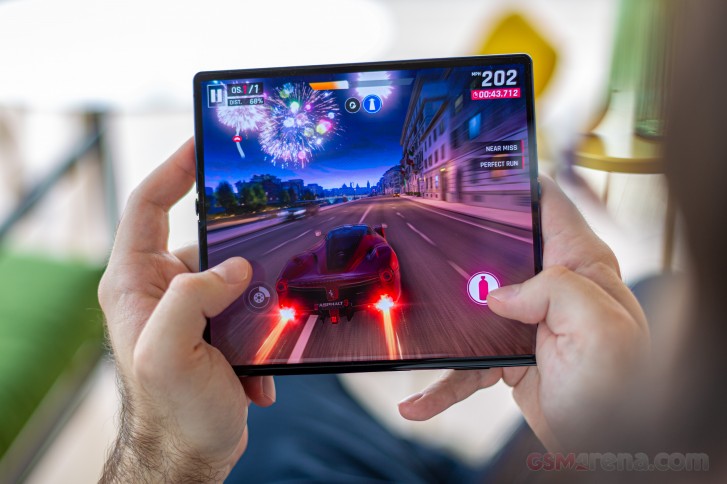 Compared to the previous-gen Kirin 980, Huawei proudly claims it top-dog Kirin 990 5G can manage 23% CPU performance improvements, 39% GPU ones, thanks to the Mali-G76 MP16 and a whopping 460% improvement in NPU tasks. The latter comes courtesy of a Dual Big Core NPU, build on the Da Vince architecture, plus 1 Tiny Core NPU unit. On the other hand, the EUV+ process, plus plenty of hardware design efforts, make the Kirin 990 5G 23% more CPU efficient, 32% in GPU, and 290% in NPU tasks.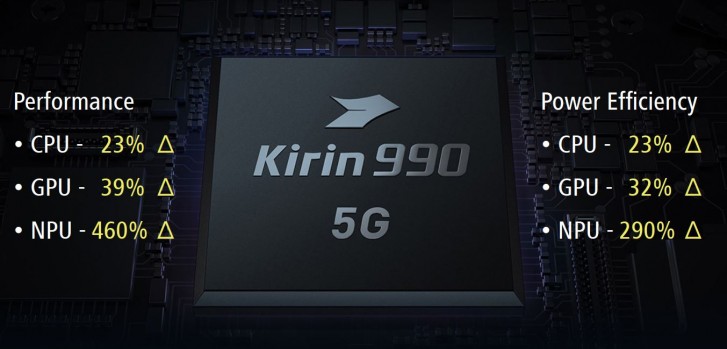 Having already reviewed devices like the Huawei P40 pair, none of this is really new on a base level, though. The Kirin 990 5G has proven its salt already. The really impressive bit here is that Huawei has somehow managed to successfully cram it all inside the Mate Xs.
Corners weren't even cut on the connectivity side of things. While the Kirin 990 5G has the space and power efficiency parts of the equation already covered, with its integrated 5G modem solution, the antenna setup is a whole other can of worms. Huawei rightfully boasts full-frequency 5G support on the Mate Xs. That means both non-standalone (NSA) and standalone (SA) support, as well as TDD/FDD full frequency bands. The list includes n79, n78, n77, n41, n38m n28, n3 and n1. Plus, you also get full-featured 4G support on a second nanoSIM card, working alongside a primary 5G one.
GeekBench 5.1 (multi-core)
Higher is better
Apple iPhone 11 Pro Max




3503

OnePlus 8 Pro (120Hz, 1440p)




3374

Huawei P40 Pro




3197

Realme X50 Pro




3175

Huawei P40




3148

Huawei Mate 30 Pro (Perf mode)




3038

Huawei Mate Xs




2980

Samsung Galaxy S20 Ultra 5G (60Hz, 1440p)




2728

Samsung Galaxy S20 Ultra 5G (120Hz, 1080p)




2697

Samsung Galaxy Z Flip




2619

Huawei nova 5T




2504

Huawei P40 Lite




1862
GeekBench 5.1 (single-core)
Higher is better
Apple iPhone 11 Pro Max




1332

Realme X50 Pro




911

Samsung Galaxy S20 Ultra 5G (60Hz, 1440p)




910

Samsung Galaxy S20 Ultra 5G (120Hz, 1080p)




904

OnePlus 8 Pro (120Hz, 1440p)




902

Huawei P40 Pro




780

Huawei Mate 30 Pro (Perf mode)




779

Huawei P40




778

Huawei Mate Xs




751

Samsung Galaxy Z Flip




750

Huawei nova 5T




696

Huawei P40 Lite




591
But, enough beating about the bush. Something has to give in this setup, right? You can't just cram all of that hardware inside such a small body and then use it to its full potential? Well, that's a bit of a complicated answer on the Mate Xs, but the short version is that Huawei did the best it could to let you keep the cake and eat it too.
Concentrating on the GeekBench scores for a bit, we can see the Kirin 990 5G not exactly stretching its wings fully inside the Mate Xs. That is a fact we came to accept after meticulously re-running all of the tests multiple times and confirming with Huawei representatives that there is no hidden Performance mode, which we might have missed. The decline in performance is really not that bad and only properly detectable in synthetic scenarios, with the Mate Xs still keeping well within a flagship bracket in CPU terms.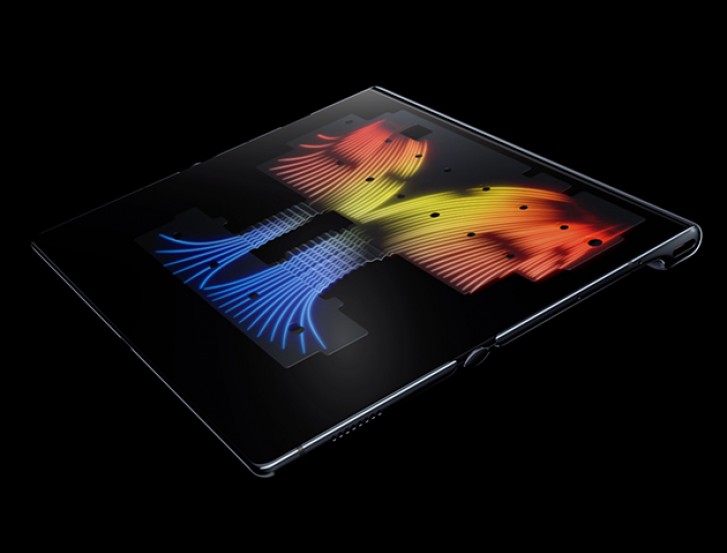 You can expect it to deliver perfectly adequate flagship-grade performance in day to day tasks, which is great news. Still, we wanted to at least try and find out what is going on.
Since thermal-throttling is the plague of the modern passively-cooled mobile chipset, we started there. While heat is probably the ultimate factor here, to our surprise, the Mate Xs does not thermal-throttle in the typical way. In fact, it is technically not thermal throttling at all, instead self-throttling its performance back in a very controlled manner, so as to avoid hitting a thermal limit and then having to throttle anyway.
One benefit from such an approach is the relatively cool surface temperature the Mate Xs manages to maintain during loads. It remains perfectly comfortable to hold and there isn't really a single excessive temperature spot on it.
A lot of this is probably thanks to the complicated cooling solution Huawei engineered for the Mate Xs. Huawei calls it a "Cooling System with Advanced Flexible Graphite". It is a three-layer solution, with malleable and flexible graphite material as the bottom-most layer, making contact with heat sources and actually extending and carrying heat through the hinge on the phone, from one end to another. This involves actual expansion of the material, as the hinge moves, which Huawei likens to the way "flying fish expand their fins as they glide on top of the water's surface". The end goal is a more even heat distribution. That layer then transfers its heat to a slightly more conventional heat pipe system, culminating in a vapor chamber.
Complicated as it may be, it seems to be very effective in practice. Even the camera array gets its own cooling solution in the shape of eight million aerospace-grade microcapsules that absorb and dissipate heat through phase transition.
Plus, it is worth noting that Huawei specifically pointed out that the EMUI 10.0.1 version on our review unit is not exactly a retail-ready build. Apparently, the consumer one will include a Performance mode, which Huawei promises achieves P40 scores in synthetic benchmarks and more-importantly, keeps up pace in real-world use.
AnTuTu 8
Higher is better
Realme X50 Pro




592447

OnePlus 8 Pro (120Hz, 1440p)




573276

Apple iPhone 11 Pro Max




536883

Samsung Galaxy S20 Ultra 5G (60Hz, 1440p)




528631

Samsung Galaxy S20 Ultra 5G (120Hz, 1080p)




514485

Huawei P40 Pro




496356

Samsung Galaxy Z Flip




487908

Huawei P40




486583

Huawei Mate 30 Pro (Perf mode)




484529

Huawei Mate Xs (Unfolded)




461406

Huawei Mate Xs




459274

Huawei nova 5T




395503

Huawei P40 Lite




325777
Before we move on to some dedicated GPU tests, we can take a look at AnTuTu 8 and its more compound scoring process. We can definitely see the Mate Xs holding its ground here, as well. Though, it should be noted that AnTuTu includes some on-screen GPU testing, much of which was visibly not scaling exactly correctly on the Mate Xs. This could explain the slightly lower scores, to some extent.
As we progress steadily further and further into the new world of foldable displays and the new form factors they enable, Android is continuously adapting its interfaces to match. Many current apps and games are only now starting to adapt and comply with some of there trendy scaling and sizing conditions. Things will only improve in the future.
GFX 3.0 Manhattan (onscreen)
Higher is better
Samsung Galaxy S20 Ultra 5G (120Hz, 1080p)




101

Huawei P40




61

Huawei Mate 30 Pro (Perf mode)




60

Samsung Galaxy Z Flip




60

Apple iPhone 11 Pro Max




60

Realme X50 Pro




60

Huawei Mate Xs




59

Huawei P40 Pro




59

Huawei nova 5T




59

Samsung Galaxy Fold




59

OnePlus 8 Pro (120Hz, 1440p)




58

Samsung Galaxy S20 Ultra 5G (60Hz, 1440p)




57

Huawei Mate Xs (Unfolded)




51

Huawei P40 Lite




49
GFX 3.1 Manhattan (onscreen)
Higher is better
Samsung Galaxy S20 Ultra 5G (120Hz, 1080p)




74

Apple iPhone 11 Pro Max




60

Realme X50 Pro




60

Huawei P40




58

Huawei Mate 30 Pro (Perf mode)




56

Samsung Galaxy Z Flip




56

Huawei Mate Xs




54

Huawei P40 Pro




52

Samsung Galaxy Fold




52

Huawei nova 5T




48

OnePlus 8 Pro (120Hz, 1440p)




43

Samsung Galaxy S20 Ultra 5G (60Hz, 1440p)




42

Huawei P40 Lite




30

Huawei Mate Xs (Unfolded)




26
GFX 3.1 Car scene (onscreen)
Higher is better
Apple iPhone 11 Pro Max




57

Realme X50 Pro




45

Samsung Galaxy S20 Ultra 5G (120Hz, 1080p)




43

Huawei P40




37

Samsung Galaxy Z Flip




35

Huawei Mate 30 Pro (Perf mode)




34

Samsung Galaxy Fold




32

Huawei P40 Pro




31

Huawei Mate Xs




30

Huawei nova 5T




29

Samsung Galaxy S20 Ultra 5G (60Hz, 1440p)




25

OnePlus 8 Pro (120Hz, 1440p)




24

Huawei P40 Lite




18

Huawei Mate Xs (Unfolded)




16
Speaking of wonky scaling, our usual GFXBench set of on-screen tests appears slightly off in the Mate Xs' full 8-inch unfolded mode. These render in landscape mode, as usual, but appear vertically stretched. Maybe that's down to a specific in the graphics engine GFXBench is using, but we can't really say, for sure, whether these test were internally rendered on the full width and height (2480 x 2200 pixels) of the display, or rather some sort of resolution in a different than 8:7.1 aspect ratio and then stretched. That's a perfect example of the types of issues users might face with the current state of the Android app ecosystem, as it continues to adapt.
Most modern games do tend to have a lot fewer issues in this respect, though. Most simply comply with the odd aspect ratio and extend the field of view accordingly, instead of stretching-out models. For misbehaving apps, you can try and force 16:9 or 4:3 rendering on a per-app basis in settings.
There is also the Dynamic resolution option, included in display settings to potentially play around with. While we never quite managed to make the dynamic part of it work, it can be used to set a resolution cap, lower than the native 2480 x 2200 pixels and potentially improve on-screen performance and frame rates. Be warned, though, that depending on their programming, some games change resolution by themselves and some do end-up broken, with miss-aligned touch controls. Not an issue if you are using a gamepad anyway, but it is still a wonky system overall.
GFX 3.0 Manhattan (1080p offscreen)
Higher is better
Apple iPhone 11 Pro Max




179

Samsung Galaxy S20 Ultra 5G (60Hz, 1440p)




125

Samsung Galaxy S20 Ultra 5G (120Hz, 1080p)




124

OnePlus 8 Pro (120Hz, 1440p)




123

Realme X50 Pro




123

Huawei P40 Pro




118

Huawei P40




118

Huawei Mate 30 Pro (Perf mode)




118

Huawei Mate Xs




115

Huawei Mate Xs (Unfolded)




115

Samsung Galaxy Z Flip




105

Samsung Galaxy Fold




101

Huawei nova 5T




91

Huawei P40 Lite




53
GFX 3.1 Manhattan (1080p offscreen)
Higher is better
Apple iPhone 11 Pro Max




120

OnePlus 8 Pro (120Hz, 1440p)




86

Realme X50 Pro




86

Samsung Galaxy S20 Ultra 5G (120Hz, 1080p)




85

Samsung Galaxy S20 Ultra 5G (60Hz, 1440p)




85

Huawei Mate 30 Pro (Perf mode)




76

Huawei P40 Pro




75

Huawei P40




75

Samsung Galaxy Z Flip




73

Samsung Galaxy Fold




71

Huawei Mate Xs




66

Huawei Mate Xs (Unfolded)




66

Huawei nova 5T




56

Huawei P40 Lite




34
GFX 3.1 Car scene (1080p offscreen)
Higher is better
Apple iPhone 11 Pro Max




67

Samsung Galaxy S20 Ultra 5G (120Hz, 1080p)




51

Samsung Galaxy S20 Ultra 5G (60Hz, 1440p)




51

OnePlus 8 Pro (120Hz, 1440p)




51

Realme X50 Pro




51

Samsung Galaxy Z Flip




46

Huawei P40 Pro




44

Huawei P40




44

Huawei Mate 30 Pro (Perf mode)




42

Samsung Galaxy Fold




42

Huawei Mate Xs




36

Huawei Mate Xs (Unfolded)




36

Huawei nova 5T




33

Huawei P40 Lite




21
Just for the sake of thoroughness, here are the corresponding off-screen GFXBench runs for all of the above on-screen ones. These are useful for a couple of reasons. First off, we can definitely verify that off-screen rendering is working correctly, since fps counts match-up perfectly, regardless of whether we have the Mate Xs folded or unfolded. Beyond that, we get to observe a certain amount of variance between the expected off-screen performance of the Mali-G76 MP16, as seen in the Kirin 990 5G inside the Huawei P40 Pro and the one in the Mate Xs. As a reminder, in this case, we have taken screen resolution entirely out of the equation, so any discrepancies have to be attributed to something else.
Aztek Vulkan High (onscreen)
Higher is better
Realme X50 Pro




30

Samsung Galaxy S20 Ultra 5G (120Hz, 1080p)




26

Huawei P40




19

Samsung Galaxy Z Flip




18

Huawei Mate 30 Pro (Perf mode)




17

OnePlus 8 Pro (120Hz, 1440p)




17

Huawei Mate Xs




16

Samsung Galaxy S20 Ultra 5G (60Hz, 1440p)




14

Huawei Mate Xs (Unfolded)




10

Huawei P40 Lite




8.6
Aztek OpenGL ES 3.1 High (onscreen)
Higher is better
Samsung Galaxy S20 Ultra 5G (120Hz, 1080p)




32

Realme X50 Pro




31

Huawei P40




28

Huawei Mate 30 Pro (Perf mode)




26

Samsung Galaxy Z Flip




25

Huawei Mate Xs




23

Samsung Galaxy S20 Ultra 5G (60Hz, 1440p)




19

OnePlus 8 Pro (120Hz, 1440p)




17

Huawei Mate Xs (Unfolded)




12

Huawei P40 Lite




12
After investigating quite a bit, we didn't manage to pinpoint one single culprit here. We know from practical testing in the past, that heating-up a chipset to the point of thermal-throttling with a GPU load alone is very, very hard. Even so, running multiple GFX runs back to back did result in dipping fps counts. That was never actually joined by any noticeable surface heat on the phone itself, which leads us to believe that, perhaps, Huawei themselves are preemptively holding back GPU performance in some cases. Perhaps the advertised intelligent Kirin Gaming+ 2.0 system has something to do with this. We can't say for sure.
After reaching out to Huawei on the matter, we did get a bit of extra clarification dealing with Android builds and optimization. Apparently, there is still plenty of optimization work possible on a software level, to accommodate the large and pretty high-resolution, resolution-shifting panel on the Mate Xs. Beyond that, certain optimization differences exist on a base level between the EMUI 10.0.1 version it is running and the 10.1 build on the P40 devices, we reviewed in the past.
And that's without mentioning the work third-party developers still have to put in to comply better with new form factors and offer a more uniform experience. For instance, unlike the potentially stretched full-screen rendering that GFXBench exhibits on the unfolded Mate Xs, the following 3DMark runs rendered in a fixed 16:9 aspect, with no stretching. Hopefully, these idiosyncrasies and GPU performance variances can be further brought down to a minimum in the future.
3DMark SSE OpenGL ES 3.1 1440p
Higher is better
Realme X50 Pro




7221

OnePlus 8 Pro (120Hz, 1440p)




7127

Samsung Galaxy S20 Ultra 5G (120Hz, 1080p)




6713

Samsung Galaxy S20 Ultra 5G (60Hz, 1440p)




6593

Huawei P40




6079

Huawei P40 Pro




6062

Samsung Galaxy Z Flip




6032

Huawei Mate 30 Pro (Perf mode)




5988

Huawei Mate Xs




5759

Samsung Galaxy Fold




5510

Huawei Mate Xs (Unfolded)




4614

Huawei Mate 30 Pro




4432

Huawei nova 5T




4418

Huawei P40 Lite




2818
3DMark SSE Vulkan 1440p
Higher is better
Realme X50 Pro




6472

OnePlus 8 Pro (120Hz, 1440p)




6425

Samsung Galaxy S20 Ultra 5G (120Hz, 1080p)




6308

Samsung Galaxy S20 Ultra 5G (60Hz, 1440p)




6249

Huawei P40 Pro




5637

Huawei P40




5635

Huawei Mate 30 Pro (Perf mode)




5489

Samsung Galaxy Z Flip




5298

Samsung Galaxy Fold




4856

Huawei Mate Xs




4362

Huawei nova 5T




4352

Huawei Mate 30 Pro




4233

Huawei Mate Xs (Unfolded)




3528

Huawei P40 Lite




2603
Still, even in its current state, it is important to note that the Mate Xs manages to deliver great gaming performance in both its folded and unfolded states. It is definitely not on the raw performance level of some other well-optimized conventional devices and especially not ones meant for actual competitive gaming. It even falls a bit short of some of its Huawei sibling.
Where it loses in raw number-crunching potential, it more than makes up for with its unique form factor and the experience it affords. Playing even the most demanding gaming titles on it feels smooth and responsive, and things are only looking up in this regard in the future. If you are really eager to board the early-adopter train with the Mate Xs, though, just be prepared to deal with some "fiddly" tweaks and issue on a per-game and per-app basis here and there.
SuperSensing Leica Quad Camera
Despite its size limitations, the Mate Xs still manages to offer a very potent quad-camera setup. While it is not exactly on the level of Huawei's current-gen setups, as seen in the P40 family, it is nothing to scorn at. The overall setup seems to be close to the one found in the Huawei P30. A fact that makes a lot of sense when we consider that the original design for the Mate Xs, or rather the Mate X was developed a while back and a camera swap and refresh would definitely require a more serious overhaul.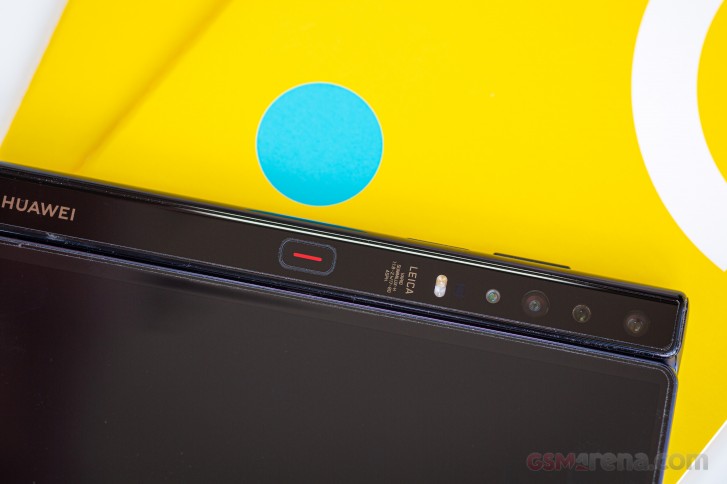 First up, we have the main 40MP, 1/1.7″ sensor. It is one of Huawei's signature RYYB filter designs, which is advertised to offer better light-gathering abilities, among other things. It is a Bayer design, intended to produce 10MP images. Though, shooting at the full 40MP is also possible, with some compromises involved.
It is worth noting that this is not the best implementation we have seen of this particular camera module. The P30 Pro, for instance, has it sitting behind a brighter f/1.6 lens, instead of the f/1.8 one on the Mate Xs and also includes OIS and Laser AF for it. These are hardly major handicaps on the Mate Xs, which still has a plenty potent snapper at its disposal.
Plus, two more. Or three. Depending on whether you count the supplementary 3D TOF depth sensor. The 16MP, f/2.2, 17mm ultrawide seems very similar to the one on the Huawei P30, as well. Once again, it is missing Laser AF, though, and it only relies on PDAF instead. We would much rather focus on the fact that the module includes autofocus at all, which makes it capable of macro shots as close as 2.5cm away from the subject.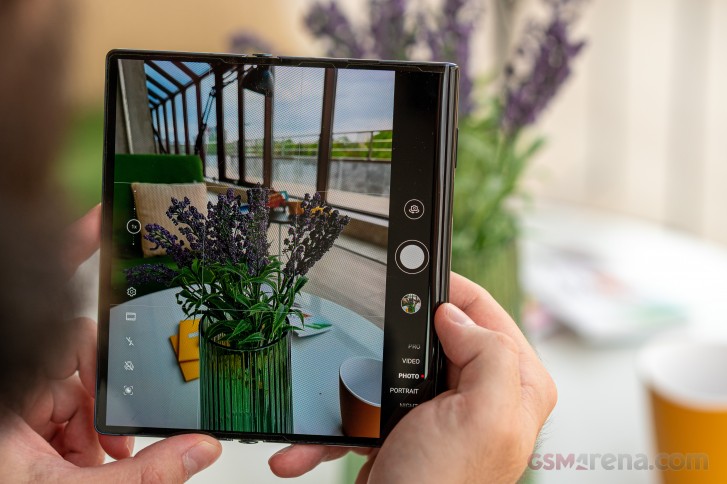 Finally, the 8MP telephoto. Huawei advertises it as offering a 3x optical zoom, as calculated from the 17mm ultrawide. Also, 5x hybrid zoom and up to 30x digital. It is also the only camera out of the bunch to actually include OIS. To be fair, the other two modules do perfectly fine with AIS (Huawei Ai Image Stabilization) EIS. But, more on that later.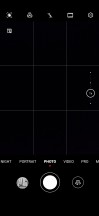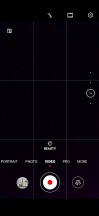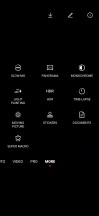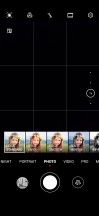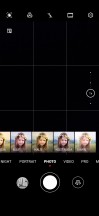 Basic camera UI, modes and filters
Before we move on to camera quality, we should take a look at the camera app, its UI and features. Nothing is really out of the Huawei ordinary here. A shutter key on the right, alongside a switch to enable selfie mode.
Now, the Selfie mode operates in a rather interesting way, as you can imagine. It requires the phone to be folded and then instructs you to turn the unit around, with the main camera facing you. This is actually one of the few scenarios in which you get to use the rear 6.38-inch portion of the display.
In fact, any use case that requires a selfie camera – be it a video call, or app that calls upon a "selfie camera" will result in a flip to the rear display.
The mode selector/slider is pretty straight-forward. Its final entry houses a few additional modes. Things like Slow-MO, Panorama, Documents, Light painting, etc.
Some of the toggles on the left-hand side of the camera Ui are self-explanatory, like the settings shortcut and the flash controls. The film-strip-looking button actually brings up filters. The Ai button toggles Huawei's MASTER AI system. It is not on by default, but we made sure to test it out separately in all sorts of conditions.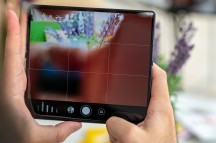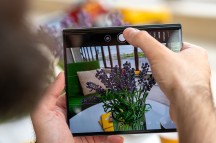 There is really only one right way to hold it
One of the improvements that Huawei boasts about with the Kirin 990 5G chipset is a fifth-generation ISP, with 15% improvement in pixel throughput. We aren't exactly sure compared to what, though.
The ISP also comes with dual-domain noise reduction, improved low-light video performance and support for Block Matching and 3D filtering (BM3D), for up to 30% better noise reduction. We're only bringing this up here since we aren't quite sure whether some of these improvements are tied to enabling the MASTER AI mode or just work regardless.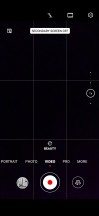 Secondary display toggle
Anyway, back to the camera UI. The last button on the left side enters a visual assistant mode, of sorts. It offers object recognition for shopping purposes, as well as barcode scanning.
The icon that looks a bit like a book is probably meant to be crude representation of the Mate Xs design. It toggles the rear display on and off. This can be done in both photo and video mode and enables the subject to follow along and look at the viewfinder during the shoot. Nifty feature and the only place we saw the Mate Xs make use of both its front and back displays simultaneously.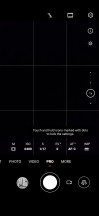 Pro mode
There is a Pro mode available. ISO controls range from 50 to 204,800 and shutter speed goes from 1/4000 to 30 seconds.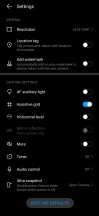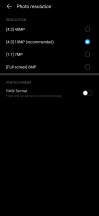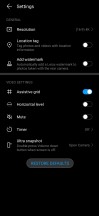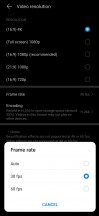 Photo and video settings
The Settings menus are different depending on which mode you enter them from. That keeps photos and videos separate and even allows for independent resolution control for the ultrawide.
This is how you turn on 40MP mode on the main camera. There could have probably been a more convenient toggle for that, though.
Video resolution only goes up to 4K. No high frame rate options beyond 60fps are available either.
There is no way we found to turn off stabilization in video. While that has been the Huawei norm for a while now, we would still like to see it change, eventually.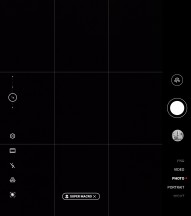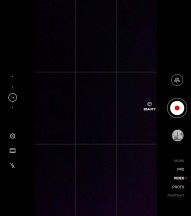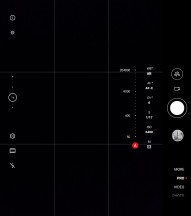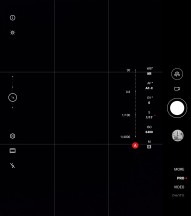 Unfolded camera UI
Shooting in unfolded mode is very much a thing and though it instinctively brings-up some negative associations with tablet photography, there is nothing really wrong with doing it on the Mate Xs. It still feels a bit awkward and there is only one feasible way of holding the phone and reaching the shutter key, without obstructing your view. That technically has the Mate Xs in portrait orientation. But, that's really not much of a concern with its unfolded dimensions.
Main camera image quality
Quality-wise, the Huawei Mate Xs unsurprisingly takes after the P30, from which it seems to borrow most of its camera hardware. However, the output is not a carbon copy. Instead it is clear that Huawei has managed to successfully build on top of what was already competent hardware and software, with even more refined processing.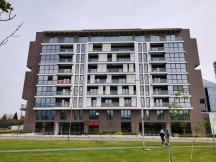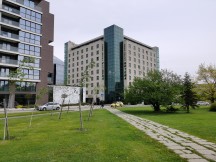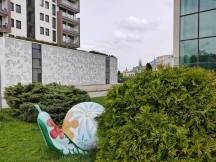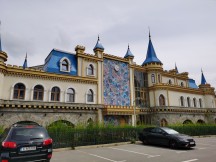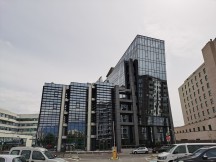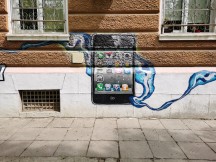 Huawei Mate Xs 10MP main camera samples
Shots from the main camera come out in 3648 x 2736 pixels, or 10MP, by default and have plenty of detail to boot. Of course, a higher resolution camera could, potentially offer more, but this is more than adequate.
Speaking of details, particular fine geometric patterns here and there do come-out looking a bit different than they are in real life. That's just a part of the Bayer sensor experience. At least to some degree.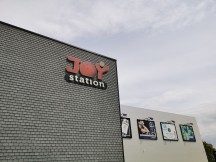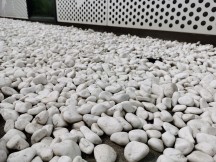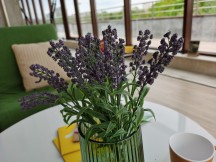 Huawei Mate Xs 10MP main camera samples
Dynamic range in these shots is great, so is uniformity. Huawei's color science might not be to everyone's taste, though. The approach involves a slightly more muted look than, say, what a recent Samsung Galaxy flagship would produce. A bit less sharpening overall, as well. Thant's not really a criticism, though. While both approaches definitely have their advantages, we would definitely refer to Huawei's approach as all round mature processing.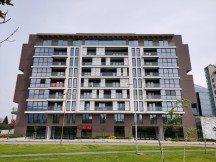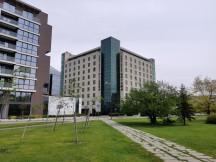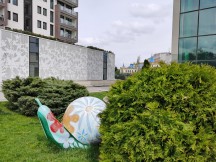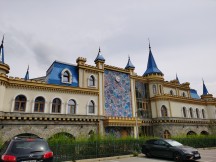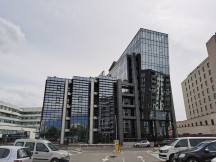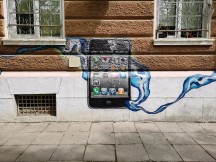 Huawei Mate Xs 10MP main camera MONSTER AI ON samples
Some of the muted look in these shots can be attributed to the extra-cloudy weather we were experiencing. Most shots in such conditions could benefit from a touch of HDR. The Mate Xs does have a dedicated HDR mode, but that's not exactly what we had in mind, since it produces really color-rich and saturated shots. Kind of the alternate meaning of HDR photography. There is, however, something called MASTER AI, available on a convenient toggle in the main camera interface. Its effects on most of our shots were subtle, yet enjoyable. It applies just a bit more sharpness to the frame and brings up the saturation slightly.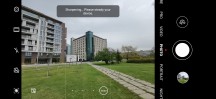 Automatic sharpening
We definitely think that there is more optimization going on behind the scenes than the simple tweaks we just described. Since, applying those alone in post don't really get us the same results. Plus, on occasion, regardless of having the Ai toggle on or off, the camera UI would bring up a message that it is "sharpening" the image and we have to hold the phone steady. We hardly noticed differences between photos taken with that seemingly-random pop-up appearing and those without, so MONSTER AI remains something different, entirely. We only saw benefits from keeping it on.
Like we already mentioned, you can go in and force the main 40MP camera to shoot in its native full-resolution. This offers little real-world benefits, since it's really not how the sensor is supposed to be used. Those "artistic" renditions of certain fine patterns, we mentioned earlier, tend to get really excessive in 40MP mode.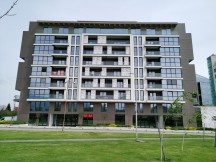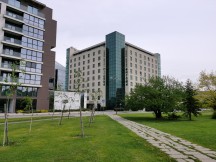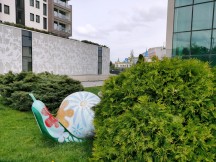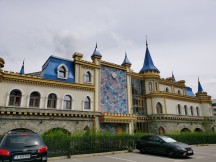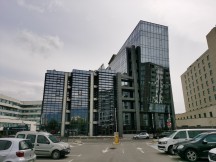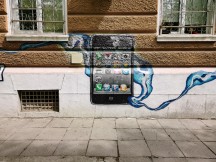 Huawei Mate Xs 40MP main camera samples
Applying MASTER AI is also possible in 40MP mode and has a pretty similar, generally beneficial effect to shots.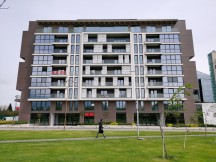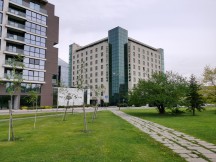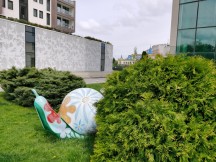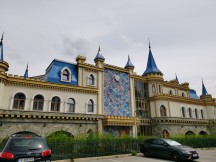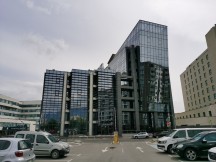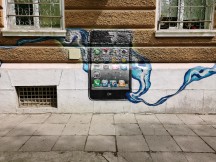 Huawei Mate Xs 40MP main camera MONSTER AI ON samples
Before we move on to the other cameras and modes on the Mate Xs, there is one notable issue, we observed frequently while shooting with the main 40MP camera. On occasion, it simply decides to switch-up its white balance drastically and quite rapidly. We initially noticed this in 40MP mode and thought it might be related to it. However, the effect also manifested while shooting our ISO chart for the picture compare database. Low-light conditions understandably seemed to aggravate the behavior further. Hopefully, it's a relatively easy software fix.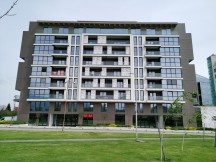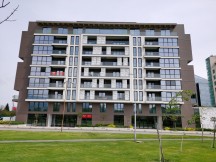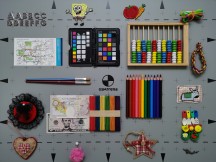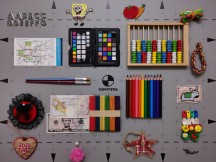 White balance irregularities
Zoom camera image quality
Even though the telephoto camera on the Mate Xs has a native resolution on 8MP, it still outputs in the exact same 3648 x 2736 pixels, or 10MP the main snapper does. Meaning that there is definitely a slight touch of upscaling going on.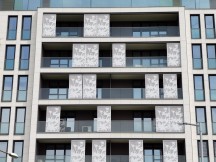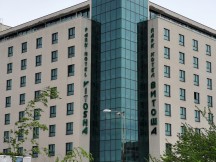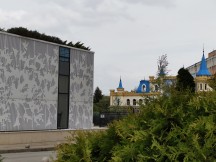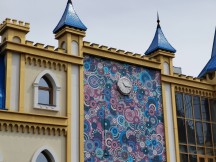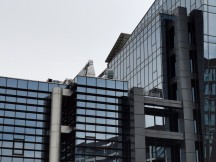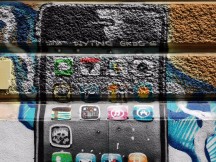 Huawei Mate Xs 3x zoom camera samples
Huawei advertises its 3x zoom level as optical, its 5x mode as hybrid zoom, and then, up to 30x is digital zoom, with all the small linear increments in-between. Naturally, we tested at these preset levels. At 3x images come out quite sharp and detailed, though there is a bit of haze in certain areas. Dynamic range understandably suffers a bit, compared to the main camera. But, on the plus side, colors tend to look comparable between the two. Perhaps a bit more saturated in the zoomed processing algorithm. Overall, we like the results.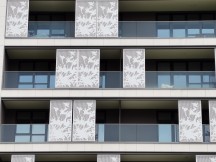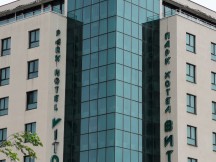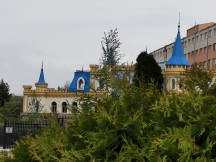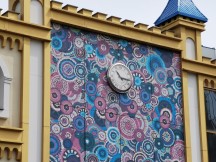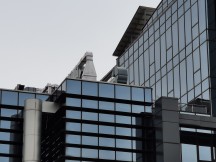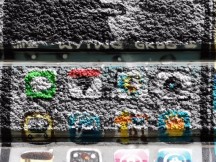 Huawei Mate Xs 5x zoom camera samples
Some extra softness all-around the frame starts creeping-up in the 5x shots, which is perfectly natural. Unless you really zoom in and pixel-peep, though, shots remain perfectly usable.
You do need to be a bit more cautious with autofocus when zooming, though. While the PDAF system on the Mate Xs holds-up great, overall, it can sometimes miss a beat. In good lighting conditions, this happens way less often, than in nighttime. Though, it is worth noting that there seems to be an ongoing fight between the otherwise excellent OIS system, that really starts helping out at bigger zoom levels and the PDAF. Often time when the camera detects a bigger pan or accidental shake in the frame and the OIS + EIS adjust and slightly repositions the image to compensate, that triggers misbehavior from the autofocus. Just to be clear, though, the is mostly us nitpicking and hardly a major issue.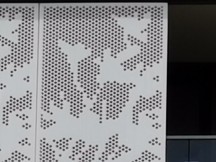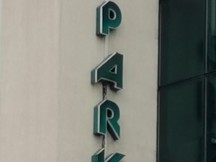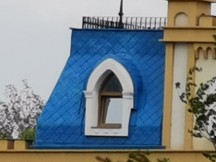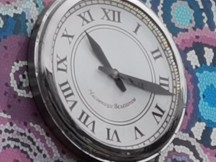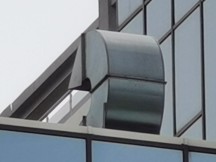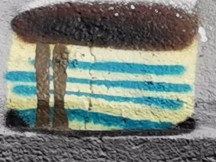 Huawei Mate Xs 30x zoom camera samples
30x shots can be made usable with a very steady hand, so as not to upset the autofocus too much, as per the issue described above and a few tries. The results never come out looking perfectly sharp, though. Still usable enough.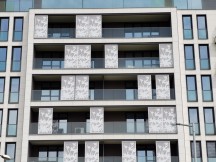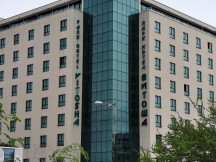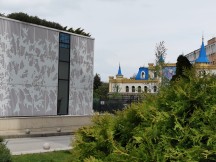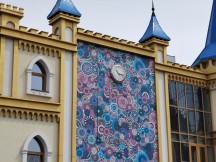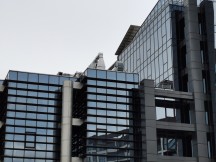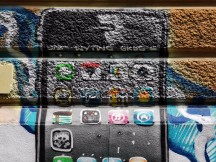 Huawei Mate Xs 3x zoom camera MONSTER AI ON samples
Of course, we didn't skip MONSTER AI for zoom shots. Its positive effects are there, but not really too consistent. Especially as you ramp-up the zoom level.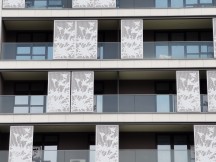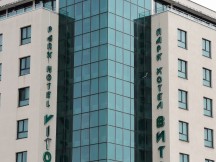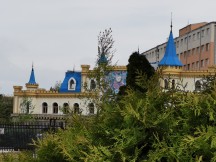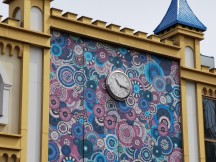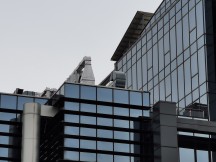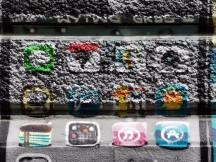 Huawei Mate Xs 5x zoom camera MONSTER AI ON samples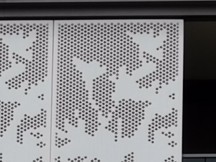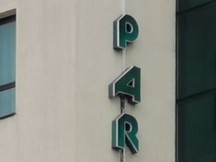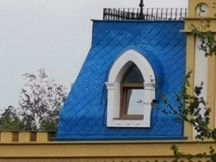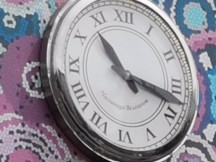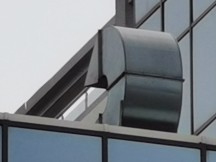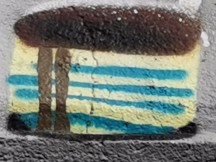 Huawei Mate Xs 30x zoom camera MONSTER AI ON samples
Ultrawide camera image quality
As far as its main purpose in concerned – capturing a wide scene, the 16MP snapper on the Mate Xs is competent, if not really too impressive.
There is noticeable softness all round the frame. Barrel distortion around the corners in on the more aggressive side. Dynamic range is naturally more limited than what we get with the main camera and colors tend to come out a bit more muted. There is just a bit more noise in these ultrawide shots, compared to the main camera, which we see as a win.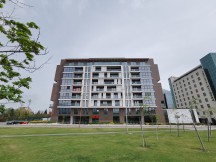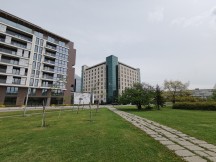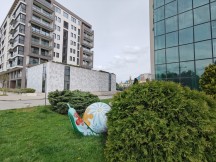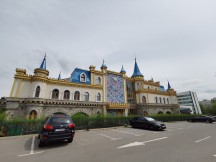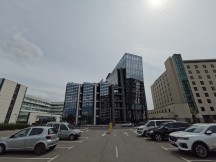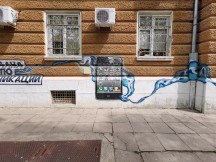 Huawei Mate Xs ultrawide camera samples
MONSTER AI mode, unsurprisingly, improves uniformity, gets rid of some of the softness and boosts saturation. There is an odd side effect from this mode on the ultrawide in particular, which might be coincidental. Still, we can't shake the feeling that photos shot with AI ended up with more barrel distortion on the left side of the frame and less on the right. Weird, we know.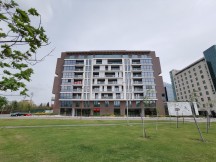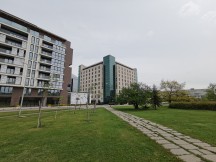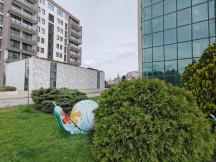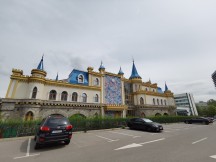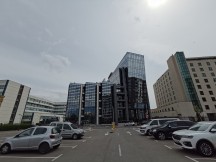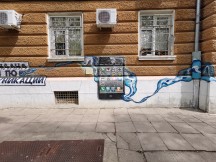 Huawei Mate Xs ultrawide camera MONSTER AI ON samples
Since the ultrawide on the Mate Xs has autofocus, Huawei is leveraging it for its macro mode. You can get really interesting results from this camera up close. Here are a couple of comparisons between it and the main 40MP camera.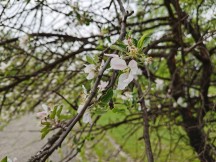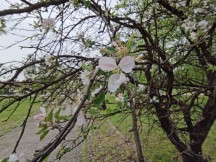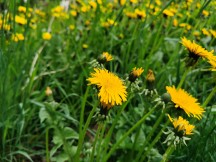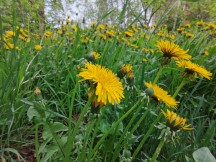 Close-up shots: main camera • ultrawide • main camera • ultrawide
Just for the sake of an easier overview on the entire zoom range the Mate Xs is capable of, here is a single scene, shot in all of the above zoom levels and camera modes. Plus, the same one with MONSTER AI on.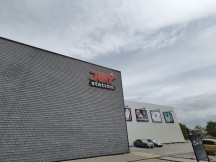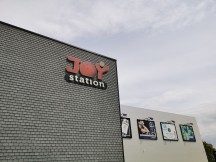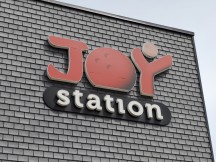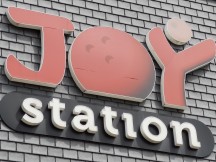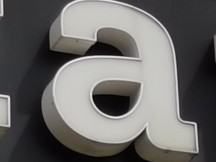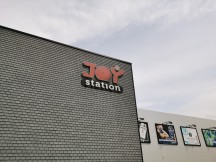 Huawei Mate Xs samples: ultrawide • main camera (1x) • 3x • 5x • 30x • 40MP main camera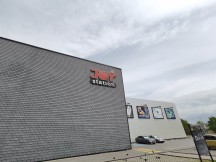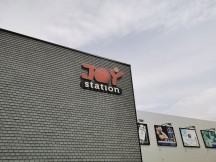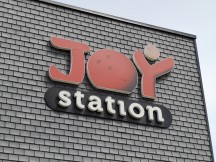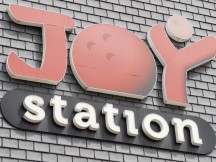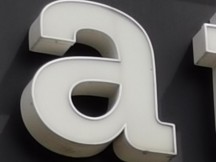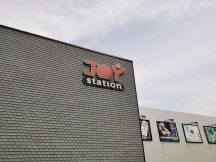 Huawei Mate Xs samples MONSTER AI: ultrawide • main camera (1x) • 3x • 5x • 30x • 40MP main camera
And here is the Huawei Mate Xs in our extensive camera compare database. Fell free to pixel-peep and compare.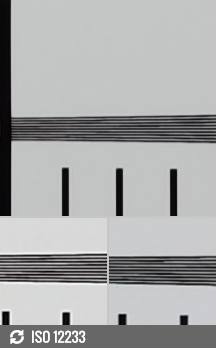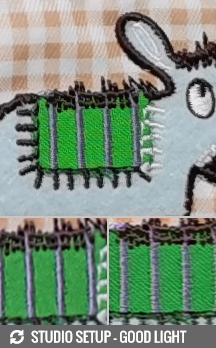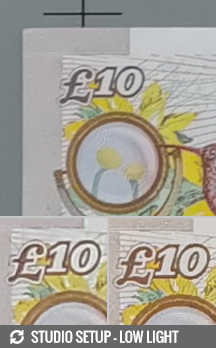 Huawei Mate Xs against the Samsung Galaxy Fold and the Huawei P40 Pro in our Photo compare tool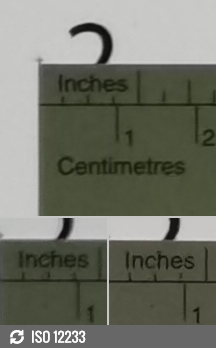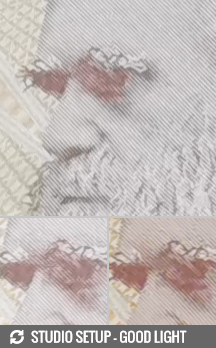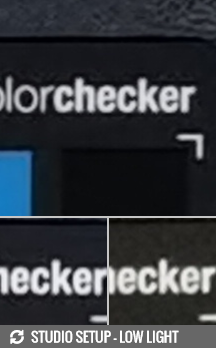 Huawei Mate Xs against the Huawei Mate 30 Pro and the Huawei P30 Pro in our Photo compare tool at 40MP
Portraits and selfies
We are lumping these two together, since the Huawei Mate Xs has its main camera array pulling double duty as a selfie camera, as well. The rear display of the phone in folded mode is leveraged for this purpose.
Every time an app requests access to a "selfie" camera on an OS level, it automatically runs on the rear display, instead of the main one. One unfortunate consequence of this setup is that you can never have a video chat or use any of said apps on the full, unfolded 8-inch display.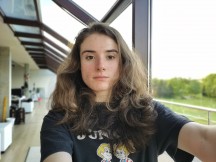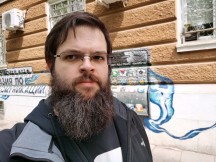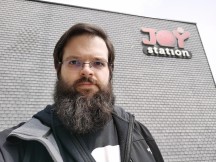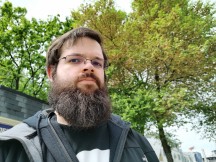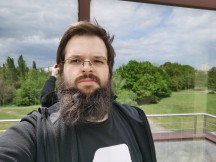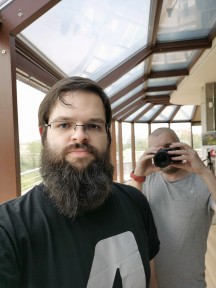 Huawei Mate Xs selfie samples
Other than that, we found very little in the way of gripes with the selfie experience. There is the perplexing fact that you can not use the ultrawide camera while in selfie mode. That's not only a clearly artificial limitation, but also one that fails to make any sense at all since the ultrawide is equipped with autofocus and can even do macro shots of objects, as close as 2.5cm away from the camera. It would have been perfect for wide selfie shots.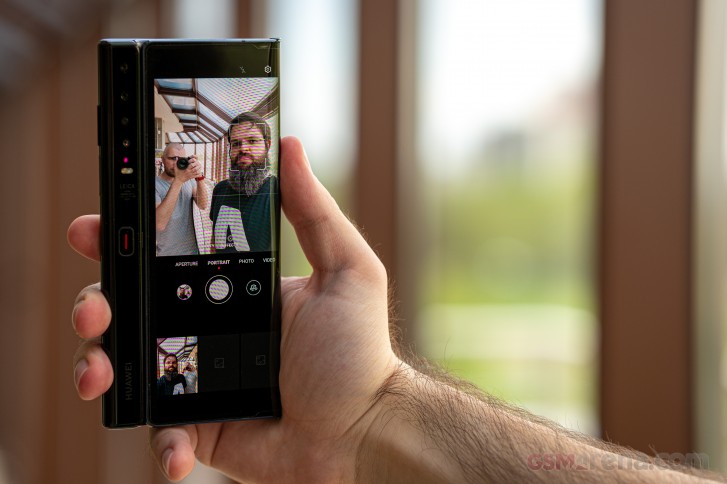 As you can probably imagine, quality here is perfect, all round. So much so, I fact, that we were almost tempted to praise the Mate Xs as an amazing video blogging device. Which, indeed it is, as long as you can stomach the fact that every time you put it on a gimbal or a monopod and any standard phone mount, for that matter, you are essentially pressing down on its folded display on one side.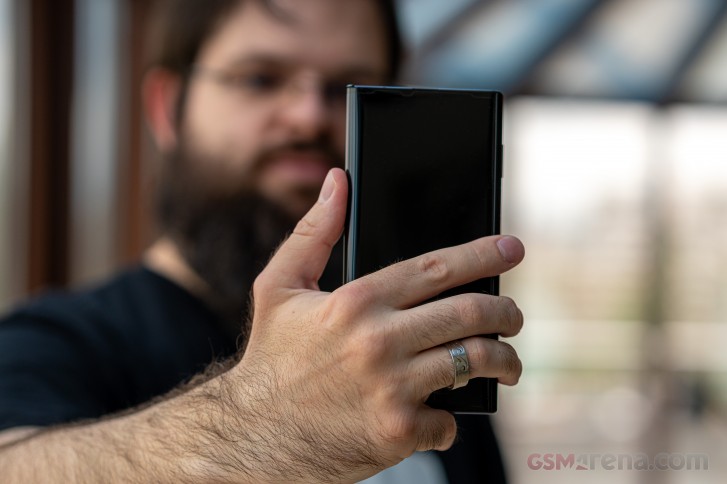 In terms of options, you get access to beauty filters in this mode. Huawei has a mostly light-handed approach to its beautification algorithm, which makes it a bit harder to complain that it is on by default. Still, worth noting.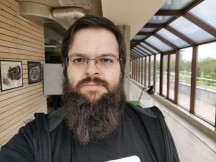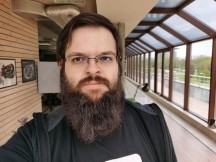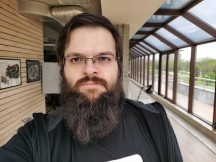 Selfie beauty mode samples: Off • Medium • Max
There is a dedicated portrait mode on the Mate Xs. It is available on the main camera, as well as the telephoto, with a zoom level of 2x and up to 3x, with everything in between. Once again, not the ultrawide, which is a weird limitation to impose. There is also nothing preventing you from using it on yourself in selfie mode. At least that part is not disabled.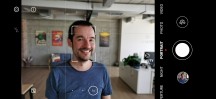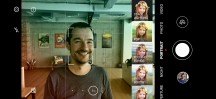 Portrait mode
It comes with two menus – one for adjusting beautification and the other, chock-full of all sorts of effects. Some even bearing the Leica brand. You get convenient face detection, as well, which is a great indication of whether you are at the right distance and angle for the effect to actually recognize you properly.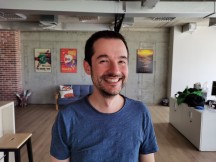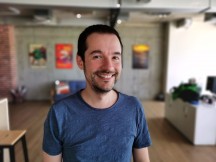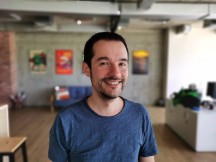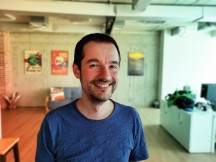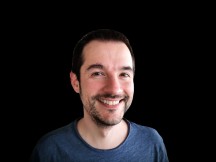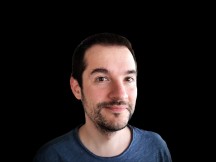 Portrait mode: Off • On (various settings)
Results looks impressive, as they should, given the overall performance of the camera so far. Plus, the inclusion of a dedicated depth sensor in the camera array.
Video recording
The Huawei Mate Xs can capture video at up to 2160p with all of its cameras. That includes the main one, ultrawide and telephoto. Beyond that, there is also complete freedom in selecting between 30fps and 60fps. It should be noted that the telephoto can not do 60fps natively, so this mode simply crops from the main camera and doesn't look particularly nice.
Zooming in video can go up to 5x, with all of the small increments in-between. There is plenty of interpolation and cropping going on at most zoom levels, though. Being able to adjust the zoom level while recording is also nice.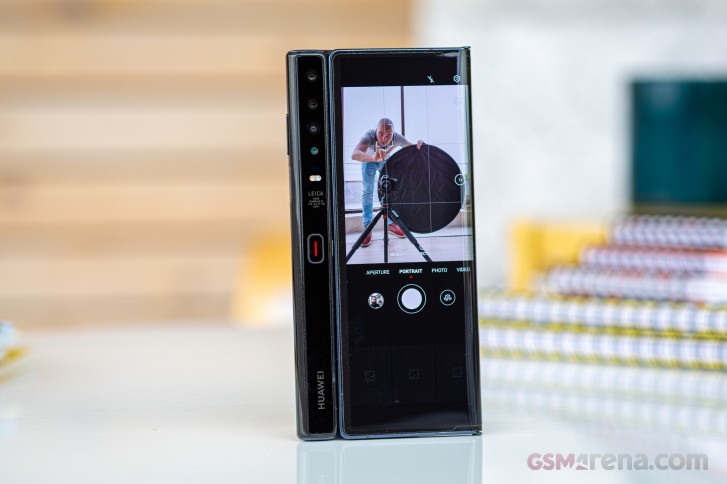 As far as notable omissions go, these include no 8K resolution and no high frame rate options, beyond 60fps. Also, while Huawei's EIS efforts deserve plenty of praise, it would be nice to be able to disable stabilization for specific use cases.
Starting with the main 40MP camera, we get very competent, flagship-level video capture. The detail is plenty, everything looks uniform and sharp edge to edge, dynamic range is also great.
The only real criticism we have for the 4K, 30fps clips from the Mate Xs is the slightly muted color tones. Again, this will mostly come down to personal preference, but it is still worth pointing out.
Like we already mentioned, [email protected] is the cap for the Mate Xs, both in terms of resolution and bitrate. The company boasts of including eight million aerospace-grade microcapsules around the phone's cameras, which absorb heat through phase transition.
Flipping over to 60fps on the main camera, we did notice some odd behavior. For context, we recorded both this and the previous video at 4K in h.264 mode, in order to get the least possible amount of compression. Both clips have an AVC video stream, alongside a stereo AAC audio one, inside an MP4 envelope. So far, pretty standard. Looking at the video bitrate, though, we see the 30fps clip hovering around 40Mbps, while the 60fps one brings the data rate down to 30Mbps.
While it is fairly common for phones to keep a constant bitrate regardless of framerate and loose quality, this is a case of actually having less bitrate with the higher framerates. To be fair, though, in real-world terms, the 60fps footage doesn't look noticeably worse than the 30fps one. There does seem to be a bit of choppiness in moving objects. Though, not much. Perhaps, Huawei has some variable bitrate trickery going on to save on space.
Dropping the resolution down to FullHD still results is what we would consider flagship-grade performance. There is hardly any difference in procession and we appreciate the consistency. The wonkiness in bitrate between 30 and 60fps is still present, though. We'll stick to 30fps for the other tests, to ensure the best possible quality.
Only the telephoto camera, out of all the snappers on the Mate Xs, has OIS hardware. There is, however, AIS, or Huawei AI Image stabilization working across the board and it performs great.
Once again, one of the few gripes we have with it is the inability to turn it off and potentially get a larger chunk of the sensor as a usable area in the frame.
Before we move on to ultrawide and telephoto video, there is definitely something to be said about the potential on the Mate Xs as a vlogging machine. It leverages its main camera setup to pull-off amazing selfie videos. Clips reap all the benefits we already mentioned from the main camera video capture. Stabilization is also great to have, especially if you plan on walking while recording.
We still don't understand why Huawei decided to disable the ultrawide in "selfie" mode. Maybe we are failing to see some consideration here. It is also worth noting that you have to hold the phone fairly far away from your face to bet a comfortable amount of breathing space around your face in the frame. Of course, if you prefer a more up-close and personal shot, that can easily be achieved, since you don't have to worry about a fixed focal plane.
Ultrawide videos from the 16MP camera on the Mate Xs hold-up pretty well. Compared to clips from the main camera, you are understandably losing some detail and a bit of sharpness. Especially around the corners. Dynamic range isn't nearly as wide, either.
The difference between the two, however, really isn't striking. The ultrawide even manages to get very similar color rendition. Though, perhaps, with just a bit more-muted tone all around. It is kind of hard to tell, due to the cloudy conditions.
Dropping the resolution down to FullHD on the ultrawide still produces what we would consider adequate results. Though, definitely a lot less impressive than the 4K ones. We really don't see a reason to push the quality down deliberately in this manner.
We have literally no complaints with stabilization on ultrawide video. It works and looks great.
The 8MP telephoto camera on the Mate Xs is plagued by some issues. We complained about some of its tendencies to focus-hunt in the photo session, potentially linking them to the OIS hardware. The autofocus issue is even more apparent in video capture. On top of that, circling back to a certain photo issue, we described with the 40MP camera, not keeping its white balance in check, the telephoto seems to be experiencing something similar. Though, in this case, it seems to be the ISO that is elevating and lowering at random. We get that cloudy conditions aren't ideal, but this is a bit too much misbehavior for us not to mention.
Otherwise, 3x zoom videos, which should be the native zoom level for the telephoto camera, look great. Detail is plenty and even dynamic range is satisfactory. Tapping on the viewfinder to get a spot exposure reading did seem to help with the misbehaving random self-adjustment, most of the time.
5x zoom videos are still usable. Though, you won't really be getting a whole lot of extra resolution to make out distant texts, or anything of the sorts. Videos go up to 30x, with everything beyond 5x not claiming to be hybrid in any way. So, you end up with a digitally zoomed image which looks the part. Huawei does what it can to sharpen it, without introducing too much noise, but it's mostly a futile balancing act to begin with.
The always-on Huawei Ai stabilization works surprisingly well in 3x zoom video mode. Beyond that, at 5x, higher and especially noticeably at 30x, the OIS, zoom, and stabilization don't really play nicely together all the time.
It seems that in its efforts to remain as steady and "floaty" as possible, the software makes some assumptions that you won't be changing the frame and shaking too much, trying its best to pad the zoom around a given portion of the image, which is already stabilized. If you shake or pan a bit too much, this tends to result in a noticeable jitter, almost like an aggressive "re-aligning" and "snapping" of the frame. We are definitely overanalyzing it and it's much easier to just see it for yourself. Definitely a noticeable artifact, but hardly a show-stopper.
Finally, here is the Mate Xs in our extensive video compare database.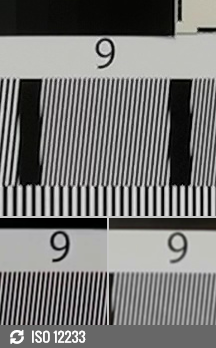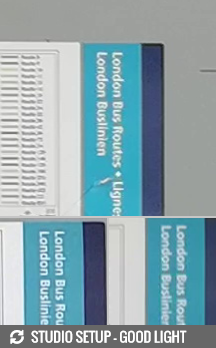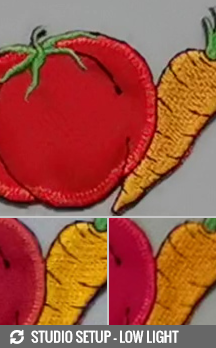 2160p: Huawei Mate Xs against the Samsung Galaxy Fold and the Huawei P40 Pro in our Video compare tool
Low-light image quality
Huawei's current all-round photography prowess was not achieved overnight. This works well in our favor with the Mate Xs, since even without the company's current-gen camera hardware, it can still flex some impressive results. Low-light photography, in particular, has been an area of dominance for the Chinese giant for a few generations of phones now.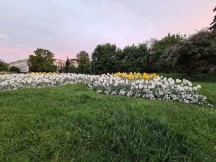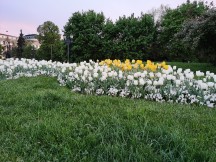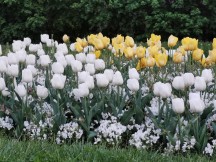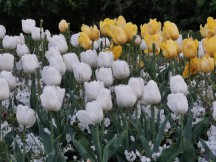 Huawei Mate Xs dusk camera samples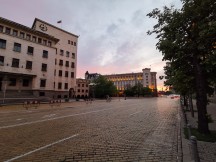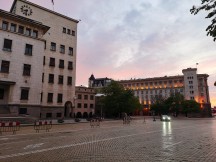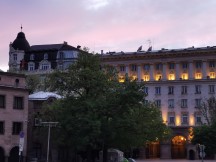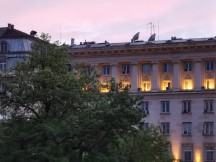 Huawei Mate Xs dusk camera samples
We're kicking things off with a couple of scenes, shot at dusk, complete with all the dramatic skies and intriguing reflections a social network might deem desirable.
We have shots from the ultrawide, main camera, telephoto at its native 3x, as well as a 5x zoom. Supplementing the set with one done under the same conditions, with the same camera and MONSTER AI mode turned on.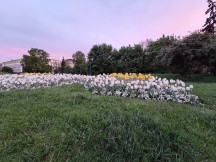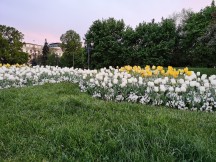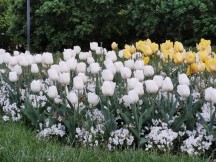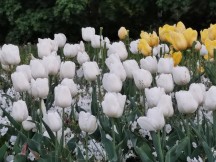 Huawei Mate Xs dusk MONSTER AI ON camera samples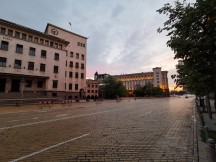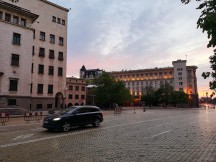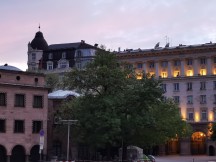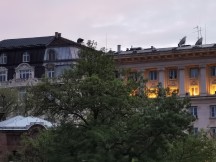 Huawei Mate Xs dusk MONSTER AI ON camera samples
Just like before, we are happy to see that the mode generally improves overall quality, clearing-up some softness in the frame, a bit of noise and generally sharpening things a bit. All without noticeably increasing the time necessary to capture a shot.
One less than flattering observation we feel like we have to make about Huawei's camera software, as experienced on our Mate Xs review unit, is that it rarely gave us the confidence to go for a "one shot" approach. Especially in less than ideal conditions.
We already discussed some of the inconsistencies with exposure we experienced in various situations and these tend to only get worse after dark. Don't get us wrong, it's never a bad idea to double-up on your shots and take extra care that things are in focus, but it can be a little too much of a chore for some. We would definitely like to see shot consistency get improved in future camera updates.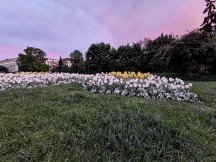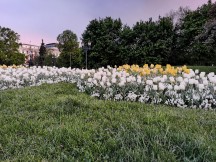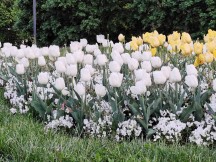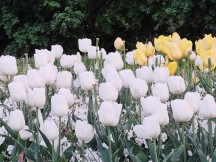 Huawei Mate Xs Night mode camera samples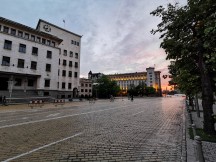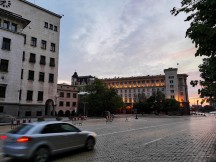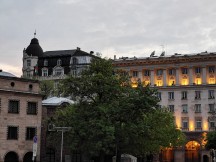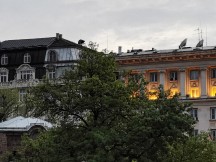 Huawei Mate Xs Night mode camera samples
Of course, there is the distinct possibility for the user to single-handedly ruining shots by applying a too "hand-on" approach. Just check the above set of Night mode shots we took at dusk, when the conditions didn't really call for the feature. Since we had purposefully navigated to it in the camera app, the Mate Xs simply obliged and gave us HDR-stacking and shooting times of up to 6 seconds, so it can properly do what we ask of it and ruing the shots. Joking and deliberate misuse aside, there is more actual criticism to give to the Night mode, so read on.
Before we get to that, though, here is a set of low-light photos, as captured by the main camera on the Mate Xs in its default and intended 10MP mode.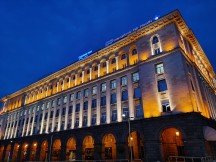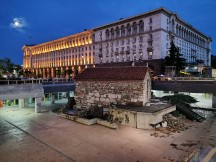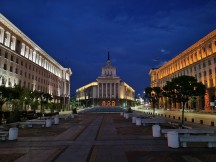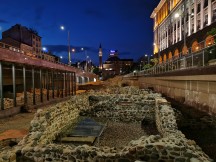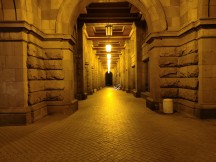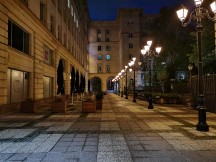 Huawei Mate Xs main camera 10MP samples
These look really impressive. Detail is there, so is dynamic range. Shadows and highlights are well balanced. Colors look great, as well. Just like in good light – a perfect example of really mature camera processing, improved generation after generation.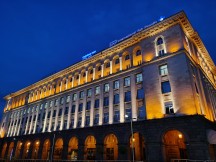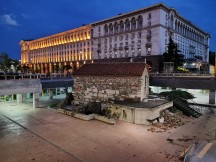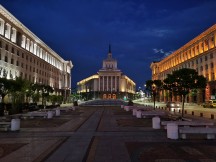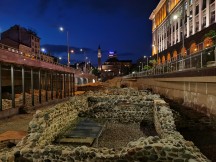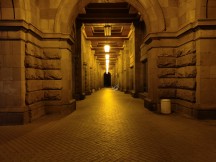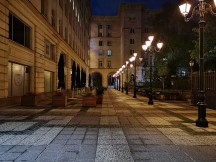 Huawei Mate Xs main camera 10MP MONSTER AI ON samples
Monster Ai only seems to make things better, yet again. The consistency between shots seems to really be the one big issue with the Huawei Mate Xs' camera, overall. When things fall into place and work as intended, the results are really impressive.
Since we are already on the topic of generational improvement and before we move on to Night Mode shots, we should mention that things have clearly changed on the software side, compared to Huawei P30, and its very similar camera setup. That's also a major point in Huawei's press materials – that you might be getting slightly older hardware with the Mate Xs, but one that has been made better with the latest generation of camera software.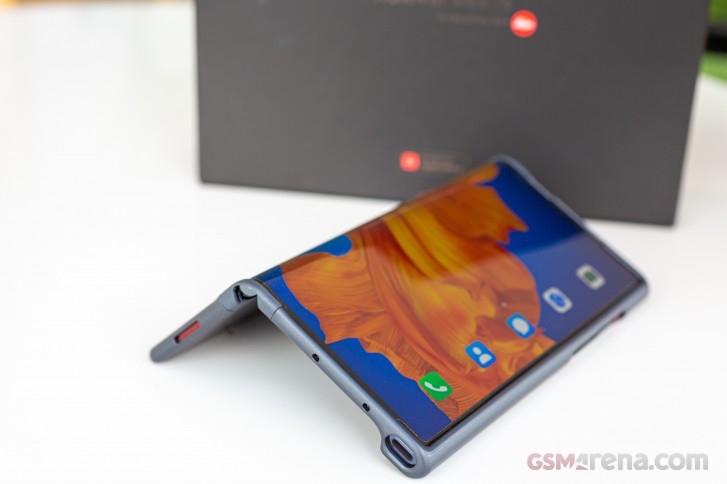 We can definitely see signs of this change. Looking back at some low-light shots, we can often spot the main 40MP camera working at ISO levels in the 2000 to 2500 range. The Mate Xs, on the other hand, rarely pushed 1500 in our test scenes. Sure, there was plenty of artificial lighting around.
But, still, that's a noticeable difference and one that suggests Huawei has pushed its default HDR algorithms and computational photography so far that it can pull-off impressive end results with more shots, with shorter exposure and likely less noise to deal with, in the process.
We are making certain assumptions here. Most notably – assuming that the ISO numbers, reported in the EXIF of the final photos are representative, in any way, of what is going on behind the scenes and the actual shots that go into producing the final one. There is, however, further proof of Huawei's generational software improvement to point out by simply analyzing Night mode shots.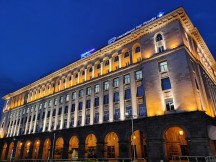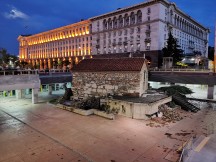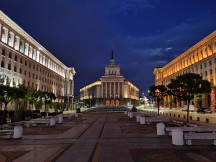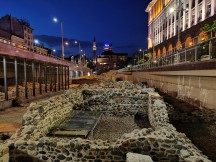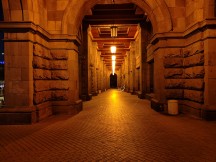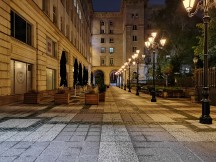 Huawei Mate Xs Night mode camera samples
Taking these is a laborious process, requiring a switch to the dedicated mode and then waiting for upwards of 7 seconds, without moving as much as possible, as all the shots get taken ad stacked. You do get to see a real-time preview of the stacking process, which is definitely fascinating, but not really enough to keep your attention and make you forget just how long the process takes after 10, or so, shots.
Don't get us wrong, we don't really mind waiting for good things to happen, but that's just the thing. Unless we are talking about really, really dark scenes, we can't say that the Night Mode shots come out looking any better than the regular ones. Especially with MONSTER AI turned on. Of course, this will, very much be on a case to case basis. But, we think that, overall, Huawei's default camera algorithms have gone so far that they have mostly outgrown the need for a dedicated, traditional Night mode, in most cases. That's a win in our book.
Before we move on to the ultrawide and telephoto samples, we didn't forget to snap some 40MP photos with the main camera in low-light conditions.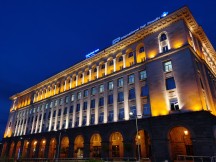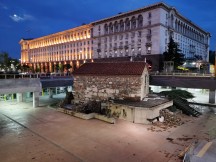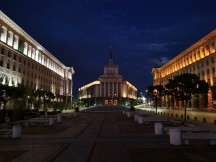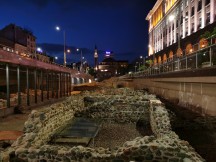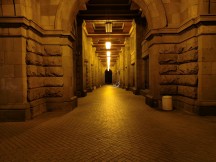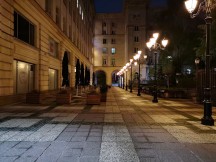 Huawei Mate Xs 40MP camera samples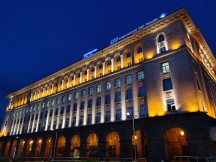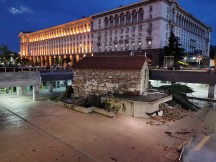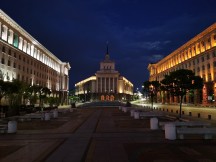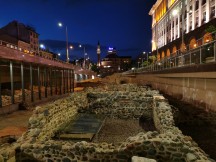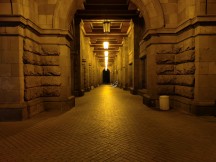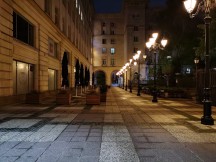 Huawei Mate Xs 40MP MONSTER AI ON camera samples
One again, this is not the way this sensor is meant to be used and it shows. There are hardly any benefits to be had in terms of extra detail, compared to 10MP shots. All the while, the debayering process tends to really show mathematical weaknesses in low-light. Things like color fringing and random artifacts are fairly common.
Zooming is definitely not ideal in low-light conditions. Even at its native 3x zoom factor, the 8MP telephoto, with its f/2.4 aperture is just too dim for good low-light results.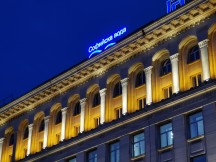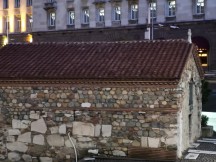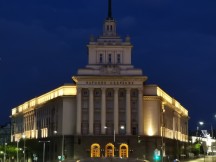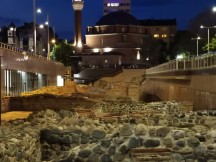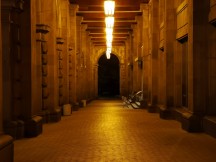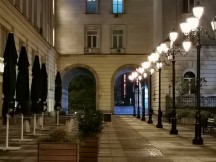 Huawei Mate Xs zoom 3x camera samples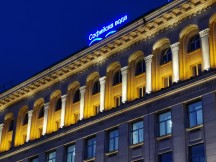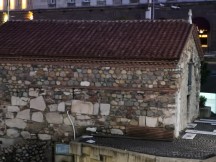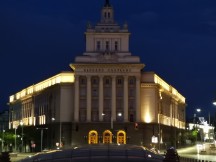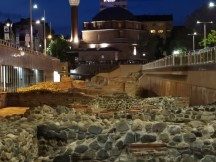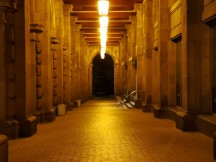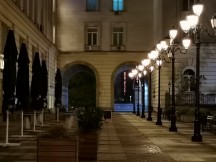 Huawei Mate Xs zoom 3x MONSTER AI ON camera samples
While still usable for social media purposes, these shots are just a bit too soft for our taste. And things only get worse with 5x zoom.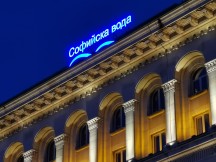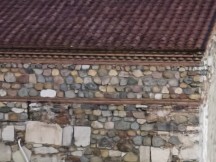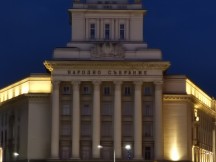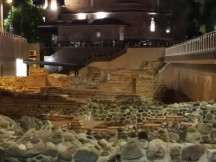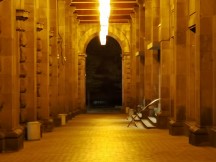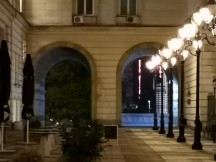 Huawei Mate Xs zoom 5x camera samples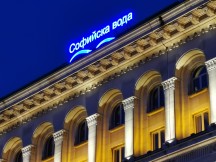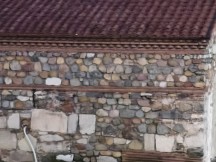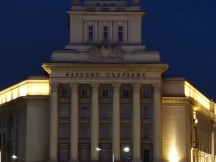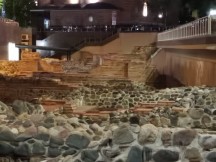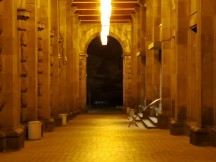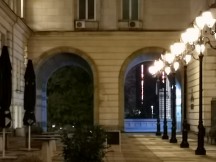 Huawei Mate Xs zoom 5x MONSTER AI ON camera samples
The same is generally true for the 16MP, f/2.2 ultrawide camera too. Though, it does seem to hold up a bit better and resolve a bit more detail. On the flip side, it tends to favor an underexposed look, when left to decide for itself. Locking a spot exposure is definitely preferable.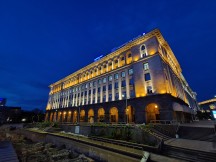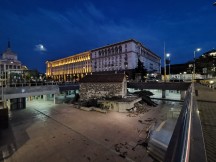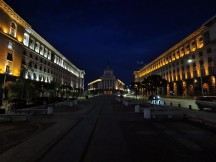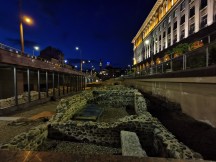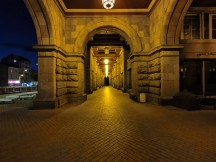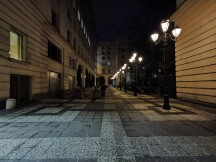 Huawei Mate Xs 16MP ultrawide camera samples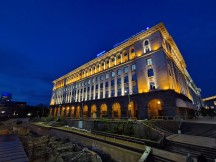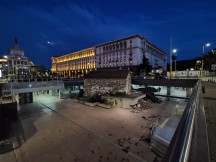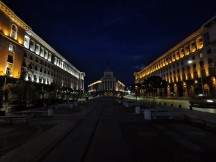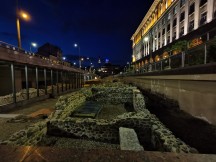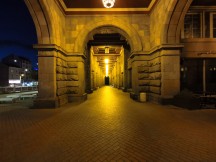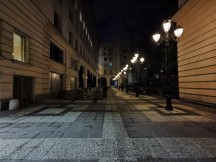 Huawei Mate Xs 16MP ultrawide MONSTER AI ON camera samples
The thing that can really save both zoom and ultrawide shots is Night mode.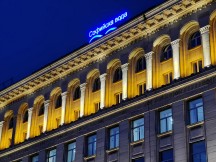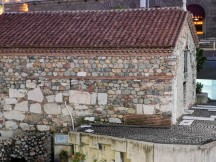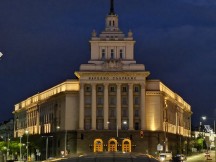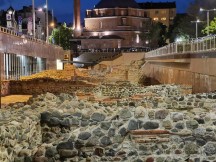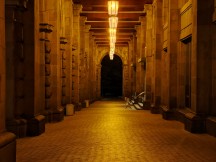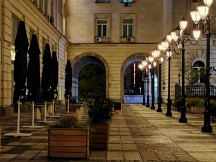 Huawei Mate Xs zoom 3x Night Mode camera sample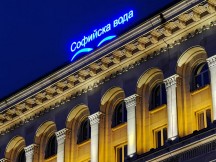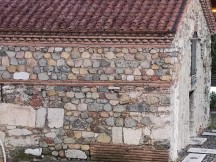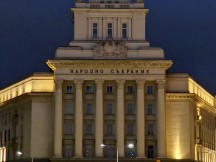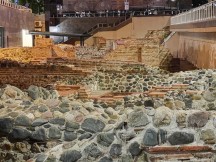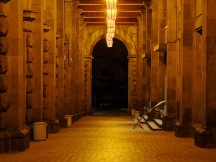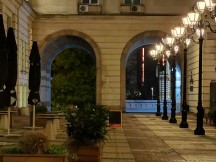 Huawei Mate Xs zoom 5x Night Mode camera sample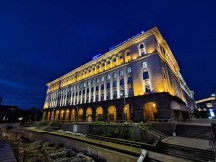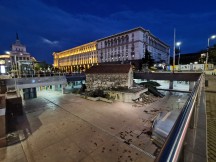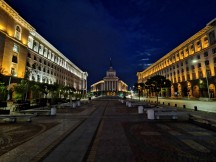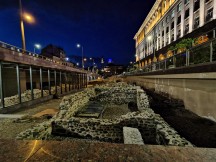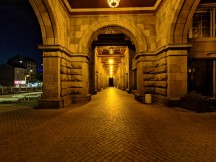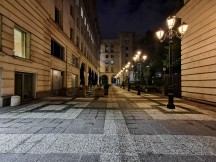 Huawei Mate Xs 16MP ultrawide Night Mode camera sample
These are still scenarios that can really benefit from the extra patience and attention required to get a good stack of several shots. We can clearly see the Mate Xs is doing a solid job of that.
Finally, to cap the low-light section off, we have a couple of videos from the Mate Xs.
Frankly, we didn't have any doubt that the main 40MP camera would hold its own and produce great results. The surprisingly usable ultrawide footage, we got, however, was more of a pleasant bonus worth noting.
Wrap-up
The Huawei Mate Xs is an incredible product but it has many aspects and layers and coming up with a verdict has been a real challenge.
On the flip side, after getting to experience everything it has to offer, we feel like this lengthy review has barely scratched the surface. Beyond the nerdy beauty of the new form factor and the grim reality of some of the inevitable tradeoffs, the Mate Xs will undoubtedly fulfill its most important mission – to steal the spotlight, to flirt with the media, to stir-up discussions and eventually serve as a testament to the engineering prowess of the company that has created it. That's what a "halo" product is all about and Huawei did an amazing job with this one.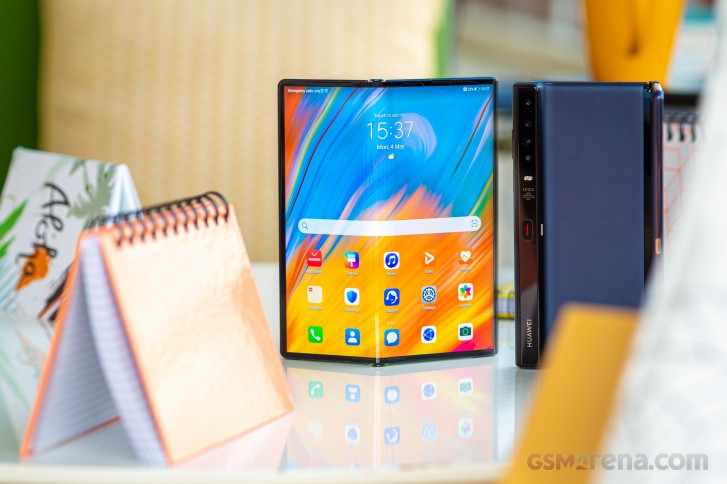 The Mate Xs goes beyond the mere tech showcase that the first edition was. The two differ in the same way that a concept car at a car show differs from something like a real "supercar". And just like a supercar, the Huawei Mate Xs is probably meant to be enjoyed on weekends. Just like how a supercar will undoubtedly give you thrills and plenty of amazing moments at the expense of dealing with all sorts of the tradeoffs in practicality, the Mate Xs will not be as easy to handle as a conventional smartphone and the user experience will be mixed with a pinch of compromises and early-adopter woes.
The only current contender on the market is the Samsung Galaxy Fold. Also, as currently available in its second, revised form.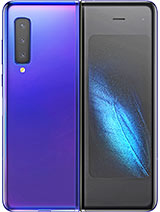 Samsung Galaxy Fold
Even though we have a natural inclination to put these two phones in the same bandwagon as the largest ambassadors of foldable display tech, in reality, they are vastly different beasts. We are only beginning to understand what is possible with foldable panel tech, and every aspect of the comparison between these two will come down to personal preference. It's really hard to objectively say which one offers higher productivity and or better versatility.
It's even harder to claim which has better durability. It's easy to say that he Galaxy is the one who is keeping its fragile panel on the inside, but the company's particular choice of materials and foldable panel finish have come under a lot of fire recently.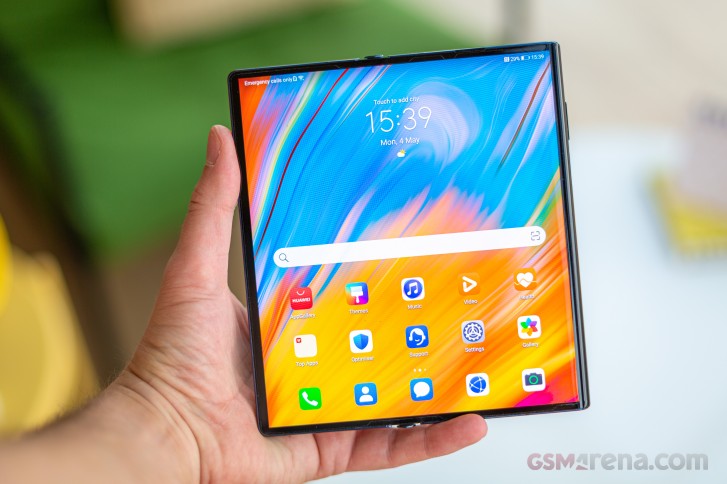 We really enjoyed our time spent with the Huawei Mate Xs. As likely will anyone passionate about smartphones and tech in general. It is just an amazing device that pushes the envelope in more ways than one, offering a glimpse into one potential future for the industry. It's the definition of a "halo product" for both Huawei and folding display tech, not only showcasing what is possible but also pushing it forward and actually getting into the point of relative viability as an end-user product.
All that being said, would we buy one for ourselves? No. The practical and financial realities are still stacked firmly against it. But still, we think the Mate Xs is insanely cool and an important milestone for the future of the smartphone industry.
Pros
Great level of usability, feels familiar in both its folded and unfolded states.
The 8-inch FullView display is awesome with the crease barely noticeable.
It quickly transforms into a regular smartphone when folded.
Charging speed is excellent, with 0-80% in 30 minutes.
The Kirin 990 5G provides flagship-grade performance.
Camera has great overall quality and the selfies are one of the best in business.
Cons
The screen is very exposed and is hard to clean.
The top layer has cutouts around the edges that give off a prototype vibe.
Battery life is serviceable, but not competitive.
The ultrawide cam doesn't work in selfie mode.
We miss any creative software features based on the unique form factor.
The multi-screen aspects of the UI lacks polish and depth.
Getting some of the popular apps and games can turn into a chore and some will refuse to work at all due to the absence of .